Blog Home
In Memory of Thomas Nozkowski
May 15, 2019
Abstract painter Thomas Nozkowski died last week at age 75. Pace Gallery, which represented Nozkowski, announced his passing. Nozkowski had been a fixture of the New York art field for more than four decades. His work appeared in more than 300 exhibitions over the past 40 years. He had more than 70 solo exhibitions, and 24 of his paintings were featured in a large-scale retrospective in 1987 at Corcoran Gallery of Art in Washington, DC. Yet, perhaps because of his thoughtful, matter of fact attitude, or perhaps because of his understated approach to his work, he adeptly managed to avoid the trappings of fame. He was more of a "painter's painter," beloved by his fellow artists and promoted by true connoisseurs of contemporary abstraction. In a rejection of what he called the "macho" sensibilities of the Abstract Expressionists, who preferred large-scale canvasses, which overwhelm the viewer with their size, Nozkowski worked small, often painting 16" x 20" canvases that he called "drawings." His compositions tended not to be planned out ahead of time. Instead, they evolved according to a process guided by a mixture of intuition and memory. He claimed that his paintings were always inspired by the real world, but he rarely if ever gave hints about what exactly inspired a particular picture. He was not abstracting from life; rather he was seizing the feeling of a particular memory and letting his passions guide him towards some symbolic manifestation of personal meaning. Along the way, purely formal additions appeared in his work, which had no relation to the source inspiration. It is just well that he kept his inspirations secret. Even if we knew what exactly inspired each painting we would never be able to trace the steps Nozkowski took to get from there to here. Better that we are able to look at each painting for ourselves, and to construct our own new memories based on whatever the pictures mean to us.
A Personal Abstract Language
The idiosyncratic visual language Nozkowski invented seems at first to exist somewhere in between a pattern and a doodle. Yet, if you know how to look, you can see in his oeuvre the entire history of abstraction, from lines evocative of the scrawls on 60,000-year old caves, to multi-colored rows of boxes reminiscent of the pixels in degraded digital photographs. He was a life-long student of shape, color, and compositional harmony. Everything he did was painted by hand, giving his work a painterly surface and an expressive, freestyle sensibility. Even in a painting like "Untitled (9-51)" (2016), which seems to consist only of multi-colored polka dots on a simple, gradated background, every mark is personal. The subtle variations of hue; the shift between pure and adulterated color; the visible brush strokes; the wobbly, hand-drawn shapes and lines: all of it hints at the mind and hand of the painter, and the inner world from whence the picture emerged.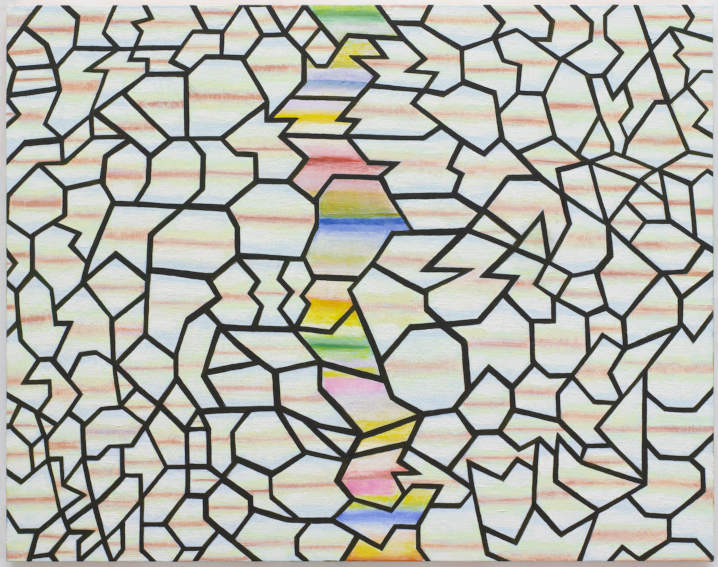 Thomas Nozkowski - Untitled (9-46), 2014. Oil on linen on panel. © Thomas Nozkowski. Photo by Kerry Ryan McFate, courtesy of Pace Gallery.
In paintings like "Untitled (9-29)" (2014), we can clearly see the mysterious ways in which Nozkowski flirted with the intersection of symbolism and narration. The painting seems to show a rainbow-colored, humanoid form dancing through a dark, painterly void. The void consists of a hand-drawn grid—perhaps a symbolic reference to the roots of Modernist abstraction; or a symbol of logic and reason; or a reference to drawing paper. In any case, it is a sign of structure. The rainbow-form defies the architecture of the world that supports it. At the same time it beautifies it; brings it to life; fills it with color and movement. We may not know the story behind the creation of this painting, but we can read for ourselves the symbols Nozkowski used. Whatever inspired it, it is an image of tension and joy, subversion and beautiful rebellion.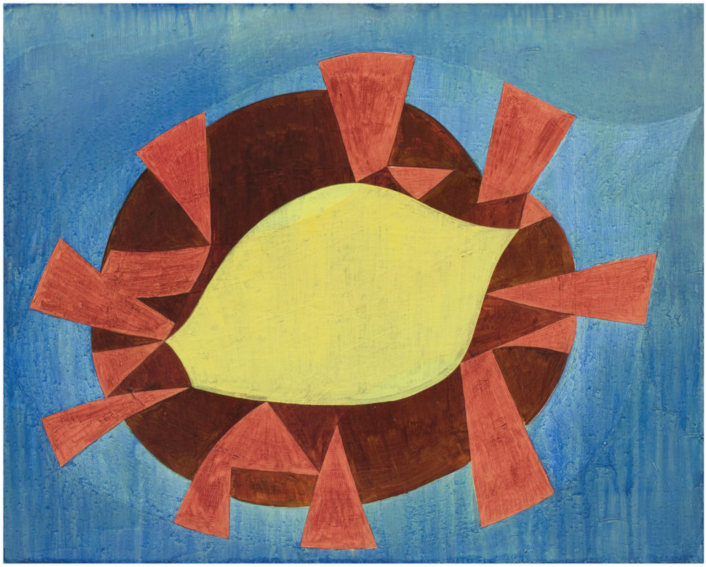 Thomas Nozkowski - Untitled (7-10), 1992. © Thomas Nozkowski/Tom Barratt/courtesy of Pace Gallery.
It May Not Mean Anything
In our current historical moment, it seems more and more as if painters like Nozkowski are relics of the past, since meaning has become paramount in visual art. Socially relevant, or highly politicized art is getting most of the attention in biennials and major museum exhibitions, while formal abstractionists are being pressured to infuse more political content into their work, or to abandon abstraction in lieu of narrative content addressing the ills of society. But this is nothing new. Despite the fact that abstraction is inherently political, it has always attracted the ire of those who want it to me more overtly so in service to broader social agendas. In 2016, Nozkowski offered a thoughtful antidote to this phenomenon in an interview he gave to Robin Scher for ArtNews. Speaking about his own painting practice, Nozkowski said, "It may or may not mean anything. But what it does mean for me is it gives me a reason to be in the studio that I find compelling. I'm fascinated by being in the studio. Sometimes I'm not happy about it, it's a real battle. But for me, there's always something new to find, something new to do."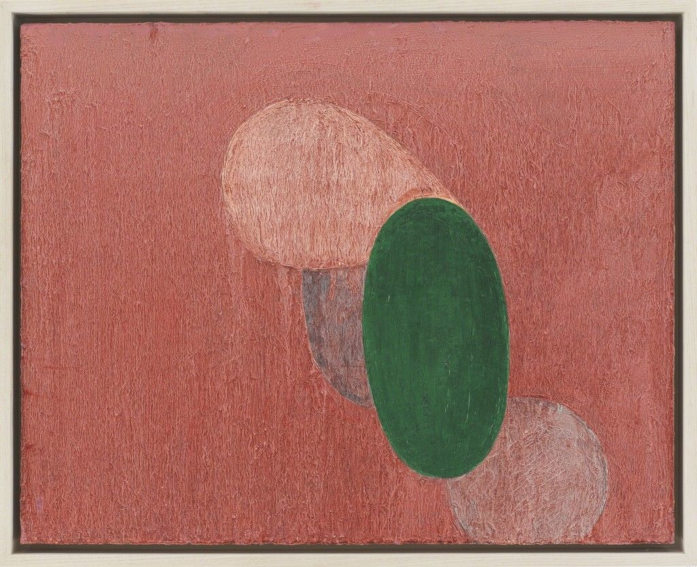 Thomas Nozkowski - Untitled (6-73), 1989. Courtesy of Pace Gallery.
Though Nozkowski meant the statement to refer to his own process, we can easily extract it and apply it to contemporary abstract art in general. For us viewers, the abstract art we are looking at may or may not mean anything. But it gives us a reason to go to galleries, to museums, and to artist studios. It is compelling for us even if we do not know what it means, or even if we decide it means nothing. It gives us something to be fascinated with, something to challenge our perception in small, unpredictable ways. Sometimes we will not be happy with what we see. Sometimes we will not like it, or understand it, or think it fits in with our time, our mood, or our world. But there is always something new to find, something new it might call us to do. Like Nozkowski, we can start wherever we want, with whatever inspires us, and construct our own memories and meanings—however personal, however understated, however small.
Featured image: Thomas Nozkowski - Untitled (9-31), 2014. Oil on linen on panel. © Thomas Nozkowski. Photo by Kerry Ryan McFate, courtesy of Pace Gallery.
All images used for illustrative purposes only
By Phillip Barcio