Blog Home
Tenesh Webber Work on Display at Schema Projects
Mar 23, 2016
For Schema Projects' current exhibition Passing Through, curator Jeanne Heifetz assembled 12 artists who work with thread, "whether as dimensional line, to embody time, or to map the world's hidden forces," says Heifetz. Included in the exhibition are several photograms by the artist Tenesh Webber. At first glance, Weber's works appear to be simple representations of thread, perhaps drawings or paintings of white thread on a black background. But upon closer examination of Webber's elegant process, her works' powerful expression of the show's intent becomes clear.
Form, Line and Space
Webber's photograms pass through multiple stages of production. Her process begins by sketching a concept for the image. Next she manifests the image by layering plastic, thread and hand-drawn marker onto Plexiglas plates. She calls the final product a photogram because it's created using light and chemicals to burn the image from the plates onto paper.
The unpredictability of the thread causes each print to be unique. Webber's choices in the darkroom also allow for infinite variation. The combination of dimensionally layered plates, hand-drawn marks, machine-made thread, photo paper and photographic techniques blur the lines between photography, drawing and sculpture. The final print relies on a combination of the artist's hand and the innate tendency of unbound thread to resist control.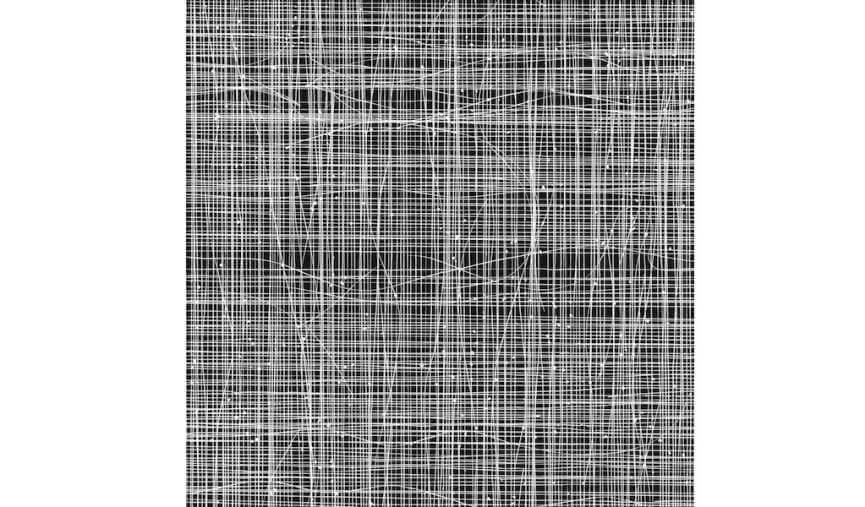 Tenesh Webber - Old System, 2014, Black and white photogram, 11 x 11 in.
Layered and Balanced
Webber's photograms are recordings of time as light passes through objects in space. The carefully layered thread passes through an evolution from three-dimensional space into a two-dimensional print. Hidden within the thread, the darkness and the light are hidden forces of relaxation and tension, and the mysteries of the photographic process. Webber's photograms offer a uniquely satisfying exploration of the medium of thread. Like it, they are delicate, elegant, restorative, and the result of a combination of natural and mechanical processes. These works inhabit a unique place in the exhibition and are particularly demonstrative of both the materiality and the philosophy of the show's theme.
Passing Through is open through 10 April 2016 at Schema Projects in the Bushwick neighborhood of Brooklyn, New York. Schema Projects operates its main gallery, which is exclusively dedicated to showcasing works on paper, and a backyard sculpture space called Schema Sculpture. Tenesh Webber was born in Canada, lives in Jersey City, New Jersey and works in Bushwick. She has been represented by IdeelArt since 2015.
Featured Image: Tenesh Webber - Old System, 2014, Black and white photogram, 11 x 11 in.