Blog Home
Tachisme – Abstraction Lyrique
Apr 1, 2016
Tachisme, also known as abstraction lyrique, is a movement named after a word derived from the French tache, a word meaning stain or spot. It is a French style of non-geometric abstract painting that was active in the late 1940s and 1950s. The term tachisme was first used to describe this movement in 1951, by French critics Charles Estienne and Pierre Guéguen, and was then popularised more widely by French critic and painter Michel Tapié in his 1952 publication Un Art autre. However, the term had already been used in 1889 by Felix Feneon to describe impressionist painting, and again in 1909 by designer and theorist Maurice Denis to refer to the Fauvism movement of French painting.
The movement was developed as a reaction to the early 20th century avant-garde movement known as cubism, and artworks pertaining to tachisme involved using dabs or splotches of colour, spontaneous brushwork, drips, scribbles, and calligraphy. It is classified as a form of gestural painting, a type of painting that involves paint being splashed or dripped onto canvas. It is a style of expressionistic non-representational art, and is considered to be the European variant of American action painting. Many parallels have been drawn between the aims of tachisme and those of American abstract expressionism, but the French tachist artworks appear to be subtle than those of the American school, which are deemed by some to be more "raw". The tachiste movement appeared as part of a larger European post-war movement in the Modern art known as Art Informel or Informalism, with which it has become almost synonymous. After the Second World War, the tachisme movement also began to be referred to as the School of Paris. The movement is also related to American Lyrical Abstraction, as well as regularly being associated with COBRA - a European avant-garde movement active between 1948 and 1951 -, whose name was created by Christian Dotremont in 1948, taken from the initials of the home cities of the members: Co from Copenhagen, Br from Brussels, A from Amsterdam. Tachisme has also been linked to artworks produced by the Gutai group, which was a Japanese post-war artistic movement founded by painter Jiro Yoshihara in 1954, well known for its radical rejection of traditional artistic style.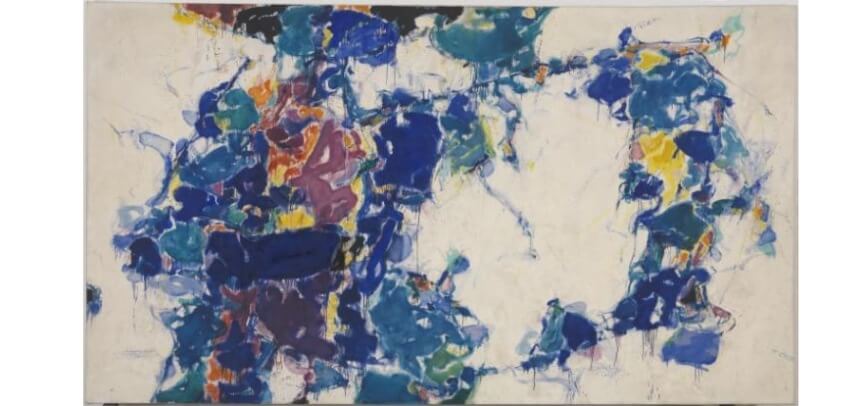 Sam Francis - Around the Blues, 1957/62, Oil and acrylic on canvas
Tachisme Artists
Artists who have been associated with this movement include: Frank Avray Wilson (1914-2009); Camille Bryen (1902-1977); Alberto Burri (1915-1995); Lucio Fontana (1899-1968); Agenore Fabbri (1911-1998); Jean Dubuffet (1901-1985); Sam Francis (1923-1994); Hans Hartung (1904-1989); André Lanskoy (1902-1976); Henri Michaux (1899-1984); Denis Bowen (1921-2006); Paul Jenkins (1923-2012); Karel Appel (1921-2006), member of the COBRA group; Ferruccio Bortoluzzi (1920-2007); Laurent Jiménez-Balaguer (born 1928); René Laubies (1922-2006); Gen Paul (1895-1975); Serge Poliakoff (1906-1969); Zao Wou Ki (1921-2013); Ernst Wilhelm Nay (1902-1968), a German artist who was influenced by the movement; Elaine Hamilton (1920-2010); Jean-Paul Riopelle (1923-2002); Jean Miotte (born 1926); Jean Fautrier (1898-1964); Emilio Scanavino (1922-1986); Marie Raymond (1908-1989); Alexander Bogen (1916-2010); Emil Schumacher (1912-1999); Karel Kuklík (born 1937); Nicolas de Staël (1914-1955); Jean Messagier (1920-1999); Bram Bogart (1921-2012), member of the COBRA group; Ludwig Merwart (1913-1979); Roger Bissière (1888-1964); Michel Tapié (1909-1987); Pierre Soulages (born 1919); Alfred Otto Wolfgang Schulze (1913-1951); Maria Helena Vieira da Silva (1908-1992); Pierre Tal-Coat (1905-1985); Asger Jorn (1914-1973), member of the COBRA group; Bram van Velde (1895-1981); Georges Mathieu (1921-2012); François Willi Wendt (1909-1970); Jean René Bazaine (1904-2001); Antoni Tàpies (1923-2012); Pierre Alechinsky (born 1927), member of the COBRA group; Louis Van Lint (1909-1986); and Norman Bluhm (1921-1999).
Featured Image: Jean Dubuffet - The Exemplary Life of the Soil (Texturology LXIII) 1958, Oil on Canvas