Blog Home
6 Important South Asian Female Abstract Artists
Jul 29, 2020
Yet another museum exhibition sidelined by the COVID-19 Pandemic is Fault Lines: Contemporary Abstraction by Artists from South Asia, which opened at the Philadelphia Museum of Art in early spring, just before the city went into lockdown. The exhibition focuses on works by six South Asian female abstract artists: Tanya Goel, Sheela Gowda, Priya Ravish Mehra, Prabhavathi Meppyail, Nasreen Mohamedi, and Zarina. The curation is multi-generational, and brings together a broad range of aesthetic positions, spotlighting just a small sampling of the diversity that exists within South Asian contemporary abstraction. As the title of the show suggests, every piece makes some sort of use of the formal element of line. Yet, equally important is the word "fault." Curator Amanda Sroka clearly made the decision to center artists and works that go beyond formalist concerns, into the realm of broader cultural commentary. Again and again in the show, materiality blends with meaning as these artists tear apart our various faults to examine the liminal, transformative, shifting zones in which our most pressing social concerns play out, providing poetic commentary on issues such as gender roles, climate change, human migration, political conflicts, personal identity, and religious intolerance. IdeelArt offers a closer look at the practices of each of the six artists featured in this exhibition that will reopen on the 6th of September.
Zarina Hashmi (b. 1937, Aligarh, d. 2020, London)
IdeelArt first profiled this extraordinary artist, who preferred simply to be called Zarina, when she died this past May. Profoundly affected by the partition of India when she was a child, Zarina devoted her studio practice to the exploration of what it meant to express her personal experiences through art. Her compositions evoke the language of geometric abstraction, while incorporating visual references to her shifting memories of a home that was never fixed in one place, such as maps, houses, and handwritten letters. Herself a lifelong migrant, the work that is included in Fault Lines is her now iconic woodblock series, "These Cities Blotted into the Wilderness (Adrienne Rich after Ghalib)" (2003), which reduces aerial maps of war-torn places where boundaries are fluid into minimal, linear, black and white compositions.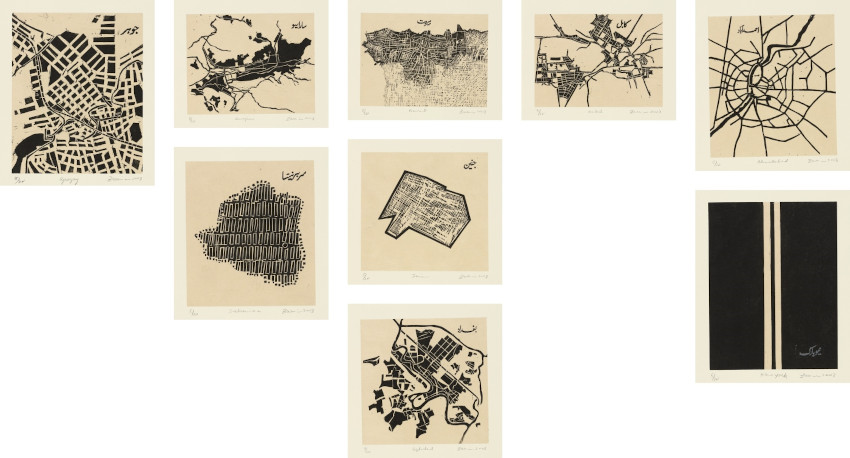 Zarina Hashmi - 9 Works: These Cities Blotted into the Wilderness (Adrienne Rich after Ghalib), 2003. Portfolio of nine woodcuts with Urdu text printed in black on Okawara paper and mounted on Somerset paper. Sheet size: 16 x 14 in. (40.6 x 35.5 cm). All edition 5/20. © Zarina Hashmi
Nasreen Mohamedi (b. 1937, Karachi, d. 1990, Vadodara)
A contemporary of several members of the Bombay Progressive Artists Group—a loose coalition of artists in the mid 20th century who were dedicated to connecting the prevailing styles of India with those of contemporary Western culture—Nasreen Mohamedi was inspired by the spiritualism of Wassily Kandinsky and Kazimir Malevich. She developed a distinctive visual language that allowed her to distill her interactions with time, space, and the natural world into nuanced geometric abstract compositions. Though frequently complex and layered, her line-based drawings possess a contemplative quietude.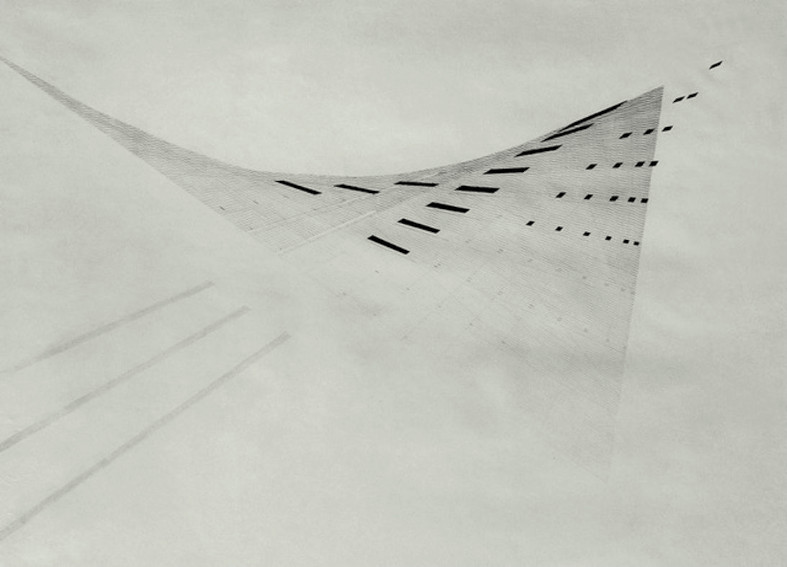 Nasreen Mohamedi - Untitled, 1975. Ink and gouache on paper. 19 x 24 in (48.3 x 61 cm). The Metropolitan Museum of Art.
Sheela Gowda (b. 1957, Bhadravati)
The process of physically building her artworks herself is essential to Sheela Gowda. She builds her sculptures and installations from everyday materials that women in India use in their crafts and labor activities. For pigment, she likes to use kumkuma powder, which is used to color the forehead in spiritual ceremonies in India, and can relate to the seven human energy vortices known as chakras. Gowda has two works in Fault Lines: one made from oil tins, which resembles a rectangular, shanty home; and one that uses cow dung bricks and pigment to create a curved, minimal line on the floor. Though her works frequently contain narrative elements, and clearly relate to contemporary Feminist concerns, Gowda believes meaning is embedded within their material realities, and considers her works to be open and abstract.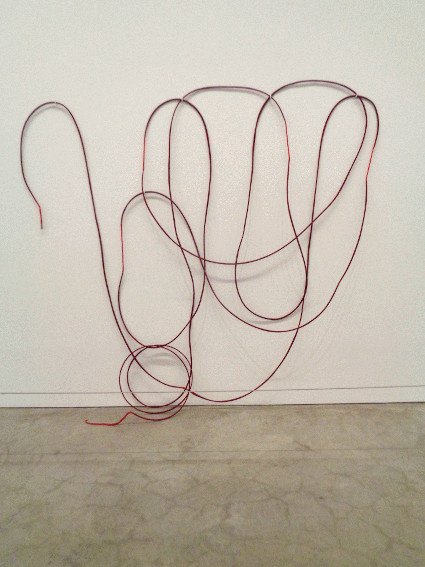 Sheela Gowda - Untitled, 1997, installation view. 10 pieces: thread, pigment, needles. Dimensions vary (approx 120 x 300 inches) +91 Foundation (Collection of Shumita and Arani Bose), New York. Photo courtesy of the Philadelphia Museum of Art.
Priya Ravish Mehra (1961 - 2018, New Delhi)
Through her specialization in textile weaving, Priya Ravish Mehra developed a multidisciplinary practice that poetically elucidates the intersection of fine art, craft, and everyday life. Her delicate woven paper works possess an intense, but delicate, beauty and structure. Mehra was renowned as an expert on the little understood work of the Rafoogari, individuals who darn or conserve damaged clothes and other textiles. She had ancestral roots in the tradition, and saw rafoogars as healers of cloth. She explained that her Rafoogari works, which employed the same traditional methods to create complex, layered, dimensional, abstract compositions, could be interpreted as her attempts to heal "the corroded fabric of life." The work featured in Fault Lines marries the crafts of paper making and weaving, blending a language of geometric and biomorphic lines and shapes as an iconic example of her totemic, minimal vision.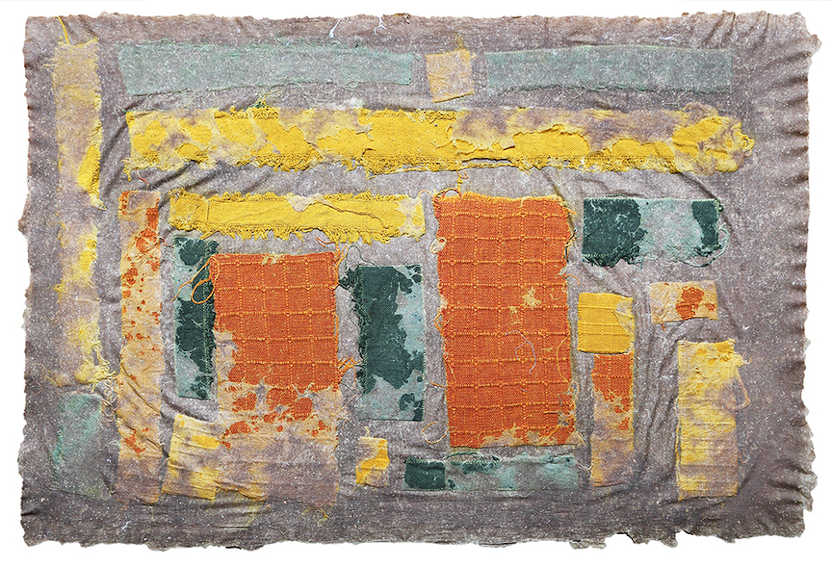 Priya Ravish Mehra - Untitled 5, 2016. Jute fabric fragment with Daphne pulp. 62.2 x 45.7 cm. © Priya Ravish Mehra
Prabhavathi Meppayil (b. 1965, Najibabad)
With ancestral roots in jewelry and metalworking, and a studio surrounded by goldsmiths, metals are critically important to the work of Prabhavathi Meppayil. Yet, her use of this medium has little to do with adornment or utility. She is interested in the ways metal coexists with her sculptural supports, which tend to be white or another muted monochrome. She creates minimal, grid-like compositions with various metal elements, which take on the presence of a sort of writing against the blank background. The work Meppayil created for Fault Lines consists of a row of sixteen square panels painted with white gesso. Embedded within the surfaces of the panels are copper wires. The gesso partially obscures the wires, transforming the work into a sort of palimpsest, or manuscript that is in the process of being erased. The abstract qualities of the work are contrasted with the literal sense that this artist is erasing and rewriting the history of her medium.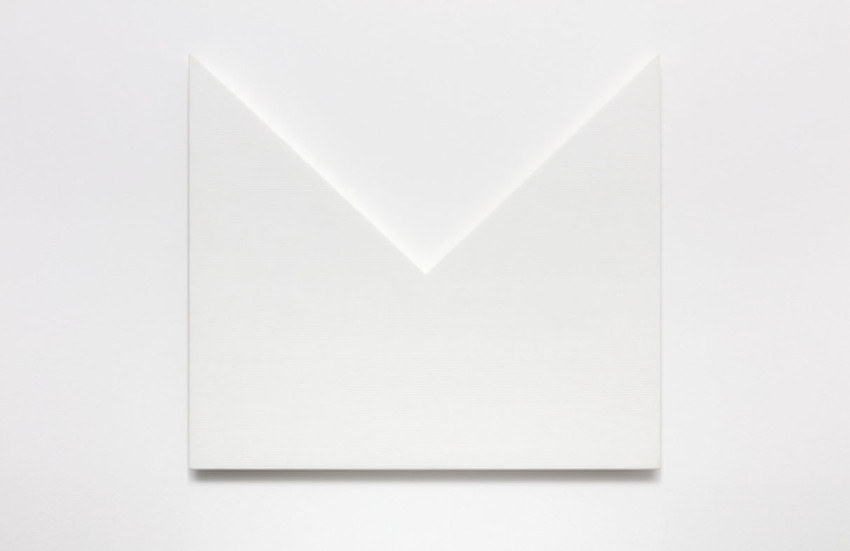 Prabhavathi Meppayil - se/hundred and six, 2018. Gesso panel stamped with thinnam. 31 9/10 x 37 1/10 x 1 1/10 in (80.96 x 94.3 x 2.86 cm). Esther Schipper © Andrea Rossetti
Tanya Goel (b. 1985, New Delhi)
Tanya Goel makes her own pigments from materials she scavenges from architectural demolition sites in New Delhi. The colorful, complex, layered, geometric patterns she creates with these pigments are embedded with a sort of material map of the transformation of contemporary India. Her compositions could also simply be interpreted as visualization of mathematical formulas that Goes constructs, and then freely violates, fluctuating between order and freedom. For Fault Lines, Goel created a site specific installation that uses a minimal, linear composition made from natural brick mixed with indigo powder pigment, slapped on the wall with the kind of snap line used by construction workers, to map sea level change.
Tanya Goel - notation in x, y, z, 2015. Graphite, pigment and oil on canvas. 213.3 x 274.3 cm (84 x 108 in). © Tanya Goel
Fault Lines: Contemporary Abstraction by Artists from South Asia will be on display at the Philadelphia Museum of Art until October 25th, 2020.
Featured image: Tanya Goel - Mechanisms 3, 2019. Dyed paper silk, graphite pens, colour pencils and acrylic on canvas. 243 x 198 cm (96 x 78"). © Tanya Goel
All images used for illustrative purposes only
By Phillip Barcio