Blog Home
How Two Chinese Abstract Masters Dominated Sotheby's Hong Kong Auctions 2021
Apr 21, 2021
The 2021 Sotheby's Hong Kong auctions are in full swing even as most of the world is still reeling from new lockdowns caused by the latest surge in COVID-19 infections. The pandemic has revealed all sorts of social and economic divides between rich and poor countries. The intense activity being reported by Sotheby's shows that the divide is not only between nations, but between high net worth (HNW) art collectors and the rest of the art field as well. Low and mid range collectors significantly pulled back on their discretionary spending during the past year, leaving most makers and sellers of art barely hanging on. But extraordinary works of art—and in particular abstract art—have nonetheless been breaking records this week in Hong Kong, suggesting that the HNW market remains immune to the current economic peril. Indeed, according to the most recent Art Basel and UBS Global Art Market Report, two thirds of HNW collectors not only continued to collect art during the pandemic, they actually increased their collecting activities. Since most collectors could not buy art in person, online art sales actually doubled in the past year. Another fascinating trend: one third of HNW collectors report that they purchased a work of art over Instagram in 2020. (Buying an artwork off of social media without seeing it in person was almost unheard of at any price prior to COVID-19.) It could be argued that even before the pandemic auctions were largely considered a remote platform—HNW collectors routinely bought works they had never seen in person, sometimes bidding ferociously in absentia through proxies against other collectors who had also never been in the same rom as the work over which they were fighting. Sometimes the work would sell, be sent to a storage unit, and not see the light of day again until it was auctioned again years later. Will COVID-19 transform the entire art field into nothing more than a network of online viewing rooms and digital stores? I hope not. But whatever happens, the good news for us is that even in this strange time the top selling works at auction this week were all abstract.
Two Chinese Masters
Sotheby's brought a cross-cultural selection of art to their Hong Kong auctions this year, but works by Chinese abstract painters were still the best sellers at both the Modern Art Evening Sale and the Modern Art Day Sale. The highest selling lot in the evening was "Harmonie hivernale," a large-scale, moody, gestural work by Chu Teh-Chun, which fetched $29.5 Million (US)—nearly doubling its pre-auction estimate of $15 Million and setting a new record for the artist at auction. Two other works by Chu Teh-Chun—"Complexité" and "Thèmes lumineux"—topped the Modern Art Day Sale, bringing in around $1.2 Million each, and both nearly doubling their high estimates. Renowned as the first ethnic Chinese member of the Académie des Beaux-Arts of France, Chu Teh-Chun moved to Paris after studying traditional painting art in China, laying the groundwork for a generation of artists who blended Eastern and Western painting styles.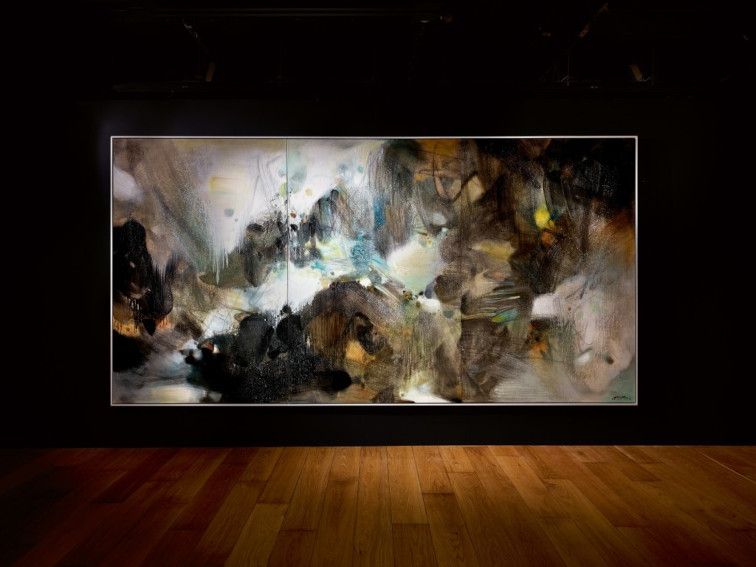 Chu Teh-Chun - Harmonie hivernale. Oil on canvas (triptych). 193 by 384.7 cm; 76 by 151 1/2 in. Sold for 229,568,000 HKD. Courtesy Sotheby's


The second highest selling artist at both the Evening and Day Modern Art sales was Zao Wou-Ki, a close colleague of Chu Teh-Chun, and also a member of the Académie des Beaux-Arts. The values of Zau Wou-Ki paintings have been skyrocketing for years. His best selling work this week was a brooding, red masterwork named for the date on which it was painted: "13.02.62." That date is particularly significant to Zao Wou-Ki, as it was his birthday. Some may think it depressing that an artist would spend their birthday in the studio working. The intense, primordial energy of this painting makes it clear that Zau Wou-Ki considered his work to be of epic importance, whatever the day. "13.02.62." sold for $21 Million (US), while his top selling work at the Modern Art Day Sale was an ethereal blue composition titled "04.09.74."
Five Western Men
It is notable that no works by female abstract artists were offered at the Hong Kong auctions this week. I am curious, was this the coincidental result of there being none offered by clients? Or was it a curatorial choice by the auction house? Anyway, along with the top selling Chinese men, a selection of extraordinary works by five Western male abstract painters also attracted the attention of HNW collectors. The biggest splash this week by a Western abstract artist was at the Contemporary Art Evening Sale, at which "PH-568," a somewhat muted masterpiece by Clyfford Still, sold for $16 Million (US). Close behind it was "Schwefel (Sulphur)," by Gerhard Richter, which sold for $15 Million, and "Untitled XLVIII," a late work by Willem de Kooning, painted in 1983, which fetched $6 Million.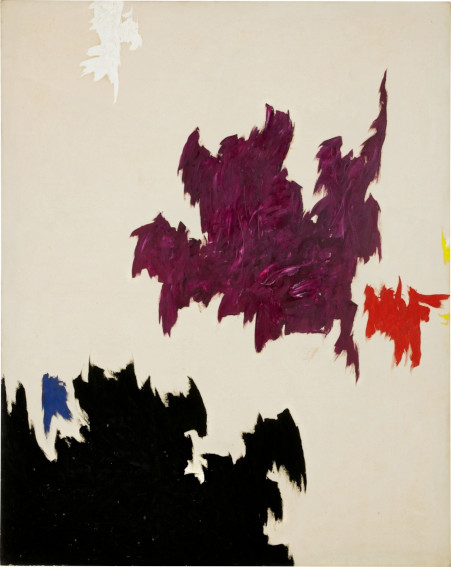 Clyfford Still - PH-568. Oil on canvas. 285.1 by 226.7 cm. 112 1/4 by 89 1/4 in. Sold for 126,158,000 HKD. Courtesy Sotheby's


Pierre Soulages led the West in the Modern Art Evening Sale with "Peinture 125 x 202 cm, 30 Octobre 1958," an ethereal, golden and black work that sold for $6 Million (US). Two paintings by Georges Mathieu also found buyers at the Evening Sale: "Hommage à Watteau," a haunting vision of dynamic, gestural forms afloat in a celestial blue color field, fold for $775,000, and "Espoirs cruels," a gestural explosion of reds and blacks, brought in $1 Million, nearly quadrupling its high estimate. The other Western abstract painter of note in the Evening Sale was Sir Terry Frost, R.A., whose "Green and Orange" brought in $100,000. Finally, an untitled work by Sam Francis topped the Contemporary Art Day Sale, selling for $500,000, beating its high estimate by $100,000. As always when writing about auction results, I feel compelled to point out that the numbers say little about the economic health of the overall art field. But even if all we can really take away from the news from Hong Kong this week is that the high end of the Asian art marketplace is still booming, at least abstraction is leading the way.
Featured image: Zao Wou-Ki - 13.02.62. Oil on canvas. 129.5 by 161.5 cm; 51 by 63 5/8 in. Sold for 162,926,000 HKD. Courtesy Sotheby's
All images used for illustrative purposes only
By Phillip Barcio