Blog Home
Why Small Paintings Can Make a Big Impression on Your Abstract Art Collection
Mar 6, 2020
The trend of large, loud and largely unsellable paintings, dubbed festival art by an American art critic Peter Schjeldahl, dominated art fairs for two decades - stretching throughout the 90s to early 2000s. Though the turn of the century was all about the excess and grandeur, small paintings loomed large as the global economic crisis of 2008 called into question our overblown likings. Small became beautiful again and moreover, small became beautiful across the art world. Small paintings promptly found their way into hearts - and homes - of art collectors. But many were skeptical if small abstract paintings could match this latest tendency as big turned over the years into a synonym for abstract art - at least from Jackson Pollock on. Admirers of Paul Klee, Wassily Kandinsky, Alice Trumbull Mason or Myron Stout would certainly staunchly disagree as they are amassing their small abstract paintings collection. If you are among the hesitant ones, we offer some great bits of advice that will make you decide more easily.



Pro and Only Pro of Small Paintings
When buying a painting, size matters as much as anything else, but the size is not just about inches. There is something elusively intimate about small paintings that builds the intangible bond between the collector and his/her artwork. Small paintings are particularly fitting for homes as they can embellish our dwellings in the most unique ways. But, that is hardly all; small paintings are all about advantages.
a. Small paintings don't take much space
For art lovers, wall space is an expensive currency to trade. If you prefer to reserve large walls (or walls in general) for more spacious, large pieces, you will fervently seek alternative options. Leaning your small artwork on tables, mantels or shelves as well as using easels will help you free some additional wall space.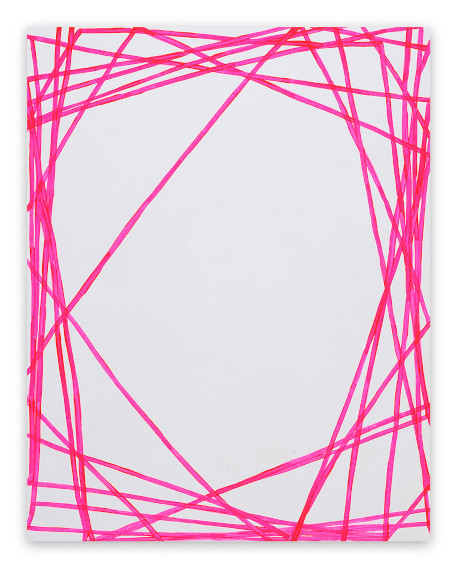 Mel Prest - Invisible Glass, 2013. Acrylic on panel. 35.6 x 27.9 x 5 cm.
b. Balance your spatial arrangements
Even if all that Feng Shui craze passed you by, you certainly desire your home to be a balanced and soothing place. Small paintings can serve wonderfully in turning a dull corner into an inspiring niche or a bare hallway into a welcoming passage. Try Mel Prest's Invisible Glass which kinetic perceptual effects will make any tedious site an exciting and arresting place or Susan Cantrick's erratic Boston pebble 21 that will provoke an intriguing contemplative process.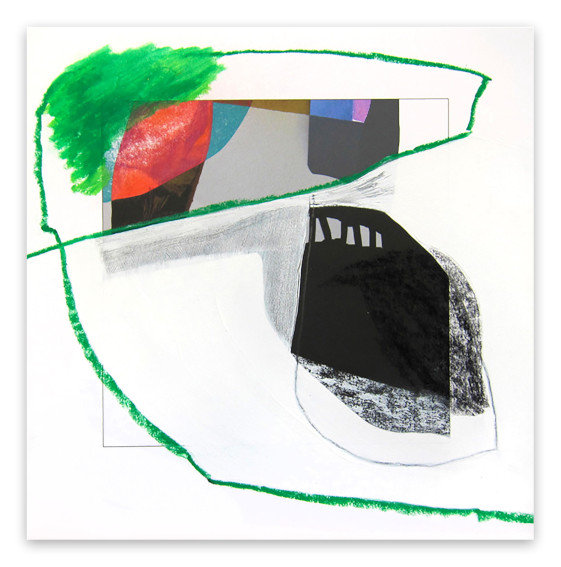 Susan Cantrick - Boston pebble 21, 2012. Mixed media. 30 x 30 cm.
c. Mixing it all up!
Large pieces require large, empty walls and are not particularly befitting for mixing with other objects. Smaller paintings are a far friendlier sort that could elegantly accompany your other artworks or diverse household objects. They can be charmingly paired with sculptures, photographs or your traveling momentos. Look at how Harald Kröner's piece beautifully fits with a stylish home decoration even more persuasively accentuating his focus on time passing, perception, form(s) and light(s).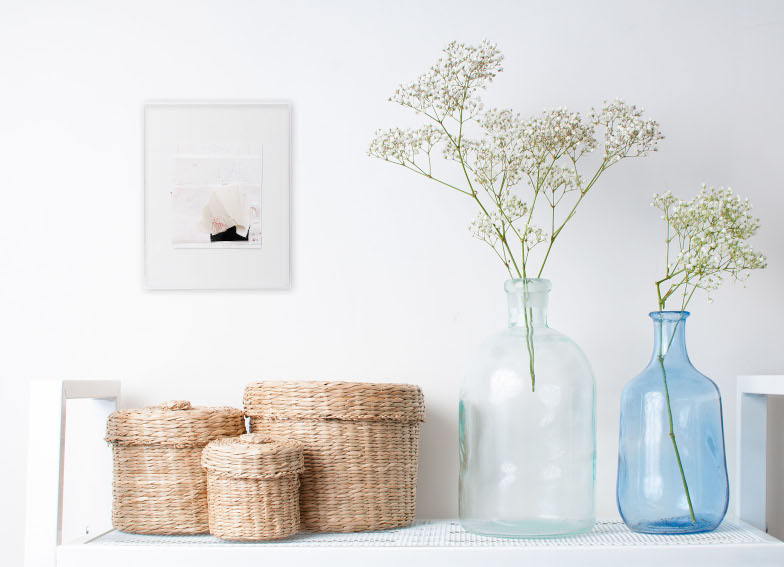 Harald Kröner - 12.06.10, 2010, installation view. Crayon, ink, collage on paper. 15 x 16.8 x 2 cm.
d. The smaller painting will save you some money!
At the end of the day, the money will come into play and when it does, you should have no doubt that smaller pieces are cheaper - at least some! If you are constrained by a tight budget but can't get over your collector's impulses, small pieces are right up your alley. For example, this lively geometric piece by Brent Hallard will certainly provide you with great joy for only £550.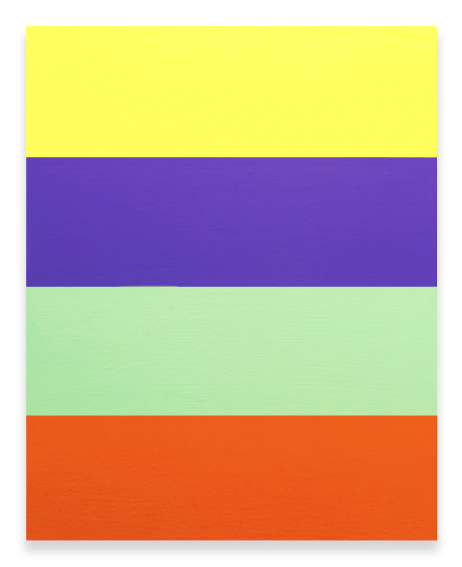 Brent Hallard - Landed, 2014. Acrylic on anodized aluminum. 25.4 x 20.3 cm.


Finding the Right Place for Your Smallie
Before delving into all the details, let's start with the rule of thumb of any in-home art curating - large walls should accommodate large paintings, small walls should accommodate small artwork. That being said, avoid hanging your small abstract painting in a spacious room that will "gulp" the piece and disrupt the spatial balance. Now, after the basics are covered, it's time to move to some more complex calculations.
a. Stick to the three-eights rule
An empty wall should be left blank in the number of three-eights of the width of the painting on each side. To calculate your ideal width, multiply the length of your wall by 0.57. For example, to accommodate this Gina Werfel's vividly lyrical piece you will need a wall that is at least 21 inches wide. If you are considering hanging a non-standard shaped painting, you should use the widest point of the piece as a reference.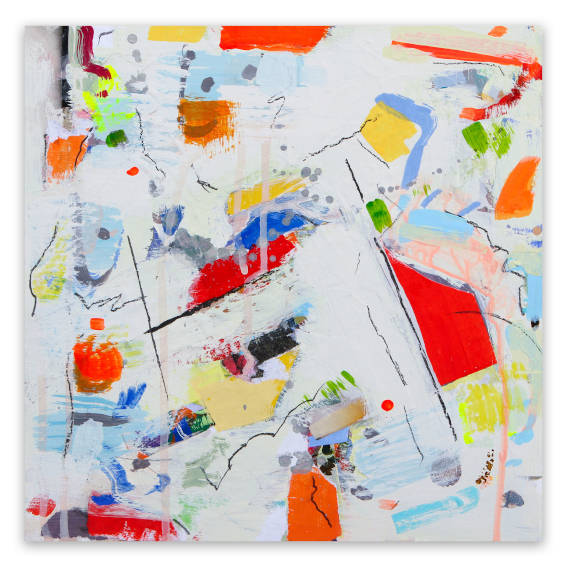 Gina Werfel - Aerial View, 2019. Acrylic and mixed media on panel. 30.48 x 30.48 cm.
b. The anchor of the room
If you hang artwork at an eye-level (as it is often recommended), that will be only your own eye-level and a very subjective point of appreciation. Instead, curators prefer to hang artwork 58 inches up the floor from the artwork's center. If you are placing your piece over the furniture make sure that the bottom of the piece is at least 8 to 10 inches above or your artwork will feel unanchored. This metallic and ambiental marvel by Gudrun Mertes-Frady should be elevated at least 8 inches from, for example, a nearby chair.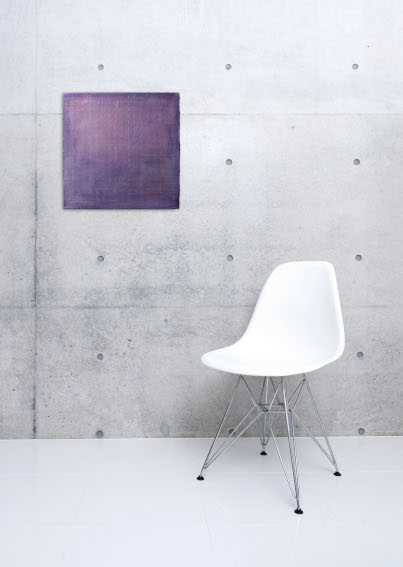 Gudrun Mertes-Frady - My Small City, 2018, installation view. Oil and metallic pigments on linen. 45.72 x 45.72 cm.
Also, if you plan on hanging your small abstract painting on the wall over a piece of furniture, pick the artwork that is between 65 and 85 percent of the furniture's total width. Kyong Lee's Eckige Masse 055 will fit amazingly over a 25 inches long table. However, if you choose to hang your piece over a fireplace, the ideal size for the painting will be as wide as the opening of a fireplace (regardless of the size of the mantel).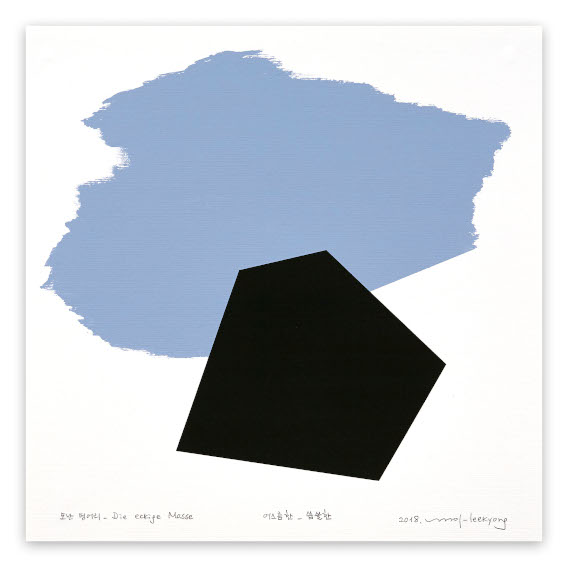 Kyong Lee - Eckige Masse 055, 2018. Acrylic on Fabriano-pittura paper. 35 x 35 cm.
c. The more the merrier
Small walls will be more appealing with a number of small paintings instead of one large, wall-filling one. If you opt for more paintings, carefully calculate the space between the paintings. The space between the two paintings should be included applying the three-eighths rule. If you have multiple pieces in different sizes and shapes, a salon-style hang would be the best choice. Start at the top of the wall placing, for example, this Deanna Sirlin's colorful and textured mixed media piece next to Ashlynn Browning's soothing oil on panel, keeping the tops of the frames in a straight line. Work your way down keeping the spaces between each piece similar.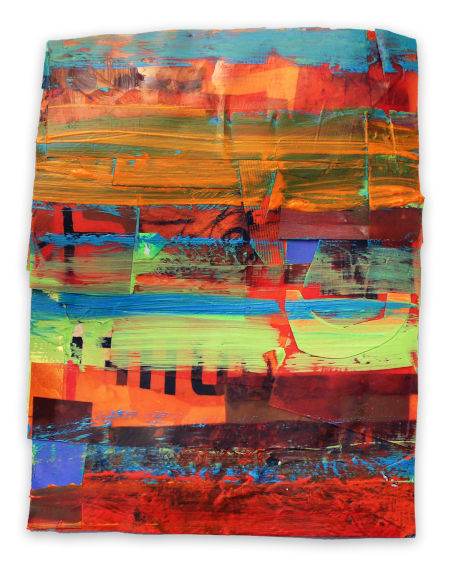 Deanna Sirlin - Started There, 2017. Mixed media on paper. 22.8 x 16.5 cm.
d. Don't forget the frame size!
Unless you are hanging an unframed canvas, bear in mind that any frame will add to the equation. For example, a 2-inch frame will add 4 inches in width which creates a new proportion between the artwork and the wall. Try adding 2 inches to Tilman's Untitled (105.13) that is only 11 inches wide and you will notice how much frames adds.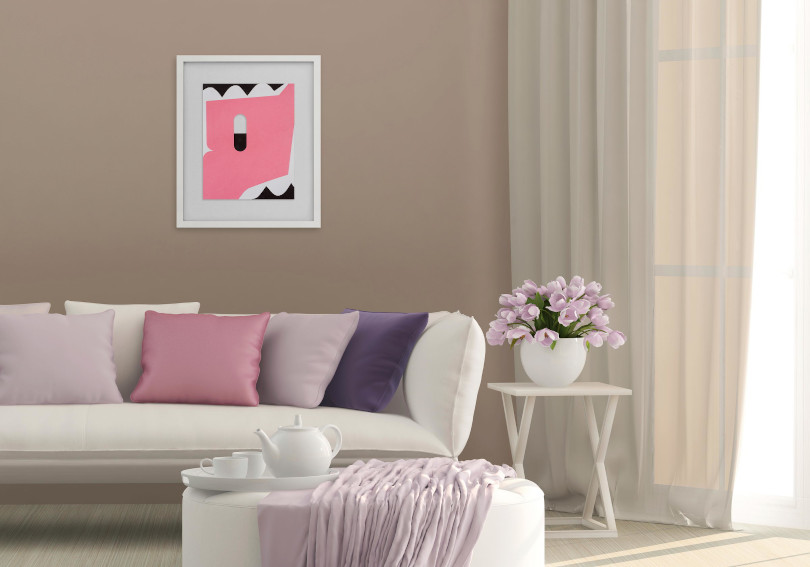 Tilman - Untitled (105.13), 2013, installation view. Crayon on vellum. 35.5 x 28 cm.
Now, once you're equipped with all the knowledge needed to masterfully accommodate small abstract paintings in your home, choose those that will align the best with your aesthetic affinities, as well as with your walls.


Featured image: Mel Prest - Invisible Glass, 2013, installation view.
By Jovana Vuković