Blog Home
Farewell to Siri Berg
Apr 15, 2020
Swedish American abstract artist Siri Berg, a member of American Abstract Artists whose work is in the collection of the Solomon R. Guggenheim Museum, among other institutions, has died in New York City at the age of 98. Like Josef Albers and the other Bauhaus artists who inspired her, Berg devoted her attention to the fundamental elements of visual art: color, light, shape, form, material and composition. Her straightforward artworks succeeded through their honesty and confidence. Berg once referred to her works simply as "statements." Although her work is abstract, she did not consider it mystical, suggestive, or indirect. A statement, rather, is something authoritative. It asserts. It reveals. The essence of what Berg stated with her works fluctuated depending on many factors. She sometimes made purely formalist paintings clearly intended as statements about color, such as her "Gradation" series. Other times, she made paintings that, although they deploy color as an aesthetic device, are also unapologetically allegorical about the relationships people develop with each other and with the world. Her seminal work "La Ronde" (1972) takes its name from the 1897 Arthur Schnitzler play La Ronde, which deals with sexual relationships between ten different people. For her version of "La Ronde," Berg painted a series of canvases that explored relationships between different colors, placing various colors in different contexts with each other. Just as the characters in the Schnitzler play reveal different aspects of their personalities depending upon who they are intimate with, Berg shows how colors seem to completely change their appearance depending what other colors they are paired with—a statement about how all kinds of changes are often actually only fictions of our perception, caused by changing circumstances. Berg reveled in conversations such as this, which she knew her work had the power to incite.
Subtle Dialogues
Berg was born in 1921 in Stockholm, Sweden. In 1940, after earning her degree from the Institute of Art and Architecture at the University of Brussels—and just as the Germans had begun occupying Belgium in the early years of World War II—she fled to America alone, braving a 28-day journey aboard a small freighter. She knew from the start that her true ambitions were in the art field, however Berg spent her first two decades in America working in adjacent creative fields: first in fashion and then as a window designer for department stores. She finally turned her attention fully to painting in her 40s, at first painting in her home, and later renting studio space in SoHo, nearby where she lived. From the start, her paintings occupied an individualistic space in the context of her contemporaries. Not exactly Minimalist, but far from Expressionistic; formally abstract, yet full of allegorical content: the work exemplified a goal Berg referred to as making sure she was "there" in the work.

Siri Berg - La Ronde, 1972. cat #99, acrylic on masonite, 12" x 87" (7@12"x12" ea). © Siri Berg


What it meant to Berg to be "there" was that she could find ways to allow her experiences and personal trials to find there way into the geometric forms and color relationships in her paintings. One of her most renowned early works, "Cycle of Life" (1967), offers a perfectly subtle example of this pairing of personal content and formalist precision: it mobilizes a simple layered grid of overlapping circles and a limited color palette to express the stages of development of an embryo. Another nuanced example of Berg being "there" in the work can be found in her "Phases" series, in which partial and full circles are aligned on flat surfaces in grid patterns. The circles may seem to resemble moon phases, but all they are in fact are just formal statements of the fact of phases. The truth of the existence of phases is what matters, regardless whether we are talking about geometrical phases, natural phases, or the shifting and incomplete phases of the life of the artist.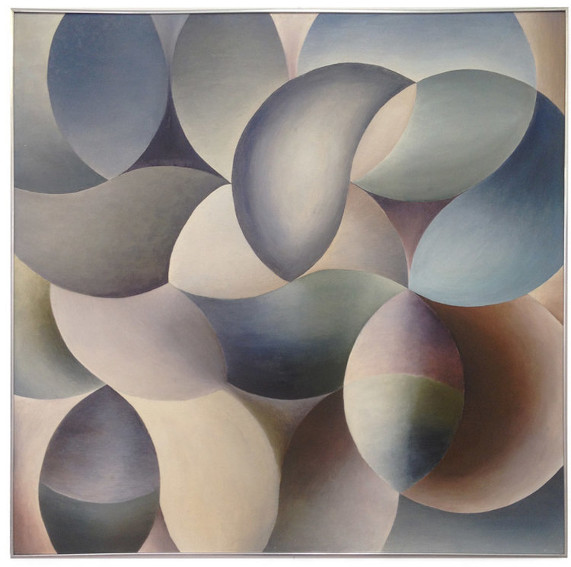 Siri Berg - Cycle Of Life, 1967. cat #53, oil on canvas, 28" x 28". © Siri Berg
Contrasts and perception
Throughout her career, Berg stuck to a simple palette of only nine basic colors. Starting from that basic framework, she toiled to mix colors that "don't exist" in the natural world. By developing unnatural hues, she was able to instigate encounters with viewers in which they could stop burdening themselves with the search for references to nature. Artificiality became truth in her paintings. Freed from narrative references outside themselves, the work is free to communicate whatever content Berg intended for it to carry. One of her favorite subjects was the Kabbalah, a field of esoteric Jewish teachings about the relationship between infinite, divine forces and the finite, mortal universe. Berg explored this concept in her "Kabbalah" paintings by focusing on its most essential aspect: the notion of contrasts.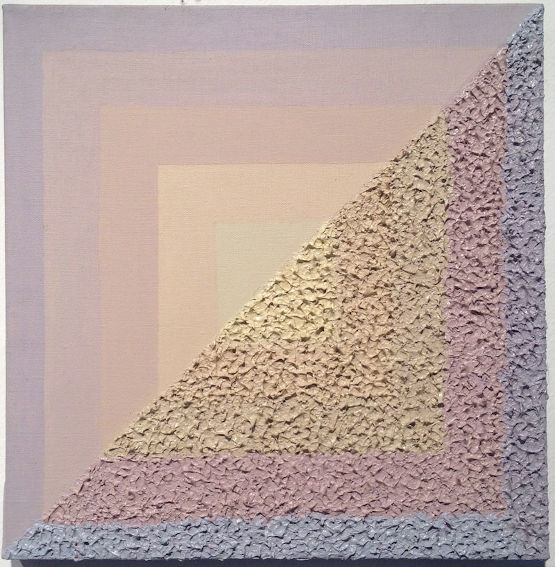 Siri Berg - Kabbala, 1983. cat#443, oil on canvas, 12" x 12". © Siri Berg


Other issues of importance to Berg included architecture and light. She expressed those interests clearly in her found object assemblages. "Mouseballs" (1999), an assemblage of six roller balls from computer mice adhered to a canvas, is a classic example. The mouseballs and surface are all painted the same violet hue. The central part of the work is ridged, while the rest is flat. The mouseballs cast shadows onto the ridges. As the eye moves from the orbs to the ridges to the flat surface, tracers appear, creating bouncing illusions of shadow and form. Another assemblage, "Singularities" (1980-99), consists of a grid of 25 transparent, round suction cups adhered to a white canvas. The suction cups cast round shadows and instigate circular tracers across the flat surface. Though definitely paintings and not sculptures, works such as these make clear statements about the potential for space and light to affect human perception. Ultimately, the idea of shifting perceptions was what was most important to Berg, especially when it came to how people perceived her as an artist. As she once said in response to a question about what it meant to be a feminist artist, "I want my work to be viewed and experienced by you for what it is and not what I am."
Featured image: Siri Berg - Phase 25, 1973. cat#152a, oil on canvas, 12" x 14". © Siri Berg
All images used for illustrative purposes only
By Phillip Barcio