Blog Home
Shara Hughes - Subverting Traditional Representational Landscapes
Sep 10, 2018
Shara Hughes makes paintings that are decidedly contemporary, and yet the artificial landscapes that she conjures evoke comparisons to a multitude of aesthetic traditions from the past. Their intuitive lyricism reminds me of the mystical compositions of Hilma af Klint; their palette and proto-Modernist brushstrokes call to mind Edvard Munch and the Symbolists; the total willingness with which Hughes capitulates to the need for content recalls some mixture of the Decadent Movement and Romanticism. What all of these tried and tested styles have in common is an embrace of intuition, and an acknowledgement that even in figuration there are hidden mysteries. Hughes is definitely an artist in that same vein. She is a visual poet who is striving to give viewers something narrative to latch on to while simultaneously beckoning us into the forest of her imagination. What we see in that forest is often not pretty. It is sometimes hideous. The aesthetic Hughes has developed is at times brutish and awkward. Her pictures often look like drawings made by a child and hung on a refrigerator. Hughes embraces that clunky aesthetic in the same way artists like Dubuffet and Basquiat did. But the beast that lurks within her paintings is more subdued, and more creepy. Hughes subverts our initial assumption of her intent by announcing in subtle ways that she is a trained artist who is having fun painting poorly—not because Hughes hopes to return to some place of naive purity, but so she can shrug off the haughty sophistication that plagues so much contemporary art. These artificial landscapes from her mind are an expression of the democratic approach Hughes takes, which values individuality and idiosyncrasy more than virtuosity, and puts as high a premium on what is hidden as what is known.
A Mental Space
Hughes begins each of her paintings with a series of intuitive gestures. She might pour some paint onto a raw canvas and swirl it around, or spray some dots onto the surface with a spray paint can. These are preliminary outbursts of energy, which then guide her eye towards whatever composition fights to emerge. When describing the finished landscapes that ultimately evolve out of her early marks, Hughes says they "connect to a space in your mind more than a picture." She means they flow entirely from imagination and instinct. Nonetheless, I cannot help but identify with these paintings first as pictures. Regardless of their mysterious roots, they employ classic tropes of landscape painting. I see horizon lines, celestial bodies reflecting in bodies of water, and natural elements in the foreground obfuscating background scenery, adding perspective and depth to the scene. These pictures look like places I have seen before, either in real life or in thousands of other landscape paintings.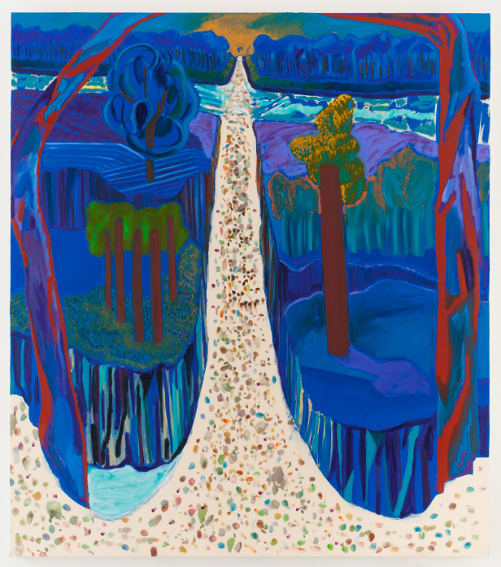 Shara Hughes, Deep Dry Cavern, 2016, oil and acrylic on canvas, 68 x 60 inches, courtesy of the artist and Rachel Uffner Gallery
However, interspersed throughout these pictures is also ample evidence of the mental space that Hughes is talking about—evidence that something else besides a picture is also at work. There are sections of the canvases that operate on purely abstract levels, where impressions made by formal elements like shape, form, color, and line dominate whatever narrative expression the composition is trying to make. Art historical references abound: stained layers recall hints of Helen Frankenthaler; whimsical shapes recall Alexander Calder; iconic compositional tactics evoke Barnett Newman and Georgia O'Keeffe; and gestural techniques channel the energy and freedom of Joan Mitchell. A sense exists in these paintings that the painter who created them, however democratic she is striving to be, possesses mastery of her medium and can choose to employ it at will. There are moments, for example, in paintings like "It's More Than a Guilty Pleasure" (2017) when the technical sophistication dazzles the eye. Hughes is indeed showing us a mental space with these landscapes: her own mental space. It is filled with all of the influences and anxieties of our time, while at the same time it strives to be free of them.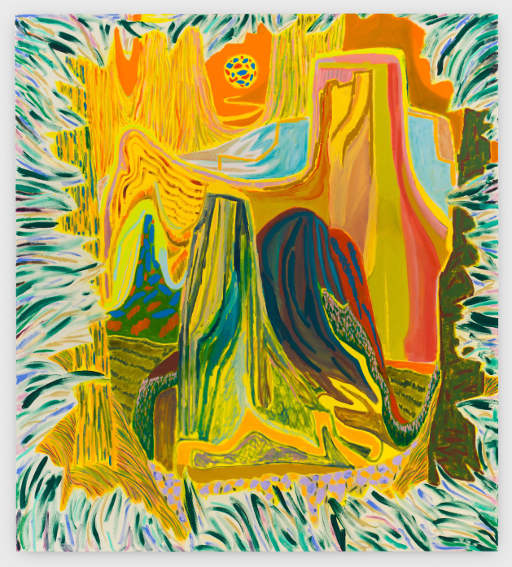 Shara Hughes, Narnia, 2017, oil and acrylic on canvas, 78 x 70 inches, courtesy of the artist and Rachel Uffner Gallery
Clunkiness and Chaos
On 24 September, The Arts Club in London will open an exhibition of several new works by Hughes. One of the other predominant feelings I experience when looking at these new works is playfulness. I feel that I am looking at something made by someone who does not suffer from an ounce of self-consciousness. The work is full of artificiality, but it is the imaginative kind, like someone telling an elaborate and entertaining lie over drinks in a bar. Paintings like "Narnia" (2017) and "One Last Step" (2017) are whimsical, and downright clunky in their imagery. In some ways I find them hideous—the color relationships grate upon my eyes. They are like anti-beauty—imagery that seems to have been intended to unsettle the mind. But they are also magical, like 19th Century Metaphysical paintings without the pre-meditated annoying intent.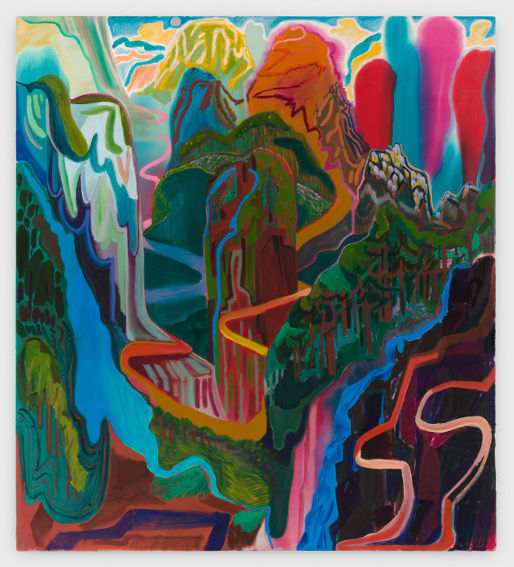 Shara Hughes, Spins From Swiss, 2017, oil and dye on canvas, 78 x 70 inches, courtesy of the artist and Rachel Uffner Gallery
That clunkiness and chaos that I see in her paintings is also evident in her technique. Watching Hughes work in her studio I can see that she engages with her processes and tools in thoughtful, careful ways, but each time she picks up a brush or a crayon it seems like it is the first time. The way she holds a spray can has none of the confidence of a tagger, but rather all of the inflexibility of an accountant. Yet Hughes also displays physical confidence. She is also compelling in her presence, as is her work. Her paintings are an outgrowth, or an expression of her personality perhaps. They are maybe all self-portraits as well as landscapes. They show us Hughes in all of her awkward brilliance. The effect is like chaos mixed with stoicism and a side of playfulness, which reminds me that these paintings are not the cynical products of someone trying to make a point. They are aspirational works that do not yet know what they are, the result of Hughes reaching towards something that she does not fully understand herself.
Shara Hughes will be on view at The Arts Club in Mayfair, London, from 24 September 2018 through January 2019.
Featured image: Shara Hughes, It's More Than a Guilty Pleasure, 2017, oil and acrylic on canvas, 68 x 60 inches, courtesy of the artist and Rachel Uffner Gallery