Blog Home
6 Sculptures Inspired by Nature You Can See This Summer
May 6, 2019
An upcoming exhibition in London this summer promises viewers a unique opportunity to examine the intersection of figuration and abstraction in contemporary sculpture, by way of an assortment of sculptures inspired by nature. Titled Renaturing Nature, and mounted by the Hignell Gallery, the exhibition will unfold across two distinctly different spaces—the interior of the Hignell Gallery on Shepherd Street in Mayfair, and the lush surroundings of Saint James's Square garden a kilometer and a half away. The six sculptures have been selected precisely for their ability to exploit either an interior or an exterior locale, although some certainly could have been placed in either environment, and evoked much different sorts of reactions. For example, a pair of massive craneflies by German Canadian artist Vanessa Paschakarnis will inhabit the interior of the gallery, crowding viewers into a sense that they are trapped horrifyingly indoors with something that clearly belongs in the wild. Yet, if these cranflies were outside, we would react to them much differently. Their presence indoors objectifies them and heightens the unnatural aspects of their presence. Outside, they would be concretions; monuments to nature. Inside, they become abstractions; monuments to the fetishization of nature. Each of the other works that will be on view in this exhibition, in fact, operates with that same sort of conceptual dichotomy. They each deploy narrative imagery or content that lulls us into an immediate reaction that we are just looking at some straightforward, concrete representation of something we recognize—a sort of monument to this or that. The more we contemplate these works, however, and the closer we look at them, the more we become aware of world of hidden information and unseen meaning lurking right before our eyes.
On View in the Square
Perhaps the most deceivingly figurative work that will be on view at Saint James's Square will be "Te Danzante" (2018), by Portuguese artist Joana Vasconcelos. The large-scale, wrought-iron sculpture appears to be little more than an ornamental replica of a teapot. Covering the works, however, will be jasmine plants, which are frequently used to add aroma to green tea. Inside that detail, as well as inside the name, secrets lurk. The Spanish translation of the title is dancing tea. The Portuguese translation is something more like you dancing. The work is a reference to the history of the tea trade, which is wrapped up in the colonial history of Portugal and Europe. This metal cage does not contain nature so much as it manipulates it, and embellishes it, profiting from it with or without its consent.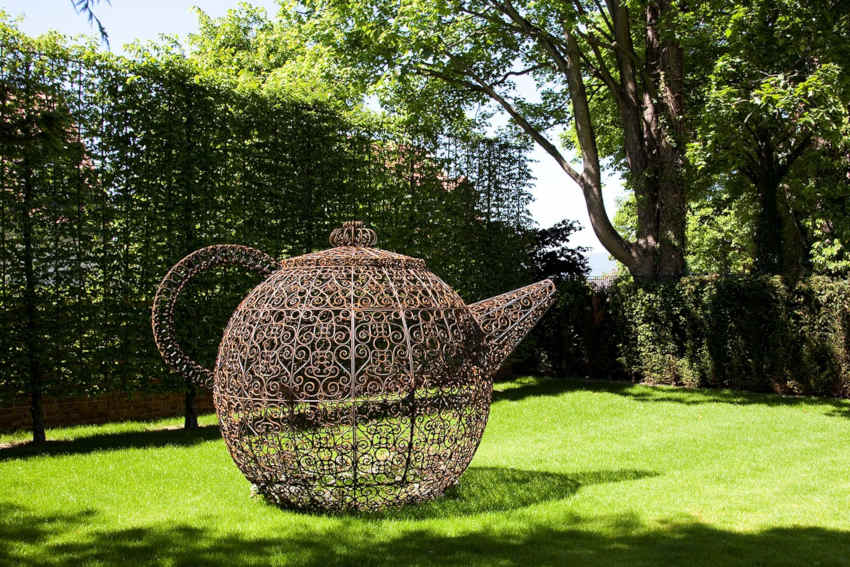 Joana Vasconcelos - Te Danzante, 2018. Photo © Unidade Infinita Projectos
Nearby will lurk another deceptively narrative sculpture by British artist Sophie Ryder, titled "Aussie Earl" (1996). At first glance, this work looks like a monument to a rabbit. Standing comically upon its rugged haunches, the beast stares ahead with its beady eyes and tiny head, blankly surveying its grassy domain. On closer examination, however, we see that the very flesh of the hare is composed of a collage of smaller objects—machine parts, toys, and innumerable other bits of memorabilia reflective of contemporary culture. As the true nature of this object reveals itself, we cannot help but contemplate the relationship between animals, nature, and the modern world in a much darker, and more abstracted way. To those familiar with the habits of rabbits, another reading presents itself, regarding lust and reproduction—a symbolic allusion to the connection such emotions have to the spread of humans and their manufactured world.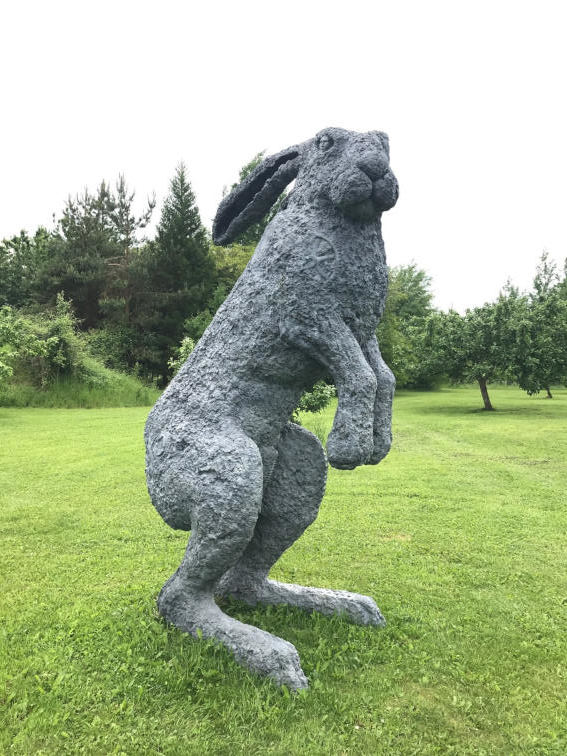 Sophie Ryder - Aussie Earl, 1996.
Also on view outside in the Square will be "Capricorno 1 & 2" (2017), another work by Vanessa Paschakarnis. Consisting of two disembodied horned goat skulls, this work employs scale and material to call into question our understanding of the connection between human and animal nature. Our embrace of this beast—the Capricorn—as a mystical, celestial entity is questioned by its apparent mortality. What does the form actually monumentalize? Does it evoke death, or does it evoke the aggrandizement of nature for human purposes? In a formal, abstract sense, there is much to admire here in terms of line, shape, color and form. But are we only objectifying nature more by thinking in those terms?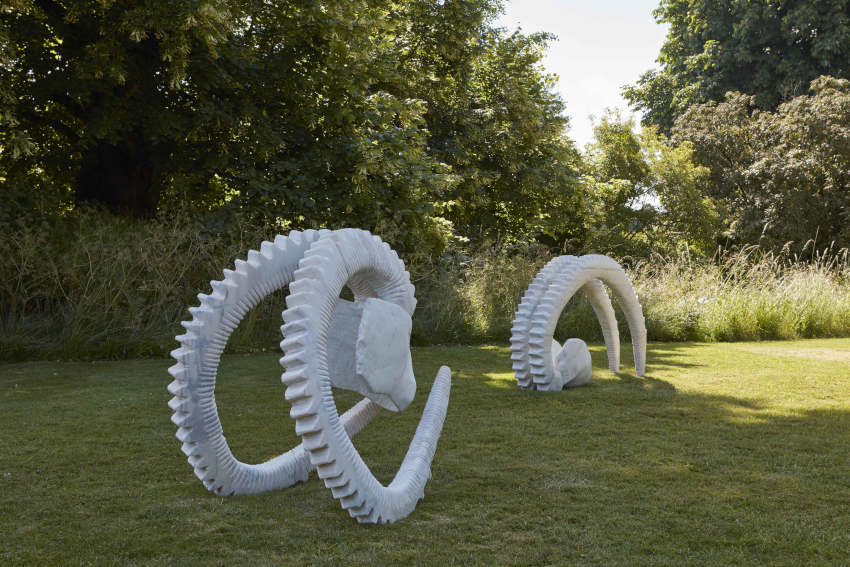 Vanessa Paschakarnis - Capricorno 1 & 2, 2017. Photo © James Brittain
On View in the Gallery
As already mentioned, two massive cranflies by Paschakarnis will be on view inside the walls of Hignell Gallery. Along side of them, two other sculptures will each in its own way contribute to the uncanny atmosphere of the interior environment. Most haunting, perhaps, will be a flowing, biomorphic mass titled "Slick" (2010), by British Sculptor Kate MccGwire. Made from the iridescent feathers of magpie wings, the oozing form appears to be flowing out of the architecture itself. Body parts of dead creatures have come together to form a new, seemingly living force, caught somewhere between the land of the living and the land of the dead. This work brings the natural world indoors, but does so in a most unsettling way. Aesthetically, it is an abstract wonder to look at. When the content emerges, however, levels of discomfort also emerge in a shifting, disquieting way.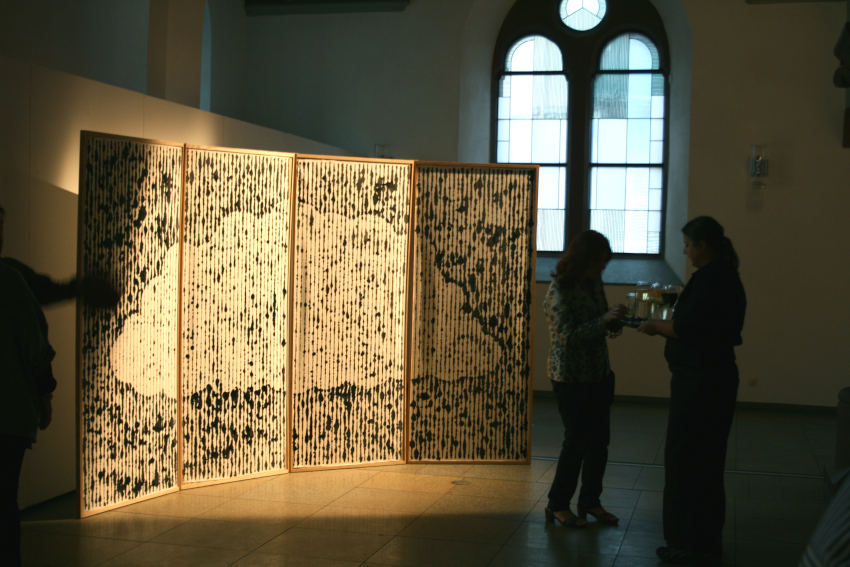 Peter Randall-Page RA - Rain Cloud Screen I & II, 2015. Photo © Aislinn McNamara
Also on view inside the gallery will be an installation titled "Rain Cloud Screen I & II" (2015), by British sculptor Peter Randall-Page RA, an artist whose work is inspired by the geometry of nature. Evocative of a dressing room screen, the work consists of four conjoined large-scale drawings. When admired up close, each drawing is an abstraction—an assortment of dark lines on a light background. When joined together and viewed from afar, the positive and negative spaces collaborate on the formation of a cloud form. The effect is subtle and whimsical, offering a thoughtful commentary on the inherent abstraction lurking within our interaction with the natural world, and the inherent stories hiding within our subjective reactions to even the most abstract human creations. Renaturing Nature will be on view from 21 June through 21 July 2019 at Hignell Gallery and in the garden of St James's Square in London.
Featured image: Kate MccGwire - Slick, 2010. Photo © Tessa Angus
All images used for illustrative purposes only
By Phillip Barcio