Blog Home
Light, Space and Abstraction in the Work of Santiago Calatrava
Jan 8, 2020
Twice I have had the pleasure of seeing the work of Spanish architect Santiago Calatrava in person. The first time was the Milwaukee Art Museum. The city of Milwaukee takes its name from a native Algonquin word meaning pleasant land. Nestled in a picturesque cove along the shores of Lake Michigan, it is clear why the name is appropriate, however, there is little architecturally about Milwaukee that speaks to the 21st Century. Most buildings harken back to when flour mills, breweries, grain elevators and harbor warehouses ruled the local economy. The Art Museum is a notable exception. It is so distinct from its surroundings that it at first shocks the eye. Yet, so perfectly does it meld with its natural surroundings that in short order one becomes convinced of its harmony within the landscape. The gleaming, white, neo-futurist building is often compared to a giant sailboat, or the wings of a massive seabird. To me, it resembles a bleached skeleton of some mythological lake beast washed upon the shore. The second Calatrava building I saw was by accident during a visit to the World Trade Center Complex in New York City. I came to pay my respects to ground zero, where the towers fell in 2001. As I stood contemplating the square reflecting pools that occupy the hallowed ground where the towers once stood, I became entranced by a rather angelic sight—a gargantuan but graceful white form, like the tail of a colossal whale rising from the ground. Crossing Greenwich Street to see what this optimistic building was, and assuming it was some kind of sacred memorial, I was surprised to learn it was simply a train station. Calatrava elevated the humble, utilitarian nature of the building and in the process created an homage to the everyday need for hope. The abstract sense of glory Calatrava captured with each of these two buildings is not unique; it is a gift for which he is renowned. It is also not unique only to his architectural practice. As an exhibition currently on view in Naples, Italy, demonstrates, Calatrava is a complete artist with cross disciplinary mastery of the space where form becomes one with light and space.
Modeling the Future
Santiago Calatrava: In the Light of Naples opened on 6 December 2019 at Museo e Real Bosco di Capodimonte. It features more than 400 works, including a large selection of his architectural models. The models, of course, show what Calatrava is most well known for: graceful, futuristic, biomorphic buildings that dazzle the eye and spark the imagination. Among the most notable models on display show the three bridges Calatrava designed for the new bridge complex for Genoa, Italy, being constructed where the Morandi Bridge collapsed in 2018 crushing many homes, killing 43 people, and leaving hundreds more homeless. These models show the distinctive ability Calatrava has for transforming a site of tragedy into a place of lightness and solemnity. Nonetheless, I wonder if it is difficult for survivors to accept the expense and trouble of building such monumental new structures when a lack of civic attention contributed to the collapse of the old bridge in the first place.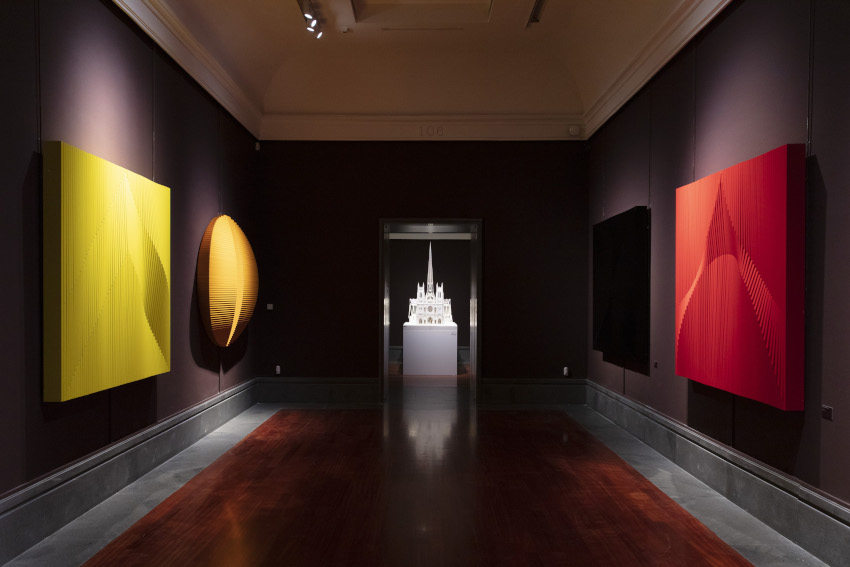 Installation view, Santiago Calatrava In the Light of Naples, Museo e Real Bosco di Capodimonte, 2019-2020. Image by Amede Benestante
I suppose that if we just look at them from the perspective that they are representations of functional buildings any architectural models will eventually mire us in questions about how such fantastical things are built, or why they would be built. Yet, if you can alter your point of view and consider these particular examples not as models but rather as sculptures, they quickly take on more mystical countenance. As pure abstract sculptures they radiate with the visual legacy of Neo Concrete artists like Lygia Clark and Jesus Rafael Soto. Their kinetic presence and playful way of engulfing space evokes the installations of Venezuelan artist Gego. The models play optical tricks as you move around them and you soon realize that architecture, for Calatrava, is not utilitarian; it is an opportunity to offer some kind of cultural healing by infusing the public sphere with the mysteries of abstraction.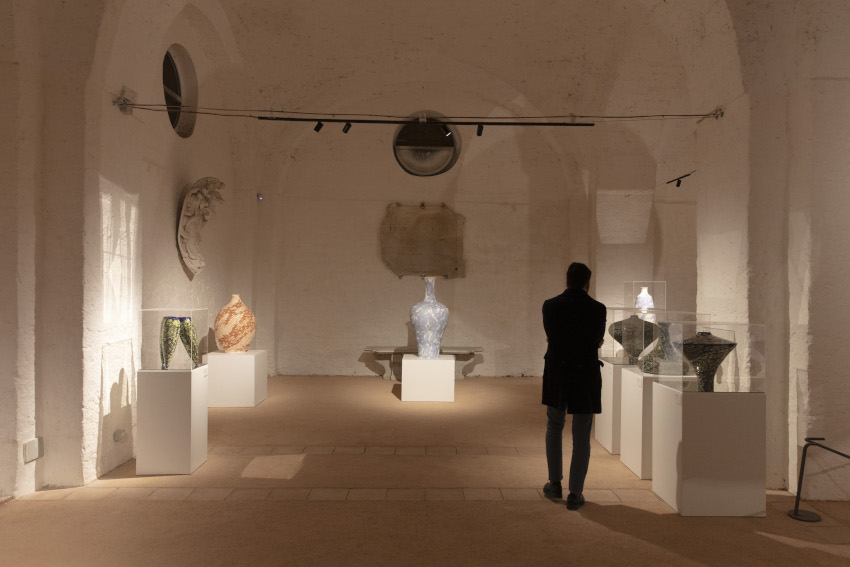 Installation view, Santiago Calatrava In the Light of Naples, Museo e Real Bosco di Capodimonte, 2019-2020. Image by Amede Benestante
Art Supporting Architecture
The main purpose of this exhibition in Naples, in fact, seems to expose the public to the more playful, soulful, experimental side of Calatrava the artist. Throughout his career as an architect, Calatrava has continually also pursued drawing, painting, sculpting and even ceramics. In a sense, his studio practice gives him a method with which to work out the complexities of his personal visual lexicon. With his charcoal and pastel drawings, he has long been making detailed studies of the human form. A multitude of formal revelations comes through in these studies, as shadow and light interact with the muscles and bone structures of the body. Such elemental studies literally take on additional dimensions in his paintings and ceramics, which play with the notion that lines and planes can come to life in suggestive and sensual ways through the introduction of depth and mass.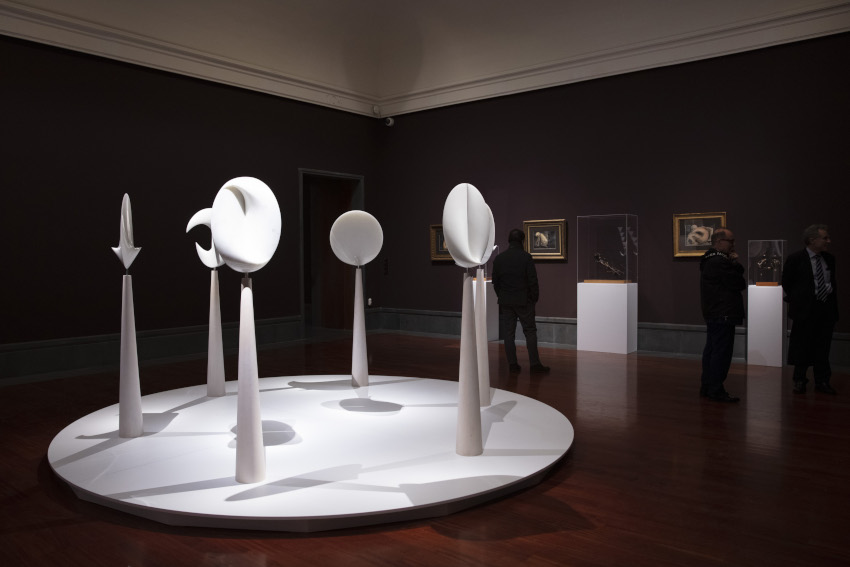 Installation view, Santiago Calatrava In the Light of Naples, Museo e Real Bosco di Capodimonte, 2019-2020. Image by Amede Benestante
The most revealing artworks in this exhibition, however, are a selection of large-scale arched wooden sculptures. Resembling the swirls of a black hole, the flames of a forest fire, or the arched back of a porcupine, these works reveal the place where art crosses over into science for Calatrava. They succeed because of their perfect mix of monochromatic elegance, precarious physical balance, and harmonious way of inhabiting their environment. This is the place where we see clearly how architecture became the logical north star for Calatrava, as they show that the power of what Calatrava brings to every project he engages with: the ability to use line, form, color, light and space to assuage complex and difficult realities, while pointing gracefully towards beautiful solutions. Santiago Calatrava: In the Light of Naples is on view at Museo e Real Bosco di Capodimonte in Naples, Italy, through 10 May 2020.
Featured image: Installation view, Santiago Calatrava In the Light of Naples, Museo e Real Bosco di Capodimonte, 2019-2020. Image by Amede Benestante
All images used for illustrative purposes only
By Phillip Barcio