Blog Home
Sandra Blow, A Leading Figure of the Abstract Movement in Britain
Feb 20, 2019
A selection of late, large-scale paintings by Sandra Blow on view at Huxley-Parlour Gallery in London offers a fresh glimpse at the inventiveness of this pioneering British artist. Blow was amongst the generation of European abstract artists who found inspiration by experimenting with new ways of approaching their art in the aftermath of World War II. She famously dropped out of the Royal Academy in 1947 and travelled to Italy, with the intention of teaching herself about art by looking at the classics. While there, Blow befriended Alberto Burri, one of the leading members of the Italian avant-garde. Blow and Burri embraced a mutual affection for non-traditional art materials and techniques, blending painting and collage and taking visceral pleasure in materials like burlap, cement, plastic, and soil. Burri used this passion as the foundation for what became known as the Arte Povera movement. And although she was not part of that movement and her affiliation with Burri only lasted a short time, Blow retained the spirit of liberty and innovation that Burri had helped her discover in herself after returning to London. Beginning in the 1950s, Blow formulated her own unique visual voice, exploring the essential dichotomy between traditional materials and techniques and experimental ones. She made such an impact with her innovative work that she was even hired as a teacher at the Royal College of Art—a chance to transform an institution she previously found too boring. But her focus was not entirely placed on developing innovative techniques and using unusual materials. She also had a direct interest in the more formal aspects of abstraction, such as shape, texture, line, space, and rhythm. Her work exists pleasantly in the liminal spaces between what is abstract and what is concrete; what is considered fine art and low art; and what is lyrical and geometric. By focusing on works made between 1972 and 2005, Sandra Blow: The Late Works at Huxley-Parlour Gallery highlights this unique artist at her most potent, and brings into focus the power of her mature, idiosyncratic visual voice.
Precision and Chaos
One of the most striking juxtapositions about Sandra Blow was her ability to create paintings that simultaneously evoke total precision and absolute whimsy. One of the least precise-looking paintings featured in Sandra Blow: The Late Works is an untitled work from 1975 that offers a cacophonous arrangement of blue, triangular spaces, each more haphazard looking than the next. The shapes appear to be almost accidental, but the brush strokes give the painting such a sense of energy and liveliness that it makes one wonder if perhaps it was just finished moments ago—a difficult feat for any artist to achieve. Despite the seemingly chaotic aspects of the composition, the painting looks and feels harmonious. The range of textures, meanwhile, offers the eye endless moments of contemplation. This work brings into sharp focus the idea of relationships, or the notion that what makes an object worth looking at sometimes has nothing to do with virtuosity, but rather everything to do with curiosity.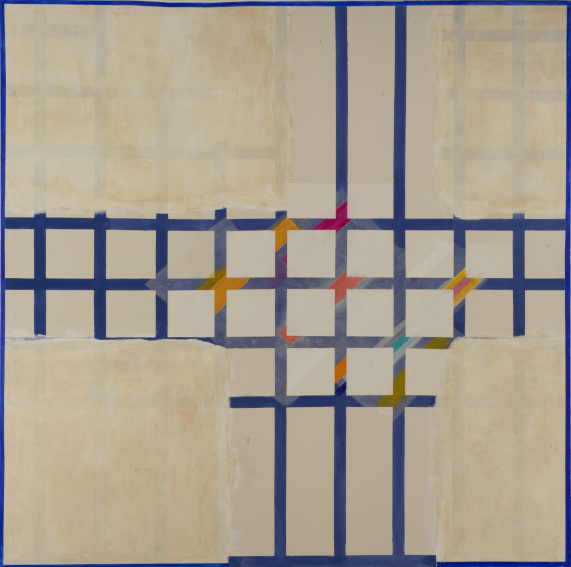 Sandra Blow - Quasa Una Fantasia, 2004. Acrylic on canvas. 102 × 102 in (259.1 × 259.1 cm). © Sandra Blow. Courtesy Huxley-Parlour Gallery
Another untitled painting in the show, from 1972, exists in so precise and careful a visual space that it brings to mind the late color field paintings of Mark Rothko. Bathed in hues of green and yellow, it creates depth and illusion within a flattened space, all accomplished with so simple a technique as the juxtaposition of sharp lines and blurred edges. The integrity of the yellow forms invite the notion that they are the central subject matter of the painting. But then the green space fills itself with such light that it becomes a transcendent field into which the eye, and the mind, can wander. This painting is so understated, and so delightful in its simplicity, that it declares itself a masterpiece. Also, again, it has such energy that it seems to have been painted quickly and finished just seconds ago—a remarkable feat for a painting that is more than 40 years old.
Sandra Blow - Untitled, 1972. Oil and textile collage on canvas. 54 x 48 in.(137.16 x 121.92 cm). © Sandra Blow. Courtesy Huxley-Parlour Gallery
Increasing Complications
One of the ways in which the exhibition is most successful is how Sandra Blow: The Late Works demonstrates the unique trajectory Blow forged as she matured. Many artists tend towards increased simplicity the longer they work—like Mondrian, Martin, or Judd, they pare their visual voice down until they arrive at something they consider pure. In the case of these paintings, however, the latest works in the exhibition reveal themselves to be some of the most complex that Blow created. "Quasa Una Fantasia" (2004) blends color, line, texture and space into a haunting, cross-hatched dreamscape. A bold superstructure of blue lines tries to impose itself on the eye, but speeding flecks of diagonal reds and golds overthrow its influence with their energy. All the while, a ghostly, whitewashed pattern brings to mind what lurks beyond the obvious, suggesting mystery is the true subject of this painting.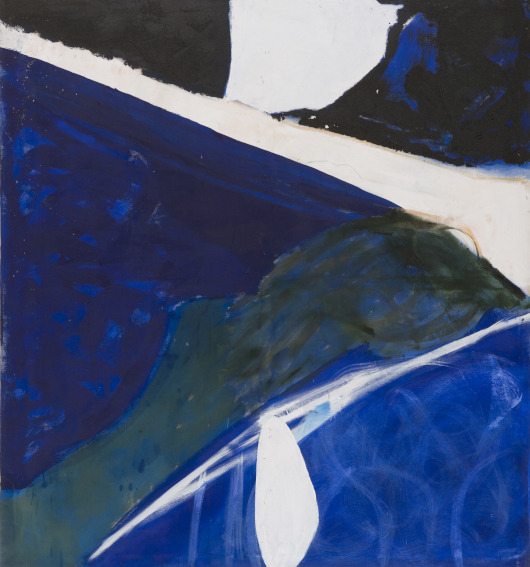 Sandra Blow - Untitled, c. 1975. Acrylic on canvas. 84 x 78 in. © Sandra Blow. Courtesy Huxley-Parlour Gallery
"Touchstone 2" (2005), meanwhile, one of the latest paintings in the exhibition and one of the last paintings Blow made before she died, is equally complex, and supremely balanced. Its material qualities elevate it to the level of overt objectivity—there is no escaping its physical presence. Yet the most endearing aspects of the painting are not material, but its gentle use of color, and its casual assemblage of hand-drawn lines. Ever-present in this painting is the respect and wonder Blow had for formal abstraction: it exalts the line, the grid, geometry, and the value of light and space. It is also a beautiful statement of the balance between planning and action: the collaboration of tradition and experimentation that she spent her entire life exploring. With its myriad complexities and unexpected moments of delight, this work, and this exhibition, expresses something essential and enduring that Blow touched on repeatedly throughout her career: the importance of staying open to surprise.
Sandra Blow: The Late Works is on view at at Huxley-Parlour Gallery in London through 9 March 2019.
Featured image: Sandra Blow - Touchstone 2, 2005. Acrylic and hessian on canvas. 102 × 102 in (259.1 × 259.1 cm). © Sandra Blow courtesy Huxley-Parlour Gallery
All images used for illustrative purposes only
By Phillip Barcio