Blog Home
Sam Falls' Abstract Shapes of Nature
Sep 4, 2018
Multi-disciplinary artist Sam Falls was raised in rural Vermont, one of the least populated parts of the United States. He grew up wandering his natural surroundings and marveling at the ways the organic processes of life, death, and rebirth were perpetually carried out in his midst. He also observed the various ways humans interact with the remote natural environment, especially in the boundary areas where consumer society and wilderness intersect. Since earning his MFA in 2010 from the International Center for Photography at Bard College, he has been investigating the experiences, lessons, and concepts that he has garnered from contemplating the connection between humans and the biosphere. That investigation has compelled him to explore many different visual strategies in order to communicate his thoughts. For example, he has often marveled how at the edges of the deep woods, where people sometimes set up "off the grid" homesteads, the coming together of flora, fauna, and homesteading creates a sort of Frankenstein-ian image of the intersection of humanity and nature. Not quite civilized, yet not quite wild, it is sometimes difficult to ascertain where these often-rundown sites end and the wilderness begins. Falls once expertly expressed this phenomenon by filling a decayed, rusted out pickup truck with a prairie garden of native plants. The living sculpture posed a question many who have seen such a sight in nature themselves have asked: is this a picture of human culture asserting itself over nature, or a picture of nature dominating the relics of failed humanity? This month, the 303 Gallery in the Chelsea neighborhood of Manhattan will open a solo exhibition exploring the most recent visual strategy Falls has developed to express his concerns: the use of the Photogram process to blend abstraction and figuration to create pictures the communicate how nature feels.
Painting-grams
A photogram is an image created using photographic materials, such as light and a photosensitive surface, but without the aide of a camera. The technique is commonly used in abstract art, from early 20th Century pioneers like Man Ray, László Moholy-Nagy and Elsa Thiemann, to contemporary artists like Tenesh Webber, Richard Caldicott, and Thomas Ruff. Anyone who has ever had a tan line, where the sun burns the outline of an item of clothing onto their skin, has become an unwitting surface for a natural photogram. The same basic process also plays out in ways that are unrelated to light. You may have seen, for example, dry areas on the cement after a rain storm, where a car was parked or where something had been set down. Or sometimes as leaves of other natural items decay on the ground, an imprint of their shape is left behind by the same natural processes that obliterated the biological matter.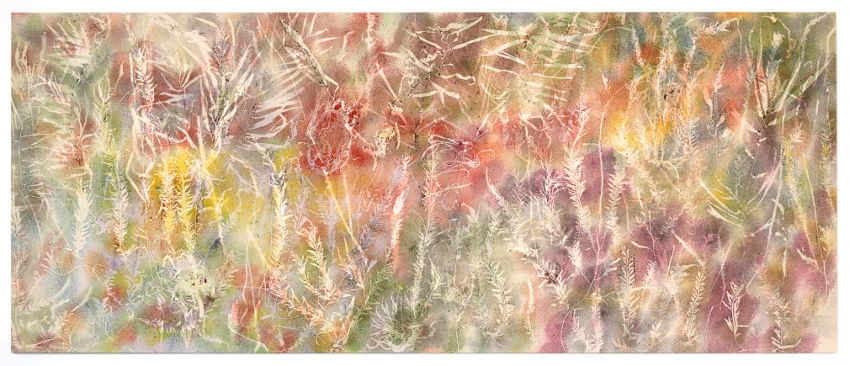 Sam Falls - Pacific Ocean (Leo Carrillo, CA, B), 2018. Pigment on canvas. 90 x 218 inches (228.6 x 553.7 cm). Photo Courtesy 303 Gallery. © Sam Falls
Falls is exploring this exact type of phenomenon in his new works, which, for lack of a better word might be called painting-grams instead of photograms. Falls basically goes out into nature and clears the leaves, flowers and rocks from a patch of ground. He then lays a canvas on that cleared swath of ground and places some of the rocks and natural materials he had cleared away back on top of the canvas. Next, Falls sprinkles dry pigment onto the canvas and then leaves the whole thing to mature overnight. As the dew settles onto the canvas, the pigment catalyzes, leaving shadow images on the canvas documenting whatever objects were laid on the canvas. Falls then repeats the process. The second layer of images creates depth of field, blurring the specific representational qualities of the natural shapes. The result is a figurative record of reality intermingled with an abstract visual composition that also acts as a record of the materials and processes used in its creation.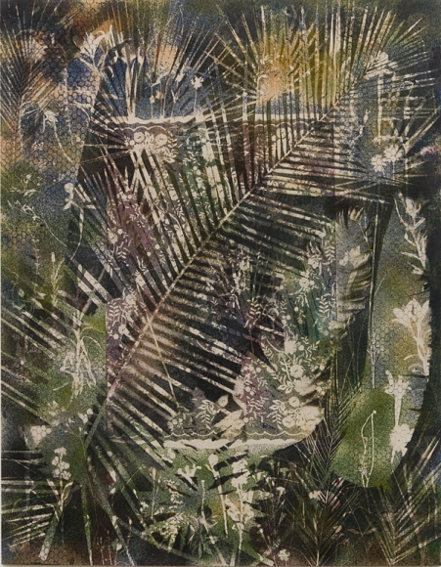 Sam Falls - Untitled (Neutra House, Los Feliz, CA., 2), 2018. Pigment on linen. 90 x 70 inches (228.6 x 177.8 cm). Photo Courtesy 303 Gallery. © Sam Falls
Natural History Art Museum
The exhibition opening this month at 303 Gallery is not the first time Falls has exhibited these natural "painting-grams." He exhibited a massive installation of them earlier this year at the Hammer Museum in Los Angeles. For that project, Falls travelled to all of the national parks in California, creating one of these paintings in each park. He then hung the massive canvases side by side, filling the lobby of the museum with what essentially looked like a gigantic quilt mural. The work was described as a tour of the national parks, as well as a documentation of the immense range of flora that exists in those parks. What was unclear about the Hammer exhibition is whether the abstract aspects of the images—such as which color pigments he used, or what methodology he employed to arrive at his composition—also related to the sense of place Falls was attempting to create with each image.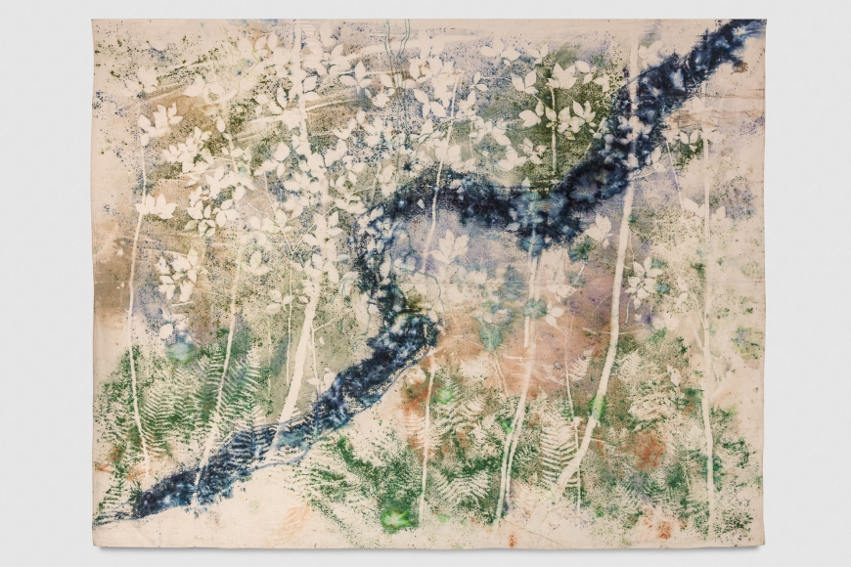 Sam Falls - The River, 2017. Pigment on canvas. 150 x 174.41 inches (381 x 443 cm). Photo Courtesy 303 Gallery. © Sam Falls
In the exhibition at 303 Gallery, Falls adds an additional element to the show that might help address that discrepancy. He exhibits what the gallery calls "contextual photographs," which capture that aforementioned "in between" zone that frequently exists at the edges of society and nature. In this case, Falls photographed the edges of the national parks where he creates his paintings, documenting the physical record of encroaching human civilization. These photographs offer an additional layer of content to the paintings, and raise an interesting question about what exactly Falls is hoping to communicate with his work. His method represents a recording of nature, but also a manipulation of it. The photographs border on critical commentary, and yet they feel more like a celebration. One gets the feeling that Falls is at peace with the hinterland of questions that his work raises, as well as he is comfortable with the uncanny, haunting, yet sometimes disturbing beauty of what is left behind when humanity and nature intersect. Sam Falls at 303 Gallery is on view from 12 September to 20 October 2018.
Featured image: Sam Falls - Hospice, 2017. Pigment on canvas. 150 x 174.41 inches (381 x 443 cm). Photo Courtesy 303 Gallery. © Sam Falls
By Phillip Barcio