Blog Home
Rothko Expected to Reach $50m at Auction
Mar 28, 2015
Auction house Christie's has announced it is to sell an extremely sought-after Mark Rothko painting in May, with initial estimates putting the price somewhere between $30 million and $50 million. Abstract art collectors the world over will be waiting with bated breath to see how much 'No.36 (Black Stripe)' sells for and just who buys it. Rothko masterpieces understandably do not come up for sale very often, so when they do, they create a great stir in the art world.
Mark Rothko at auctions
Back in 2012, Rothko's 'Orange, Red, Yellow' broke records when it reached almost $87 million in another Christie's auction. Two further paintings, nytimes.com reports, were sold privately and reached - so some people speculated - more than that record-breaking figure.
No.36 (Black Stripe), was painted in 1958 at a time which has since been recognised as Rothko's peak, according to art experts at Christie's. The work is described as one of his 'trademark horizontal colour-slab paintings' and measures 5ft 7in by 5ft 2in, comprising three red, black and orange stripes over a red background.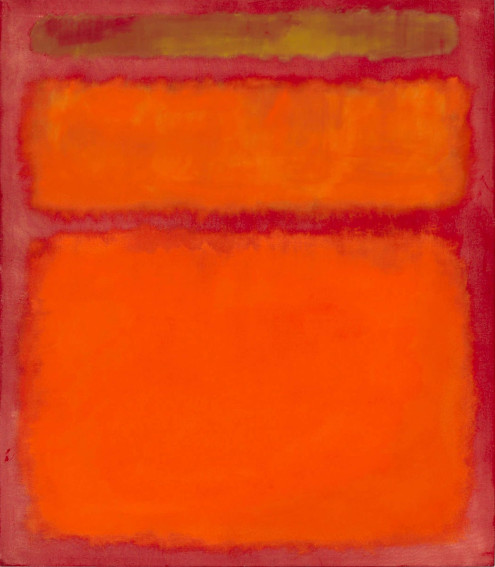 Mark Rothko - Orange, Red, Yellow, 1961. Oil on canvas. 93 x 81¼ in. (236.2 x 206.4 cm). © Mark Rothko
The painting, which has never come up for auction before, comes from the collection of Freider Burda who had until now displayed the painting in his contemporary art museum in Baden-Baden. Burda bought the painting to 'add international context' to his primarily German art collection. He said that deciding to sell the piece had been a very difficult decision for him and one which made sense for the future.
"No. 36 (Black Stripe) by Mark Rothko is an exceptional work, a solitaire within the collection from which it is hard to separate," Burda was quoted by mirror.co.uk. "However, through its unique position within the collection as a whole, it lent itself as the best option to implement our long-term plan to part from a work and further refine the collection."
The auction takes place at Christie's New York on 13 May.
Featured image: Mark Rothko - No.36 (Black Stripe), 1958. Oil on canvas. 61 × 67 in. (156.9 × 169.9 cm). © Christie's
All images used for illustrative purposes only