Blog Home
Rosemarie Castoro, Lydia Okumura and Wanda Czelkowska in the Land of Lads, Land of Lashes
May 21, 2018
This June, the London Ely House location of Galerie Thaddaeus Ropac will open what promises to be among the most impactful gallery exhibitions of the summer. Land of Lads, Land of Lashes will juxtapose the work of three female artists—Rosemarie Castoro (1939-2015), Lydia Okumura (b. 1948), and Wanda Czelkowska (b. 1930). Each arrived at what could be called their mature aesthetic voice in the 1960s and 70s. Their work was highly experimental, conceptually rigorous, and technically advanced. And yet each of these sculptors was overshadowed, partly because of their gender, and partly because of the extremely idiosyncratic nature of their work. They did not fit neatly into an aesthetic category. They were not even embraced within the avant-garde. And yet each in various ways exemplified the fundamental concerns of their generation. Castoro, who hailed from Brooklyn, made work that embodies with shocking clarity the visual and conceptual transition that occurred between Minimalism and Post-Minimalism; Czelkowska, who was born in Brześć, Poland, represents with brute honesty and passion the worlds of Conceptual Art, Arte Povera, and Primitivism; and Okumura, who was born in São Paulo to Japanese immigrants, captures with confidence and precision the meeting point between the Neo-Concrete Movement and humanistic, experiential art. The guest curator of this exhibition, Anke Kempkes, deserves credit not just for finding these three overlooked artists, but for finding the underlying intellectual and aesthetic thread that connects their visual languages, a thread which Land of Lads, Land of Lashes brings to light in fascinating and visually thrilling ways.
Rosemarie Castoro
The title of this exhibition, Land of Lads, Land of Lashes, is taken from two works Castoro created in the mid-1970s. "Land of Lads" is a collection of primitive-looking epoxy ladders standing erect in an anthropomorphic looking crowd. "Land of Lashes" resembles a parade of giant, spider-like epoxy eyelashes marching forward like a line of army ants. These two works epitomize the transition Castoro underwent in her work in the 1970s. She began her career as a dancer, and then explored Hard Edge Minimalist Abstraction. Gradually she expanded her interests to include the dreamlike and symbolic realm. Throughout her career, her work captured a certain pared down simplicity, while also conveying something in the raw state of becoming. Her oeuvre included sculpture, painting, performance and poetry. She died of cancer in 2015.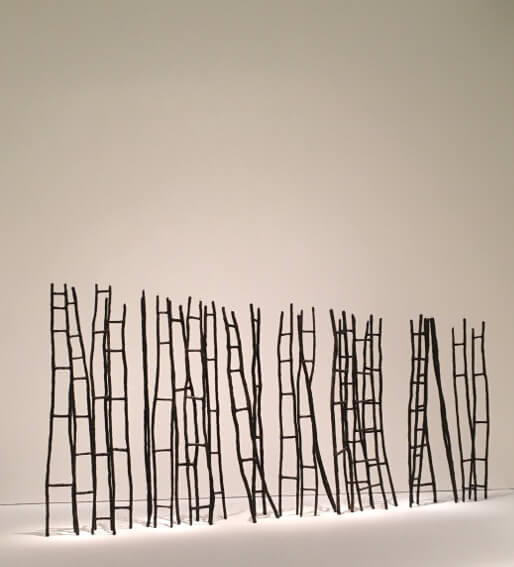 Rosemarie Castoro - Land of Lads, installation view, 1976. © Rosemarie Castoro. Courtesy Rosemarie Castoro and Anke Kempkes curatorship and consulting
Lydia Okumura
Perception is at the heart of everything Okumura creates. Her earliest interest in art came from her father, who was a calligrapher. She then experimented briefly with ceramics, but says she preferred the immediacy of painting. Growing up in Brazil, she was influenced by many different movements, from Land Art to Arte Povera to Minimalism. What each of her influences had in common was a conceptual sense that art could create perceptual experiences that could help simplify life, by bridging contradictions. Her pioneering wall works, which are included in this exhibition, defy classification. They are part wall painting, part sculpture, and part experiential installation. They offer a brilliant bridge to the work of Kinetic artists like Jesús Rafael Soto and Minimalist artists like Sol LeWitt, yet they are distinct from the works of those, and any other artists of her generation.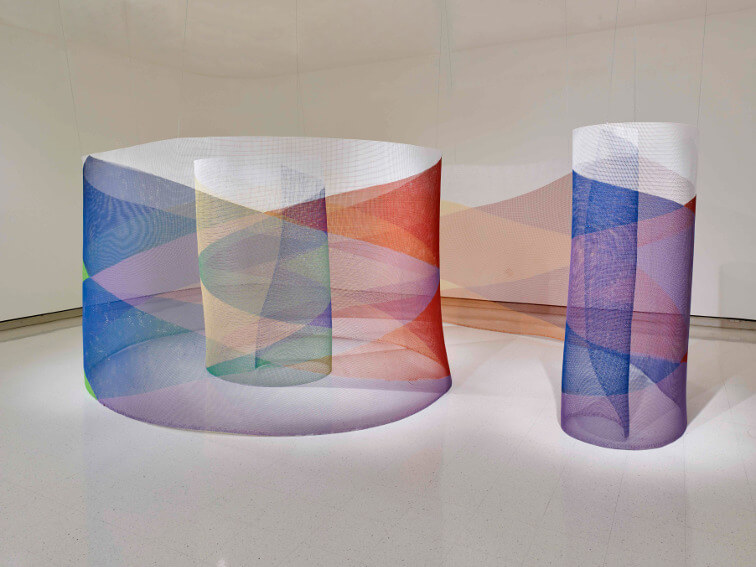 Lydia Okumura - Labyrinth Variant II. Concept first realized at the Museu de Arte Moderna, Sao Paulo, 1984-2018. © Lydia Okumura. Courtesy Lydia Okumura and Anke Kempkes curatorship and consulting
Wanda Czelkowska
To get an idea of the roots from which Czelkowska evolved, look at the "Monument to the Liberation of the Region of Warmia and Mazury," in Olsztyn, Poland. She collaborated on this massive sculpture in 1954. It represents the epitome of heroic, Post WarSocialist Realism. From that starting point, Czelkowska became more introspective, and more raw. Her work adopted a primitivist aesthetic, until finally in the 1970s, she made a work of art that would epitomize her way of perceiving the conceptual possibilities of art. More than 20 years in the realizing, that work was titled "Absolute Elimination of the Sculpture as a Notion of Shape." As its name suggests, it represents what pioneer this artist is in the rethinking of the problem of space, and how it relates to the way artists and viewers perceive of their relationship with the plastic arts.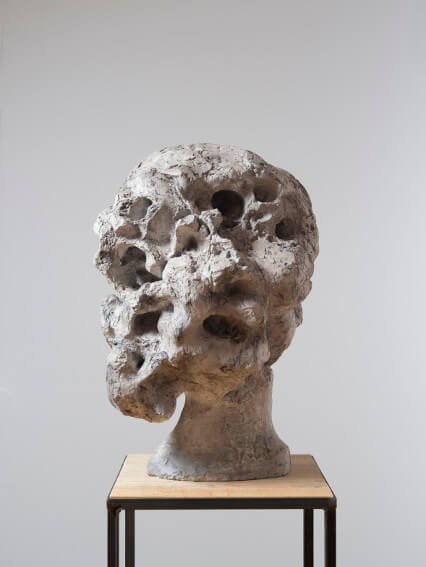 Wanda Czelkowska - Head, 1972. © Wanda Czelkowska. Courtesy Wanda Czelkowska and Anke Kempkes curatorship and consulting
The Power of Discovery
It is always a disappointment to me when I hear that a brilliant artist has been toiling for decades without being given the recognition they deserve. And although I know that there are countless reasons why such a situation might develop, it is a plain reality that quite often the prejudices of art world power brokers are what keep certain artists from attaining exposure. I cannot help but wonder if the reason I have never heard of Castoro, Okumura, nor Czelkowska before is because they were female artists competing in a male dominated world. Looking through contemporary eyes at the groundbreaking work they were making half a century ago, I am dumbfounded as to why their names are not as well known some of their male counterparts, like Fred Sandback and Sol LeWitt, or even some of their more well-known female counterparts, like Eva Hesse and Louise Bourgeois.
At least now I can celebrate the fact that these three artists are getting their due. One of the powers of art is that it can remind us that we are more than just physical beings with attributes that can enable others to diminish us—we have another aspect, something invisible and difficult to describe, which connects us to others on a metaphysical level. These three artists, who have been working steadily for more than half a century, yet whose work I have never encountered before, have given me this feeling: this reminder that I am more than I seem to be. I look forward to seeing even more of their work in the future, and hope this exhibition opens the door for more exposure and more research into their accomplishments. Land of Lads, Land of Lashes will be on view at the London Ely House location of Galerie Thaddaeus Ropac from 25 June through 11 August 2018.
Featured image: Rosemarie Castoro - Land of Lads, installation view, 1976. © Rosemarie Castoro. Courtesy Rosemarie Castoro and Anke Kempkes curatorship and consulting
By Phillip Barcio