Blog Home
The Art of Richard Pousette-Dart Is On Point
Feb 1, 2019
To the American artist Richard Pousette-Dart (1916 – 1992), the circle was a symbol of eternal life. He considered its form to be an expression not only of eternity but of other universal truths, such as the spiritual nature of humans, the notion that people are inseparable from nature, and the hopeful belief they we can transcend the temporal aspects of existence through artistic expression. Pousette-Dart expressed his adoration of the circle in many different ways over the course of his career. As a young painter in the 1930s, he filled his brutish, primitivist compositions with circles that served as figurative expressions of eyes. In the 1940s, as the youngest member of the first generation of Abstract Expressionists, he utilized the circle as a recurring abstract totem: a stand-in for a human head, a mushroom cloud, a planet, the sun, hope, wisdom, and flowers. For several years, Pousette-Dart sculpted brass circles in a multitude of sizes and formations, giving them to friends and associates as emblems of spiritual connectivity. Then in the 1960s, the fullest and most mature manifestation of his adoration for the circle found its expression, when Pousette-Dart adopted a Pointillist technique, filling his canvases entirely with thousands of tiny, circular dots of color. Unlike the Pointillist painters of the 19th Century, who hoped adjacent spots of color would blend in the eye to help viewers experience vivid, dynamic visions of their figurative scenes, Pousette-Dart mobilized circular dots to create completely abstract compositions. His abstract Pointillist paintings are intended to pull the eye and the mind of the viewer into a transcendental space, in which mystic truths await. In his aspirational celebration of the metaphysical power of the circle, Pousette-Dart allied himself with painters like Hilma af Klint and Wassily Kandinsky: abstractionists who aspired to paint not the physical world and things that can be readily perceived by the eye, but things of the spirit that are accessible only to the depths of the subconscious mind.
A New York School Refugee
Although he was not exactly aligned with them in a number of ways, several coincidences of history place Pousette-Dart in the company of one of the most influential groups of American artists of the 20th Century: the New York School. This loosely knit conglomeration of artists rose to prominence after World War II. It included the Abstract Expressionists as well as numerous other artists who shared a similar methodical or aesthetic appreciation for the importance of abstract art. A handful of distinct cultural moments helped define who was part of the New York School. One was a series of meetings called the Artists Sessions at Studio 35, at which the artists in attendance discussed the ideas, methods and philosophies that guided their work; another was the infamous protest letter mailed to the Metropolitan Museum of Art rejecting the exhibition American Painting Today – 1950, and the subsequent "Irascibles" photograph published shortly afterwards in Life Magazine; yet another was the 9th Street Art Exhibition of 1951, which featured the work of 64 artists, and is considered to have established the existence of a globally relevant, American, Post War avant-garde.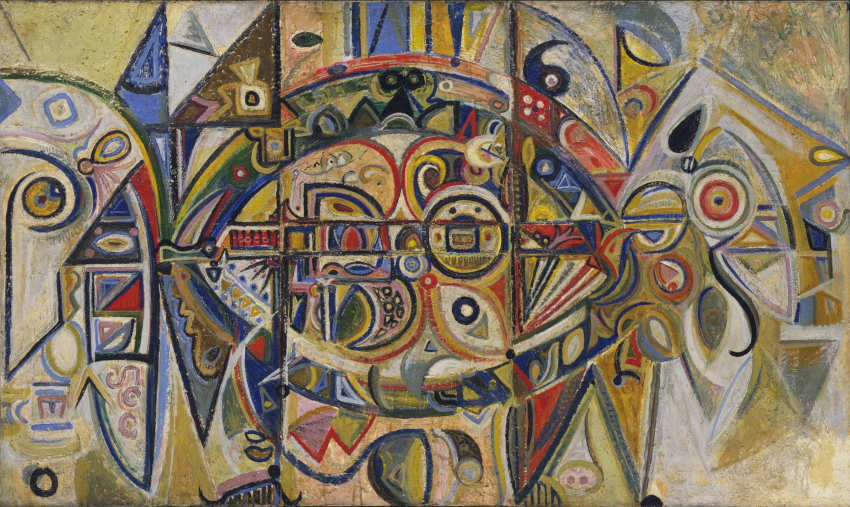 Richard Pousette-Dart - Desert, 1940. Oil on canvas. 43" x 6' (109 x 182.8 cm). MoMA Collection. © 2019 Richard Pousette-Dart.
Pousette-Dart was involved in all three of those events. But at the same time he was an outsider, even amongst these other outsiders. Unlike most of his peers, he was a vegetarian who avoided alcohol. He rarely hung out at bars, nor did he openly struggle with anxiety and depression. On the contrary, Pousette-Dart was optimistic that somehow the fear and anxiety of his generation could be replaced with hope and transcendence, and that art could play a primary role in that transformation. Perhaps because he did not fit in socially, or perhaps simply because he wanted a quieter, more contemplative environment in which to work, he left New York City in 1951, right when the New York School was becoming famous. With his wife and children, he moved upstate and settled into a philosophy-driven studio practice, one which allowed him to evolve a distinctive personal style based on color, harmony, and simplicity, and that shared little in common with his contemporaries back in the city.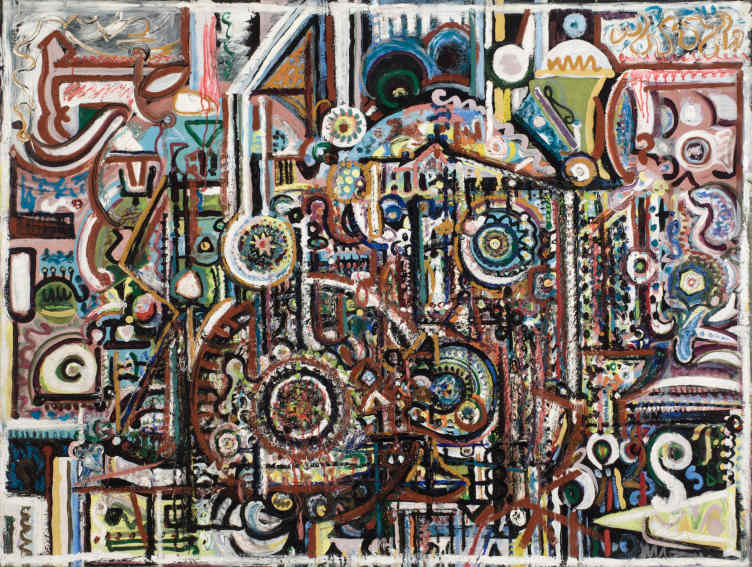 Richard Pousette-Dart - Untitled, 1944. Oil on canvas. 39 × 52 in (99.1 × 132.1 cm). Michael Rosenfeld Gallery. © 2019 Richard Pousette-Dart.
A Pointed Renaissance
During his lifetime, Pousette-Dart received many accolades, including retrospectives at the Whitney Museum of Art and the Indianapolis Museum of Art. And since his death in 1992, his work has been featured in retrospectives at the Whitney, the Metropolitan Museum of Art, the Guggenheim (New York and Venice), and the Philips Collection in Washington, DC, among others. Yet despite such attention his oeuvre remains somewhat under appreciated, especially by international audiences. One explanation commonly offered for this perceived neglect is the theory that people are not interested in an optimistic Abstract Expressionist – they prefer the depressed, alcoholic variety. Another theory suggests that the idiosyncratic style he developed after leaving New York made his work difficult to categorize, and thus hard for dealers to sell.
Richard Pousette-Dart - Untitled, 1977. Graphite on paper. 22 3/4 × 30 in (57.8 × 76.2 cm). Michael Rosenfeld Gallery. © 2019 Richard Pousette-Dart.
There is, however, at least one alternative point of view to consider: that Pousette-Dart has not been neglected; he was perhaps just slightly ahead of his time. Consider Hilma af Klint, the supreme abstract spiritualist of the Modern era. Only now that her retrospective graces the walls of the Guggenheim in New York are mass audiences becoming aware of her work. She was more than a century ahead of her time. Pousette-Dart is in her lineage – an intuitive, self-taught spiritualist who believed in the mystical and universal potentialities of abstract art. With two recent exhibitions introducing his work to British audiences – one recently ended in Cambridge, and another on view through 20 February 2019 at Pace London – it seems the time is right for us to re-examine Pousette-Dart in context with contemporary trends. Maybe his work did not fit in with the cynicism of his own generation. But in our time, as we face down our own concrete troubles and fears, his glimpse of a more hopeful and unified (if unseen) world are just what we need.
Featured image: Richard Pousette-Dart - Within the Room, 1942. Oil on canvas and wood. 36 × 60in. (91.4 × 152.4 cm). Whitney Museum of American Art, New York; 50th Anniversary gift of the artist 2014.99. © 2019 Richard Pousette-Dart.
All images used for illustrative purposes only
By Phillip Barcio