Blog Home
Decorate Your Wall With Some Purple Abstract Art!
Jun 5, 2020
The scarcity of the pigment extracted from the Mediterranean sea snails made the Tyrian purple early on abundant with superlatives - the most prestigious, admired, and expensive of all colors. From Ancient Persia to Rome and Byzantine, it was instituted as a symbol of power and royalty reserved only for the highest dignitaries. Other than to decorate sacred writings or portray grandees of their times, the purple pigment was largely unobtainable to artists of the past times until the invention of synthetic pigment in the 19th-century. Nascent abstract artists hurried to explore the unrevealed possibilities of the color creating the most beautiful purple abstract art. From The Ten Largest, where pastel purple, restful and subdued, captures transcendent sentiments of the occult and mystical, to Series VIII. Picture of the Starting Point with purple hues dominating concentric circles, the purple uniquely distinguished mystical abstraction of Hilma Af Klint. Her fellow artist, Sonia Delaunay, vigorously applied purple to accentuate simultaneous and unsettling contrast in her work as did Wassily Kandinsky, who in Black and Violet juxtaposed two large dominating forms of withstanding colors. However, the fascination with the purple didn't dissipate over time - effortless brushstrokes of vibrant purple made Lee Krasner's Thaw arresting and buoyant as did Patrick Heron's wobbly hard-edge painting such as Cadmium with Violet, Scarlet, Emerald, Lemon and Venetian: 1969. But it was only Esphyr Slobodkina, a founding member of the American Abstract Artist group, who allowed one color - the purple - to define her work as appreciable throughout her oeuvre from Purple Abstraction to Composition in Violets. This week we have selected ten most enthralling purple abstract art pieces. Please scroll below to find your favorite artwork and add it to your collection!



Richard Caldicott - Untitled 136
Widely celebrated for his series featuring Tupperware, Caldicott challenges photographic codes of representation as he employs traditional photography methods to create mesmerizing abstract work of a vibrant, colorful palette. In Untitled 136, he opts for radiant purple and red to underscore his minimalist approach that balances between transparency and saturation, and that is concurrently self-allusional and externally referential. Caldicott is an English artist who explores abstract photography and creates abstract compositions on paper. He lives and works in London.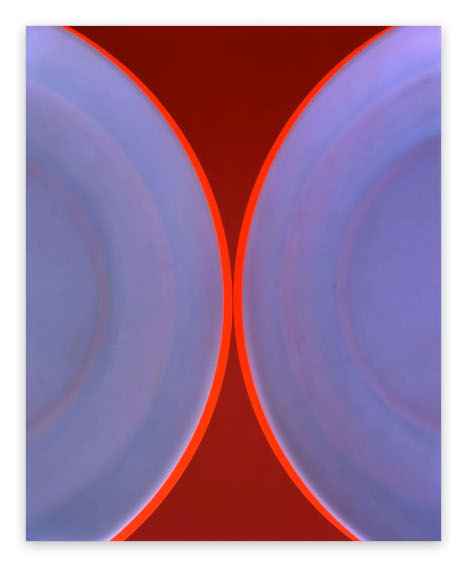 Richard Caldicott - Untitled 136, 2000. C print. 127 x 101.6 cm.
Bill Kane - EM-26 Siddhartha
Part of Kane's latest Emanations series, EM-26 Siddhartha, explores light as the most essential aspect of photography. A scanned image of a Buddhist thangka - a painting depicting a Buddhist deity - is blurred and stretched until only a distilled image of color and form remains. EM-26 Siddhartha captures elemental representations of the light bodies of the Buddhas in glowing purple pigment that conquers the canvas. Kane is an American multi-media artist whose work intersects the boundaries of photography, painting, and printmaking in an effort to examine the idea of what an image is and can be. He lives and works in California, near San Francisco.

Bill Kane - EM-26 Siddhartha, 2018. Pigment on canvas. 213.36 x 60.96 x 3.81 cm.
Paul Snell - Hover # 201915
Snell's recent and profoundly hypnotizing work deploys rhythmic, harmonious visual structures that transpose a viewer into the far depths of pure thought. He creates visual suggestions that translate reflection into an authentically meditative state. Hover # 201915 reveals the dynamism of Snell's color relationships that arises from a combination of architectural aspects of his compositions and a luminous and irradiant purple surface. Snell combines traditional and digital techniques to explore the possibilities of abstraction and minimalism in contemporary photo-media. He lives and works in Launceston, Tasmania.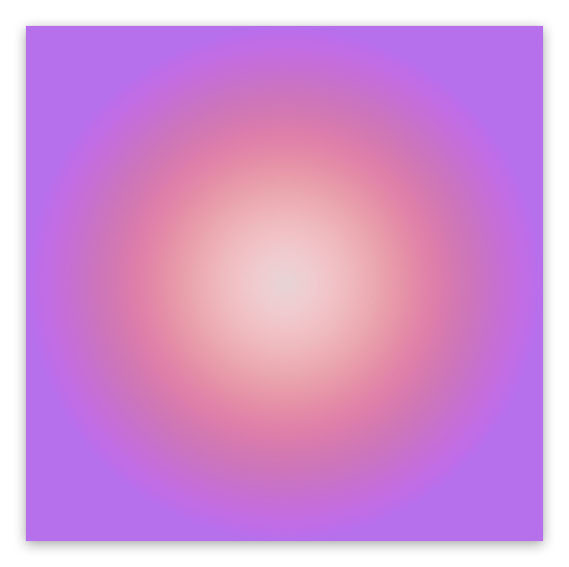 Paul Snell - Hover # 201915, 2019. Chromogenic Print face-mounted 3mm matt plexiglas. 80 x 80 cm.
Anne Russinof - Nightshade
For Russinof color is everything - Color serves to create a window onto natural space and light. Nightshade emanates her most intimate reaction to the world surrounding her as she applies soft and weightless purple with lyrical and bold brush movements that create a sense of gradually appearing depth. Russinof is inspired by the search, an unfolding mystery, and suspense that announce the fascinating interaction between layers of wet paint. Russinof is an American abstract painter whose work examines color and structure in a gestural, expressionist manner. Born in Chicago, Illinois, she currently lives and works in New York.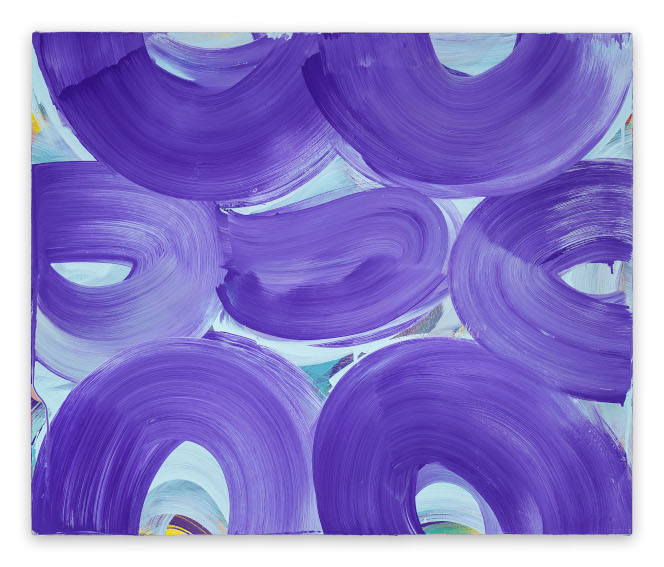 Anne Russinof - Nightshade, 2017. Oil on canvas. 76.2 x 91.5 cm.
Mel Prest - Lilac Aura
Part of the same-title series, Lilac Aura, visually explores the phenomena of night-blooming flowers Prestexperienced during her stay in upstate New York in 2016 when lilacs' high, arousing fragrance was vaporizing, and she felt like she could flow through it. Resembling the blooming flowers themselves, this piece is subtle and atmospheric, and the lilac purple acrylic captures their presence and scent, as well as the feeling of outdoor share-spaces as they responded to the weather. Prest is an American abstract artist whose intricate, layered paintings mobilize color, line, and perspective to activate kinetic perceptual phenomena. She lives and works in San Francisco, CA.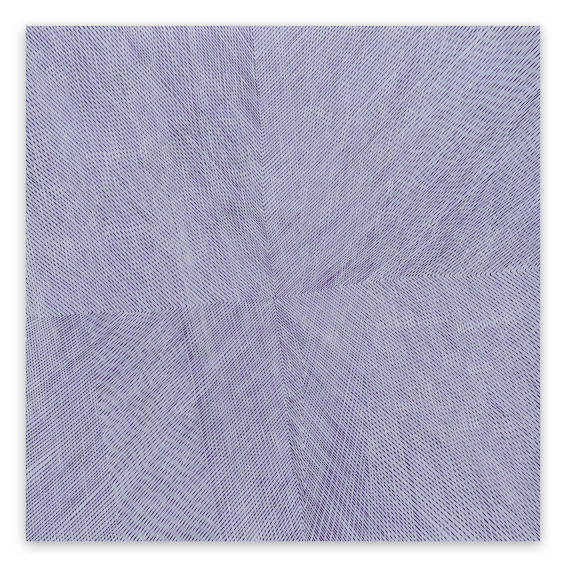 Mel Prest - Lilac Aura, 2017. Acrylic and interference on panel. 152.4 x 152.4 x 5 cm.
Janise Yntema - Egyptian Violet
This work is part of the series The Temperature of Light, where Yntema layers translucent pigmented wax to achieve the extraordinary vibrancy of color. Unlike their Phoenician contemporaries, the Egyptians created violet from an affordable combination of mulberry and grapes and Egyptian Violet is Yntema's attempt to explore the space of that color within the refractive spectrum allowing color and light to interact and exploit subjectivity and a subject matter itself. Yntema is an American abstract painter who works with the ancient technique of encaustic wax, a combination of beeswax, resin, and pigments. She is currently living and working in Brussels, Belgium.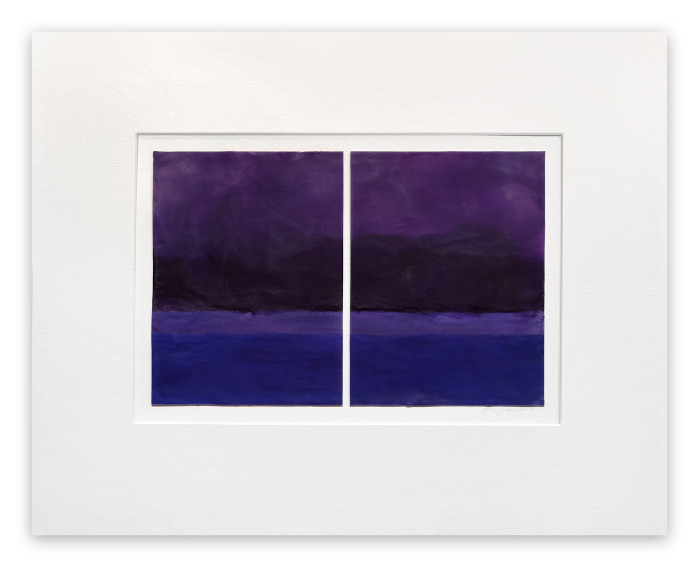 Janise Yntema - Egyptian Violet, 2015. Beeswax, resin and pigment on archival paper mounted on archival board matted. 41 x 61 cm.
Gianfranco Pezzot - IX: Genesi
IX: Genesi is a part of his series Dichotomy of a Human Brain, wherePezzot digs deep into narratives that brains construct perceiving different images. Pezzot seeks to provide an interpretive framework for narratives that are distorted when the images are altered, restructures, or combined with other images. In IX: Genesi, he combines photographic fragments of purple flowers and crushed sheets of paper into an assemblage that invites further artistic intervention. Pezzot is an Italian conceptual photographer whose abstract work is an attempt at inventing new, contemporary photographic languages. He lives and works in Italy.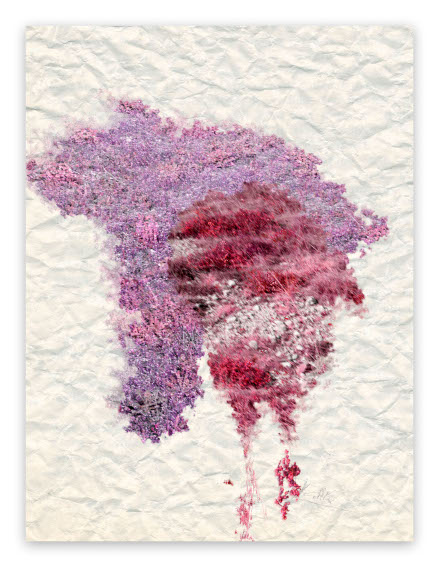 Gianfranco Pezzot - IX: Genesi, 2017. Digital C-Type print on Kodak Endura photo paper. 240 x 180 cm.
Debra Ramsay - A color of Sumac 2
Inspired by the American abstract artist Josef Albers who claimed there is a profound harmony in the immeasurable spectrum of color, Ramsay profoundly delves into an exploration of purple as she captures and discovers the color photographically and then translates it to a paint formula using a computer program. Applied on Roc-Lon fabric, the purple paint epitomizes her attempt to reduce beauty to utter simplicity, to capture the beauty of sumac bush, a native to the Middle East in colors and gestures of her own. Ramsay is an American abstract artist who creates acrylic paintings, drawings, and installations that explore the conceptual interplay between color, line, and surface. She lives and works in New York City.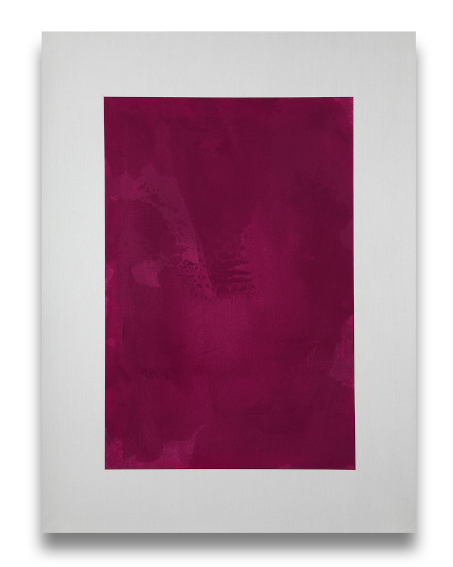 Debra Ramsay - A color of Sumac 2, 2014. Acrylic on Roc-Lon. 61 x 41.7 cm.
Brent Hallard - Plumb Purple (mint)
This acrylic on aluminum piece with a line seamlessly articulating the border creates an internal shape that squares the image. Hallard's preoccupation with space and pure forms that challenge the perception of the viewer owns to the legacy of abstraction, minimalism, and the color field art. Distinguished by two geometric purple color fields, Plumb Purple (mint) reveals his explorations of the endless perceptual possibilities and conceptual analogies of a specific color and form. Hallard is an Australian-born abstract artist, curator, and writer whose works on paper and aluminum explore minimalist iconography and monochromatic expressions. He is currently living and working in Byron Bay, Australia.
Brent Hallard - Plumb Purple (mint), 2014. Acrylic on aluminum. 37 x 37 cm.
Jessica Snow - Terra Incognita (Le Pavé de France 1)
Terra Incognita (Le Pavé de France 1) is Snow's most recent examination of how color affects the compression as the weight of brushstrokes fuses the affective and rational, the order and chaos. Snow masterfully blends playful shapes with persuasive color, organic gestural lines, geometric and linear forms. Purple dominates the composition as different hues of oil paint fill the space with metaphorical light, air, uplift, and freedom. Snow is an American abstract artist whose paintings and drawings are distinguished by colorful and playful geometrics. She is based in San Francisco.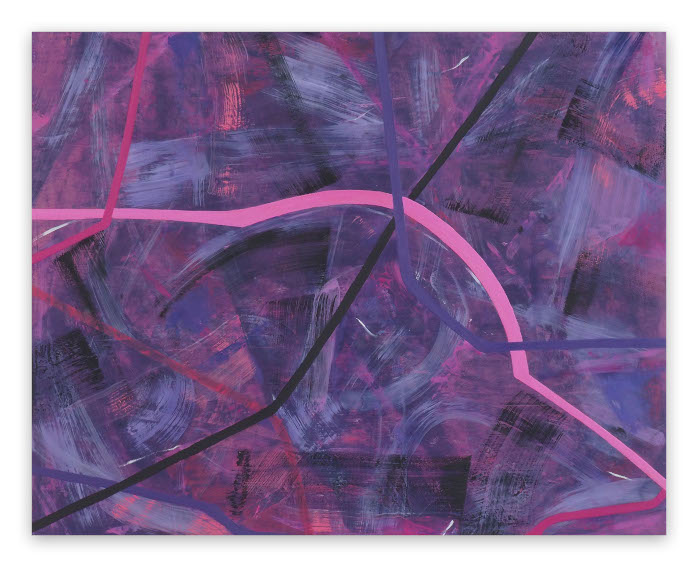 Jessica Snow - Terra Incognita (Le Pavé de France 1), 2019. Oil on linen stretched on panel. 40.6 x 50.8 cm.
Featured image: Paul Snell - Hover # 201915, 2019, installation view.
By Jovana Vuković