Blog Home
8 Works of Abstract Public Art That Can Be Found in Chicago
Jul 1, 2019
We recently ran a story about "Nuclear Energy," a.k.a. "Atom Piece" (1964–66), a work of abstract public art by British artist Henry Moore, which is installed on the campus of the University of Chicago on the spot where the first controlled, self-sustaining nuclear chain reaction took place. That is only one of thousands of public artworks that call the City of Chicago home. Since its incorporation in 1837, Chicago has nurtured a well-deserved reputation as one of the most art-friendly cities in the United States. It has also consistently been on the vanguard of new aesthetic trends. The Art Institute of Chicago, which owns such iconic masterpieces as "A Sunday on La Grande Jatte" by Georges Seurat and American Gothic by Grant Wood, was established in 1879. In 1937, László Moholy-Nagy founded the New Bauhaus in Chicago (today known as the Illinois Institute of Technology). And in the 1980s, Chicago was home to only the second international art fair in the world, after Art Basel. Also long before many other American cities, Chicago embraced the concept of large-scale abstract public art. Today, its public art collection includes works by more than a dozen of the most famous abstract artists of the past century, including Pablo Picasso, Joan Miró, Alexander Calder, Anish Kapoor, Jessica Stockholder, Richard Hunt and Louise Bourgeois. Whether you are planning a holiday in Chicago, visiting for its current international art fair EXPO Chicago, or you call the city home, here are eight famous abstract public artworks to add to your list of must see attractions in the Windy City.
"Cloud Gate" by Anish Kapoor
It has been 15 years since Anish Kapoor installed "Cloud Gate," his massive, biomorphic sculpture in Grant Park, along the lakeshore in the heart of Downtown Chicago. Affectionately nick-named "The Bean" by locals, it is the perfect aesthetic representative of our time, as crowds of international viewers swarm upon it daily, no matter the weather, snapping infinite selfies in front of its magnificent reflective surface.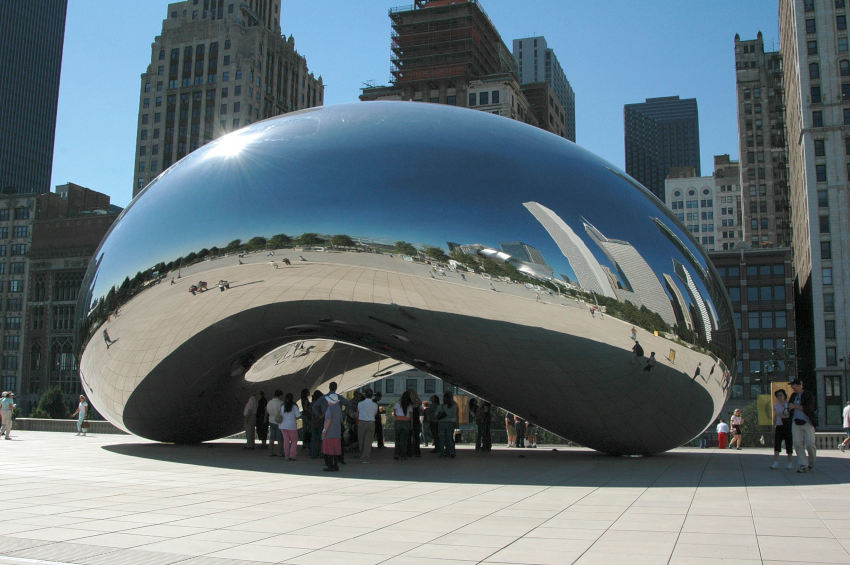 Anish Kapoor - Cloud Gate, 2004. Stainless steel. 10×20×12.8 m. Millennium Park, Chicago. © Anish Kapoor


"Four Seasons" by Marc Chagall
Just blocks from "The Bean" at the intersection of Monroe and Dearborn, a mosaic masterpiece by Marc Chagall resides in a public plaza surrounded by office buildings. Measuring 21 m long, 4.3 m high and 3.0 m wide, the colorful, rectangular "Four Seasons" was a gift to the City of Chicago by a wealthy stock trader named Frederick H. Prince, and was installed in 1974. Its imagery is a playful mix of abstract gestural forms, animals, and figurative city scenes.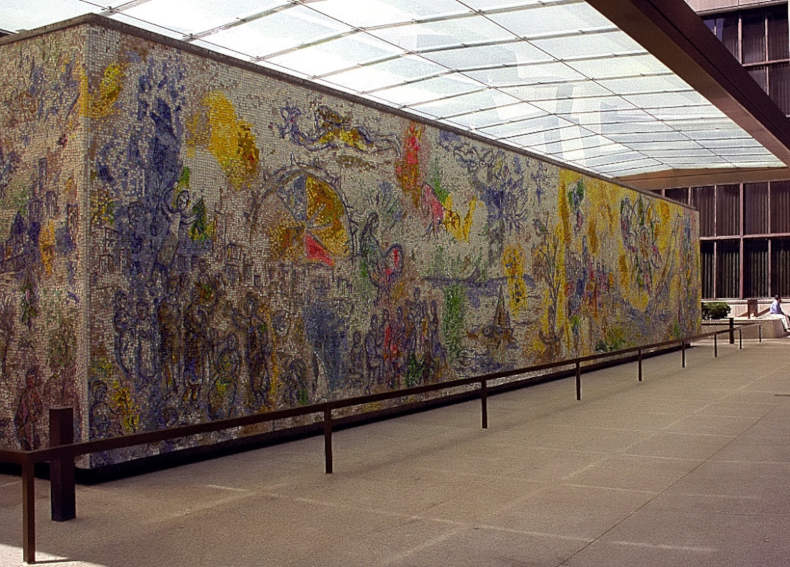 Marc Chagall - Four Seasons, 1974. Chase Tower Plaza, Chicago. Photo by: David Ohmer
"Flamingo" by Alexander Calder
The same year the Chagall mosaic was unveiled, Alexander Calder unveiled "Flamingo," a 16 m tall, brilliantly red, abstract sculpture that occupies the heart of a plaza of federal buildings designed by architect Mies van der Rohe. The day this sculpture was unveiled, Chicago held a circus parade to honor Calder. The same day, Calder also unveiled an installation in the lobby of the most iconic skyscraper in the city, then called Sears Tower. That building is now called Willis Tower, and the Calder installation, which was bungled up in the recent Sears bankruptcy, is no longer in its lobby. Thankfully, "Flamingo" is still an iconic part of the cityscape.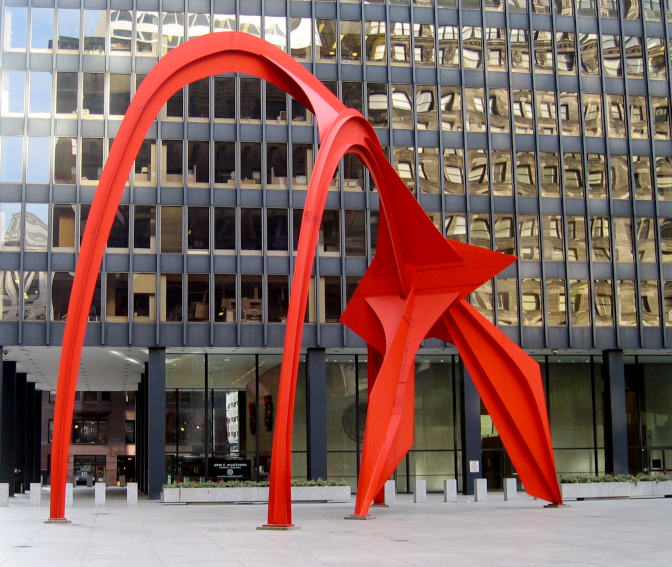 Alexander Calder - Flamingo, 1974. Painted steel stabile. 1,620 cm (636 in). Federal Plaza in front of the Kluczynski Federal Building in Chicago, Illinois, United States. Photo by: Jeremy Atherton
"The Chicago Picasso" by Pablo Picasso
Commissioned in 1963, "The Chicago Picasso" at first angered many people in the city. People called it a baboon head, and a giant insect, and art critics railed against it in the press. Picasso accepted no money for the 15 m tall sculpture, insisting it was a gift, but he also refused to explain what the form represented. Today, it has become one of the most beloved cultural attractions in the city, and has even been prominently featured in many iconic Chicago movies, such as The Blues Brothers and Ferris Bueller's Day Off.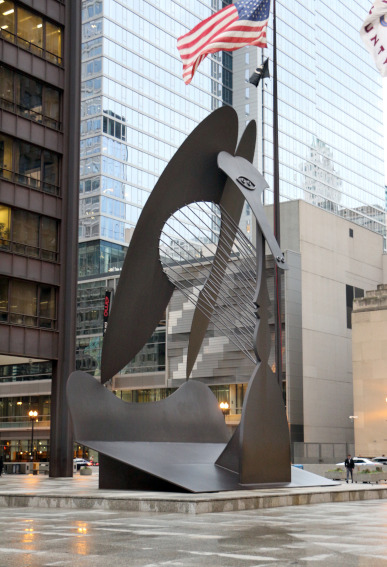 Pablo Picasso - The Chicago Picasso, 1967. Sculpture. 15 m (50 ft). Daley Plaza, Chicago. Photo by: Francesco Gasparetti
"Chicago" by Joan Miró
Measuring a comparatively tiny 12 m high, "The Sun, the Moon and One Star" by Joan Miró is tucked inside of a thin plaza behind a bus platform in the shadow of "The Chicago Picasso." The piece was originally commissioned in 1969, but the funds to procure it were not found until more than a decade later. Finally unveiled in 1981, it remains a hidden gem today, since most visitors are too entranced by the massive, looming Picasso across the street.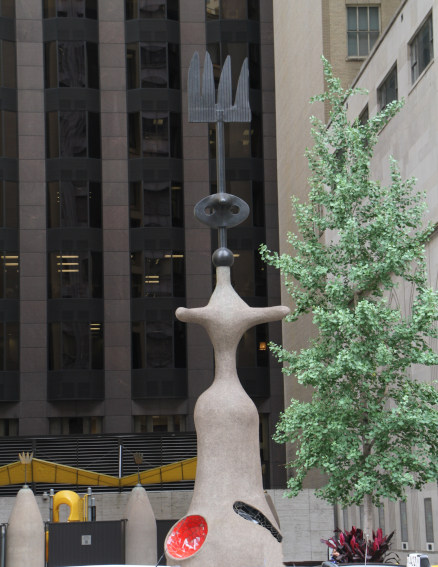 Joan Miró - Chicago, 1981. Mixed media sculpture. 12 m (39 ft). Brunswick Plaza, Chicago.
"Agora" by Magdalena Abakanowicz
The Polish community has been an important part of Chicago since its founding in 1837, and for many years the City worked to acquire a public work by a major Polish artist. In 2006, this dream finally became a reality, when the Polish Ministry of Culture permanently loaned the City of Chicago "Agora," an installation of 106 iron sculptures by Polish sculptor Magdalena Abakanowicz. Resembling humans with no heads and no arms, the sculptures are installed at the south end of Grant Park, opposite of "Cloud Gate," next to a skateboard park. Their forms play off of both the meanderings of urban dwellers and the architectural profile of the surrounding high rises.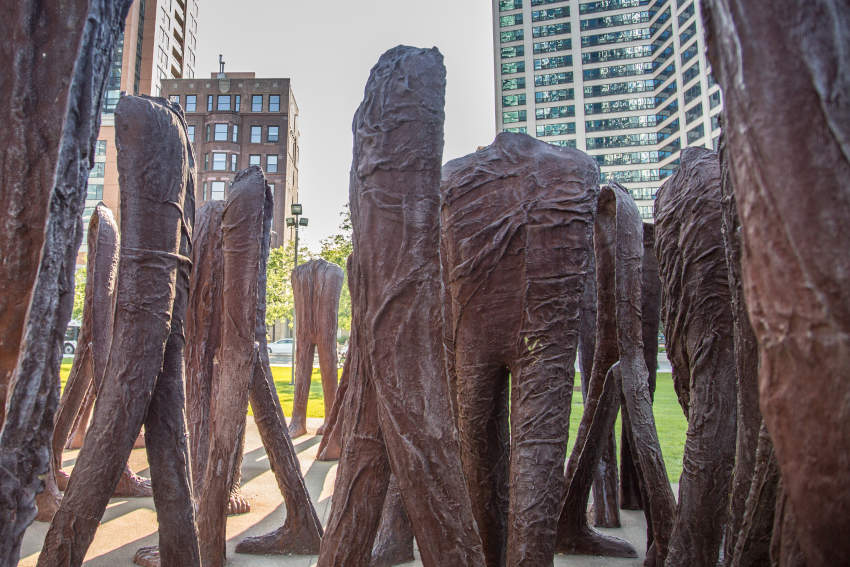 Magdalena Abakanowicz - Agora, 2006. Chicago Park District, Chicago. Photo by: Tony Webster
"Monument with Standing Beast" by Jean Dubuffet
Installed in front of Chicago City Hall is one of only three monumental public sculptures in the United States by Jean Dubuffet. "Monument with Standing Beast" stands 8.8 m tall, and is made of fiberglass. Its iceberg-like appearance is whimsical and abstract, perfectly encapsulating both the Art Brut aesthetic and the contemporary urban visual language for which Dubuffet was renowned.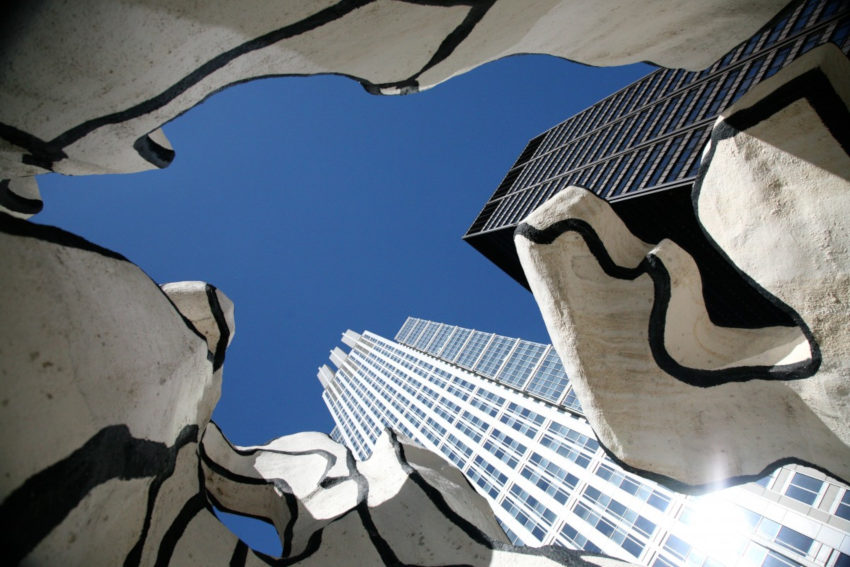 Jean Dubuffet - Monument With Standing Beast, 1984. Fiberglass. 8.8 m (29 ft). James R. Thompson Center, Chicago. Photo by: Vincent Desjardins
"Curve XXII" by Ellsworth Kelly
Tucked in a grassy knoll in Lincoln Park, a residential neighborhood north of Downtown Chicago, a single silver plank catches the rays of the sun as it passes overhead. "Curve XXII" was unveiled in 1981. Its local nickname is "I Will." On its memorial plaque, the inscription reads, "Dedicated to the I Will spirit of Chicago," a reference to the motto of Chicagoans rebuilding after the Great Chicago Fire of 1871. Kelly said the form of the work is in honor of Chicago being the birthplace of the skyscraper.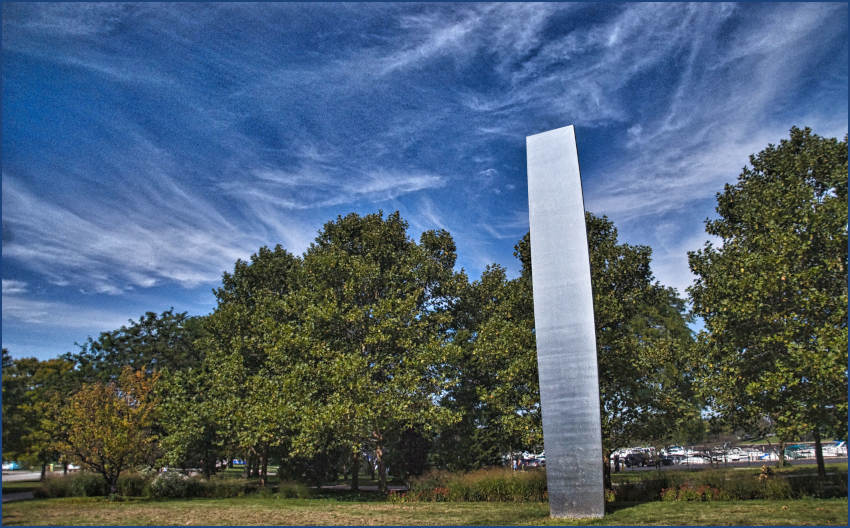 Ellsworth Kelly - Curve XXII, 1981. Lincoln Park, Chicago. Photo by: Ron Cogswell
Featured image: Alexander Calder - Flamingo, 1974. Painted steel stabile. 1,620 cm (636 in). Federal Plaza in front of the Kluczynski Federal Building in Chicago, Illinois, United States. Photo by: Vincent Desjardins
All images used for illustrative purposes only
By Phillip Barcio