Blog Home
Peter Shire - A Star of the American Ceramics Art
Apr 5, 2017
The work of Peter Shire looks like what might have come about had students at the Bauhaus been given recess. It is functional and abstract, decorative and fun. Its visual language, full of vivid colors and geometric forms, seems to have jumped directly out of the works of Constructivist, Suprematist and De Stijl artists. But it also contains the childlike whimsy of Calder, the brash confidence of Warhol, and the exuberance of Claes Oldenburg. It combines these elements and writes them large in a post-modern way. On one hand, the objects Shire makes are the manifestation of applied art. On the other hand, they are the manifestation of mirth. His stated mission is to incorporate decorative design principles into everyday life. But most importantly, he just has a lot of fun doing what he does. Since beginning his professional career in the 1970s, Shire has straddled the line between design and art, and between lowbrow and highbrow. His work has received numerous design awards. It is also included in the permanent collections of several of the most important art museums in the world. But whatever definition critics or collectors saddle him with, everything Shire makes ultimately has the same essential function: to spread his fundamental belief that, "a daily living experience is worthy of aesthetic consideration."
The Road to Memphis
Most people first took notice of Peter Shire in 1981, when he joined The Memphis Group. This Milan-based collective took the design world by storm, making as many enemies as fans with its outrageous aesthetic combination of early Modernism, Art Deco, kitsch, Pop Art and 80s New Wave. The path by which Shine arrived in such influential company began in Echo Park, the near-downtown Los Angeles neighborhood of his birth where he still lives and works today. After graduating from Chouinard Art Institute in 1970, and earning Conscientious Objector Status that kept him out of the Vietnam War, Shire returned to Echo Park to begin realizing his dream of becoming an artist.
After establishing a studio where he could make handmade ceramics, he collaborated with his brother to establish the Soap Plant, an eclectic (now iconic) Echo Park shop that sold eco-friendly soap products and the works of local artists, including Shine. His early aesthetic was subdued and classic, but he was soon influenced by the emerging post-modernist design sensibilities of 1970s LA. When the artist Leonard Koren founded the LA-based magazine WET: The Magazine of Gourmet Bathing in 1976, which prominently featured post-modern art and design, Shine began contributing his artwork. One of his teapot designs was featured on the cover of an issue of WET, where it was spotted by the Italian architect and designer Ettore Sottsass, founder of the Memphis Group, who was working in town at the time. Sottsass invited Shine to move to Milan and join group as one of the few American members of the collective.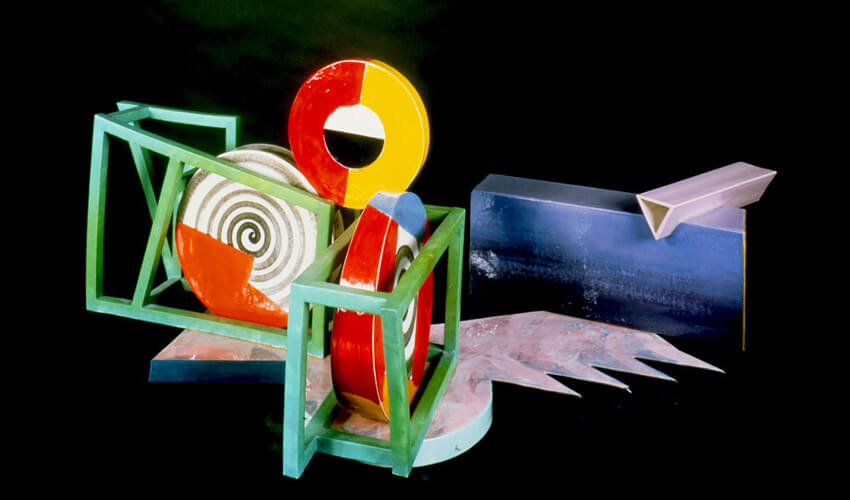 Peter Shire - Trellis, © Peter Shire
Bauhaus in a Teapot
Shire thrived in Milan, and was responsible for some of the most iconic designs for which The Memphis Group is now remembered, such as the Bel Air Chair. Though the group disbanded in 1991, the attitude embraced by its members, which was informed by a high level of craftsmanship, an approachable, everyday aesthetic, and a high degree of whimsy, profoundly shaped the work ethic of Shire going forward. Since his time with The Memphis Group, he has continued pursuing their fundamental idea that design and art should be fully integrated into everyday life, and that it should be fun.
One of the most obvious ways Shire has put those principles to work is in the design of his own home and studio. He has transformed his live/work space into a functional artwork. Reflected in its architecture and design are the myriad techniques and multitude of materials Shire has mastered over the course of his career. Also on hand at the house are the roughly 500 glazed clay portraits Shire has made of the other inhabitants of Echo Park. This ongoing monument to his neighbors is perhaps the highest expression of his cherished ideals.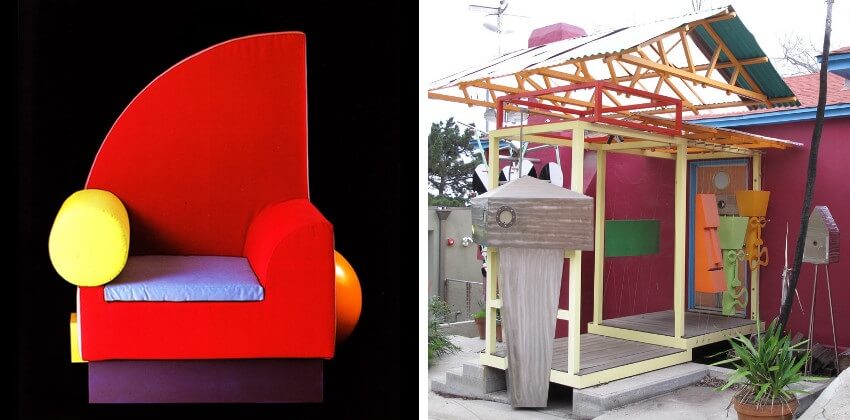 Peter Shire - Bel Air Chair, © Peter Shire (Left) and 1937 Echo Park Bungalow owned by Peter Shire, © Cal State University Northridge Urban Studies Fieldwork Class, CSUN URBS 490 (Right)
Shire in Public
Another way Shire has manifested his vision that art and design should be a fun and functional part of everyday life is through his many public artworks. The first public work Shire created was for the 1984 Los Angeles Olympics. He then went on to create public works for a range of different municipalities and institutions, including the city of Brownsville, Texas, the Sapporo Corporation in Hokkaido, Japan, and closer to home, his 1993 sculpture in Ventura County, titled Citizens to Save Elysian Park, Glass-Simons Memorial at Angel's Point.
One of the smallest, yet most engaging public artworks Peter Shire has made is on his website, where visitors can play an embedded video game called "Make a 3D teapot in the manner of Peter Shire." The game simultaneously pokes fun at his own process, while also celebrating that creativity is approachable by anyone willing to try. This is what makes the contribution Peter Shire has made to post-modern abstraction priceless. With his designs, he has brought the aesthetic language of geometric abstraction closer to all people, whether they would be likely to enter a museum or not. He has also helped erase notions of highbrow and lowbrow art, and quell the idea that abstraction is difficult to understand, or must mean something. And most importantly he has been a tireless and brilliant advocate of fun.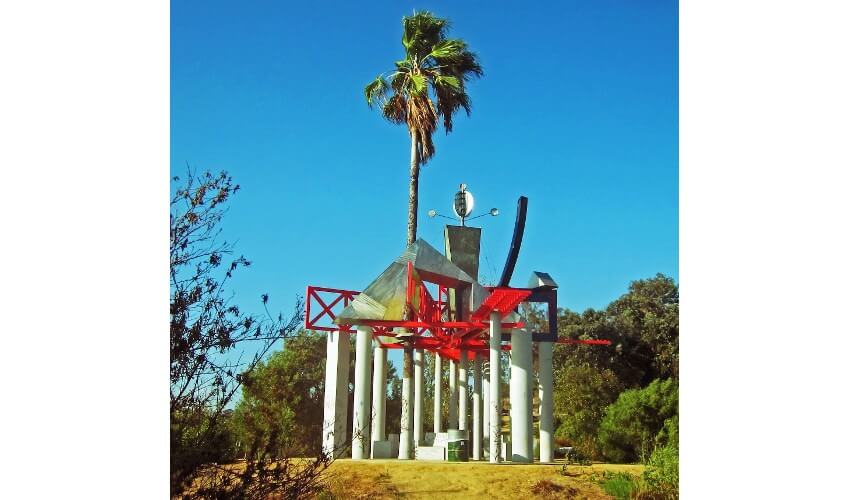 Peter Shire - Citizens to Save Elysian Park, Glass-Simons Memorial at Angel s Point, 1993, public sculpture, Ventura County, CA
Featured image: Peter Shire - Weathervane, © Peter Shire
All images used for illustartive purposes only
By Phillip Barcio