Blog Home
Ready, Set, Paint! Performative Painting from IdeelArt
Jul 31, 2020
When defining action painting in 1952, art critic Harold Rosenberg demarcated the emerging movement through re-interpretation of canvas not as a picture but as an event. American action painters not only discarded any notion of reproduction or re-design but have replaced expression with action as they radically explored the concepts of spontaneity, subjectivity, physicality, and even individual liberation. But performative painting was not exclusively American phenomenon; it simultaneously and largely autonomously resurfaced throughout the world, from Japan to Europe. Gutai Movement of Concrete Art, a Japanese post-war group founded by Jiro Yoshihara rejected the reactionary trajectory of traditional art and while seeking the embodied evidence of human freedom has transcended pure abstraction and moved towards the possibilities of pure creativity. Its emphasis on bodily interaction with medium had profoundly questioned the relationship between body, matter, time, and space. Their smashing bottles of paints and throwing a ball soaked in ink had its European equivalents often pushing the limits even further. Georges Mathieu would stage a live painting action dressed in military uniform while embracing the collective rituals to forcefully enact the physical and material process of his art-making as well as Niki de Saint Phalle who would use a rifle during her violent action painting to highlight the crudeness of art's visceral materiality. Erratic, ferocious, or contemplative - performative painting blurs the line between body and mind; idea and its embodiment. If you are looking for an artwork that would drag you into reflection and unearth your most personal emotions -choose one of our most enthralling pieces of embodied physicality.


Alain Clément - 14AV7G-2014
14AV7G-2014 aptly demonstrates Clément's distinct exploration of color through a lyrical expression of gesture that is endowed with multiple layers of meanings. The aquatint on paper allows him to exercise his gestural freedom, physicality, experimentation, and immediacy that results in curved, graphic expression of unrestrained color and line. As Clément reveals his unrestricted and physical movements, that often resemble a dance, he daringly vacillates between expression and a quest for composition seeking to marry aesthetic subtlety with compositional power. Clément is a French abstract painter whose works grow out of a lifelong exploration of color, lines, curves, physicality and space. He lives and works in Nîmes, southern France.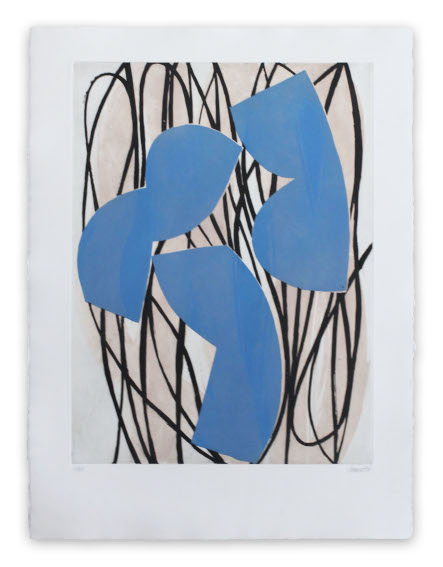 Alain Clément - 14AV7G-2014, 2014. Aquatinte on BFK Rives paper. 76 x 57 cm.
Tommaso Fattovich - Red Cloud
This latest from Fattovich disruptively expresses his most primordial sentiments by viscerally responding to the colors, layers, lines, and shapes. Red Cloud captures his bold attempts to deep dive into subliminal as he plays with the composition applying the Surrealist strategy of automatism. His brisk application of paint encapsulates Fattovich's emotional expression found in the fathomless depths of his subconsciousness. His abrupt movements deliver a crude and pristine work that incorporates the fragments of the modern world and that fluctuate from an appearance to disappearance and conversely. Fattovich is an Italian abstract painter who deploys the Surrealist strategy of automatism to create raw, layered, emotive works that convey feelings of desolation and decay. He lives and works in Delray Beach, Florida.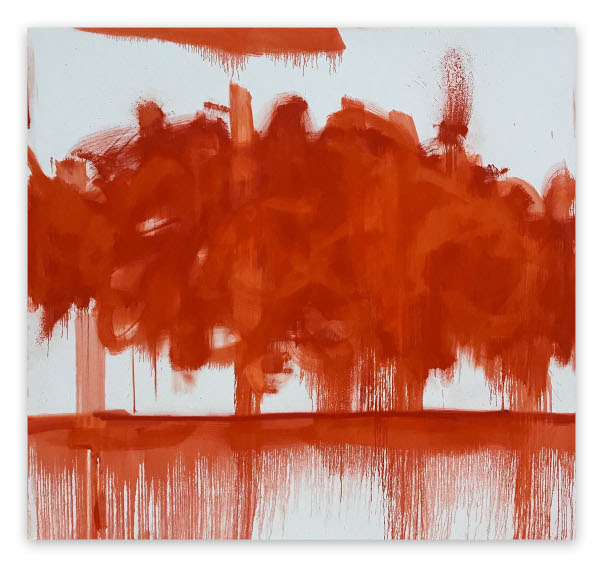 Tommaso Fattovich - Red Cloud, 2020. Mixed media on canvas. 187.96 x 213.36 cm.
Anthony Frost - Bat Chain Puller
Bat Chain Puller is a fascinating demonstration of Frost's unique blending of painting and collage. He applies acrylic along with pumice on sacking, sailcloth, and canvas and arranges them in layers and paints the shapes with vivid colors. His technique is brisk, unreflected, and unorthodox as he allows his instinct and intuition to take over the creative process. His vibrant, raw energy inspired by punk aesthetics embodies freedom and spontaneity in all of his conceptual expressions while vivid colors capture his visceral, unmediated self. Highly intuitive, Frost is inspired by action painting and automatic drawing that allow for his impulses to morph into the most compelling artworks. Frost is an English abstract artist, son of the famous Sir Terry Frost, whose vibrant, colorful paintings and prints exhibit the raw energy and freedom of rock music. He lives and works in Cornwall.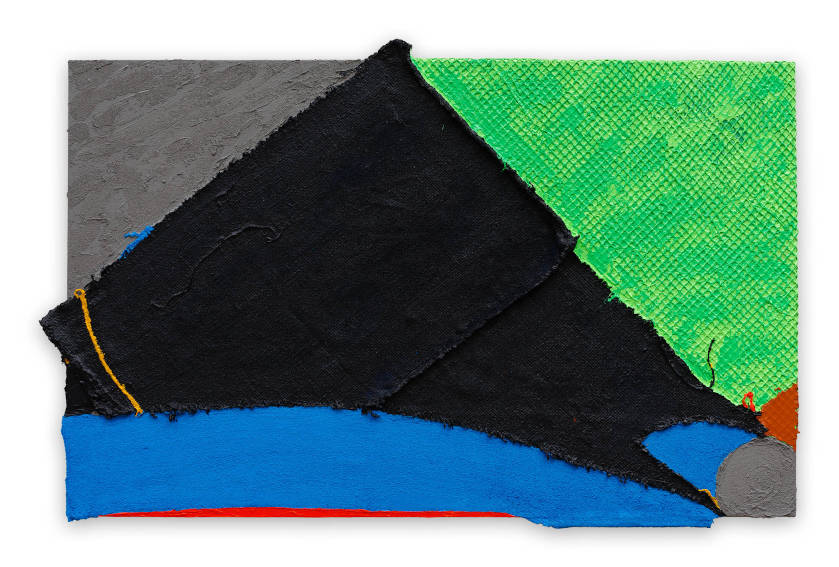 Anthony Frost - Bat Chain Puller, 2012. Acrylic and mixed media on canvas. 76.2 x 121.9 cm.
Jill Moser - 7.30
Inspired by the spiraling depths of the history of written language, Moser's fascination with visual and indexical language is revealed in her erratic and unpredictable movements that are disclosing her most intense emotions. Her vigorous unrestrained brushstrokes, thin and bordering fine lines, resulting in a lyrical, gestural expression that is contemplative and ruminative. 7.30 showcases the spontaneity of her work achieved through a methodical, indexical process that enables her to personally evolve through each of her works. She meticulously balances the revelatory and interpretative side of her works encouraging the viewer to actively approach her paintings. Moser is an American abstract artist whose work explores the intersection of painting, writing, and the animated image. She lives and works in New York.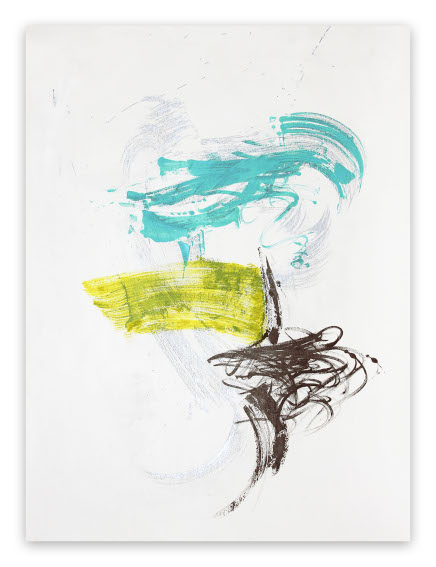 Jill Moser - 7.30, 2013. Acrylic and oil on paper. 76.2 x 57 cm.
Jaanika Peerna - Big Melt #16
Part of the Big Melt series, this work captures the moment when solid is turning into a liquid similar to the ice melting into water. Created with pigment pencil and ice, Peerna instinctively draws vertical pigment lines in the unreflective and fluid movements across the surface that resembles a dance as the emerging drawings encapsulate the sound of ice pre-melting. Then she methodically applies ice all over the surface, occasionally adding the water, to make the lines melt and drip. When water dries up the work itself has stopped making itself. Inspired by rapid and perilous glacier melting Peerna dedicates her work to raise awareness of the imminent threat of climate change. Peerna is an Estonian-born artist working across the genres who creates abstract drawings on thin plastic paper through intuitive physical movements inspired by, and reminiscent of dance. She lives and works in New York, Berlin and Tallinn.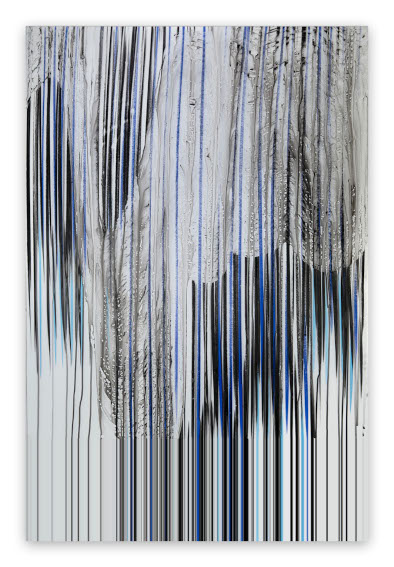 Jaanika Peerna - Big Melt #16, 2016. Pigment pencil and water on mylar. 134.62 x 91.44 cm.
Macha Poynder - Without Stopping
The latest from Poynder, Without Stopping is an emotional and invigorating piece in which Poynder's fluid, intangible and ample touch expressed in gesture, line, and color, converges in an unprecedented experience of expanded perception. Her unsettling and textured surfaces disclose the undefinable intersection between splashed/dipped paint, turbulent brushstrokes and lines with a deliberate, controlled movement and meticulous precision. She blends automatic drawing, performative gestures, and intuitive color choices to resurface the most primordial aspects of her subconsciousness. The evident randomness of her work meets the trained precision as multiple layers and colors reveal the complexity and impenetrable mysteries of the world. Poynder is a Russian-born, Paris-based artist whose multi-disciplinary oeuvre is inspired by the philosophies and aesthetic principles of Abstract Expressionism.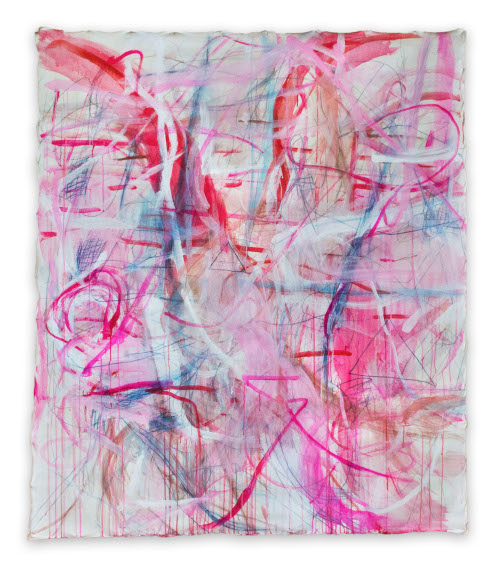 Macha Poynder - Without Stopping, 2020. Acrylic and pastel on un-stretched canvas. 170 x 142 cm.
Ellen Priest - Jazz: Chick's 'Chelsea Shuffle' #4
Priest is celebrated for her jazz-inspired abstractions that balance on the border between painting and sculpture. The spatial illusions and 3-D relief constructions of layered, collaged paper resonate with rhythmic and harmonic structures in jazz that vacillate between forms and genres. Jazz: Chick's 'Chelsea Shuffle' #4 exemplifies the space and movement created by the complex rhythms of jazz and emphasizes the pronounced dimensionality that obfuscates the line dividing two- and three-dimensional space as she (re-)creates a materialized movement in the actual world of colored space. Priest is an American abstract artist who is inspired by music and most notably by jazz. She lives and works near Philadelphia.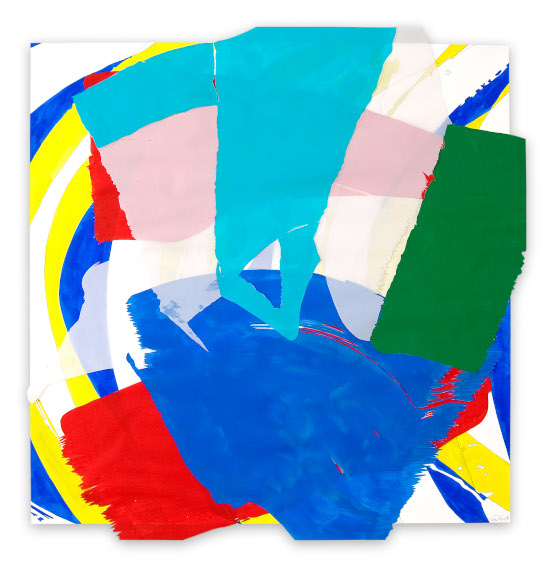 Ellen Priest - Jazz: Chick's 'Chelsea Shuffle' #4, 2005. Papers, oil, flashe, pencil, MSA gel. 81.28 x 81.28 cm.
Martín Reyna - Untitled (Ref 12102)
Untitled (Ref 12102) embodies Reyna's distinct technique of diluting ink and adding water on the paper so that the colors disperse and interact in the most unusual ways. Colors dispel and scatter, graciously vibrating and transgressing its initial boundaries while the composition itself vibrates outward, expanding harmoniously into space. Untitled (Ref 12102) elegantly balances Reyna's commitment to carefully plan the linear and spatial properties of his compositions and to allow the forces of nature to seize the process and lead it most erratically. Reyna is an Argentinian-born abstract painter living in Paris, France. His gestural abstract paintings delight the eye and activate the mind with their luminous color relationships and deft explorations of perspective and space.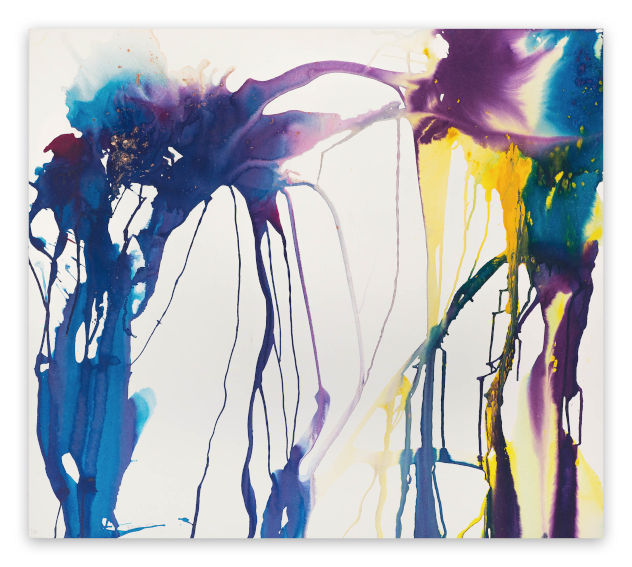 Martin Reyna - Untitled (Ref 12102), 2012. Ink on paper mounted on canvas. 100 x 108 cm.
Featured image: Alain Clément - 14AV7G-2014, 2014, installation view.
By Jovana Vuković