Blog Home
Pat Passlof - Six Decades of Important Art
Jul 15, 2020
Pat Passlof gave me one of the most significant gifts an artist can bestow upon an art viewer, besides the gift of pure sensorial pleasure: she convinced me to question my own taste. My first encounter with her work (I'm shy to admit) was in December, 2019, when, nearly a decade after her death at the end of a six-decade career, the exhibition "Pat Passlof: Fifty Years on Paper" opened at the New York Studio School. The works in the show scuttled my mind when I first saw them. I perceived their color palette as muddy, and their compositions disharmonious, so much so that I spent almost no time with them. My reaction was so negative, and so strong, in fact, that it sent me down the rabbit hole of investigating who this artist was, what else she had accomplished, and why I had not seen her work before. I learned that these works on paper were indeed intended to be dreamlike—though not nightmarish, perhaps, but then again that word is relative. I also learned that for more than 40 years, Passlof was married to the painter Milton Resnick, and had a reputation for deflecting attention away from herself, and towards her husband. (She had, however, been featured in more than 50 exhibitions, so the blame for the fact that I never noticed her work before is entirely on me.) Finally, I learned that for most of her career, Passlof had focused on abstraction. Joyful, boisterous, confident, and raw, the undeniable energy of her abstract paintings inspired me to go back and have a second look at the quasi-figurative works on paper I had initially seen. That second look revealed worlds of nuance and mastery I had previously overlooked. The longer I stared at the paint, the more the muted palette transformed, revealing glowing layers of underpainting, and expanding interior worlds of depth. Once I gave the works the time they deserved, the compositions revealed themselves as not only harmonious, but almost classical. Like most people, I almost never go back to look again at paintings I initially rejected. Passlof reminded me how silly that is, and not to fall victim to the supposed authority of my own taste.
Escape from New York School
Passlof began her painting career as a student at the famous Black Mountain College, where she learned from such luminaries as Josef Albers and Willem de Kooning. Many of her early paintings, such as "Escalator" (1948), show the unmistakable de Kooning influence—with their heavily worked and scraped surfaces, emotive gestural markings, and semi-figurative forms. It was de Kooning who introduced Passlof to her future spouse, Resnick. The two moved in with each other in the 1950s, just as Passlof was gaining the confidence to move away from the influence of her teachers. Younger and less dogmatic than the first generation Abstract Expressionists, she saw no value in staying true to a single style or method. By the mid-1950s, she had begun to develop an open, brut visual language dominated by the signature presence of innumerable tight, impasto brush marks.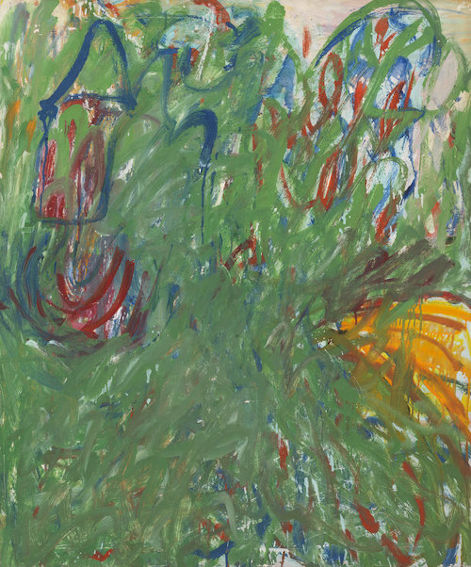 Pat Passlof - Red Eye, 1959. Oil on linen. 42 x 35 inches. The Milton Resnick and Pat Passlof Foundation.


In addition to waking up to the growing burden of their aesthetic influence, Passlof also began to perceive the power the older generation of New York artists, and their champion critics, such as Clement Greenberg, had to prejudice dealers and curators when it came to exhibition opportunities. The mid-1950s also, therefore, saw her starting to assert herself as an art activist. Along with artists like Jim Dine, Louise Bourgeois, and Romare Bearden, Passlof helped establish what became known as the 10th Street Galleries: a collection of artist-run exhibition spaces that shirked the traditional New York gallery system centered on 8th Street. Those power brokers—especially Greenberg—bemoaned these collective galleries and insulted the work: but the work was not bad; it just signaled the end of their ability to control which artists could make the scene.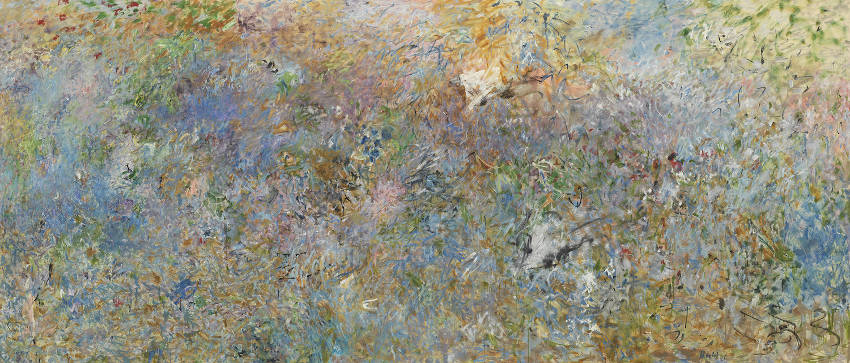 Pat Passlof - Sky Pasture, 1961. Oil on linen. 68 x 144 inches. The Milton Resnick and Pat Passlof Foundation.
Patterns and Grids
In 1972, 24 years after she was a wide-eyed student at Black Mountain College, Passlof began what eventually became her 38-year tenure as a professor of art with City University of New York (CUNY) Staten Island. She cherished her students, and was a profound influence on generations of artists. Her letters to students were even compiled in a book, titled, Pat Passlof, To Whom the Shoe Fits: Letters to Young Painters. Just one year after starting teaching, Passlof again positioned herself on the vanguard of exhibition politics when, along with Ce Roser and Sylvia Sleigh, she was one of the original artists involved in the landmark 1973 show Women Choose Women, which featured the works of 109 female artists, selected by an all-female jury. Lucy Lippard and the other organizers of the show were infamously rejected by every major institution in the city except New York Cultural Center. When the exhibition opened, every art publication of consequence reviewed it, creating a buzz that revolutionized public awareness of the depth and range of female voices in the visual arts.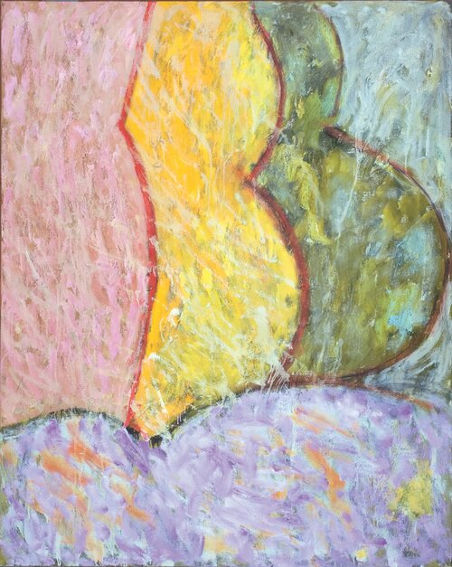 Pat Passlof - Melon 2, 2001. Oil on linen. 60 x 48 inches. The Milton Resnick and Pat Passlof Foundation.


Throughout the rest of her career, Passlof continued pushing herself to evolve. In the 1990s, she created a body of exuberant, abstract, patterned paintings named for authors, such as Frost, Hawthorne, Thoreau, and Whitman. At the same time, she was painting haunting, figurative gouaches such as "Birches and Skulls" (1999) and "Hermes" (1996). One of her final paintings, "Melon 2" (2011), stands out to me as her crowning glory. A masterful, layered blend of biomorphic forms, luminous color, and her signature tight brush strokes, it has such an effortless and masterful air, it seems to exist outside of art history. How you see your time is bound to be different than how your contemporaries, or people in the future, see your time. You can only react accordingly to what you, yourself, perceive is true. Passlof stayed true to her own vision of where she fit in to the art field, and in doing so created a body of work that exists outside of trends. She challenged me to look beyond my own preconceptions. I now see her as a revelation.
Featured image: Pat Passlof - Untitled, 1995-96. Oil on linen. 78 x 117 inches. The Milton Resnick and Pat Passlof Foundation.
All images used for illustrative purposes only
By Phillip Barcio