Blog Home
6 Most Expensive Abstract Artworks of 2020
Dec 30, 2020
Works by Mark Rothko, Cy Twombly, Clyfford Still, Barnett Newman, Gerhard Richter and Brice Marden were among the most expensive abstract artworks to sell at auction in 2020. But before we get to our year end auction roundup, I want to reflect briefly on what we were all talking about last year at this time: a banana duct taped to a wall at Art Basel Miami. How quickly our field has gone from levity to gravity. Who back then predicted that for most of 2020 there would be no art fair booths to tape fruit to even if we wanted to? Yet, even as so many of our colleagues struggle for existence in a volatile market, many others are thriving. One question we had while preparing this year end list was whether it still even makes sense to publicize the top selling artworks of the year. Such statistics really only reflect trends amongst super-mega-collectors—the one percent of the one percent. Could we not learn more by looking at which artworks most significantly outperformed their auction estimates, or which artists made the most significant gains in their individual auction values? The best answer we have is that the wealthiest collectors still matter a lot when it comes to influencing overall collecting habits—same as how the most powerful politicians influence the success of down ballot party members. Wealthy, powerful individuals set agendas, because so many others aspire to be like them. To that end, abstract artists have plenty of reason to rejoice right now. The most pronounced trend among high dollar auction sales in 2020 was the massive increase in how many top selling works were abstract. Back in 2019, only one purely abstract artwork ranked among the 15 most expensive works sold at auction: an untitled Rothko from 1960. This year, six of the top 15 auction sales were completely abstract, along with semi-abstract works from Joan Miró ("Femme au chapeau rouge" (1927), $28.7 M US), Pablo Picasso ("Les femmes d'Alger (version 'F')" (1955), $29.2 M) and Francis Bacon ("Triptych Inspired by the Oresteia of Aeschylus" (1981), $84.5 M). This trend makes sense to me. Now more than ever I find myself searching for universalities and seeking refuge in the unseen.


Gerhard Richter, "Abstraktes Bild (649-2)," (1987), $27.6 M
Earlier this year, American billionaire investor Ronald Perelman made news when he announced he would be liquidating hundreds of millions of dollars worth of important artworks from his legendary collection. He said the sale was inspired by his desire for "a simpler life…with more time with my family." How paintings complicate life or detract from family time is unclear to me. Nonetheless, his deaccessioning accounts for three works that ended up on our year end list. The first was this Gerhard Richter painting, which Sotheby's sold in October to the Pola Museum of Art in Hakone, Japan.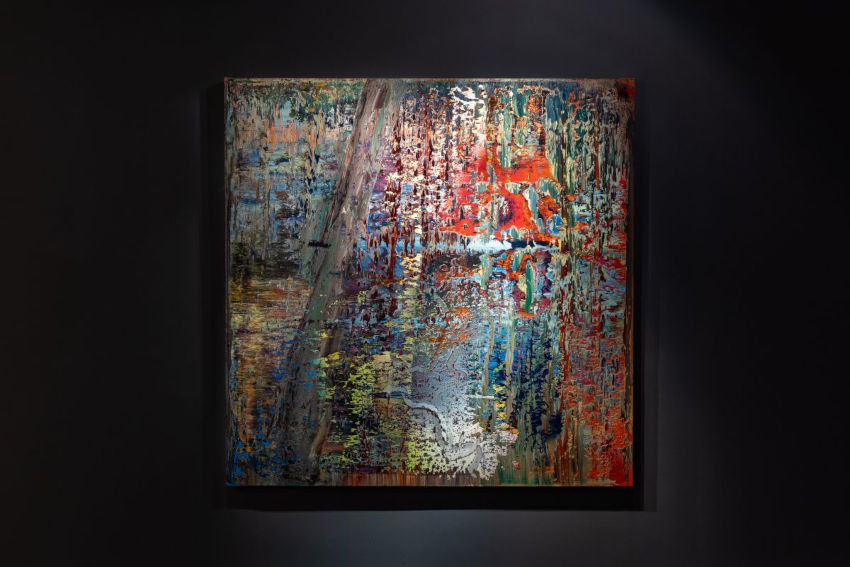 Gerhard Richter - Abstraktes Bild (649-2), 1987. Image courtesy Sotheby's.
Clyfford Still, "PH-144 (1947-Y-NO.1)," (1947), $28.7 M
The death of Harry "Hunk" Anderson in 2018, and Mary Margaret "Moo" Anderson in 2019, saddened many in the art field. But the beloved West Coast American art collectors left a wonderful gift to their admiring public, gifting the bulk of their storied Post War art collection to the Stanford University art museum. However, a small sampling of their collection did manage to make its way to the auction block. In June, Sotheby's sold what may be the rarest item in the collection—one of only a handful of privately owned paintings by Clyfford Still. While the sale exceeded the low estimate of $25 million, it fell astonishingly short of the $61.8 million record for the artist, set in 2011.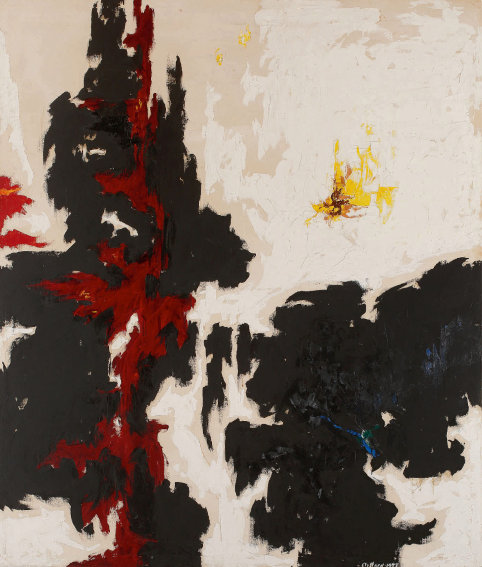 Clyfford Still - PH-144 (1947-Y-NO.1), 1947. Image courtesy Sotheby's.


Barnett Newman, "Onement V," (1948), $30.9 M
When Christie's sold this rare, early "Zip" painting in July, it barely covered the low estimate of $30 million with the premium included. For reference, it is worth pointing out that back in 2013, Sotheby's set the Barnett Newman record when it sold "Onement VI" (1953) on behalf of mega-collector Paul Allen, what many connoisseurs consider a lesser "Zip" painting, for the much higher price of $43.8 million.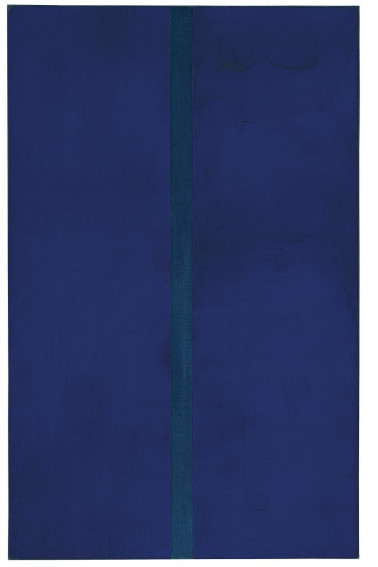 Barnett Newman - Onement V, 1948. Image courtesy Christie's.


Brice Marden, "Complements," (2004–07), $30.9 M
Aside from Banana-Gate, the other top art market story last year at his time was the death of Donald Marron, a billionaire investor and art collector who also once served as President of MoMA. Nearly all of his art holdings were negotiated to be sold by a conglomerate of dealers including Gagosian, Acquavella, and Pace. One notable exception was this Brice Marden painting, which Christie's somehow separated from the herd. Respect goes to Alex Rotter, Christie's chairman, whose instincts paid off in July when the painting nearly tripled the previous Marden record of $10.9 million, which was set only last November.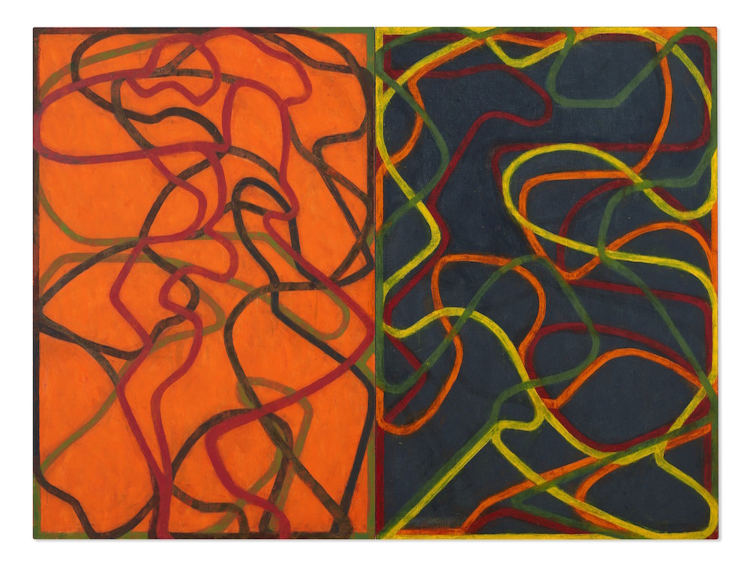 Brice Marden - Complements, 2004–07. Image courtesy Christie's.


Mark Rothko, "Untitled," (1967), $31.3 M
The second work on our list from the Ronald Perelman collection, this iconic Rothko dates to the mythical "Seagrams Mural" era, and converses beautifully with those canvasses. Despite being the second priciest work on our list, it sold in October at Christie's for a shockingly low (for Rothko) $31.3 million. Just last year, Sotheby's sold what many critics then called a lesser Rothko from 1960, that was deaccessioned from San Francisco MoMA, for $50.1 million.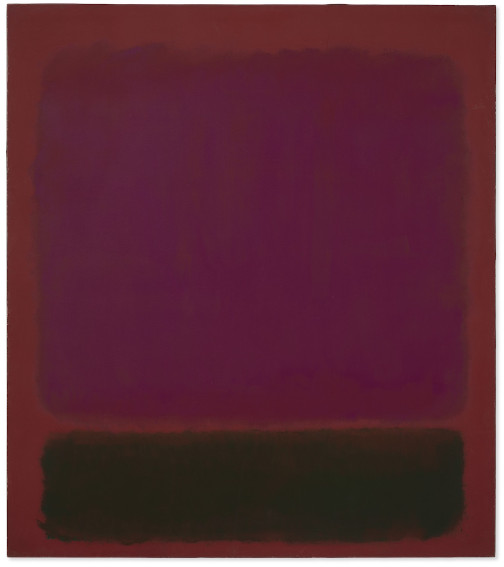 Mark Rothko - Untitled, 1967. Image courtesy Christie's.


Cy Twombly, "Untitled (Bolsena)," (1969), $38.7 M
The final work from the Ronald Perelman collection to make our list, this Cy Twombly painting belongs to a series represented in several major museums. It sold at Christie's October New York evening sale, but like so many other masterpieces that came to auction in 2020, it barely fetched its low estimate (of $35 million). In 2015, Sotheby's set the record for the artist selling a Twombly blackboard painting from 1968 for $70.5 million. What can be extrapolated about this and the other low sales over the past year? Could it be poor estimating from the auction houses? Are all buyers just a little wary of their funds right now? Regardless, we are heartened to see more abstract art making the list of top sellers, and hopeful that trend will continue in 2021.


Featured image: Cy Twombly - Untitled (Bolsena), 1969. Image courtesy Christie's.
All images used for illustrative purposes only
By Phillip Barcio