Blog Home
How The Last Monet Inspired American Abstract Expressionists
May 4, 2018
Among the most memorable and well-known works ever created by Claude Monet, the great co-founder of French Impressionism, are his Water Lilies. Yet what many fans of Impressionism may not realize is the connection that exists between Monet and American Abstract Expressionists. Near the end of his life, Monet created a series of large-scale paintings in the mode of his famous Water Lilies paintings that were particularly abstract. These gestural, energetic, painterly works possess all of the energy, emotion, and, well, "action," of the so-called "action paintings" that the Abstract Expressionists would not yet begin to start making until decades later. These late Monet paintings also possess the "all-over" quality that would later be attributed to Abstract Expressionist works. But it was not really until the 1950s that the power brokers within the art world really took notice of the similarities between the last Monet paintings and the works of the Abstract Expressionists. That connection is once again being noted today in commemoration of the one-hundred year anniversary of the Water Lilies series, as the Musée de l'Orangerie, Paris, is exploring this connection in depth through the exhibition Waterlilies: American Abstraction and the Last Monet. This grand exhibition features a stunning selection of late works by Monet exhibited alongside works by such influential American Abstract Expressionist painters as Jackson Pollock, Helen Frankenthaler, Mark Rothko, Joan Mitchell, Mark Tobey, John Paul Riopelle, Sam Francis, Ellsworth Kelly, and several more. This one of a kind show offers a glimpse into the European roots of the most iconic American art movement, and offers a fresh, global, and more balanced viewpoint on how aesthetic trends in art truly develop.
A Generation Apart
Claude Monet began exhibiting signs that he was suffering from cataracts around 1914, a dozen years before he died. The effects of this disease affected his painting directly, primarily by altering his ability to perceive which colors he was using. Around this time, he began a series of paintings based on weeping willow trees. The long, gestural lines and impasto brush marks that fill these works are made haunting by the vivid, reddish hues Monet chose for the works. (When he later had surgery to remove his cataracts, Monet actually repainted some of these paintings and imbued them with more bluish hues.) And it was also around this time that Monet suffered two personal tragedies—the deaths of his second wife and his oldest son. His paintings from this era have a forlorn, mystical quality. It would be a stretch to say he was painting his emotions, but the impressions he had of the physical world as he captured it on his canvases may certainly have been influenced by the emotions that he felt inside. But to be sad and thus paint in a melancholy way is not the same thing as what the Abstract Expressionists did. Though they were also sad, anxious and afraid, when they painted they were attempting to connect to the subconscious depth of those feelings through the technique of automatism.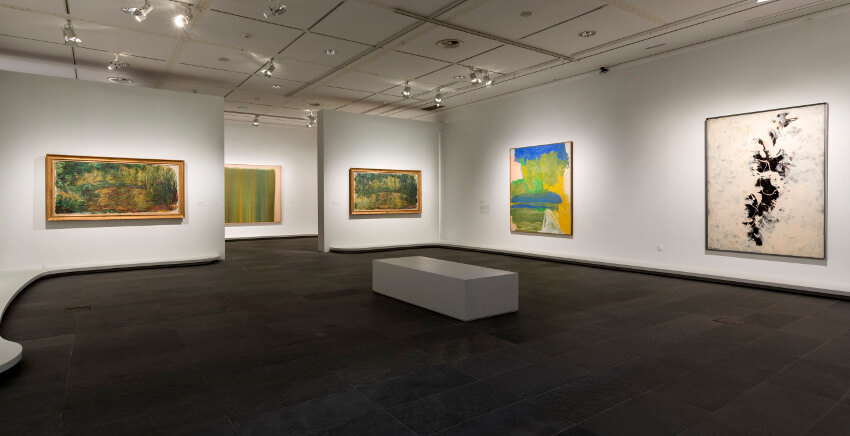 Waterlilies: American Abstraction and the Last Monet, installation view at the Musée de l'Orangerie in Paris. © Musée de l'Orangerie. Photo Sophie Crépy-Boegly
Nonetheless, both methods produced remarkably similar aesthetic results. Yet it would be nearly 20 years after the death of Monet before his final aesthetic discoveries would manifest in the work of this new generation of artists. It is difficult to say whether the Abstract Expressionists were aware of the late work Monet did. What we do know, though, is that one of the large-scale, late Water Lilies paintings was exhibited at the Museum of Modern Art in New York in 1955. That same year, Clement Greenberg wrote his seminal essay titled American-type Painting, which pointed out the connections he saw between the late work of Monet and the work of painters like Jackson Pollock, Clyfford Still, and Barnett Newman. These events then led the art critic Louis Finkelstein in 1956 to contextualize the connection between Monet and the Abstract Expressionists by coining a new term: Abstract Impressionism. He used this term to refer to a group of painters loosely associated with Abstract Expressionism, but who lived and worked on the fringe of the movement, such as Joan Mitchell, Jean-Paul Riopelle, Sam Francis, and Philip Guston. He felt that their work was more directly inspired by Monet, and had less of a debt to the methods and philosophies of the founders of the New York School.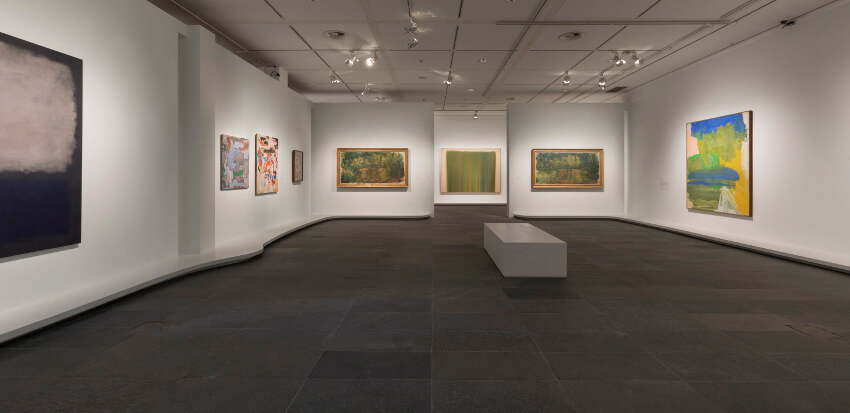 Waterlilies: American Abstraction and the Last Monet, installation view at the Musée de l'Orangerie in Paris. © Musée de l'Orangerie. Photo Sophie Crépy-Boegly
No Drama
One of the greatest myths of the American art world is that Abstract Expressionism was "the first purely American art movement." Contemporary scholarship has showed that supposition to be flimsy at best. Grant Wood painted his Regionalist masterpiece American Gothic in 1930, more than a decade before the first Abstract Expressionist paintings were created. American Regionalism was an American art movement; and there were several others that pre-dated it. Besides that fact, it is also clear that Robert Motherwell, who taught automatism to the Abstract Expressionists, learned it from an Austrian painter who was living at the time in Mexico, whom Motherwell met through the acquaintance of a Chilean painter. Really the only thing distinctly American about Abstract Expressionism is that is a melting pot.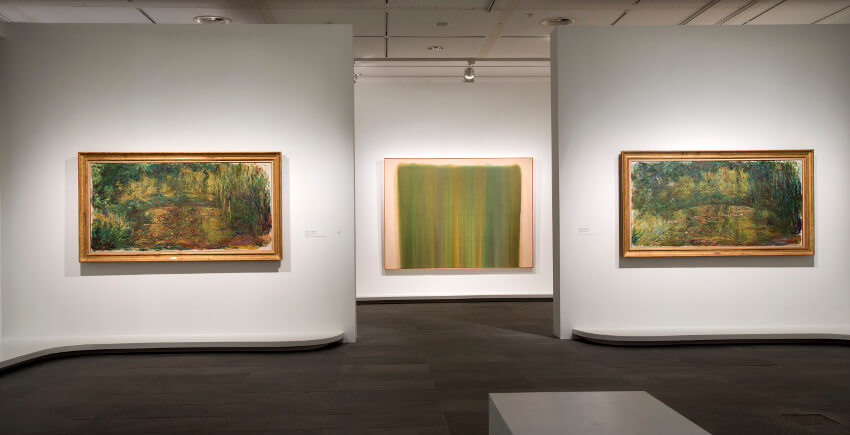 Waterlilies: American Abstraction and the Last Monet, installation view at the Musée de l'Orangerie in Paris. © Musée de l'Orangerie. Photo Sophie Crépy-Boegly
But this exhibition is not an attempt to set the record straight. It is rather a simple attempt to go back to a beautiful moment in time when it became apparent that the same glorious aesthetic results had somehow been arrived at by painters who were a generation apart. The fact that these painters used completely different methods to arrive at the same position exemplifies that art history is not a lineage, but it is rather a dialogue that exists outside of time. Every visual and conceptual tendency within it is just a rambling conversation that can be picked up again at any moment, and re-imagined through the voice of each new era. Waterlilies: American Abstraction and the Last Monet is on view at the Musée de l'Orangerie in Paris through 20 August 2018.
Featured image: Waterlilies: American Abstraction and the Last Monet, installation view at the Musée de l'Orangerie in Paris. © Musée de l'Orangerie. Photo Sophie Crépy-Boegly
All images courtesy Musée de l'Orangerie
By Phillip Barcio