Blog Home
How Mohamed Melehi Made Waves in Moroccan Modernism
Nov 4, 2020
The COVID-19 Pandemic has claimed another victim from the world of abstract art: Moroccan painter Mohamed Melehi passed away on 29 October in Paris at age 84, from complications related to the novel coronavirus. Melehi made history repeatedly throughout his career. In 1963, his work was included in the show Hard Edge and Geometric Painting and Sculpture at the Museum of Modern Art in New York, making him the first North African artist ever to be curated into an exhibition at that institution. From 1964 through 1969, working alongside his contemporaries Farid Belkahia and Mohammed Chabâa on the faculty of the Casablanca Art School, Melehi revolutionized Post-Colonial Moroccan culture by encouraging his students to marry Modernist ideals with the traditions of ancient Berber culture. Most recently, Melehi made history in the spring of 2020, when his 1963 painting "The Blacks" sold for a record breaking £399,000 at Sotheby's 20th Century Art / Middle East Sale, shattering its £55,000 estimate after receiving more than 30 bids. Part of what made Melehi such a compelling figure in the contemporary art field, however, was that notoriety was never what motivated him to do his work. He was devoted to something much simpler, and much more personal: the discovery of what it meant to be a contemporary, Moroccan, abstract painter. After his recent record-breaking auction result, when asked if he was upset that he would receive no material benefit from the sale of his painting, Melehi responded, "You know, when we are faced with such a situation, there are two things: material advantage and artistic recognition. And I think that for an artist, the recognition of his talent is his greatest satisfaction. This recognition is also benefiting our country. And it is a great honor for us. Because, a priori, we do not make art to earn money." This outlook was integral to everything Melehi accomplished in his career. Despite not doing any of it for the accolades, he will nonetheless be remembered as a founder of Post-Colonial Moroccan culture, and a pioneer in the field of global abstract art
The Roots of Modernism
When Modernism swept through Western culture in the aftermath of World War I, it was epitomized by the directive to "make it new"—a phrase usually attributed to the poet Ezra Pound. The aesthetic achievements of the past were supposedly dead to the Modernists. Invention, experimentation and discovery were what mattered most to them. We are similarly told that we live in a Post-Modern world today: an era in which the goals of Modernism no longer make sense. Mohamed Melehi is amongst the few who have successfully questioned this narrative. When Melehi left Morocco to study and work in Italy, France and the United States in the 1960s, he saw within Modernist abstract art many echoes of his own ancient aesthetic heritage. When he befriended artists like Frank Stella in New York, Melehi realized that what critics were calling the new trend of Hard Edge Abstraction was actually an expression of a technique that dated back centuries in Islamic art.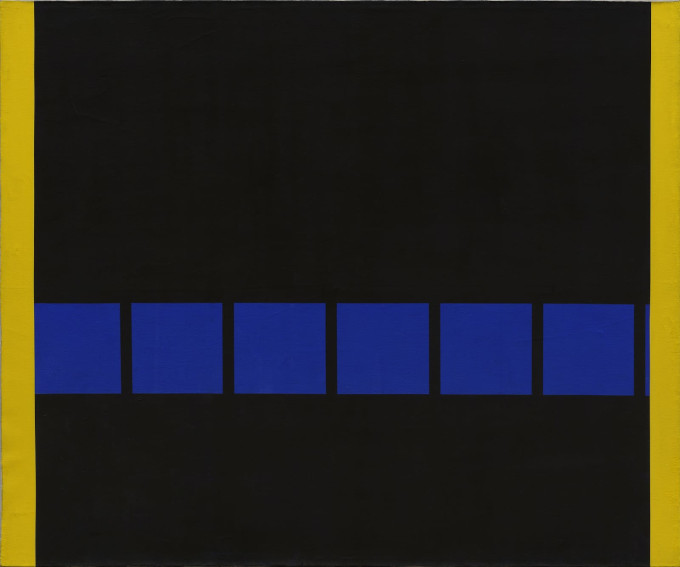 Mohamed Melehi - The Blacks, 1963. Oil on canvas. 126 x 152 cm (49 5/8 x 59 7/8 in). © Mohamed Melehi


We want to express ourselves honestly, and not be bound to the traditions of the past, but our collective memory is an essential part of who we are. By leaving home, Melehi became connected to his own Moroccan heritage, which taught him that the Modernist desire for newness was truly an expression of something quite old. When he returned to Morocco in 1964, the question Melehi repeatedly asked his students was "What can we find in Morocco that is an expression of Modernism?" He was not asking them how Moroccan culture might mimic Western Modernist culture. Rather, he was advising his students to connect with the way their own history and essence connects with the core truth of Modernism—renewal.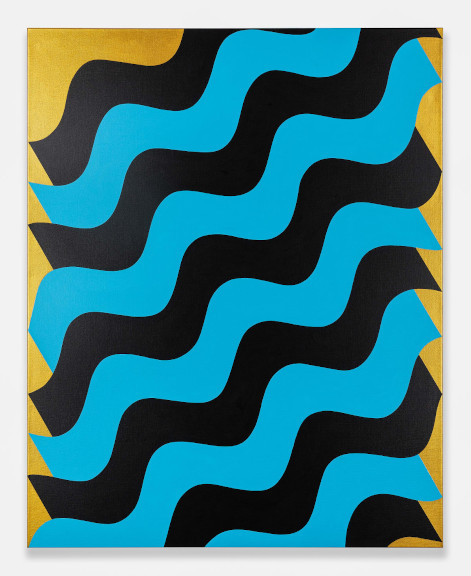 Mohamed Melehi - Moucharabieh, Blue on Black, 2020. Acrylic on canvas. 59 1/10 x 47 1/5 in (150 x 120 cm). © Mohamed Melehi
Waves in Space and Time
For Melehi, the perfect way to express the timeless human quest for renewal came in the form of waves. From the late 1960s until his death, he created a multitude of paintings, prints, sculptures and graphic designs based on colorful wave patterns, including a large-scale public wave sculpture he created for the 1968 Mexico City Olympics. Melehi was born and raised in a seaside town. Waves were integral to his personal identity. He also recognized wave patterns as an element in both Islamic art and ancient Berber crafts. Equally as much, he was fascinated by the contemporary significance of television and radio waves, and their power to connect and transform humanity. Not quite figurative, not quite symbolic, yet not totally abstract, the wave patterns in his paintings came to reference the full spectrum of human existence, from our roots in the sea, to our cultural history, to our destiny in the stars.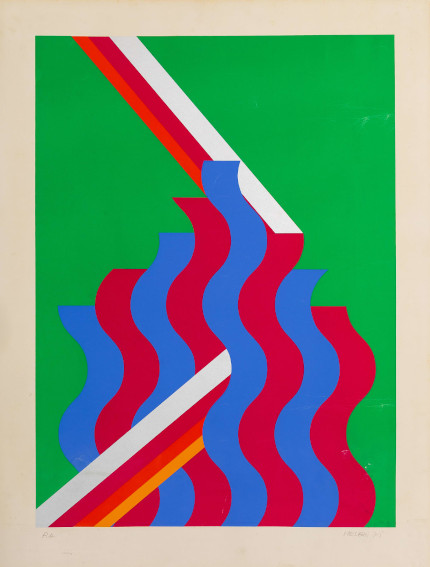 Mohamed Melehi - Untitled, 1975. Silkscreen print on paper. 31 1/2 x 23 3/5 in (80 x 60 cm). © Mohamed Melehi


In addition to the career Melehi had as a painter, sculptor and designer, he also was a civic leader who believed that artists could have a profound effect on politics and on the daily lives of their communities. In 1978, after realizing that the walls of his hometown of Asilah were practically in ruin from neglect, Melehi and his friend Mohamed Benaïssa invited a group of artists to come to the town and paint murals on the aging walls. Their artworks brightened up the facades of the houses and attracted tourists to the city. Every year since, they have continued to invite artists to come and paint new murals as part of what has come to be known as the Asilah Arts Festival. Every time new murals are painted over old murals, the festival itself becomes another expression of endless renewal. Melehi was a living testament to the fact that words like Modernism and Post-Modernism are really meaningless—that the urge to make it new, despite the impossibility of making it new, never ends.
Featured image: Mohamed Melehi - Untitled, 1972. Silkscreen print on paper. 19 7/10 x 13 4/5 in (50 x 35 cm). © Mohamed Melehi
All images used for illustrative purposes only
By Phillip Barcio