Blog Home
Less Is More! Collect Your Minimal Abstract Art Here
May 8, 2020
Less is more, a popular aphorism by Ludwig Mies van der Rohe, not only succinctly captured the essence of emerging minimalism, but inspired the movement that continues to evolve in a number of aesthetico-philosophical offshoots that are committed to intransigent simplification of forms. Going back to a reductive abstraction of Russian Constructivism and Dutch De Stijl (or even Monet according to Clement Greenberg), its contemporary breakthrough happened in 1959 with Frank Stella's Black Paintings exhibition. By painting black-only geometrical forms and lines (on a neutral white base) he expanded the boundaries of art itself, enthroning minimal abstract art as the most sublime expression of the modernist radical self-criticism. The sixties minimalists responded with a harsh animosity toward abundantly affective and ostentatious art of Abstract Expressionists who emphasized the richness of human experience. Finding the very essence of the artwork in the objects, minimalists claimed the autonomy and self-referentialism of the work. They championed the literal presence of an artwork - without bemusing references to complex concepts, agendas or ideologies behind it - and emphasized the viewers' immediate response to the qualities of color, form, space, and material. Reclaimed by Ad Reinhardt, whose all-black paintings anticipated the sixties minimalism, less is more began to signify art that was getting rid of nature and negated the artistic expression (and the ideas behind the expression) but which accentuated the ultimate appreciation of medium and form. Inspired by everlasting principles of simplicity, balance, symmetry, order, harmony, and wholeness, minimal abstract art remains widely popular. Please scroll below for our weekly selection of ten most compelling minimal abstract art.


Brent Hallard - Architectural Butterfly (Dandelion)
Hallard's fascination with simple forms and cluster of forms evolves in Architectural Butterfly (Dandelion) where he plays with an ambiguity altering between architectural interior and a projecting form. This geometrical art piece relies on form and color to create an optical illusion - manipulating arrangements between objects and colors Hallard is challenging the subjective perception of the viewer. Hallard is an Australian-born abstract artist, curator, and writer whose works on paper and aluminum explore minimalist iconography and monochromatic expressions. He is currently living and working in Byron Bay, Australia.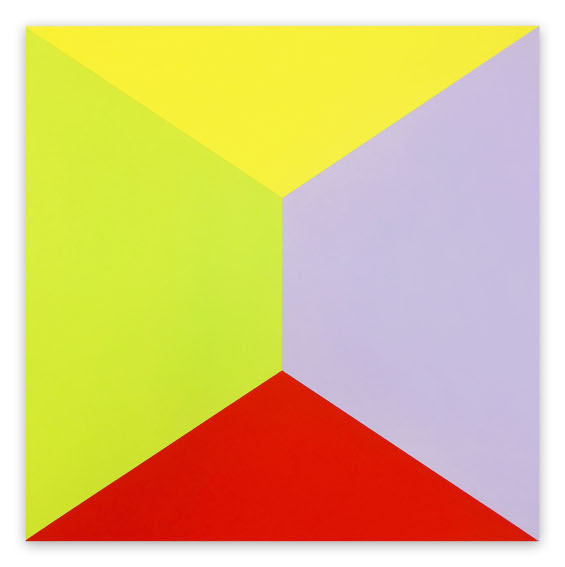 Brent Hallard - Architectural Butterfly (Dandelion), 2016. Acrylic on honeycomb aluminum. 61 x 61 cm.


Clay Johnson - What I heard
This latest from Johnson, What I heard, reveals his lasting adherence to the process as he allows his artworks to emerge through a series of unrestrained responses. He pulls horizontal bands of color across the surface letting his initial color choice to guide the composition forward. As multiple layers of paint are built up Johnson sands through these layers suggesting what is underneath. His visceral reactions result in the luminous, polished surface with complex color combinations. Johnson is an American abstract painter whose reductivist compositions explore the relationships between color, form, and texture. He lives and works in Laramie, Wyoming.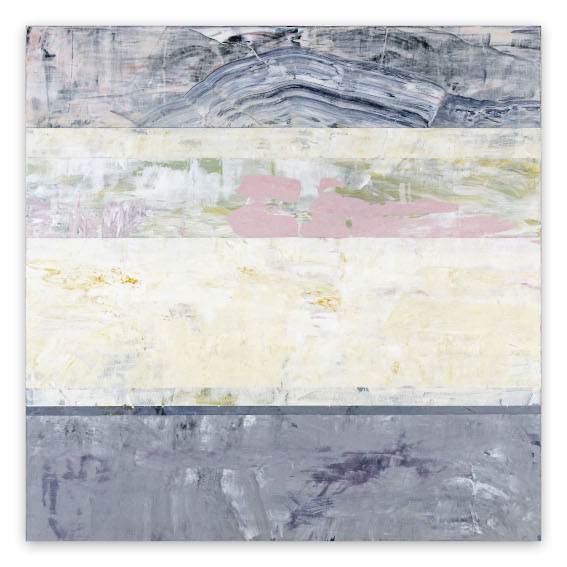 Clay Johnson - What I heard, 2020. Acrylic on canvas. 121.92 x 121.92 cm.
Elizabeth Gourlay - Subulo 1
Part of a series inspired by her stay in Umbria, Italy, subulo is an ancient Etruscan name for a flute and discloses Gourlay's interest in stone sculptures and other Etruscan artifacts. However, behind the lively interplay between color and form an evocative narrative that probes it emerges - it unveils how we think about the sound, and particularly music and how it is translated in a visual medium. Gourlay is an American abstract artist whose work emerges from a progressive process of layering color, lines, and forms informed both by inner emotional states and her observation of nature and architecture. She lives and works in Chester, Connecticut.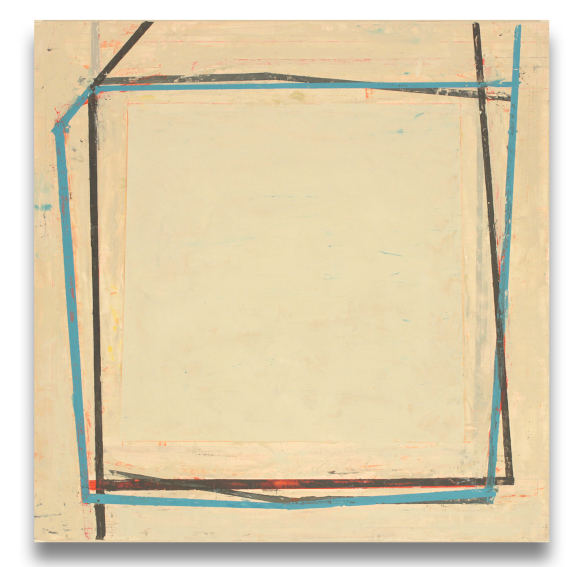 Elizabeth Gourlay - Subulo 1, 2013. Graphite and oil on panel. 30.5 x 30.5 cm.
Arvid Boecker - #1198
Boecker's work is a continual exploration of color which is painted on his standard rectangular canvas divided by a longitudinal line into two color fields. #1198 exemplifies his meticulous commitment to building color layers, applying up to 40 layers, and removing old layers to allow the echoes of erosion to remain visible. This lengthy creation process during which his paintings mature is inherently meditative as he simultaneously reflects on the color and its effects. Boecker is a German abstract painter whose work mobilizes the tensions and harmonies that exist between color relationships, textures, and the processes of time. He lives and works in Heidelberg, Germany.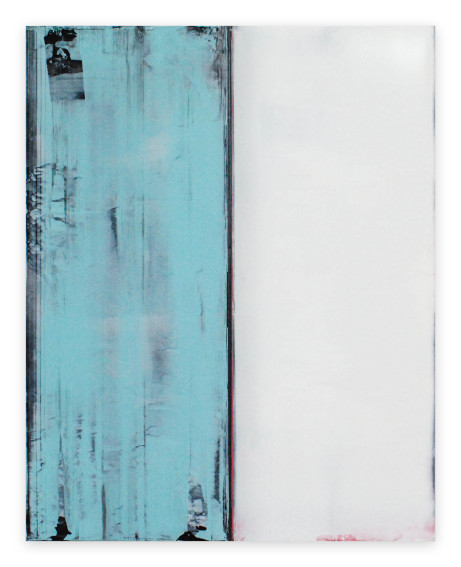 Arvid Boecker - #1198, 2019. Oil on canvas. 50 x 40 x 5.5 cm.
Macyn Bolt - skipstep (aa)
skipstep (aa) superbly reflects Bolt's interest in the paradox of spatial comprehension as it exists in abstract painting. Inspired by boxing footstep technique Bolt finds that the illusory qualities of abstract composition entail a similar practice in perception and expectation. He tries to create a dynamic tension between foreground/background, center/edge, and inside/out borrowing from the geometric vocabulary of architectural schemata. Bolt is an American abstract painter. Using a visual language informed by geometric abstraction, he creates artworks that examine how color and form create shifts in visual perception. He lives and works in Brooklyn, NY, and upstate Pennsylvania.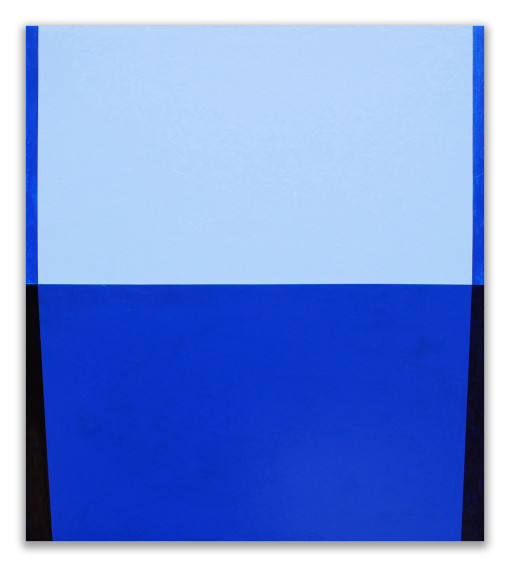 Macyn Bolt - skipstep (aa), 2014. Acrylic on canvas. 51 x 46 cm.
Tilman - Untitled (257.11)
Inspired by Concrete Art and Minimalism, Tilman's celebrated works on paper are a personal depository of his ideas derived from his restless visual mind. Using crayon on vellum paper he allows his visual memory to translate itself on the paper revealing painterly quality and surface structure. Untitled (257.11) highlights an unusual arrangement of space, creating a composition of form and color that, when interacting with light, re-orders the visual environment. Tilman is a German abstract artist and curator. His work includes paintings, built environments, and stacked and layered wall and floor-based objects. He lives and works in New York City and Dolceacqua, Italy.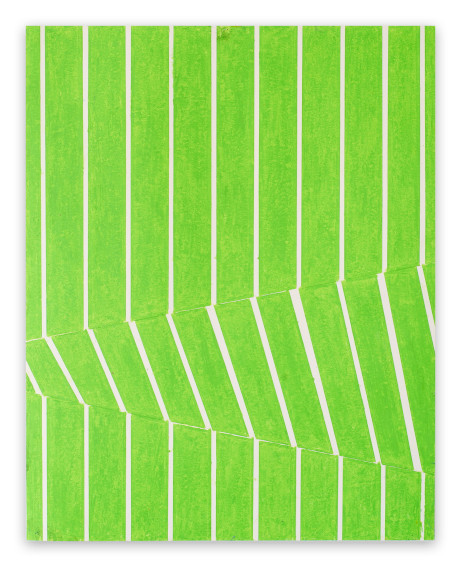 Tilman - Untitled (257.11), 2011. Crayon on vellum. 65 x 50 cm.
Kim Uchiyama - Pulse
Pulse is a mesmerizing watercolor piece that conveys brimming bands of enigmatic light. Uchiyama applies saturated color to accomplish an overarching chorus with each band delineating its unique voice. Their precise arrangement and delicate layers communicate Uchiyama's most intimate feelings often inspired by the light or atmosphere of a particular location. Uchiyama is an American abstract artist whose works use color to create light and form which activates the metaphysical potential of pictorial space. She lives and works in New York.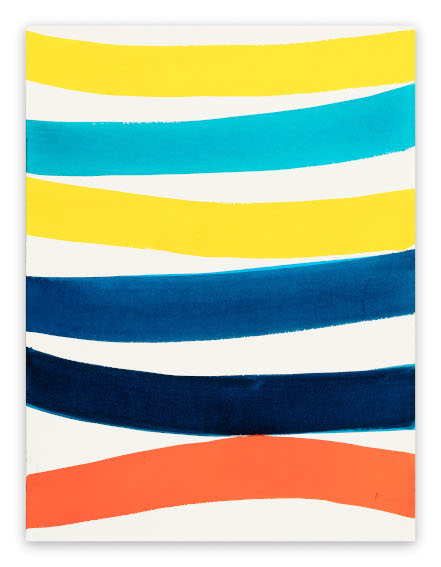 Kim Uchiyama - Pulse, 2018. Watercolour on Arches paper. 40.6 x 30.5 cm.
Xanda McCagg - Adjacent 5
An initiation piece that announces McCagg's larger bodies of work, Adjacent 5 is made with paint sticks and pencil on paper and primed with gesso that captures vibrancy and fervor of her technique. She creates subtle marks and vast color fields also using lines to emphasize different ideas. In Adjacent 5 McCagg uses delicate and rough-hewn lines to articulate the subtle evolution of her underlying aesthetic vocabulary that rests on the elusive distinction between perception and imagination. McCagg is an American abstract artist who lives and works in the Chelsea neighborhood of New York City.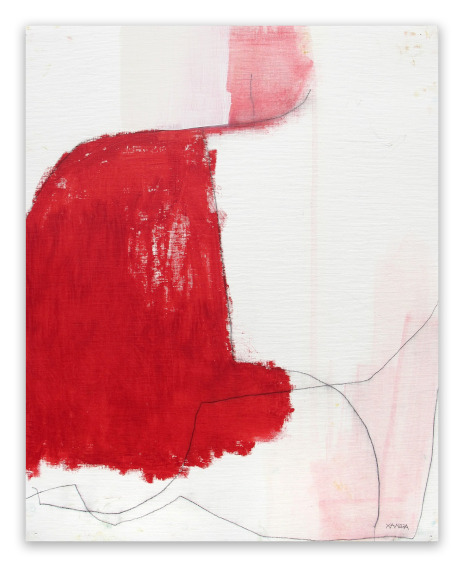 Xanda McCagg - Adjacent 5, 2014. Pencil and paint stick on paper. 50.8 x 40.6 cm.
Tenesh Webber - Untitled 6
Using charcoal pencil on Stonehenge paper, Webber translates her ideas into drawings that will eventually evolve into two- and three-dimensional objects. As of 2018, she further elaborates on these drawings making abstract images that develop the ideas of the grid, depth and shadow, movement and stasis. Untitled 6 is a rhythmic, intuitive composition that radiates unrestrained tension between the organic and linear within the framework of her minimalist sensibility. Webber is a Canadian abstract photographer whose work explores and challenges conventions of traditional black and white photography. She lives in Jersey City, New Jersey and works in Bushwick, Brooklyn.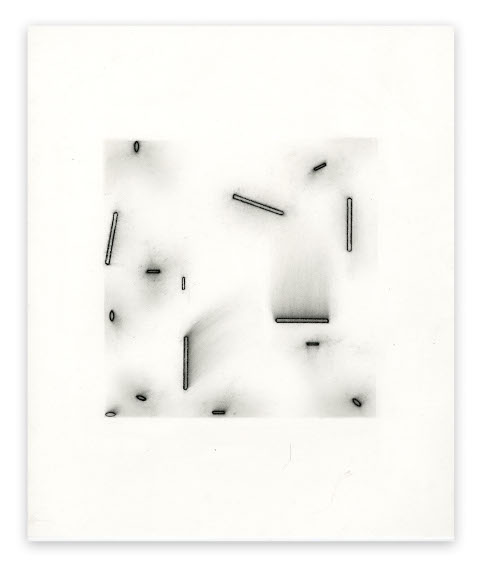 Tenesh Webber - Untitled 6, 2019. Charcoal pencil on Stonehenge paper. 33 x 28 cm.
Tom McGlynn - Survey 5
Part of an ongoing Survey series, Survey 5 refers to behavioral testing but also to the problem of how contemporary images scan. This interpretative conundrum escapes a strict denotation and entices the viewer in the contemplative quest for the diffused meaning. McGlynn explores how signs, logos, architectural patterns, and other contemporary visual patterns and shapes can trigger a residual meaning hidden deep in our (un)consciousness. His (post-)minimalist approach entails an implicit complexity of meaning. McGlynn is an American abstract artist, independent curator, and writer whose oeuvre explores interactive color and proportion in tension with their potential semiotic meaning. He lives in the New York City area.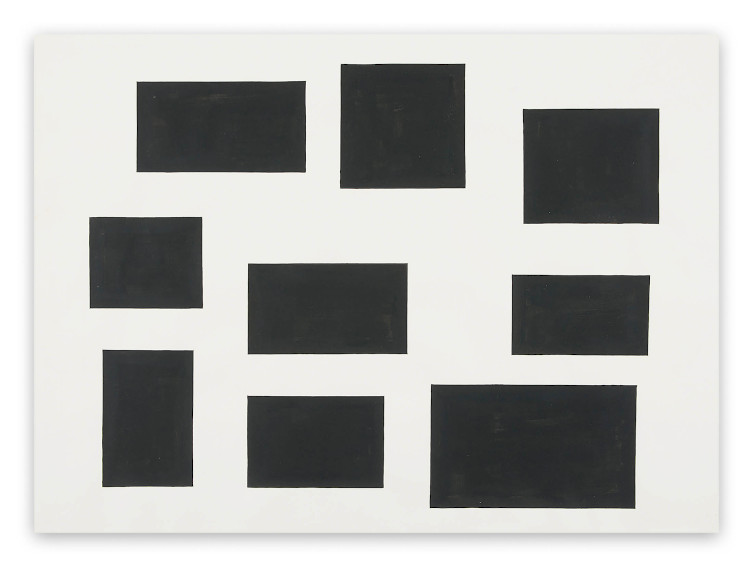 Tom McGlynn - Survey 5, 2013. Acrylic on Fabriano paper. 55.8 x 83.8 cm.
Featured image: Elizabeth Gourlay - Subulo 1, 2013, installation view.
By Jovana Vuković