Blog Home
Why Mark Grotjahn Is In Focus These Days
Nov 2, 2018
Mark Grotjahn is one of the most loved and most hated artists of our time. He is loved not for his art, primarily, but for how that art has made a lot of powerful art collectors and dealers rich (well, more rich). He is hated, primarily, for the same reason. As a major exhibition of his new work opens at Gagosian New York, many people are asking why a painting by the 50-year old Grotjahn is worth so many millions? In a 2017 New York Times profile of the artist by Robin Pogrebin, the billionaire mega-collector David Geffen was quoted as saying Grotjahn is "the most important artist of his generation." The article then quoted collector Alberto Mugrabi as saying Grotjahn is "probably an artist who is in more demand today than any other." Those quotes might be partly responsible for the buzz around Grotjahn. The only problem is the article offered no supporting evidence for either claim. Why is Grotjahn important? What is the wait for one of his works compared to the wait for work by any other contemporary artist? The trend that media coverage focuses not on the work Grotjahn makes, but on its market, started almost a decade ago when his "Untitled (In and Out of the Darkness Face 43.01)" (2011) sold for $6 million at auction, nearly doubling its low estimate of $3.5 million. The above-referenced New York Times article came out in the wake of his "Untitled (S III Released to France Face 43.14)" (2011) selling for $16.8 million. Other recent coverage speaks of the artist commanding tens of millions for new works sold out of his studio, and exponentially more for commissions from aristocrats and global elites. Yet no one seems willing to take on the questions of why this work is worth such a premium. Is it truly innovative? Is it really important? Is it actually in high demand? For whatever it is worth, here are my thoughts on the topic.
Talking About the Work
Grotjahn earned his MFA from the University of California, Berkeley, then served as the Artist in Residence at the Skowhegan School of Painting and Sculpture in 1995. He moved to Los Angeles the following year. He still lives there, in the Echo Park neighborhood. Since the late 1990s, Grotjahn has developed at least four distinct bodies of work. The first is a body of drawings and paintings based on colorful, hard-edged, geometric lines that vanish into various points of perspective. This name commonly given to the mature examples of this body of work is the "Butterfly" series. In the mid-2000s, Grotjahn ended this series because of an accident that left him unable to paint for long periods of time. The new technique he developed in response to his injury led him towards a new aesthetic position based on faces. Most of the paintings in his "Face" series are highly abstract, showing just glimpses of facial features, especially eyes, although some works in the series are quite figurative.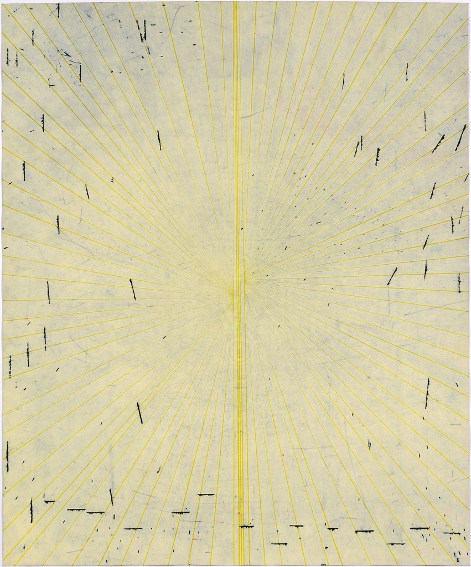 Mark Grotjahn - Untitled (Blonde Butterfly 795), 2009. Colored pencil on paper. 54 1/2 × 46 13/16 × 2 in; 138.4 × 118.9 × 5.1 cm. Gagosian Gallery
The third body of work Grotjahn pursued was his sculptural series, which is usually referred to as his "Masks." These works also loosely make use of the face for subject matter. They deploy the material and aesthetic qualities of cardboard boxes, paper towel rolls, and haphazardly splattered paint to convey a sense of rawness. They are anthropomorphic and three-dimensional and they do often resemble masks, or even sometimes full human bodies. Finally, his newest body of work, which is currently on view at Gagosian, is his most abstract. Its process involves scraping and re-applying thick, impasto layers of paint in "all-over" compositions. These works are gestural and intuitive looking, yet underneath they also convey a sense of carefully planned out space.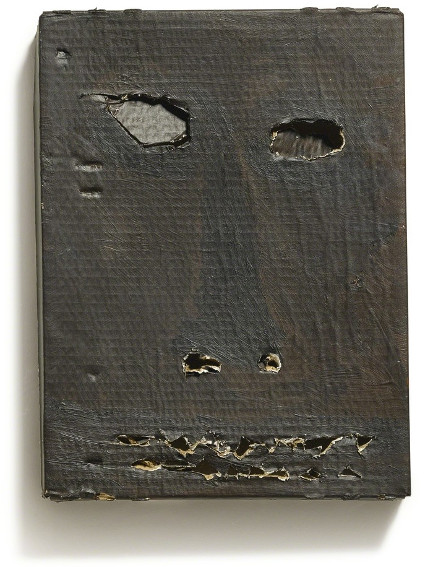 Mark Grotjahn - Box Face Mask, 2002. Oil on cardboard. 14 1/2 × 10 1/2 × 2 1/2 in; 36.8 × 26.7 × 6.4 cm
Seen It, Loved It
The appeal of the various series Grotjahn has developed over the years has something to do, in my opinion, with his ability to deftly reference aesthetic positions of art history. His "Butterfly" paintings are graphic and energetic. Many critics compare them to Op Art and Hard Edge Abstraction. I trace their influence back farther to Rayonist paintings and Italian Futurism. His "Face" and "Mask" series come out of the Art Brut tradition. The sculptural works in particular are reminiscent of the driftwood sculptures of Joan Miró, among other things. His newest paintings riff on Abstract Expressionism. In addition to those influences, all four of the series Grotjahn has developed also have roots in the traditions of Outsider Art. The obsessive, precise line making of the "Butterfly" series, the agonized roughness of the "Face" paintings, the slapped together anxiety of the "Mask" sculptures, and the comically large scrawled names, initials and dates that bedazzle the surfaces of his newest paintings would all seem right at home in the booths of any respectable outsider art fair.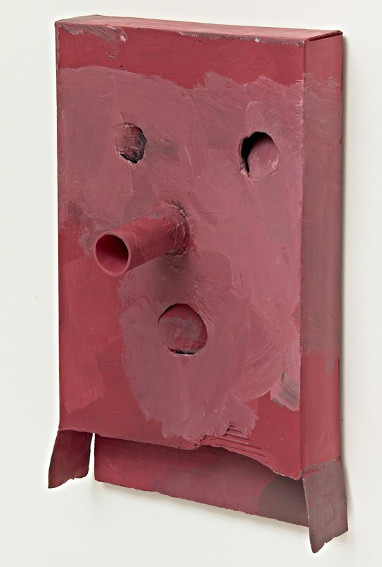 Mark Grotjahn - Untitled (TBD Mask M2.d), 2008. Painted bronze. 20 1/2 × 13 1/2 × 7 1/4 in; 52.1 × 34.3 × 18.4 cm. Gagosian Gallery
All any of this means is that people have seen these types of works before, though they may not know exactly where. There is no shame in this fact. To work diligently from the ideas of the past, to make them your own and push their concepts forward is a respectable and wonderful way for an artist to work. But there is nothing about this strategy in and of itself that implies importance. To be an important artist it must be proven that you not only make work that is influenced by your time, but that influences the times in return. When it comes to the work Grotjahn makes, I cannot see within it the influence of this moment in history, nor can I perceive any way that it has influenced the times in return. As a commodity, however, I do see its importance. His meteoric and inexplicable rise to the highest heights of the market is completely indicative of this time. And his total willingness to exploit that influence may very well influence the times in return, as it may serve as a model for future artists who long for riches and fame. But this is nothing new. It is not important. It is not in demand. And it has nothing to do with art.
Featured image: Mark Grotjahn - Installation view of his sculptures. Nasher Sculpture Center, Dallas
All images used for illustrative purposes only
By Phillip Barcio