Blog Home
Key Figures in Malaysian Abstract Art
Nov 1, 2017
This year marked the 60th anniversary of Hari Merdeka, when, on 31 August 1957, the Federation of Malaya claimed independence from the British Empire. And as an exhibition currently on view in Kuala Lumpur demonstrates, it also marks six decades of Malaysian abstract art. The Unreal Deal: Six Decades of Malaysian Abstract Art at the Bank Negara Malaysia Museum and Art Gallery features nearly 100 paintings created by 28 of the most prominent Malaysian abstract artists of the past 60 years. For those, like me, who have never encountered Malaysian abstract art before, the work is a revelation. Even though nearly all of the artists on view reference many of the same concerns abstract artists from other countries have been dealing with for more than a century, there is something significantly unique about the way they go about their investigations. Their work flows overtly from the Malaysian culture itself. I am used to artists, and especially abstract artists, who actively strive to avoid a sense of nationalism in their work. But these Malaysian artists operate under a completely different paradigm, one in which their national, ethnic, religious and cultural identities are inextricably linked to their aesthetic activity. Wondering if I was imagining this connection, I did some background research and found out that in fact, that paradigm was actually legislated in 1971 when something called the Malaysian National Culture Policy was written into law. That policy has three requirements: 1) that the National Culture must be based on the indigenous culture; 2) that "suitable elements from other cultures" may be integrated into the indigenous culture and therefore included in cultural works; and 3) that Islam be respected as "an important component in the moulding of the National Culture." But even despite these rigid requirements that have long been put on Malaysian abstract artists, there is still something humanist in their imagery. Elements of their work reach out beyond their own national and cultural boundaries. And it is those elements that inspire me to believe that no matter what restrictions bureaucrats inflict upon artists, the artists will always discover ways to express what is timeless and constant about the human condition.
The First Malaysian Abstract Artists
The artworks in The Unreal Deal: Six Decades of Malaysian Abstract Art are arranged in chronological order. This decision is intended to offer casual viewers who may be unfamiliar with abstract art an unpretentious entree to the exhibition. But even for viewers who have a deeper interest in abstraction this was an interesting choice for the curators to make. It offers a glimpse into how directly the trends that were affecting the rest of the world in 1957 also influenced the earliest Malaysian abstract artists. One of the first artists included in the exhibition is Syed Ahmad Jamal. It is immediately clear from the works he made in the late 1950s that he was directly influenced by Abstract Expressionism. But it is also clear that he translated Abstract Expressionist tendencies in a way that was particular to his identity as a Malaysian artist. Jamal was born in the city of Muar in 1929, and like many early Malaysian abstract art pioneers, he was trained as an artist in the United Kingdom. He studied in London from 1951 – 1959, first at the Chelsea School of Art and then at London University. When Jamal returned to Malaysia, he became one of the first art teachers at the The Special Teachers Training Institute in Cheras, Kuala Lumpur, in what was the first art department in the history of the country.
But while it is clear from looking at his work that Jamal grasped the formal aesthetic elements of Abstract Expressionism, such as the gestural markings, the painterly surfaces, and the all-over appearance of the composition, it is also clear that he did not embrace the more personal aspects of the style, such as subconscious or automatic drawing, or submission to total abstraction. His titles are still figurative, and he is still making pictures that reference the physical world. He is doing it in a distilled, suggestive way, but his approach is distinct from his Western contemporaries. As he put it himself, "I paint to reflect the real situation and me." And the same sort of thing can also be said for Yeoh Jin Leng, another member of the first generation of Malaysian abstractionists, and an artist who also studied in London at the Chelsea School of Art. Leng was influenced by a multitude of abstract tendencies that he encountered while in Europe, such as the idea of push/pull taught by Hans Hofmann, and the approaches to color relationships embraced by Orphic Cubists and the Fauvists. But Leng brought those ideas to bear in a personal and regional way that is not fully abstract. His work speaks to the Malaysian culture, its people, and its politics in ways that are indirect, but not entirely abstract.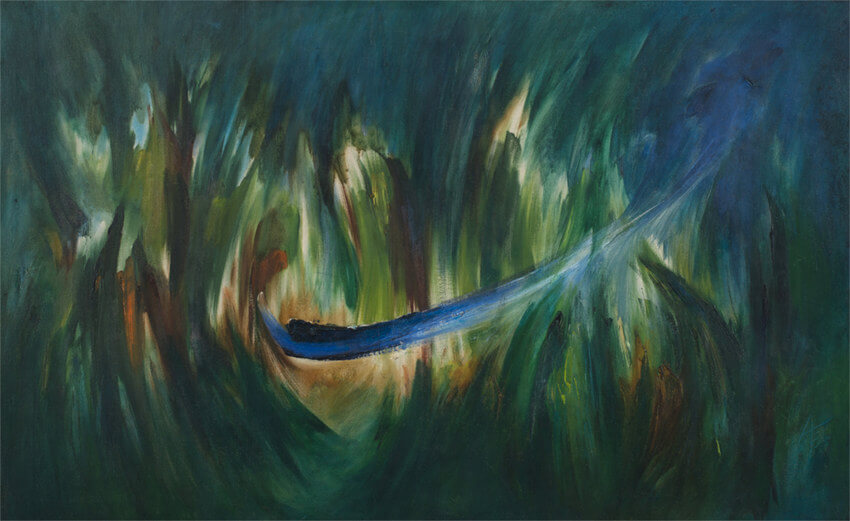 Syed Ahmad Jamal - Flight of Kingfisher, 1963, Oil on Canvas, 107cm x 132cm, courtesy of Bank Negara Malaysia Museum and Art Gallery
Adopting Total Abstraction
But as the idea of non-figurative art gained traction within Malaysian culture, more artists became bolder in their effort to embrace purely abstract imagery. One such artist, whose experimental abilities closely correlate to those of his contemporaries in Europe and the United States, is Cheong Laitong. His imagery is fluid, lyrical and dramatic. The emotion conveyed in his compositions is intense and primal, and the language of forms and shapes he created in the 1960s and 70s so perfectly captures the urban aesthetic that it even presages the urban graffiti styles of today. Meanwhile, his mastery of compositional balance and paint handling put him in a league with some of the greatest first generation practitioners of Art Informel and Abstract Expressionism.
Another early adopter of pure abstraction in Malaysia was Jolly Koh. He developed one of the most purely experimental abstract visual languages of any of the Malaysian abstract pioneers. Even today his compositions feel current. One of his paintings in this exhibitions, titled Floating Forms (1969), comes close to approximating the perfect evolutionary amalgam of Suprematist composition, Expressionist technique, Minimalist simplification, and Color Field painting. It was Post-Modern before such an idea had taken root in most of the rest of the world. And this is one of the things that is so remarkable about this exhibition. These Malaysian abstract painters were, and still are, restricted in how free they are to experiment. But even within the boundaries that have been imposed on them, they have at times far outpaced abstract painters working in fully free societies.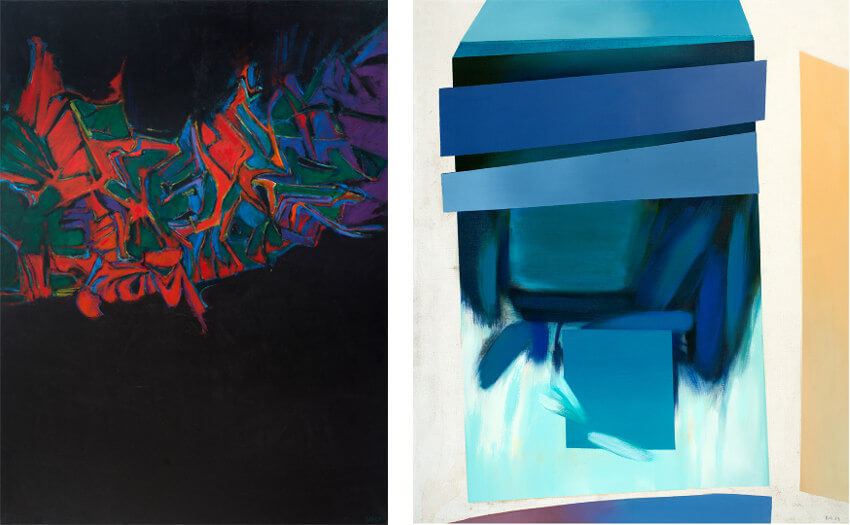 Cheong Laitong - 42, 1978, Oil on Canvas, 230cm x 177cm (left) and Jolly Koh, Floating Forms, 1969, Oil on Canvas, 127cm x 107cm (right), courtesy of Bank Negara Malaysia Museum and Art Gallery
The Next Generations
The Unreal Deal: Six Decades of Malaysian Abstract Art does not only explore the work of the pioneers of Malaysian abstraction. It also pays a great deal of attention to the subsequent generations of abstract artists who followed in the footsteps of those pioneers. Among the artists featured who established themselves in the 1980s are the gestural expressionist painter Yusof Ghani, and a painter easily one of the most compelling artists in this exhibition, Awang Damit Ahmad. Though his imagery feels at times derivative of artists like Willem de Kooning, Jean Dubuffet and Basquiat, his paint handling, mastery of color, and the mastery with which he coaxes emotion out of his textures and surfaces places Ahmad among the best of his generation, not just in Malaysia but in the world.
From the past few decades, the exhibition features artists such as Sharifah Fatimah, whose colorful geometric compositions bring to mind late Matisse, Nizar Kamal, whose intricate mixture of geometry and scrawl bears uncanny resemblance to the works of Agnes Martin and Cy Twombly (but is wholly unique), and Saiful Razman, who has only recently begun to make a name for himself, but whose stunning, futuristic brand of abstract painting deserves international attention. And this is only a handful of the 28 artists featured in this exhibition. Each of the others deserves special consideration, and each fills in a unique gap of the complex narrative that tells the ongoing story of Malaysian abstract art. And again, what is most remarkable is that even though these artists are working under pressure from the government to adhere to some kind of stifling cultural structure, they have discovered something within that nationalistic framework that reaches beyond its boundary. They are Malaysian, but their work demonstrates they are human first.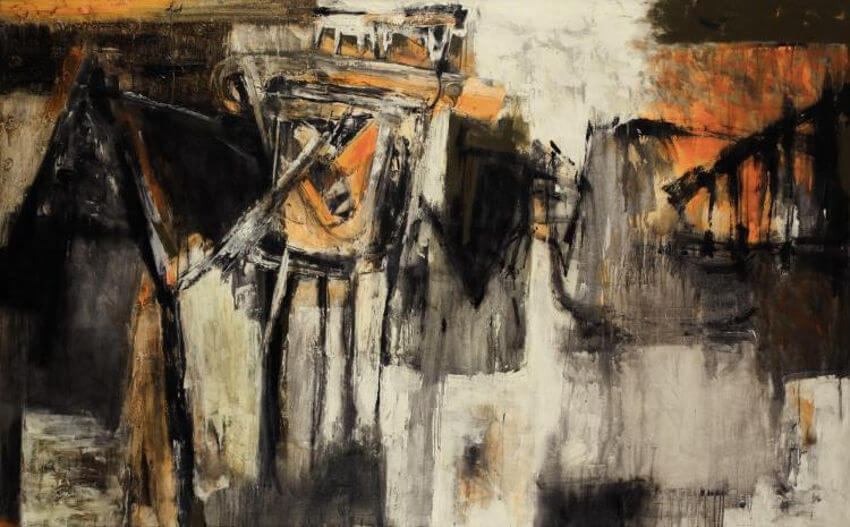 Awang Damit Ahmad - Jejak Waktu - Hujung Musim (Traces of Time - The End of a Season), 2010, Mixed media on canvas, 153 x 244 cm, image © Awang Damit Ahmad, courtesy Sotheby's Hong Kong
Featured image: Yeoh Jin Leng - Rockforms I, 1965, Oil on Canvas, 104cm x 81cm, courtesy of Bank Negara Malaysia Museum and Art Gallery
All images used for illustrative purposes only
By Phillip Barcio