Blog Home
Behind the Scenes of Maison Matisse, Soon To Be Opened in Paris
Oct 9, 2019
It has been nearly 65 years since Henri Matisse died: sixty-five years since this artist who spent his career committed to the expression of beauty created anything new. This year would also have been his 150th birthday—a milestone being celebrated with the opening of Maison Matisse. Founded to bring new Matisse inspired objects into existence, Maison Matisse will not be just another brand they say, but a true design house. Though the exact difference between the two is unclear, I gather it has to do with intentions. The goal of a brand is to make a profit for shareholders. Brands like Coca Cola, Disney, or Levi Strauss make mass produced products available to everyone, and their brand representatives go out of their way not to state what the company stands for, lest potential buyers become offended. A house you could say has more to do with creating a culture. It represents a defined ethic that representatives emphasize above everything else, including commercial goals. The Maison Matisse ethic is being defined by Jean Matthieu Matisse, the 45-year-old great grandson of the artist and manager of his archives. Together with general manager Eliana Di Modica, he has declared up front that Maison Matisse stands for beauty and lasting quality. If they were only trying to make products printed with the name Matisse, there would be no point to reporting on this venture except with derision. But in their manifesto the founders insist their goal is the same as that of Matisse when he sat in front of a canvas, which was, in his words, to create "an art with balance and purity that does not disquiet or disturb, so that the tired man can enjoy peace and quiet in front of his painting." This is as necessary today as it ever was, so in advance of the official introduction in Paris at FIAC 2019, where a series of Matisse-inspired vases by three contemporary designers will be debuted, I spoke with Eliana Di Modica to find out more about what to expect from the House of Matisse.
IdeelArt: First, I have to ask on behalf of all Matisse lovers: why do this? Why must Maison Matisse exist? Surely the family worried it might dilute the name Matisse.

Eliana Di Modica: The reflection about the project started among Matisse family members about 10 years ago. The starting point was the observation that Henri Matisse's universe, which is very inspirational, is often copied on various kind of items, with a risk to dilute Matisse heritage. The aim of Maison Matisse is to communicate and share this heritage, by creating objects inspired by his universe, in a respectful and qualitative interpretation. We wish to involve Maison Matisse's action in contemporary bold creations, as Matisse did in his time, using his world as strong inspiration for emerging or famous designers' work.

IA: Why is this the right time for Maison Matisse to be born?

EDM: We observe that today, boundaries between art, design, fashion, etc. are more permeable than before. Younger generations are interested in design, art, creativity, and are looking for pieces with a meaningful story. Maison Matisse wishes to offer products with a unique and high quality "savoir faire," produced by craftsmen, that are able to inspire emotion.

IA: I own some precious artist-designed items: a Vassarely sugar bowl, a Magritte Belgian franc note, a set of Sandro Chia espresso cups by Illy. Did Matisse design any such items in his own lifetime that might guide Maison Matisse in its mission?

EDM: Maison Matisse's pursuit and aim are inspired by the whole universe and values of Henri Matisse. Objects hold an important part in his work. Matisse owned a collection of functional and domestic items that he used as "actors" for his paintings. This is why we decided to work on objects. Our aim is not to recreate Matisse's objects, but to explore how his universe and strong heritage inspire contemporary creativity today.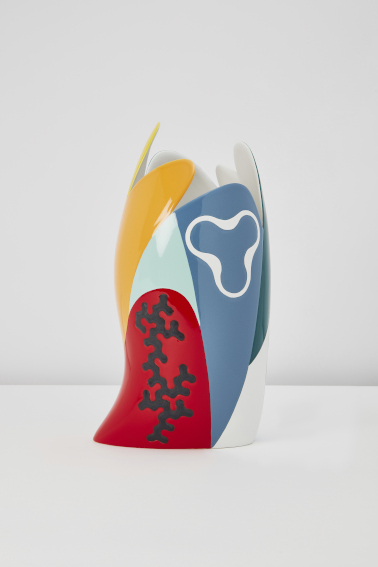 Alessandro Mendini - Sinuoso vase. Courtesy of Maison Matisse


IA: Matisse's famous Jazz book could be considered a design object, or at least something that goes beyond art into everyday life. Is any scholarly work being done by Maison Matisse to perhaps publish a book revealing how Matisse thought his work fit in with design or with everyday life?

EDM: Relationship between Henri Matisse and design is an exciting and significant subject that we are exploring. For the moment, we do not plan to publish a book. Our biggest ambition is to share the values of Henri Matisse through social and creative projects.

IA: When does art become design, and when does design become art?

EDM: Maison Matisse doesn't want to play a role in visual arts. It is impossible to compete with Henri Matisse's universal vision and creation. That is why we want to take part in the design scene and more widely to be part of contemporary creation.

IA: How many designs released by Maison Matisse will be a limited edition? Does such a thing even matter to the company, or is this venture more about celebration and less about creating scarcity?

EDM: Maison Matisse's collections are imagined with two kinds of projects. The "limited editions" are created to celebrate and highlight major moments of Henri Matisse's life. They inspired of his global universe. The "unlimited editions" give interpretations of the formal language of his work, inspired from one particular artwork. The limited editions are a hymn to creativity and represent an opportunity for designers to explore a wider interpretation of Matisse's universe.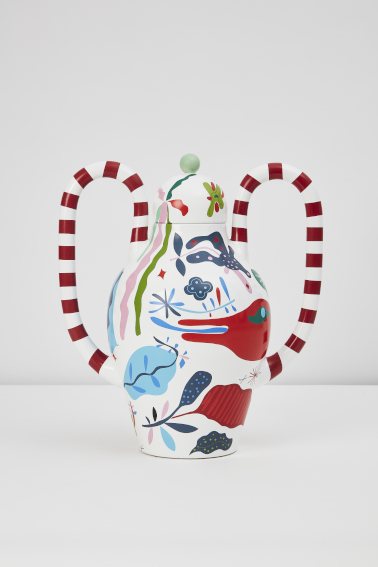 Jaime Hayon - Aeromaticolor vase. Courtesy of Maison Matisse


IA: Will Maison Matisse engage with the art world, perhaps through exhibitions or a residency in the future?

EDM: As mentioned before, the pieces presented in our collections are functional objects with a value linked to designers' works and craftsmen's productions. We are just at the beginning of this new amazing project, so we keep thinking for other developments.

IA: Will Maison Matisse expand into architecture or site-specific creations, such as windows in buildings or murals?

EDM: We have plenty of ideas with designers' collaborations and pieces to develop in the future inside Maison Matisse. We are already working on several exciting projects for the next years.

IA: How much of a focus will there be on fashion?

EDM: Maison Matisse wishes to encourage creativity in all its forms, including fashion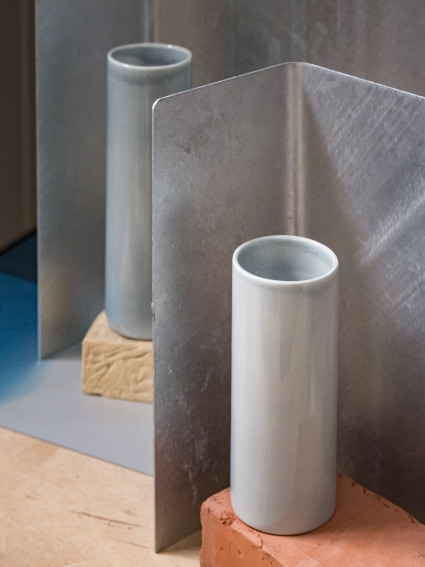 Ronan and Erwan Bouroullec - Research elements for the project. © Jérôme Galland. Courtesy of Maison Matisse
Featured image: Henri Matisse, from the Jazz art book, 1947. Courtesy of Maison Matisse
All images used for illustrative purposes only
By Phillip Barcio