Blog Home
Remembering the Abstract Textile Designs of Lucienne Day
Jul 2, 2018
It is a rare accomplishment for an industrial designer to so successfully capture the spirit of the age that their designs end up not only on consumer products, but also being exhibited in art galleries and museums. At the top of this short list is the name Lucienne Day. For nearly three decades in the middle of the 20th Century, Day dominated the functional textile market, beautifully translating Modernist abstract visual languages into useful products for everyday life. She never studied at the Bauhaus, but her work epitomized the ethos of the school, which professed that art, architecture, and design should strive to work together in ways that are relevant to the daily lives of regular people. Day is credited as the first designer to have her work labeled with the term "Contemporary Design." She won a grand prize at the Milan Triennial in 1954, and in 1962 the Royal Academy of the Arts honored her with the title Royal Designer for Industry (RDI). Yet this was only one phase of her distinguished career. When she retired from working in the design industry in 1975, Day began a new career as an abstract artist, creating a new art form she referred to as "Silk Mosaic." Today, her designs are being discovered by a new generation. Her classic Modernist patterns are being re-released and re-interpreted for use on contemporary furnishings. Meanwhile, the exhibition Lucienne Day: Living Design is touring the United Kingdom, celebrating the legacy of this one-of-a-kind artist with archival photographs documenting her life and work.
Becoming Lucienne Day
Désirée Lucienne Lisbeth Dulcie Conradi was born in Surrey, England, in 1917. She said she had an awareness at a young age that she wanted to study art, but that she also knew that she did not want to live the life of a painter. Instead, she wanted to make things that could be enjoyed and used by everyday people. When she enrolled in the Croydon School of Art age age 17, she focused her studies on fabric art. At age 20, when she transferred to the Royal College of Art, she began studying the works of Modernist abstract artists, and began imagining how their theories and visual languages might be translated into patterns and designs that could be used on mass produced textiles, such as clothing, rugs, curtains, and towels.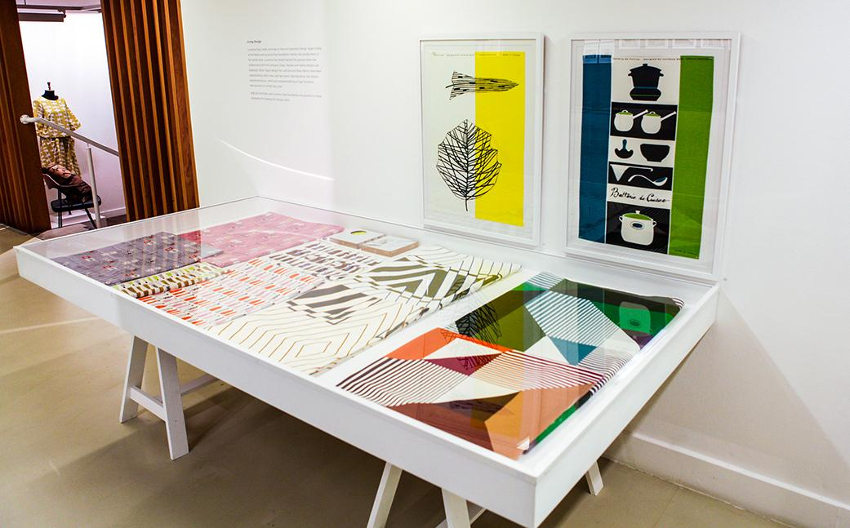 Lucienne Day: Living Design Exhibition. © 2018 Arts University Bournemouth
Yet Day was not in good company at the time. Most designers of her generation in the United Kingdom were fixed on traditional design approaches, and had no interest in blending their work with that of the fine art world. It was only during her last year at university that she met a kindred spirit, while attending a school dance. An aspiring furniture designer named Robin Day, who had graduated from the RCA two years prior, returned to attend the dance with friends. He met Lucienne there, and the two immediately realized their shared admiration for Modernist design and abstract art. They married two years later, and moved into a home that they filled with furniture and textiles of their own making. Yet their professional ambitions had to wait, because Europe was at war. Shortages and other wartime complications made starting a business impossible. But in 1949 their fortunes changed. Lucienne earned a contract with Heal Fabrics, which eventually resulted in the international release of more than 70 of her designs, and Robin secured a partnership that led to him creating award winning designs for prestigious clients such as the Royal Festival Hall and the 1968 Mexico Olympics.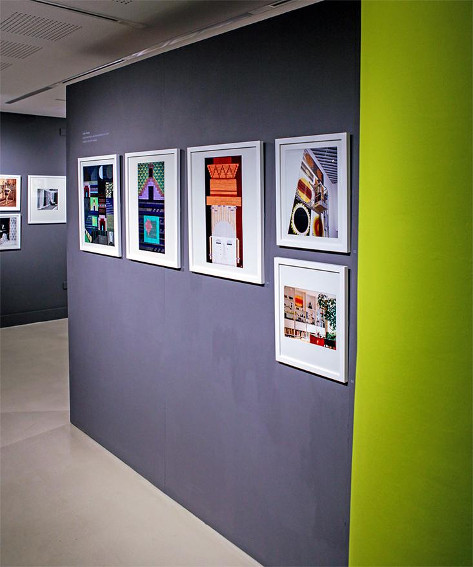 Lucienne Day: Living Design Exhibition. © 2018 Arts University Bournemouth
Defining the Aesthetic of the Times
The most famous and popular design Lucienne Day created was also one of her first. Called "Calyx," the design recalls the biomorphic shapes used in sculptures by Alexander Calder, and the whimsical, wavy lines used in paintings by Paul Klee. The forms of the design float in a nearly flattened void, simultaneously evoking traditional floral designs and cutting edge abstract art. "Calyx" was the design that won Day the gold medal at the Milan Triennial in 1951. It was so popular with the public that it outsold all expectations. Its success cemented Day as the leading voice of the contemporary design movement, and enabled her to expand her work to include hand-printed wallpaper, napkins, table linens, fashionable dress fabrics, and virtually every variety of home textile imaginable. All the while, as the times changed and aesthetic tendencies of the art world shifted, Day stayed on trend, creating painterly designs evocative of Abstract Expressionism, and optically vibrant geometric patterns that bring to mind the work of Op Artists like Bridget Riley.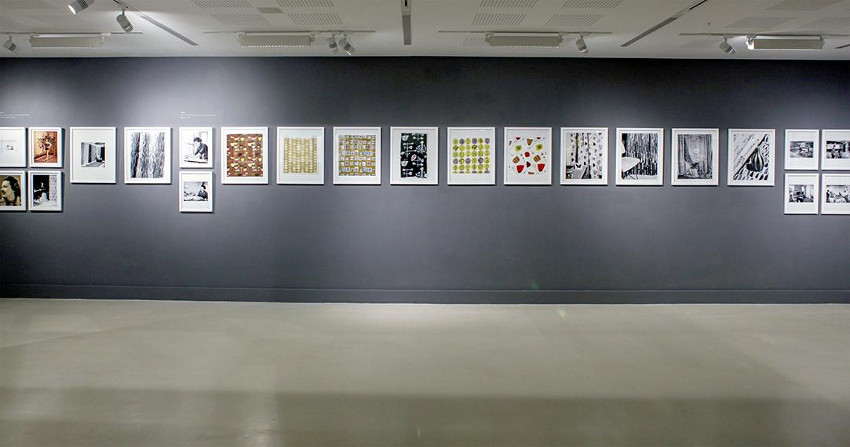 Lucienne Day: Living Design Exhibition. © 2018 Arts University Bournemouth
After retiring from industrial design, Day completely transformed her creative life. She gave up the idea of mass production and instead began hand-stitching silk wall hangings—her "Silk Mosaics." Sometimes figurative and other times purely abstract, these works convey a personal visual language more distinctive than anything Day had designed before. In her industrial design work, she was always careful to keep in line with the visual languages that were already popular with the public, bringing the art of the time into everyday contact with people in their daily lives. With her "Silk Mosaics," however, she freed herself to express something more personal. These works reveal a deep and mature knowledge of how to blend shapes, colors, patterns and forms into powerful abstract compositions. Day designed them with architectural settings in mind, revealing that she had also developed a keen eye for how visual art collaborates with built spaces to activate such environments for human use. Lucienne Day passed away in 2010, but her legacy, which embodied the idea of blending Modernist abstraction with everyday life, lives on. Lucienne Day: Living Design is on view from 19 July through 15 September in the Coach House Gallery of Dublin Castle, Ireland.
Featured image: Lucienne Day: Living Design Exhibition. © 2018 Arts University Bournemouth
All images used for illustrative purposes only
By Phillip Barcio