Blog Home
The Monumental Art of Louise Nevelson
Dec 3, 2018
This year marks the 30th anniversary of the death of Louise Nevelson, an artist who profoundly influenced 20th Century art and whose legacy still reverberates today. Nevelson is most widely known for her monochromatic wood assemblages. Their unique aesthetic voice is rooted partly in art history and partly in the visual and material language of New York City—her adopted home. Her compositional strategies draw from Cubism, which she likened to a religion, and from the formal abstract theories of Hans Hofmann, who was her teacher for many years. The material presence of her assemblages exalts the discarded aspects of city life. As if instigating a sort of reverse ecdysis, Nevelson gathered broken pieces of furniture and construction debris from the city sidewalks and transformed them into monumental works of art. The metamorphosis of profane detritus into sacred art is undeniable in works like "Sky Cathedral" (1958), the piece that first brought Nevelson critical attention. It is even more profound in the room-sized installation "Dawn's Wedding Feast" (1959); a wall piece surrounded by floor-mounted and hanging columns and two iconic bride and groom totems, this piece not only established Nevelson as one of the leading artists of her generation, but also helped pioneer the field of installation art. What is particularly moving about her works is that Nevelson somehow imbued them with a sense of intimacy despite their monumental scale. She took care to ensure that each individual element could express its essential qualities within the structure of the whole. In the process she created works that can be enjoyed objectively, or that can invite viewers inward towards a more personal experience. In celebration of the life and oeuvre of this genius, here are my nine favorite Louise Nevelson quotes—each one precious for the way it elucidates her work and reveals the inner workings of her mind.
1. "If you have a frame around you that doesn't suit the picture then you break the frame."
Born in 1899 in Pereiaslav-Khmelnytskyi in modern day Ukraine, Leah Berliawsky immigrated to the United States in 1905 to escape religious persecution. She avidly pursued art as a child despite discouragement from her parents. After marrying Charles Nevelson in 1920, and giving birth to a son two years later, she realized she was still in the same situation she was in as a child, except now it was her husband and his family telling her to give up her art in order to be a more attentive mother and wife. Realizing she was in the wrong frame, Nevelson left her husband and son in 1931 and moved away to study with Hans Hofmann.
2. "The cube focuses it and gives it its true structure."
Nevelson structured all of her assemblages around the basic geometric form of the cubes. No matter how many pieces of wood she assembled into the assemblage, nor how disjointed the pieces might have otherwise looked when put together, the cubes always held the composition together, both visually and physically.
3. "Black encompasses all color. It isn't a negation."
Most of the works Nevelson made are black monochromes. Many critics misunderstood her use of this color, suggesting that she was trying to eradicate the past lives of her materials. Instead, she insisted that black was an inclusive color that allowed each separate element of the work to retain its fundamental essence while also becoming absorbed into the spirit of the whole. She also said the color black made her works look "aristocratic."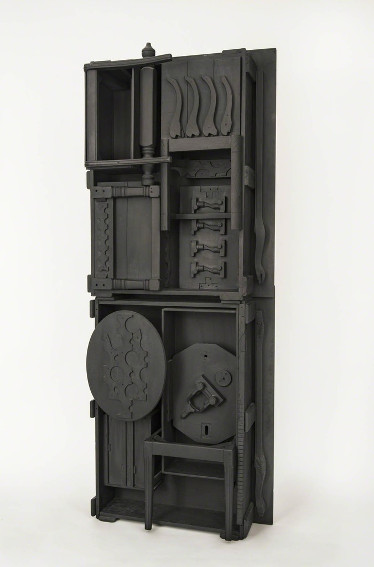 Louise Nevelson - Untitled, ca. 1976. Painted black wood construction. 94 × 36 × 16 3/4 in; 238.8 × 91.4 × 42.5 cm. Michael Rosenfeld Gallery, New York. © 2018 Estate of Louise Nevelson/Artists Rights Society (ARS), New York
4. "It's much more direct doing it the way I do it. It's immediate, it's true, and it's there."
After spending years drawing and painting images of broken things, Nevelson realized that using detritus itself would introduce a material truth to her work, in addition to endowing it with the emotional residue of past associations with whatever the materials used to be.
5. "It's the work and I, it's not the public and I. The public is a reflection."
Nevelson began making large-scale public sculptures in the 1970s using materials like plastic and Cor-Ten steel. Critics questioned the meaning of the work, which had a much different look and feel than her wooden assemblages. She denied their critiques, asserting her autonomous right as the artist to make whatever kind of work she wanted.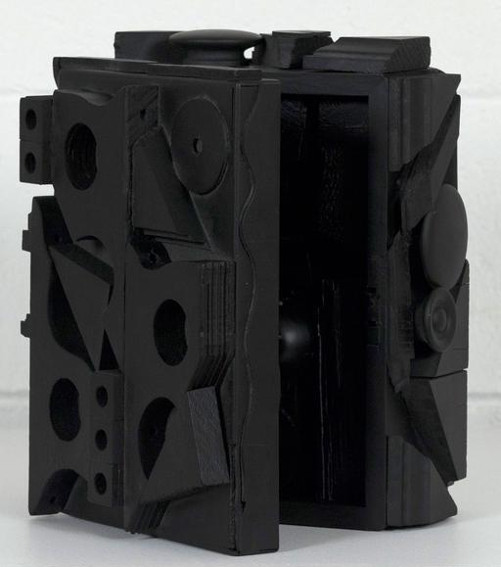 Louise Nevelson - Dark Cryptic, 1975. Patinated wood. 12 × 9 × 7 in; 30.5 × 22.9 × 17.8 cm. Caviar20, Toronto. © 2018 Estate of Louise Nevelson/Artists Rights Society (ARS), New York
6. "The only reality that I recognize is my own reality."
Nevelson faced down controlling parents, a controlling spouse, sexist critics, dismissive curators, and ignorant viewers. She ignored social organizations like "The Club," opting instead for the life of an art world outsider. In spite of everyone who doubted and discouraged her, she succeeded. This quote explains why.
7. "It gives us a place to move through the three dimensions, into the fourth and beyond. It really is a place where you go through matter into spirit."
Nevelson described herself not as a painter nor a sculptor, but as an architect building with shadow and light. Her love of Cubism inspired her to always make work that rewarded movement—an expression of the fourth dimension. She was interested in making environments into which both body and mind could travel.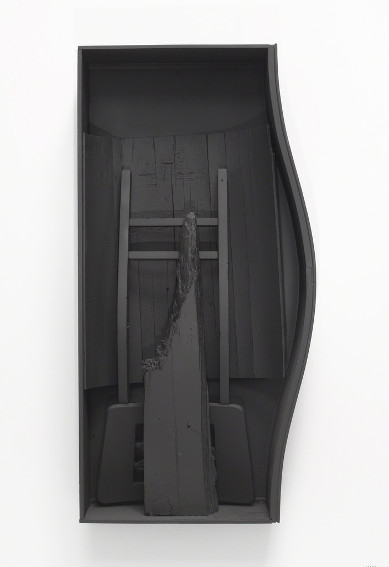 Louise Nevelson - Untitled, 1985. Wood painted black. 44 × 22 × 17 1/5 in; 111.8 × 55.9 × 43.8 cm. Pace Gallery. © 2018 Estate of Louise Nevelson/Artists Rights Society (ARS), New York
8. "When you're creating, there's an added energy that surpasses anything else."
Nevelson was a notoriously private and disciplined artist. She believed that the thrills offered by things other than creative work paled in comparison to the rush she received in her studio. When her now famous installation "Dawn's Wedding Feast" premiered in the Sixteen Americans" show at MoMA, she said that in part it symbolized her marriage to her work.
9. "It's not how I live, it's how I finish my life."
When Nevelson was young, her family discouraged her from becoming an artist by telling her that it would not offer her a comfortable lifestyle. Even then she knew she would only be able to be at peace when she died if she stayed true to herself.
Featured image: Louise Nevelson - Maquette for Night Wall VI, 1977-1979. Welded steel painted black. 25 × 27 1/2 × 9 4/5 in; 63.5 × 69.8 × 24.8 cm. Pace Gallery. © 2018 Estate of Louise Nevelson/Artists Rights Society (ARS), New York
All images used for illustrative purposes only
By Phillip Barcio