Blog Home
Let's Talk More About the Art of Larry Poons
Mar 8, 2019
After his first show, in the early 1960s at the Green Gallery in New York, Larry Poons became an instant critical darling. It featured his now infamous dot paintings—mathematical arrangements of dots on monochromatic backgrounds. The paintings sold well and were beloved by other artists. The flatness of the paintings also fit in nicely with the art historical myth art critic Clement Greenberg was pushing at the time about the evolution of abstract painting towards flattened surfaces, a trend he dubbed "Post Painterly Abstraction." Poons, however, did not make these paintings because he was trying to get rich or make art history. He made them because he was bad a drawing. Later in life, Poons recalled the torture of struggling to make shapes on lined graph paper then painting the shapes in. "I wasn't happy with it," he explained. After a friend told him to simplify, he figured, "well, if I made this simpler, I would just paint the points." Thus the dot paintings were born. Poons was not excited about the dots, however. As soon as his confidence increased he became more experimental, and radically changes his approach. His shift in style offended Greenberg, turned off buyers, and scared away dealers. Since then Poons has been in and out of the public favor, but he has never stopped experimenting as a painter. Meanwhile, different critics have tried to come up with unifying theories to explain his evolution, perhaps in order to provide some kind of connective thread to help explain his work for posterity, or for the market. Mostly, they focus on color. Writing for The New York Times, Roberta Smith said, "Mr. Poons has shown a strong preference for allover fields of pulsing color, even if his means of achieving them have varied enormously." Writing for Hyperallergic, Jason Andrew wrote that Poons has "been about color since his history-making dot paintings of the 60s." These critics may, however, be looking for certainty where there is none. To Poons, there is no connective thread. Every painting is its own painting. The point is just to look, and to remember, as Poons has said, that "in the end, it is just paint."
Simply Paint
The dot paintings Poons made in the early 1960s may have emerged out of a desire to paint simpler, but what freed Poons to move forward as an artist was that he found the courage to simply paint. Once he abandoned the grid, he discovered all kinds of interesting techniques. He made a series of paintings where lines of paint were dripped down the canvas to create fields of painterly stripes. He made gestural compositions in which mark making was put front and center. For years, he experimented with attaching materials to the surfaces of his paintings, such as sheets of paper and bits of rope, creating thick, heavy, textured works that protrude off the wall. His recent works, meanwhile, bring drawing back to the forefront, as Poons sketches out shapes and forms in his composition ahead of time then paints them in and improvises around them.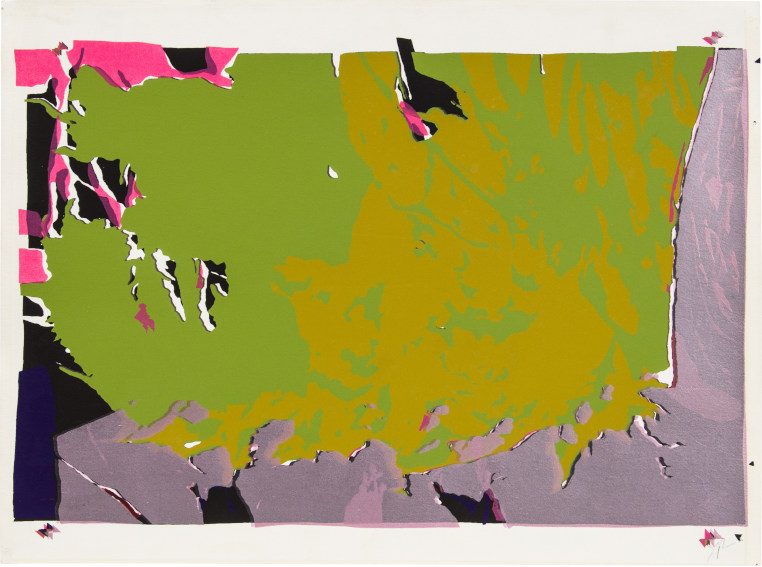 Larry Poons - Untitled (from Conspiracy: The Artist as Witness), 1971. Screenprint. 19 3/4 × 27 in (50.2 × 68.6 cm). Edition of 150. Alpha 137 Gallery. © Larry Poons
What is especially remarkable about his method is the joy Poons takes in editing. He tends to paint large sheets of unstretched canvas without knowing which part of the canvas is going to end up being a finished painting. For a while he worked by laying a big canvas on the floor then painting it freely. More recently he began hanging a circular sheet of canvas around the walls of his studio and painting it all at once. Whether working on the floor or on the wall, however, the idea is the same—he has fun and paints and waits for the picture to declare itself. When a painting finally jumps out of the larger composition, Poons simply cuts it out. This way of working opens up possibilities. It allows Poons to avoid the trappings of a plan, and to prioritize having fun and being free.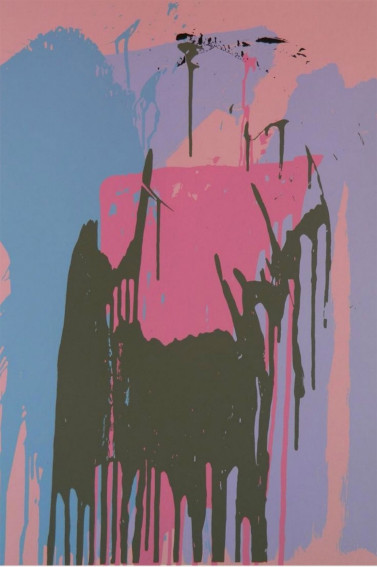 Larry Poons - Untitled, 1975. Silkscreen in color. 35 x 25 in (88.9 x 63.5 cm). Edition of 100. Robert Fontaine Gallery. © Larry Poons
A Successful Painter
When the documentary The Price of Everything (directed by Nathaniel Kahn) debuted in 2018 at the Sundance Film Festival, it once again re-introduced the public to Larry Poons. The film examines the contemporary art market from the perspective of auction houses, and their never ending push to drive prices higher. The explicit point the auctioneers make in the film is that the quality of a work of art is directly connected to its market value. "It is very important for good art to be expensive," says Swiss auctioneer and art collector Simon de Pury. In the film, Poons emerges as a foil—an art world veteran who long ago stopped caring whether his paintings sell. Interviewed by Gabriella Angeleti at The Art Newspaper after the release of the film, Poons stated, "If you define success as being able to sell something to pay the rent, then that means you are successful at paying your rent. It does not mean that your art is any good or not."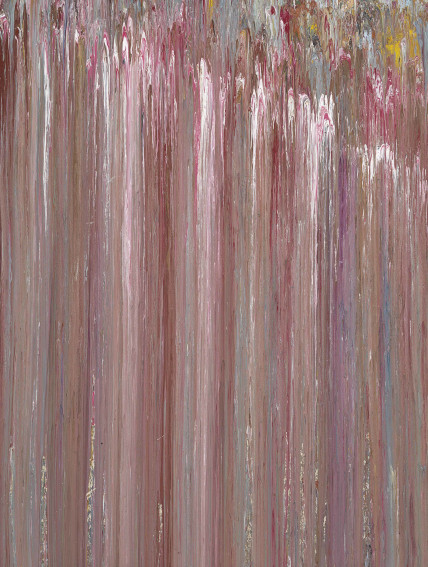 Larry Poons - Robert Kinder Spiele, 1975. Acrylic on canvas. 254 x 191.8 cm (100 x 75.5 in). Knoedler Contemporary Art, New York. Acquired from the above by the present owner, 1975. © Larry Poons
Instead, Poons describes the success of a painter in more down to earth terms, like "getting out of bed in the morning and feeling like painting and going to paint." Yet, the irony is not lost on him that the Poons paintings the art market most values are the Poons paintings that were painted by the least competent version of Poons the artist. To him, those beloved dot paintings were nothing but a simplistic solution to a crises of confidence. They are beautiful paintings, but if Poons had gotten anything personally or intellectually out of making them he would have kept doing it. He found them boring, so he moved on. The market did not find them boring, so it latched on. Poons is living proof that an artist need not feel bound to something they do not enjoy doing merely because people like it and are willing to pay for it. He shows us that a successful painter is a painter who successfully finds personal reasons to keep painting, whether anyone pays them to do it or not.
Featured image: Larry Poons - Tristan da Cunga, 1964. Liquitex on canvas. 183.1 x 366.2 cm (72 1/16 x 144 3/16 in.). Gift of Mr. and Mrs. Burton Tremaine. National Gallery of Art Collection. © Larry Poons
All images used for illustrative purposes only
By Phillip Barcio
[related_artworks]