Blog Home
Enrich Your Home With a Large Abstract Painting!
Jul 3, 2020
Art may come in all sizes, but abstract art comes large. Jackson Pollock, Barnett Newman, and Mark Rothko - the progenitors of large canvases - with their unprecedented large-sized paintings put an equation mark between the two. As early as 1947 MoMA staged the exhibition Large-Scale Modern Paintings that announced a new period - a period of 'the Big Canvas'. Large abstract painting redefined the relationship between the work and its viewer having a colossal (in every meaning of the word) impact on galleries and private collectors as well. While for many collectors large is a must, some are still hesitant wondering if their space will be able to accommodate large canvases or how they will fit with the decor. Indeed, large paintings require more space but large abstract paintings became congruent with mid/late 20th century architecture's expansive surfaces. Though many early abstract artists went far and beyond sizewise that the idea of the model-sized Ideal Museum which could accommodate Pollock's mural-size paintings seemed tempting, the great majority of artists were more inclined to compromise on the size eager to find a home for their work. Most of them would bridle their creativity within the standard ceiling height of eight or nine feet that leaves residential buyers with abundant opportunities to choose among the most compelling abstract art pieces.
Other collectors are perhaps more concerned if their latest large abstract painting will match the rest of the decor. While the primacy, and even the longevity of artwork in comparison to furnishing is an issue of itself, matching with the decor is what differs smaller from large abstract paintings. Large abstract paintings are not created to merely match; not only that they overshadow the rest of the decor by setting the tone and style of the interior, but they become a decor itself as noted by an American art historian Caroline Jones. So, no worries here, a large abstract painting will transform and (re)define the whole space to your liking. At IdeelArt we highly value the uniqueness of large abstract paintings and have selected the most beautiful ten large abstract paintings for your own collection. Please scroll below to find your favorite.


Martín Reyna - Untitled (Ref 19014)
This recent Reyna's piece embodies his distinct technique of diluting ink and adding water on the paper so that the colors disperse and interact in the most unusual ways. Colors dispel and scatter, graciously vibrating and transgressing its initial boundaries. Untitled (Ref 19014) elegantly balances Reyna's commitment to carefully plan the linear and spatial properties of his compositions and to allow the forces of nature to seize the process and lead it most erratically. Reyna is an Argentinian-born abstract painter living in Paris, France. His gestural abstract paintings delight the eye and activate the mind with their luminous color relationships and deft explorations of perspective and space.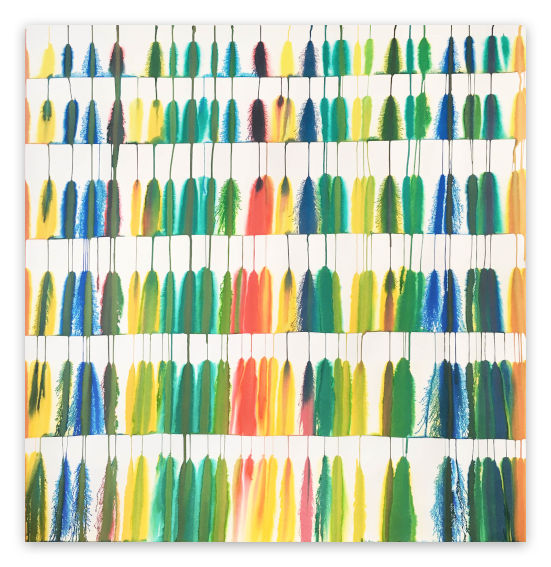 Martin Reyna - Untitled (Ref 19014), 2019. Ink on paper. 150 x 150 cm.
Daniela Schweinsberg - Interstellar Voyage II
The most recent Schweinsberg's work, exclusive to IdeelArt series, visualizes the energy, dynamism and spontaneity of her painting process. Interstellar Voyage II reflects her emotional depth as she applies different techniques to emphasize the simultaneously chaotic and harmonious nature of beauty. Her powerful work results from her unrushed and intuitive approach as her robust brushwork and limited palette reveal her emotionally driven creative process. Schweinsberg is a German abstract artist whose lyrical paintings derive their raucous power from a mix of raw emotion, vibrant color, and layers of energetic brushstrokes. She lives and works in Frankfurt, Germany.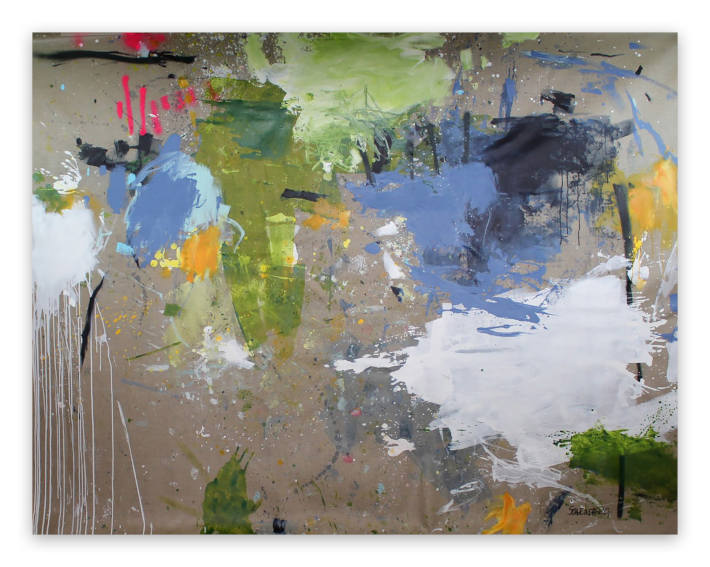 Daniela Schweinsberg - Interstellar Voyage II, 2020. Acrylic and mixed media on un-stretched linen. 200 x 260 cm.
Macha Poynder - 5th House
5th House reveals the astonishing complexity and depth that multiple layers and colors are creating. Poynder's fluid, intangible and ample touch where gesture, line, color, and spaces converge in an unprecedented experience of expanded perception. She blends automatic drawing, performative gestures, and intuitive color choices to resurface the most primordial aspects of her unconsciousness. The evident randomness meets the trained precision as multiple layers and colors reveal the complexity and impenetrable mysteries of the world. Poynder is a Russian-born, Paris-based artist whose multi-disciplinary oeuvre is inspired by the philosophies and aesthetic principles of Abstract Expressionism.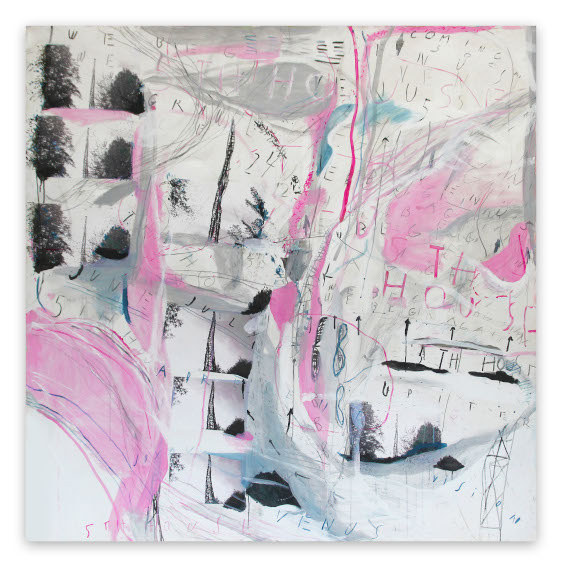 Macha Poynder - 5th House, 2016. Acrylic, collage and pastel on un-stretched canvas. 158 x 152 cm.
Tommaso Fattovich - Bones
This latest from Fattovich disruptively expresses his most primordial sentiments by viscerally responding to the colors, layers, lines, and shapes. Bones captures his daring attempts to deep dive into subliminal as he plays with the composition applying the Surrealist strategy of automatism. His brisk application of paint encapsulates Fattovich's emotional expression found in the fathomless depths of his subconsciousness. Fattovich is an Italian abstract painter who deploys the Surrealist strategy of automatism to create raw, layered, emotive works that convey feelings of desolation and decay. He lives and works in Delray Beach, Florida.
Tommaso Fattovich - Bones, 2020. Mixed media on canvas. 152.4 x 121.92 cm.
Pierre Muckensturm - 14p1601861
This mesmerizing acrylic and oil piece reveals Muckensturm's infatuation with constancy and temporality revealed through an unsettling dichotomy between a repetitive and cyclical nature of time and singular, isolated events that are disrupting that harmony. 14p1601861 captures the balance of intensity and tranquility through the simplicity of forms that dominate this large scale canvas. Muckensturm is a French abstract painter and printmaker whose visual language is one of harmony, calmness, and timelessness. Born in Strasbourg, France, he currently lives and works in Colmar.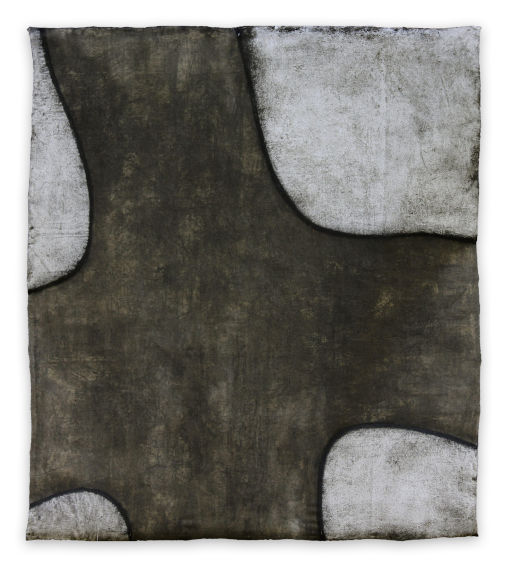 Pierre Muckensturm - 14p1601861, 2014. Acrylic and oil on un-stretched canvas. 186 x 160 cm.
Paul Snell - Chromophilia # 201701
Chromophilia # 201701 epitomizes Snell's distinct exploration of perception and artifice, a sensation of the eye. He captures an object or location with a traditional camera, digitally decodes the visual information reducing and simplifying the colors and forms until these reduced elements unfold into their self-referential relationships. This unfolding process maps the ambiguity and transitional states intrinsic to the medium. Snell combines traditional and digital techniques to explore the possibilities of abstraction and minimalism in contemporary photo-media. He lives and works in Launceston, Tasmania.

Paul Snell - Chromophilia # 201701, 2014. Chromogenic Print Face-mounted 4.5mm Plexiglas. 75 x 275 cm.
Kyong Lee - Prayed
Inspired by the Color as Adjective series, Prayed conveys the emotional essence of her memories and thoughts as unfolding through her visual representations. This vibrant piece not only unveils but underlines the color as her primary visual language. She creates gradated color paintings, where each layer is applied and dries over a fixed amount of time thus creating the relationships between colors and the temporal. Lee is a Korean abstract artist whose work reconciles physical and emotional realities through a multi-disciplined exploration of color, material, process, and form. She lives and works in Seoul, Korea.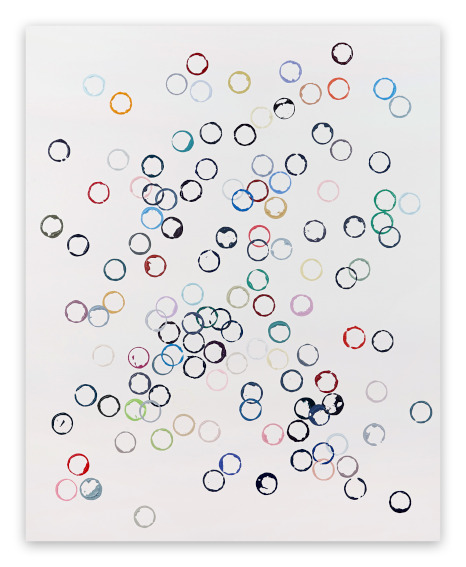 Kyong Lee - Prayed, 2015. Acrylic on canvas. 162 x 130.3 cm.
Anya Spielman - Candy
Candy is a daring, sensual piece that blends Spielman's intensely physical and genuinely contemplative approach. Her saturated surfaces are luminous, having glossy and matte layers interchanging simultaneously; reds and pinks refer to flesh and blood and the pale creams, yellow and dark brown in her palette recall bodily fluids. This corporal manifestation of color is deconstructed by rough nail marks and scars that inscribe the decoded idea and image deep within the painting. Spielman is an American abstract painter. Her work explores the constellation of binary forces and forms, presenting reoccurring two-fold images: the tension between knowing and not knowing, being seen and unseen, humanity and inhumanity. She lives and works in the Los Angeles area.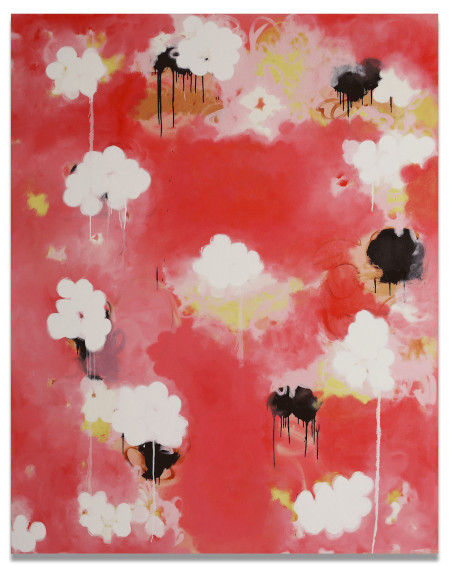 Anya Spielman - Candy, 2009. Oil on canvas. 198.1 x 157.5 cm.
Jeremy Annear - Anchorage
In Anchorage, Annear embraces a post-disciplinary aesthetic of diverse influences and stylistic concerns fusing ancient motives with modern visual expression. This large oil on canvas embodies the purity of his form, construction, and composition as well as his razor-sharp precision and exactness. He incessantly explores the relationship between the abstraction and paint, focusing on deciphering the relationship between the natural environment expressed in his earth tones and raw primary colors. Annear is an English painter who was introduced to St Ives modernism in his early formative years. He lives and works in Cornwall.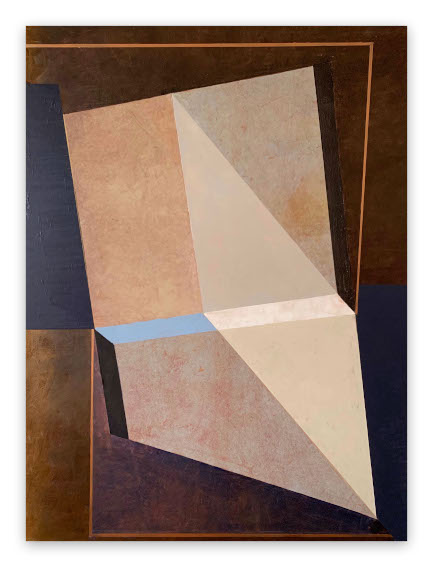 Jeremy Annear - Anchorage, 2018. Oil on canvas. 150 x 120 cm.
Anthony Frost - Clear Spot
Clear Spot is the most skillful demonstration of Frost's unique blending of painting and collage. He applies acrylic along with pumice on sacking, sailcloth and canvas and arranges them in layers and paints the shapes with vivid colors. His technique is brisk, unreflected and unorthodox as he allows his instinct and intuition to take over the creative process. Frost is an English abstract artist, son of the famous Sir Terry Frost, whose vibrant, colorful paintings and prints exhibit the raw energy and freedom of rock music. He lives and works in Cornwall.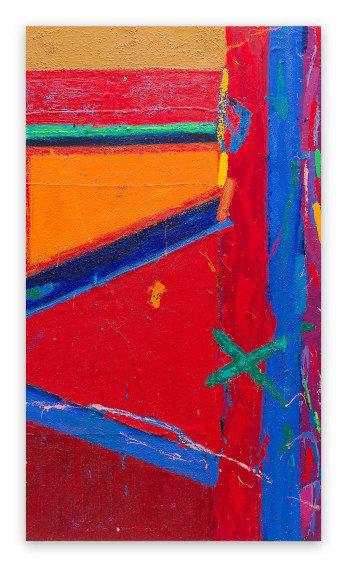 Anthony Frost - Clear Spot, 2006. Acrylic and mixed media on canvas. 207 x 119.4 cm.
Featured image: Tommaso Fattovich - Bones, 2020, installation view.
By Jovana Vuković