Blog Home
Kupka, Pioneer of Abstraction, At Grand Palais
Mar 8, 2018
František Kupka thought of his artworks as organisms. As material objects, they came into being as the result of natural processes. Those processes included the ecological systems that led to the development of the materials he used in his studio, as well as those that contributed to his own actions and labor. Kupka knew that like all ephemeral organisms, his artworks began the process of devolving toward their ancestral condition the moment they were completed, and that one day they would dissolve into dust, just like he would. That is why, although the combinations of colors and forms he conveyed in order to transfer meaning and ideas were important, the process of creation mattered more to him than anything else. Kupka remained experimental throughout his career. He explored a range of pictorial strategies, none of which fit neatly into the "isms" of his time. Whenever a critic lumped him into a movement, such as Cubism or Orphism, Kupka protested, insisting he was autonomous. As such, he never enjoyed quite the same notoriety as his fellow abstract pioneers, Wassily Kandinsky, Kazimir Malevich, and Piet Mondrian. Nonetheless, Kupka was a leader in their intellectual and professional circles. He was an avid writer, a prolific artist, an eager exhibitor, and an influential member of the Puteaux Group, which met regularly at the Duchamp house in the Parisian suburbs to discuss the philosophies and techniques integral to the development of pure abstraction in art. His legacy is monumental and undeniable in retrospect, and it is soon to celebrated once again in monumental style, in Kupka: Pioneer of Abstraction, at the Grand Palais from 21 March through 30 July 2018. This epic exhibition will feature more than 300 works by Kupka, spanning every phase of his career. It is the first of its kind in nearly 30 years, and is designed to demonstrate why the legacy of this important artist is more relevant today than ever.
New Models of Thinking
František Kupka was born in Opocno, Bohemia, in 1871. He began studying art in Prague at age 16, and in the following eight years transferred to academies in Vienna, London, and Scandinavia. He arrived in Paris in 1895, where he began his career as an illustrator, making fashion drawings and publishing satirical cartoons. The paintings he made in school were figurative. But like many artists of his generation, Kupka was interested in new ways of thinking about the plastic arts. He wanted to liberate the formal elements of painting, such as color and form, from their descriptive responsibilities. His first foray into this concept was to paint symbolist images, in which allegory and metaphor were employed to suggest a world of meaning beyond what was obvious in the picture. But even symbolism is narrative; what Kupka really wanted was emancipation from the expectations and assumptions of the figurative world.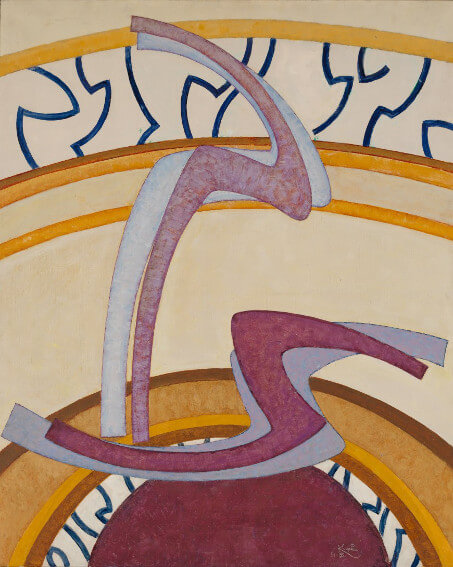 František Kupka - Construction II, 1951-52, Oil on canvas, 39 x 31 1/2 inches (99 x 80 cm), Solomon R. Guggenheim Museum, New York Bequest, Andrée Martinel, 1993, © 2018 Artists Rights Society (ARS), New York / ADAGP, Paris
In 1905, Kupka moved to Puteaux. There, he was invited into a group of similarly-minded artists, which included, among others, Robert and Sonia Delaunay, Marcel Duchamp, Jacques Villon, Francis Picabia and Juan Gris. Nicknamed the Section d'Or (or the Golden Section), this loosely knit collective sparked a multitude of ideas that ultimately transformed the thinking about abstract art. Like many of the other members of the group, Kupka was interested in conveying movement in an image, and in exploring the relationship between colors and music. Kupka also had a particular interest in space, which he considered the fundamental concern of the plastic arts. He talked about how music and performance unfolded across a span of time, while an art object, once it is completed, is fixed in time, and thus, "can initiate us into the reading of space."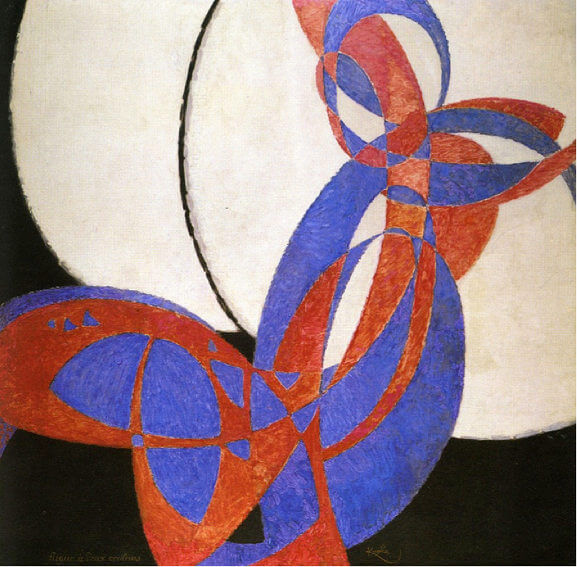 František Kupka - Amorpha, Fugue in Two Colors (Amorpha, fugue en deux couleurs), 1912, Oil on canvas, 210 x 200 cm, National Gallery in Prague, © Adagp, Paris 2018 © National Gallery in Prague 2018
Everything is Interconnected
In addition to highlighting his early works, Kupka: Pioneer of Abstraction follows Kupka beyond the period for which he is best known. It traces the unique path he followed after World War I, when many of his contemporaries split off into close-minded groups dedicated to either geometric abstraction, biomorphic abstraction, or expressive abstraction. While artists like Mondrian, Kandinsky, and Theo van Doesburg bickered over whether straight lines, diagonal lines, curvy lines, wiggly lines, squares, blobs, or this or that color best served the goals of abstraction, Kupka remained open. He was a holistic thinker. What mattered, he believed, was simply that whatever work an artist creates, it expresses some aspect of the essential processes of the cosmos. He listed the processes that mattered to him most as morphogenesis (the process of becoming a future form), atavism (the process of reverting to an ancestral form) and vital force (the energy that animates all forms).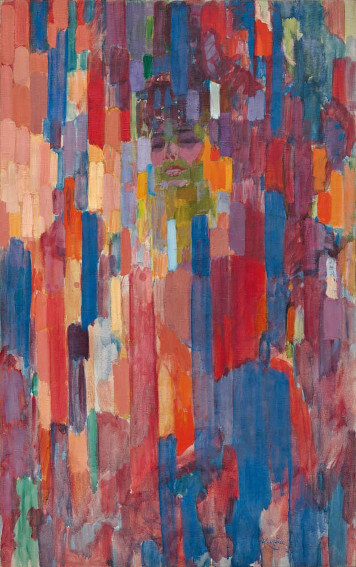 František Kupka -Madame Kupka among the Verticals (Madame Kupka dans les verticales), 1910-1911, Oil on canvas, 135,5 x 85,3 cm, The Museum of Modern Art New York, Hillman Periodicals Fund, 1956, © Adagp, Paris 2018 © Digital image, The Museum of Modern Art, MoMA, New York / Scala, Florence
Since Kupka believed these cosmic processes could be revealed through rhythm, tension, movement, lines, colors, forms, relationships, or a potentially endless multitude of other avenues, he saw no reason to get caught up in aesthetic ideologies. He instead focused on making himself the best cosmic organism he could be. He was a vegetarian, and studied the effects of tobacco, dairy and alcohol on human biology, as he believed that an artist should strive for perfect biological function in order to adequately channel the forces of nature. Ultimately, this may be the most important legacy Kupka created for us today. He showed us that people are part of the natural world, and that as a reflection of that natural world, art should not be asked to proceed in one direction toward some goal of perfection. Rather, art should be under constant development, and also constant de-development, as he said, like "The waves of the sea, the little ripples on the shore, the sweeping curves of the sandy bay between headlands."
After the Grand Palais in Paris, Kupka: Pioneer of Abstraction will travel to the National Gallery in Prague from 7 September 2018 through 20 January 2019 and then to the Ateneum Art Museum in Helsinki from 21 February through 19 May 2019.
Featured image: František Kupka - Planes by Colors, Large Nude (Plans par couleurs, grand nu), Oil on canvas, 1909 - 1910, 59 1/8 x 71 1/8 inches (150.2 x 180.7 cm), Solomon R. Guggenheim Museum, New York Gift, Mrs. Andrew P. Fuller, 1968, © 2018 Artists Rights Society (ARS), New York/ADAGP, Paris
By Phillip Barcio