Blog Home
The Legacy of German Abstract Art Pioneer Karl Otto Götz
Sep 1, 2017
On 19 August 2017, Karl Otto Götz, a singular voice in abstract art, died at the age of 103. I can say without reservation that the body of work Götz created in his lifetime is worthy of reverence. It is not only rapturously powerful, but it is also highly idiosyncratic. A pioneer of a type of gestural abstraction known as Deutsches Informel Kunst, or German Informal Art, Götz is widely credited in his homeland with reviving the dignity of the German art scene after World War II. And in addition to his own artistic output, he was also one of the most influential German art teachers in the mid-20th Century, evidenced by the fact that a half dozen or so of the most famous German artists of the past half century were students of his. But his art and his teaching are not the only fascinating elements of the life of Karl Otto Götz. He also represents something quite serious, and quite complex. He was a former nazi soldier: evidence of the complicated nature of humanity, and the layered, and often surprising truth of history.
The Accidental Nazi
Karl Otto Götz was born in 1914 in the German border town of Aachen. His interest in art began early and he began making his first abstract artworks in 1932, at the age of 18, as a student in the Kunstgewerbeschule, or School of Applied Arts, in Aachen. Like most young, avant-garde artists at that time, his interests were aligned with the trending modernist movements that were popular throughout Europe, such as Surrealism, Cubism and Expressionism. But In 1935, when the Nazis took control of Germany, such forms of artistic expression were deemed degenerate by the government and subsequently outlawed. Yielding to government pressure but unwilling to give up art, Götz continued working as a landscape painter, and even made a living selling his work. In 1940, he even earned representation from the Dresden art dealer Heinrich Kühl, owner of gallery Kühl.
But if one were to go back and search for examples of the work Götz was making at that time, it could not be found today. Most, if not all of it was destroyed in the firebombing of the city of Dresden by Allied forces in 1945. Götz himself was drafted into the nazi army in 1936. He remained a nazi soldier until the war ended. His position was with the signal corps, the department responsible for communications via radio and phone, as well as radar. Throughout his time as a soldier, Götz continued exploring his abstract art ideas in secret, especially during his off time. In fact, some of his most experimental works, known as his rasterbilder, or raster images, were conceived of while he was working as a radar technician.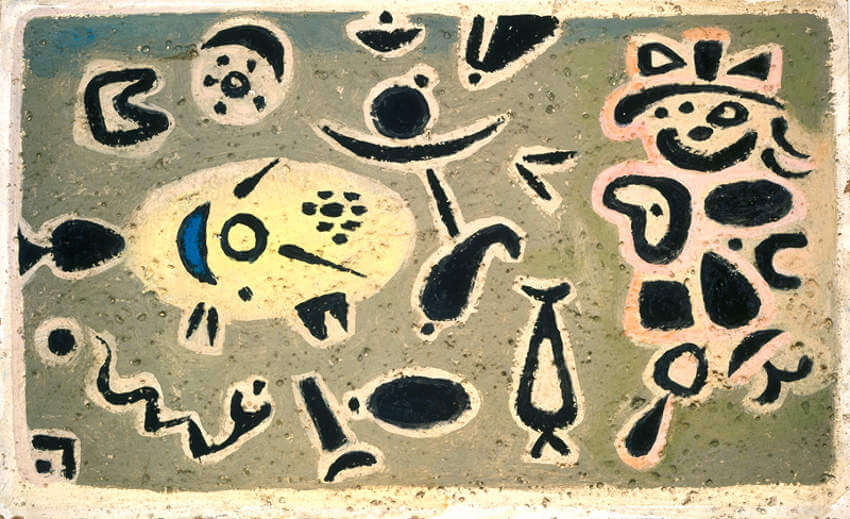 Karl Otto Götz - 24 Variationen mit einer Faktur (24 Variations with a Billing), 1948, 27.5 x 44 cm., Oil and sand on hard fiber, © the KO Götz and Rissa Foundation
Separating Art from Life
It is perhaps difficult to imagine: an artist drafted into service as a nazi, but who continues nonetheless to pursue the agenda of avant-garde art while playing the part of a cog in an evil machine. In biographies written about Götz, he is described as hovering sometimes over his radar screen, manipulating the technology in order to create abstract imagery on the screen. It is almost a comical thought: this playful, abstract artist experimenting with cutting edge digital abstract aesthetics while wearing the uniform of the Luftwaffe. Later in the 1960s, Götz enlisted his students at the Kunstakademie Düsseldorf to assist him in making his rasterbilder paintings using a then-brand new system of art creation known as Generative Art. The idea behind Generative Art is that an artist creates a system that then autonomously makes all aesthetic choices, leading to the creation of a work of art in whichthe artist has no say. It sounds, quite honestly, a lot like the intellectual method employed by so many soldiers in World War II, whose atrocities committed at the hand of similar, unthinking systems Götz himself witnessed for nine years.
After the war Götz remained in Germany, immediately reconnecting himself to the rest of the European avant-garde. He experimented with cinema, photograms, and printmaking, and became the editor of a poetry journal. As for his paintings, he completely abandoned figuration and embraced abstract art. In 1949, he even joined CoBrA, an art collective based primarily in Copenhagen, Brussels and Amsterdam that was dedicated to experimenting with informal approaches to making art. The essence of his thinking during this time was to learn whether abstraction offered a path for artists to achieve something universal. Like the earliest pioneers of abstraction, Götz realized that abstract art could transcend nationalistic and cultural boundaries and open the doors to a form of communication that is far deeper and more important.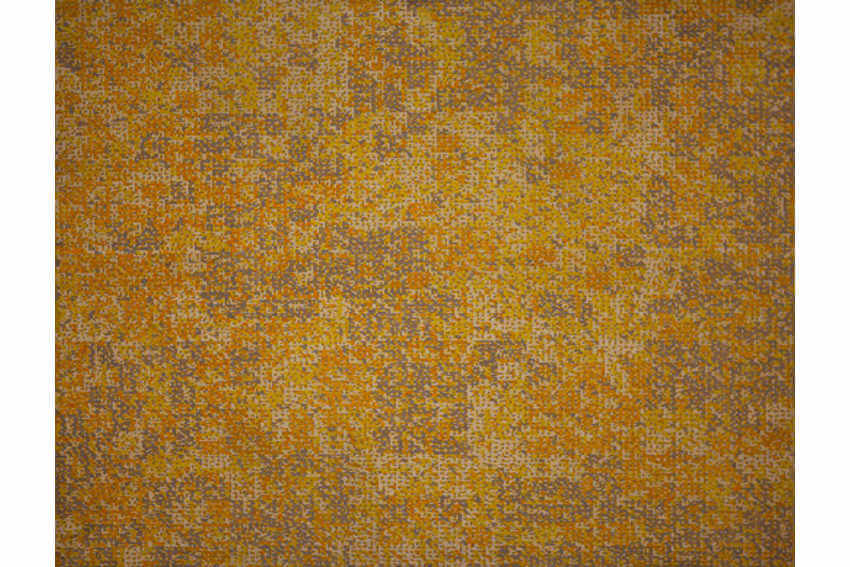 Karl Otto Götz - Statistische Verteilung, rasterbilder, 1961, 100 x 130 cm., tempera on canvas, © the KO Götz and Rissa Foundation
Finding His Aesthetic
In 1952, Götz discovered the technique that established him as the leading pioneer of German informal art. The technique involved four phases. First, he painted a base color, almost always white. Next, he made large, gestural brushstrokes with a thick brush in a contrasting color, usually black. Next, he used a wooden squeegee to scrape secondary gestural marks through the black marks, creating a dimensional layer. Finally, using a small, empty brush, he made additional gestural lines and strokes through all underlying layers of paint. The resulting image was devoid of recognizable form.
In a sense, this technique was in line with that of many other informal painters of his generation. Many artists were experimenting at the time with lyrical brush strokes, physical motions and gestural markings. But the specific technique of squeegeeing through paint then dragging another brush through the squeegee marks transcended the calligraphic quality of the work of so many of his contemporaries. His works had dimension and depth. They had a kinetic quality that made them dynamic. And their use of a simple, contrasting color palette in which no one color dominated made them evocative of balance and harmony.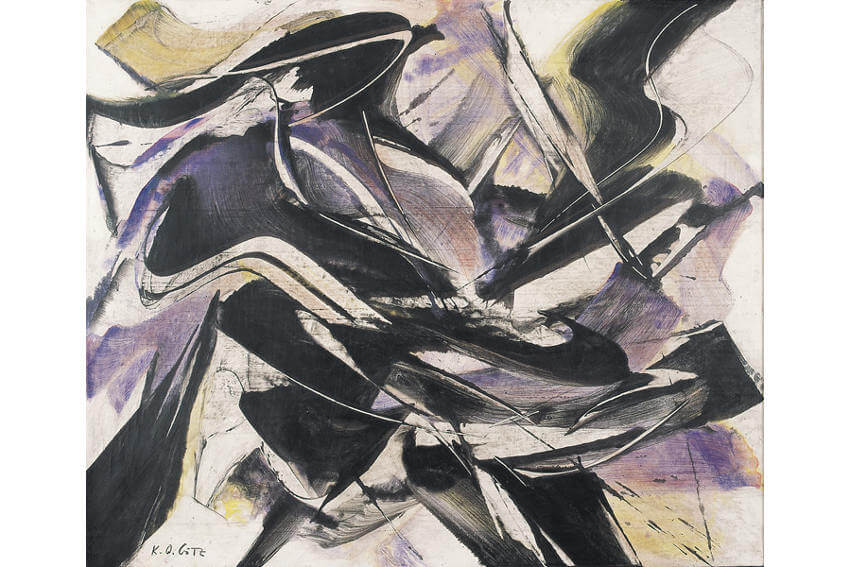 Karl Otto Götz - Picture of 28.1.1954, 1954, 75 x 90 cm., Mixed Media on canvas, © the KO Götz and Rissa Foundation
Building a Legacy
By the mid-1950s, Götz was exhibiting his new "brushed and doctored" paintings all over Europe, as well as in the United States. In 1958, he even represented Germany in the 24th Venice Biennial. By the end of the decade, in critical circles as well as in the opinion of his contemporaries, he was the preeminent aesthetic visionary in Germany. In 1959, he was offered a professorship at one of the most prestigious art academies in the country, the Academy of Fine Arts in Düsseldorf. He taught there for twenty years, and during his tenure taught such soon-to-be famous artists as Gerhard Richter, Sigmar Polke, Franz Erhard Walther, and Karin Martin, who later changed her name to Rissa and the following year married Götz. Furthermore, beyond the influence he had over his students,Götz is also credited with casually affecting the careers of a multitude of other artists whose paths he crossed. The prime example is the story of how, at an art opening in 1959, he suggested to then fledgling Korean-born artist Nam Jun Paik that he use televisions in his work.
There is no doubt about the importance of his aesthetic legacy. But still I am left wondering about the other legacy of Karl Otto Götz: the part where he willingly served as a nazi soldier. How are we supposed to process that fact when weighing the impact of his life? What does it say that someone with such an association can then go on to make such a beautiful and universal impact in something as transcendent as abstract art? In 1991, Götz painted a monumental work in honor of the reunification of East and West Germany, titled Jonction III. The work is considered a masterpiece. Its two sides fit together in a complicated, somewhat messy, yet harmonious and perfectly natural way. Though it is usually spoken of only in terms of the statement it makes about his homeland, it also helps me understand somewhat how he may have seen himself, or at least how I might choose to see him. It is representative of duality, and an admission that things are not always as simple as they seem.

Karl Otto Götz - Jonction III, 1991, 200 x 520 cm, two parts, mixed technique on canvas (on loan to the German Bundestag, Berlin, © the KO Götz and Rissa Foundation
Featured image: Karl Otto Götz - Picture of 02.10.1952, 1952, 145 x 175 cm., Mixed Media on canvas, © the KO Götz and Rissa Foundation
All images used for illustrative purposes only
By Phillip Barcio