Blog Home
The Artist Who Could See Sound - Kandinsky on Google Arts and Culture
Feb 24, 2021
Wassily Kandinsky endeavored to achieve visually what musicians achieve with sound: the communication of complex feeling and emotion, without using narrative content. Kandinsky was not just curious about connections between art and music. According to Sounds Like Kandinsky—a new web-based, educational experience developed by Google Arts & Culture and Centre Pompidou—the painter was actually a synesthete. He had the ability to hear color, and see sounds. Both as an artist and as a teacher at the Bauhaus, Kandinsky wrote and lectured about the intersection of music and art at length, most notably in his landmark book, Concerning the Spiritual in Art. "The sound of colors is so definite," Kandinsky remarked, "that it would be hard to find anyone who would express bright yellow with base notes, or dark lake with the treble." That statement belies such confidence that Kandinsky must have taken it for granted that all people perceived color and sound as he did. Yet, as a non-synesthetic person, I admit I have no idea what the quote means. A few years ago, I read an article in which the author James Wannerton, also a synesthete, described the flavor of the Kandinsky painting Cossacks. Wannerton wrote, "…it produces a sweet/savory flavor mix—a little like mixing the inside of a pork pie (no crust) with a packet of Starburst." After reading that, I can honestly say I felt like I was missing out on worlds of joy. I wanted to ask Wannerton what activates his taste glands more: the museum, or the museum cafe. As for Sounds Like Kandinsky, it is not only a fun introduction to one of the pioneers of Modernist abstraction; it is an attempt to open doors of perception for people like me. By asking us to imagine for ourselves the connections Kandinsky sensed between color and sound, it reminds us of just how little is truly understood about the connections that exist between art and life.



Visual Poetry
About a year after he published Concerning the Spiritual in Art, Kandinsky published a lesser known book of original poetry titled Sounds (released as Klänge in Germany). I had no idea that Kandinsky was a synesthete when I first read the book. Looking back at the text now, it seems obvious. The way Kandinsky speaks about color and sound in some of the poems even seems a bit harrowing. In "Spring," Kandinsky writes: "Keep quiet, you colorful fellow! The old blue sky gets hopelessly caught amongst branches and leaves. Don't shout at me!" Was Kandinsky tortured by the blaring music of the colorful world? Is this why, at first, he was attracted to the law, because of the relatively drab environs of offices and courtrooms? When he began painting at age 30, was it love for art that drove him to it, or was it a need to finally either exorcise his cacophonous inner demons or turn them into angels?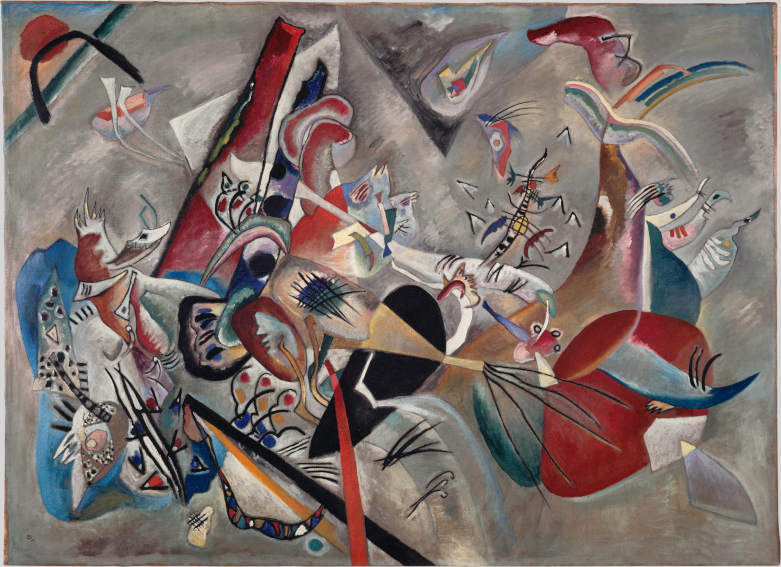 Vassily Kandinsky - Im Grau (Dans le gris), 1919. Huile sur toile. 129 x 176 cm. Legs de Nina Kandinsky, 1981. Collection Centre Pompidou, Paris. Musée national d'art moderne - Centre de création industrielle. Photo credit: (c) Centre Pompidou, MNAM-CCI/Philippe Migeat/Dist. RMN-GP


We look at synesthesia as a gift today. The condition offers an expanded perception of reality, and even raises questions about what, in fact, reality is. In the late 1800s, however, when Kandinsky was young, his ability to see the sounds of a symphony and hear the music of color made him an outsider, and sent him searching for understanding at the fringes. He found solace not only amongst artists and poets, but in the company of Theosophists - followers of an esoteric spiritual tradition based in the belief that universal "essential truths" underly science, art, religion, philosophy, and all other aspects of human culture. In the context of Theosophy, synesthesia can be understood as a form of ancient insight into matters that unite all living things. Sounds Like Kandinsky touches on this view of synesthesia, analyzing some of the symbolic systems Kandinsky embedded in his paintings. It helps us understand that Kandinsky looked at abstraction not as something unrealistic, meaningless, or even necessarily subjective, but rather as something directly connected to another level of reality beyond what most of us ordinarily perceive.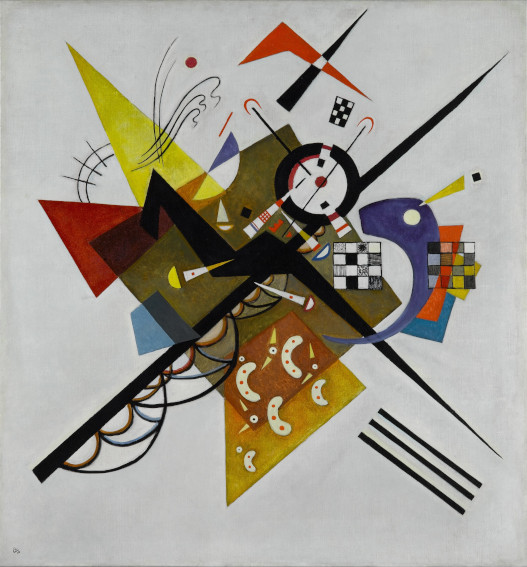 Vassily Kandinsky - Auf Weiss II (Sur blanc II), 1923. Huile sur toile. 105 x 98 cm. Donation de Mme Nina Kandinsky en 1976. Collection Centre Pompidou, Paris. Musée national d'art moderne - Centre de création industrielle. Photo credit: (c) Centre Pompidou, MNAM-CCI/Georges Meguerditchian/Dist. RMN-GP
Decolonize Google
I was initially skeptical about Sounds Like Kandinsky, because of the negative feelings I have towards Google Arts & Culture. The platform was conceived in 2011 as a sort of web-based museum of the world, digitizing artworks from the physical collections of brick and mortar museums so that anyone anywhere could potentially look at them online for free. The idea was originally hailed as democratic. In reality, the platform in its current form is riddled with all of the same biases that have for so long dogged the powerful institutions whose collections it catalogues. By not intentionally striving to subvert the Western, white, patriarchal, colonial structures that dominate the official narrative of art history, Google Arts & Culture has only further codified them. Furthermore, what little scholarship is present on the platform is drastically over-simplified, as if written especially to accommodate the low attention spans of social media addicts.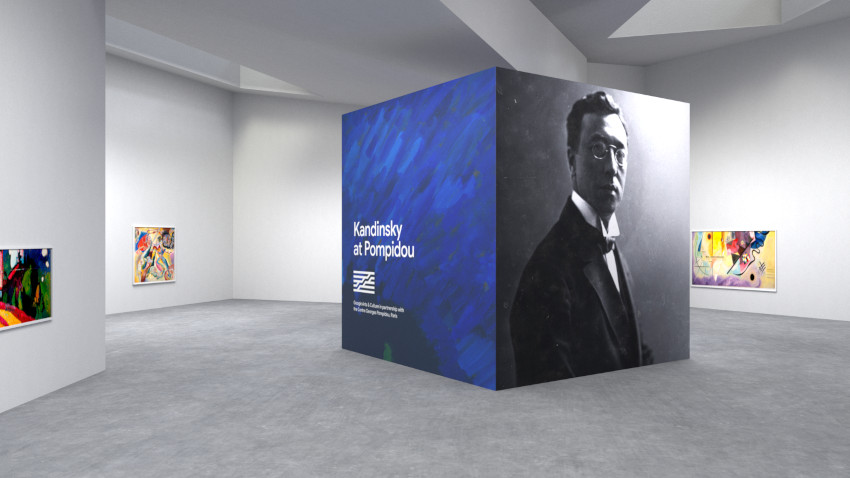 View of "Pocket Gallery" from the Sounds like Kandinsky project on Google Arts & Culture


What saves Sounds Like Kandinsky in my opinion is the creativity and scholarship of the other partners in the project. Angela Lampe, Curator of Modern Art at the Musée National d'Art Moderne, Centre Pompidou, helped select more than 3000 Kandinsky-related objects to digitize, most of which were generously donated in 1981 by Nina Kandinsky, the widow of the artist. And the contributions of sound artists Antoine Bertin and NSDOS help bring Kandinsky into the current age, using A.I. to imagine how a Kandinsky painting might actually translate into music. Most importantly, Sounds Like Kandinsky includes a variety of materials for educators, making it a perfect project for students learning from home during the pandemic. Overall, these collaborators made the project both instructive and engaging. If this same attitude of scholarship, creativity, and equity were applied to the entire Google Arts & Culture platform, who knows? Maybe it could live up to its promise.
Featured image: Screenshot of Sounds like Kandinsky on Google Arts & Culture
All images used for illustrative purposes only
By Phillip Barcio