Blog Home
Remembering Palestinian Abstract Artist Kamal Boullata
Aug 14, 2019
Beloved Palestinian artist and writer Kamal Boullata is dead at age 77. Boullata passed away on 6 August 2019 in Berlin, where he was a resident fellow at the Institute for Advanced Studies. Boullata is renowned both for his accomplishments in the visual arts and for his research into the history of Palestinian Modern Art History. His book Palestinian Art: From 1850 to the Present is considered to be the standard bearer for contemporary scholarship on the subject. Though he worked in several mediums, Boullata was most prolific as a screenprint artist. His visual language constantly evolved over the course of his life, from the pure figuration he perfected as a child in Jerusalem to the personalized form of pure abstraction that he developed later in life. At various points in his career, Boullata also blended the written word into his work. As part of the Hurufiyya movement, he experimented with ways of integrating the Arabic alphabet and traditions of Arabic calligraphy with various global, Modernist, abstract aesthetic positions. His early text-based work was an influence on the development of the contemporary street art trend known as calligraffiti—a blend of Arabic writing and Abstract Expressionism, in which text is aesthetically altered to create abstract compositions that transcend literal meaning. Boullata is also credited with helping formulate a cohesive vision of Palestinian contemporary art, helping forge new pathways for young Palestinian artists who long to go beyond the conservative boundaries of historical Arabic artistic traditions. Boullata also did some commercial design. Among his most well-known works is the logo for the Center for Contemporary Arab Studies at Georgetown University, which he drew in only a few minutes—the result of a quick sketch. The geometric logo perfectly embodies his process of blending meaningful writing with abstract mark making. Forty-three years after it was adopted, Boullata jested of the logo, "I never thought it would last more than a weekend or I would have spent more time on it."
Icons and Alphabets
Boullata was born in Jerusalem, Mandate Palestine, in 1942. His siblings were trained as musicians, but upon noticing the predilection Boullata had towards visual art his father enrolled him in classes with a renowned local painter of religious icons. Despite some Islamic prohibitions against figurative depictions of people and animals in art, icon painting was the dominant form of Palestinian art at that time. Boullata excelled at his studies, even selling many of his watercolor pictures to prominent buyers while still a child. However, despite being a prodigious realistic painter, after using his savings to send himself to art school at the Academy of Rome and then the Corcoran Art Museum School in Washington, DC, Boullata became much more interested in the aesthetic traditions of abstraction.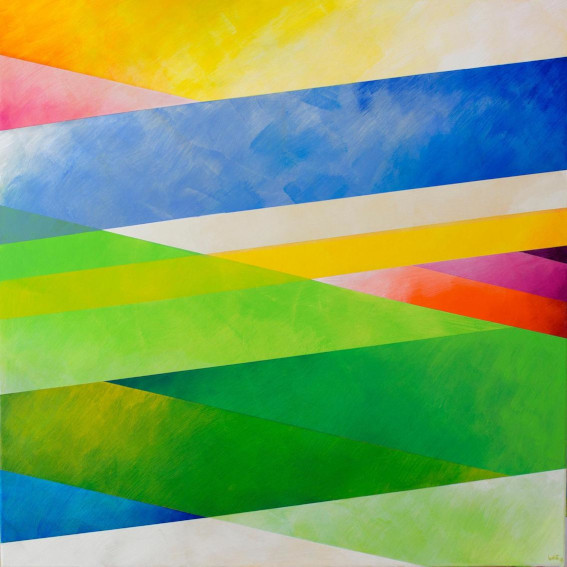 Kamal Boullata - Angelus II-2, 2017. Acrylic on canvas. 100 x 100 cm. © 2019 Meem Gallery.
His discovery of Western abstract art traditions put Boullata in touch with memories he had as a child of admiring the calligraphic writing and geometric patterns at holy sites like the Dome of the Rock in Jerusalem. While studying the works of the Washington Color School artists, he began to connect the patterns of Arabic script and the grids that he was taught to use while copying icons, realizing the many commonalities such ideas have with Modernist abstraction. The problem Boullata had with Western Modernist abstraction, however, was that he perceived a certain emptiness in it. He longed for meaning in his work, so he started inserting Arabic words and letters into his colorful abstract grids. These early text-based works activated symbolic patterns and shapes with poetic force, resulting in a kind of new, Arabic aesthetic alphabet rooted half in concretion and half in abstraction.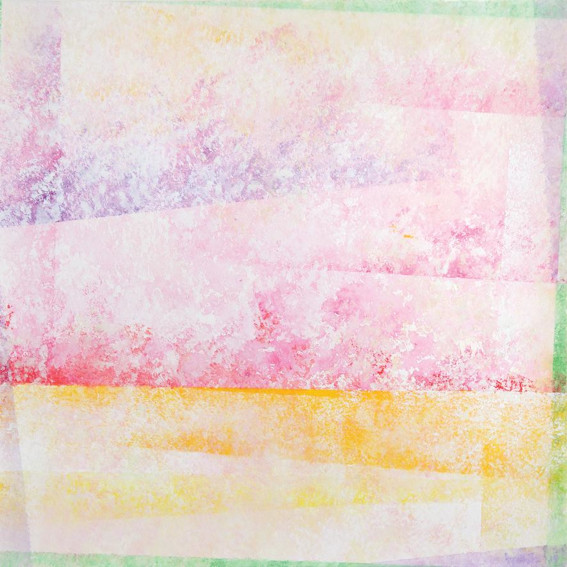 Kamal Boullata - Addolcendo 7, 2015. Watercolour, gouache & crayon on paper. 25.5 x 25.5 cm. © 2019 Meem Gallery.
Lines and Light
Over time, Boullata abandoned the use of text in his works, realizing that he did not need words and letters to give meaning to his abstract compositions. He instead concentrated on expressing light within the surfaces of his compositions. Sometimes he evoked light through the use of cooler hues, like yellows and blues. Other times he created the sense of light by mobilizing thin lines of red or purple around the edge of softer fields of color, activating the borders through the dynamic color relationships. Such compositions verge on creating optical illusions, like in the tradition of Op Art, but Boullata was not trying to create spectacles with his compositions. He was after something much more personal. He said that the light he was trying to find in his paintings was always the same light he remembered as a child growing up in Jerusalem—that "Palestinian light."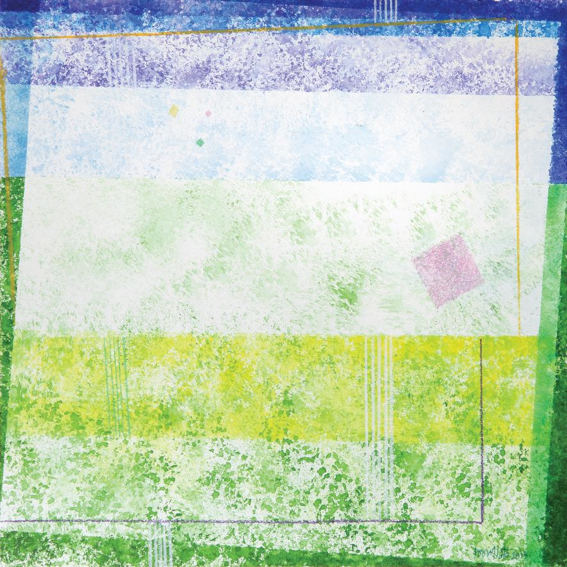 Kamal Boullata - Addolcendo 4, 2015. Watercolour & crayon on paper. 25.5 x 25.5 cm. © 2019 Meem Gallery.
By pushing Palestinian artistic traditions forward into new visual realms, Boullata added new layers and meanings to the gestalt of Palestinian art. Whether it was with his writing or his visual art, one theme that was always central to the work Boullata did was the notion of the here and now—an idea summed up by the Arabic word al-yawm, meaning today. Though he was dedicated to documenting the progression of Palestinian art throughout history, he was more concerned about what will come next for his culture. This aspirational vision shined through in his latest body of work—a series of bright, luminous, sharply angled compositions that seem to radiate with light. Blending the excitement of Futurist dynamism with the transcendent glow of stained-glass windows, these powerful works show an artist who came to the height of his powers late in life. In recent interviews with Boullata, in fact, he seemed enthusiastic and optimistic about what was to come for him. His friends and associates knew him as vibrant and youthful, and many have expressed surprise at his unexpected passing. The outpouring of remembrances, however, are at least bringing a great deal of attention to the work of this artist who, outside of his relatively small circle of admirers, was not widely known by the non-Arabic world—a gift to countless art lovers who are now discovering an underappreciated master of our time.
Featured image: Kamal Boullata - Bilqis 2, 2013. Acrylic on canvas. 120 x 328 cm. © 2019 Meem Gallery.
All images used for illustrative purposes only
By Phillip Barcio