Blog Home
Jim Hodges Turns New York's Grand Central Into an Abstract Installation
Jan 6, 2021
Jim Hodges is one of those rare abstract artists whose work manages to express the most troubled aspects of the spirit of our time while simultaneously expressing its beauty. A new installation by Hodges, titled "I dreamed a world and called it Love," recently opened in Grand Central Station in New York City. Taking its name, and its material presence, from an eponymous 2016 exhibition at the 21st Street location of Gladstone Gallery in New York, the installation covers multiple surfaces spanning more than 700 square feet, and consists of more than 5,000 separate pieces of cut glass. The work shares a material tradition with stained glass. Unlike a stained glass window, however, which lets light through the surface, this installation is mounted on opaque surfaces, which highlights the reflective properties of the colored glass. How does this work express the most troubled aspects of the spirit of our time? It is fractured; sometimes chaotic; and more than a little apocalyptic looking. How does it express the beauty of this moment? It embraces movement; dynamism; shine; and it mobilizes a rainbow of colors which—unlike most visual representations of rainbows—includes black and brown. The palette screams of nature, from the blue of the ocean and atmosphere to the green of the forest and reds and browns of the soil. Yet, the fabricated look of the piece tells us it is clearly the result of human intervention. Finally, there is something overtly optimistic about this installation. It comments not to the burden of factoids and data, but to the primordial possibilities contained within the act of creation. It does not belong to the dying age of information, which frankly has me feeling exhausted and exploited, but to the emergent age of imagination, which promises anything is possible.
Expanding the Expanded Field
Every field includes certain dirty, difficult jobs that need doing. People who starts off doing one of those jobs, then later rise to the top, tend to be my favorite people, because they understand on a basic, material level what their profession is all about. In the visual arts, one of those jobs is art handler: the people who package, ship, and hang the art we see on the walls of galleries and museums. Artists who work as art handlers learn the importance of craft, and literally understand how important it is for people to have a physical relationship with art. After earning his MFA in painting from the Pratt Institute in Brooklyn, Jim Hodges began his career as an art handler. He did the job in exchange for free studio space. While boxing, lugging and hanging art around New York, he transformed from a traditional painter into an artist working in the expanded field of painting: a theoretical universe where color, surface and composition break free of the canvas and the wall to inhabit all surfaces, all materials, and all spaces.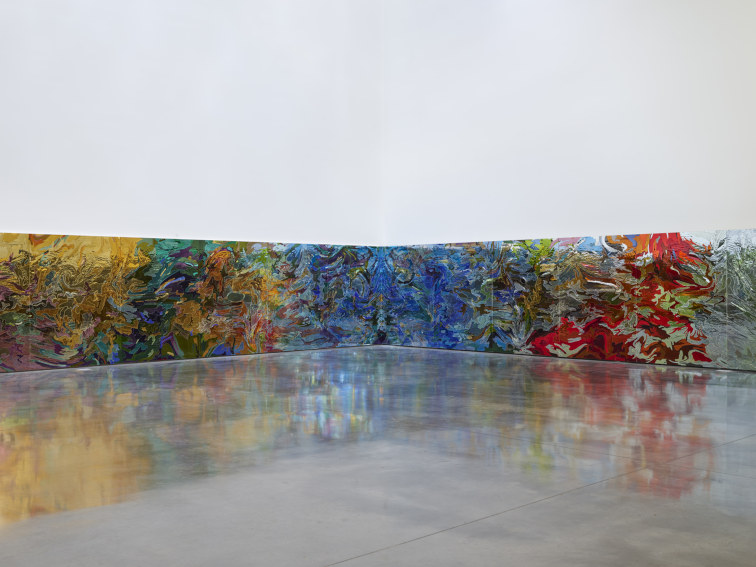 Installation View, Jim Hodges, I Dreamed a World and Called it Love, at Gladstone Gallery, New York, 2016
His 2014, mid-career retrospective titled "Give More Than You Take" at the Institute of Contemporary Art in Boston was a clinic in how Hodges has used the three decades since those early days as an art handler to expand the expanded field. A wall of used napkins, each adorned with a fragile image of a flower, demonstrated how a painted image is eerily and beautifully similar in some ways to a crypt: a lovely container to hold something that perhaps once was, or maybe never was. A ceiling lined with hanging, blown glass bells, each painted inside with a delicate, pastel hue, became more than a site specific installation to walk through. It captured and released the changing light from an adjoining window; it teased the mind with the promise of charming sounds; and if a viewer were brazen and brave enough to lay on the floor and look up, it transformed into a composition of color and form on a flat surface—a painting in an expanded field.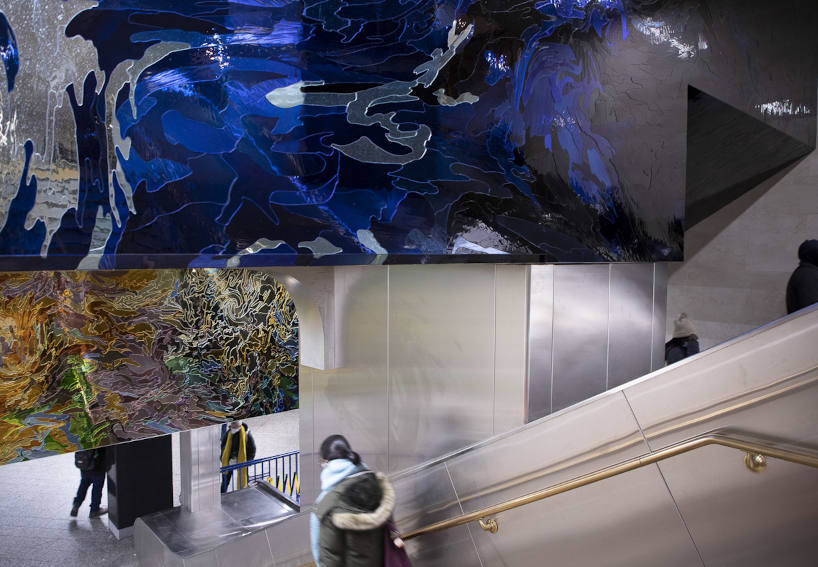 Commuters passing by Jim Hodges's permanent installation I dreamed a world and called it Love at New York's Grand Central Terminal. Image courtesy of Gladstone Gallery.


Reflective Potential
When he began his career in the 1980s, the AIDS crises was a crucial concern to Hodges. He has sometimes talked about the lack of humanity in our society, a central challenge that made the worst years of the AIDS Pandemic so much more deadly than they needed to be. Today, in our current pandemic, just like then, we refuse to see ourselves in others, and frequently even fail to acknowledge what we, ourselves, truly are. In so many of his works, Hodges has expressed the idea of humanity, and its constant companion death. One image he frequently invokes is that of a spider web—an abstracted allegory for those of us who feed off of each other, and those of us who are helplessly bound up in the traps of our tormentors.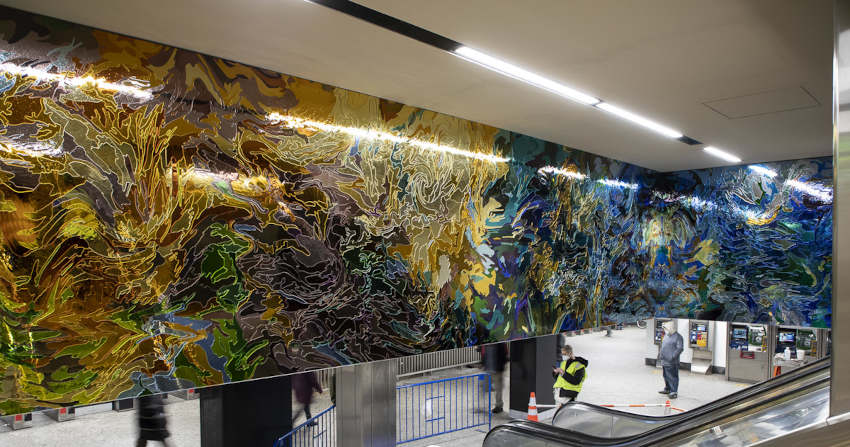 Jim Hodges's permanent installation I dreamed a world and called it Love at New York's Grand Central Terminal. Image courtesy of Gladstone Gallery.


With its oozing, flowing, biomorphic forms, "I dreamed a world and called it Love" in Grand Central Station is as grounded in nature as a spider web would be. Many people who encounter it will no doubt hurry past it as quickly as a fly, desperate not to get caught up in a perceived trap. Those who do stop and contemplate the work will first see what is superficial about it—its plastic qualities; light and motion. They might sense the weight of the glass, a material born from earth and fire. Over time, they may have metaphysical reactions—an uneasy feeling of primordial forces inducing fundamental change. Whether they stop and become introspective in this way or they simply hurry by, everyone who sees this work will at least intuitively grasp its reflective potential. They will see themselves in it. They will see others in it. It is an empathetic artwork in that way—a testament to an artist who has spend many years striving to help us understand what it means to be human.
Featured image: Jim Hodges's permanent installation I dreamed a world and called it Love at New York's Grand Central Terminal. Image courtesy of Gladstone Gallery.
All images used for illustrative purposes only
By Phillip Barcio