Blog Home
Jackie Saccoccio's Abstract Art on a Grand Scale
Dec 9, 2020
The beloved American abstract artist Jackie Saccoccio has died at age 56. According to a statement released by Van Doren Waxter, her longtime gallerist, Saccoccio had been battling cancer for the past five years. News of her passing comes as both a shock and a disappointment for those who have had the pleasure of seeing her work in person. Saccoccio was a dedicated experimental abstractionist, who, over the course of a 30-year career, fostered a burgeoning reputation, especially amongst her fellow artists, as a contemporary master. Her paintings walked a thin line between being objects of beauty approachable to anyone regardless of their artistic background, and being objects of exquisitely complex academic value, understandable in their entirety only by the most learned theoretical art critics. In various interviews over the years, Saccoccio generously shared the myriad influences that found their way into her work, revealing that she possessed an encyclopedic curiosity about art history. She named every artist from Hans Holbein to Helen Frankenthaler, and every position from cave art to Conceptual Art, as playing a role in the development of her visual ideas. Her technological prowess with her medium set her apart as well, as she tirelessly explored the range of possibilities that exist within the material properties of paint. As much as has been written critically about her work, however, the simple truth of the work Saccoccio created is that it is just a joy to look at. Like a jazz fan, eyes closed, immersed in the music in an off-the-beaten-track club in New Orleans, a viewer standing in front of a Saccaccio painting can easily and happily get lost in the layered polyrhythms that endlessly swim in her tempestuous seas of colors, lines, forms and textures. Aside from all of her professional and technical prowess, Saccaccio was somehow able to transport us somewhere else for a while with her paintings. That is an admirable gift.



Impermanent Spaces
Saccoccio was born in Providence, Rhode Island, in 1963. After earning her BFA from the Rhode Island School of Design (RISD) and her MFA from The School of the Art Institute of Chicago, she moved to New York City to begin her art career. Though she was committed to abstraction as early as the 1990s, her work took a pronounced turn in the 2000s when she moved out of her small Harlem studio, and relocated to Connecticut, where a much larger work space allowed her to work on multiple large paintings at the same time. The increased space not only allowed Saccoccio to work on multiple paintings simultaneously, since she could let several paintings dry at once—it also created the mental space that allowed her to arrive at a breakthrough in her method: a technique of using the wet paint from one painting to drip onto, and serve as the starting point for, another painting.

Saccoccio said once that her technique of using one painting to start another painting reminded her of the Roman myth of Narcissus and Echo. In that story, Narcissus is obsessed with his own reflection. Echo is in love with Narcissus, but she is stricken with a curse that only allows her to repeat the words of others. Saccoccio pushes one wet canvas against another, creating a material reflection, a sort of visual echo, that becomes the starting point for the next painting. As in the story of Narcissus and Echo, which ends with the two central characters tragically withering away, Saccoccio was always interested in conveying the theme of impermanence with her paintings. One way she achieved this is by constantly turning the painting while working, so that the final work would seem to be getting pulled in every direction at once by gravity, as though the image is being pulled apart, decomposing right before our eyes.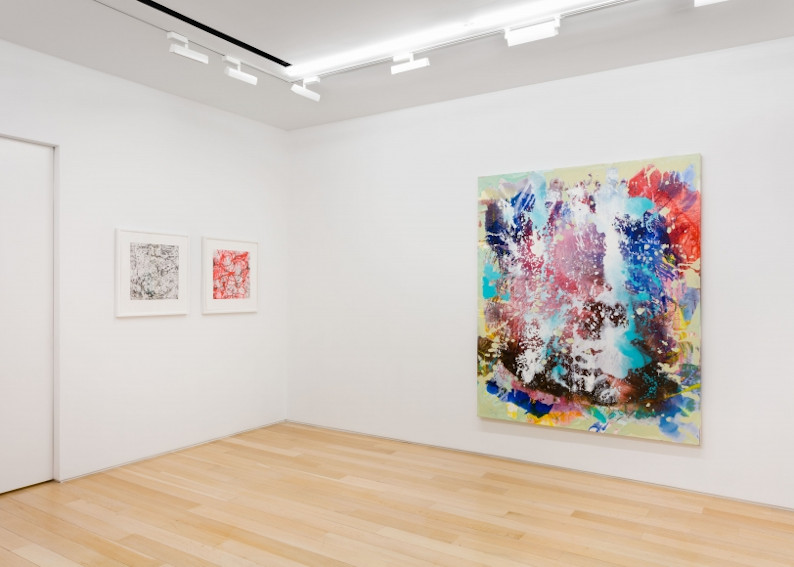 Jackie Saccoccio, Femme Brut, Installation View at Van Doren Waxter, 2020
Answers in the Form
It was also important to Saccoccio that viewers feel as though her paintings contain what she called "answers." She had an epiphany once while browsing the classical portraits in the Thyssen-Bornemisza Museum in Madrid. Each portrait seemed to her to have this profound presence that went beyond the figure—something that had less to do with the personage, and more to do with the paint, or the texture, or the light. In 2012, Saccoccio debuted a body of large-scale paintings she called Portraits, which she said grew out of that epiphany. Each of her portraits contains an amorphous, but unmistakable form that possesses a similar sort of visual presence. Covered in 50 or more layers of paint and innumerable marks, colors and textures, these portraits revel in complexity and confusion. Yet, Saccoccio succeeded in endowing each of them with its own straightforward answer, however cloudy, in the ethereal presence of a central form.

While making her paintings, Saccoccio was careful to never erase; but to only add. It was important to her that every moment of the process was contained within the final work. Even if we cannot precisely see everything beneath the layers, we can perhaps, on some level, perceive the weight of the past in the impasto ridges or in the subtle effect of the under colors. She called this idea of presenting everything all at once a form of "psychological Cubism," referencing the Cubist tenet of showing multiple simultaneous perspectives. Looking back at the statements Saccoccio made about her work has increased the respect I have for this artist, and for the appreciation she had for the multiplicity of the human experience. I find it so brave that she, on one hand, said her work is about impermanence, while on the other hand saying it contains answers. Some may consider that an oxymoron, but I agree with Saccoccio, that impermanence is the only answer. The sweetness of the work Saccoccio left for us to consider is a bit of honey to help us swallow that bitter pill.
Featured image: Jackie Saccoccio in her Connecticut studio, November 2019. Photo by Charles Benton courtesy Van Doren Waxter, NY.
All images used for illustrative purposes only
By Phillip Barcio