Blog Home
Hiscox Online Art Trade Report 2016: A (slightly self-celebrating) review by IdeelArt
Apr 21, 2016
Since 2013, the insurance company Hiscox (an underwriter at Lloyd's of London) has produced an annual report analyzing trends in the online art trade. The unbiased report is compiled with help from art market research company ArtTactic. In their very first report, Robert Read, Head of Fine Art for Hiscox, stated that the reason for publishing the report was both to debunk prejudices about buying art online and to forecast possible emerging trends in the market. This week, the 4th Hiscox Online Art Trade Report was released.
The Pros and the Controversy
Not everyone is thrilled about the Hiscox report. The main controversy among certain art world players is that the report exists at all. Not everyone is apparently thrilled about any kind of analyses being done on their business model. For centuries, the art business has had a deeply personal mystique attached to it. Many reject the idea that trends and forecasts are possible in a world as subjective as art. But only when something is analyzed can it be improved upon. The Hiscox report is intended to help art buyers make more informed decisions about what they buy. In general we support that.
Another controversy seems to be that the online art trade exists at all. Many traditionalists believe that the only way to buy art is in person, and that personal relationships between collectors, dealers, curators, artists and advisors are mandatory in order to maintain the sanctity of the business model. At IdeelArt, we understand the importance of personal relationships. What makes our model unique is that we curate the selection of art available on our site. We do develop personal relationships with artists who we believe create abstract art that's worth collecting for its aesthetic and intellectual qualities as well as its potential to create other kinds of value.
Of course, in such a growing market, with new players and new business models launched every year, the Hiscox report is missing a few key players such as Widewalls (a very competitive alternative to Artsy or Artnet), Artprice, or indeed IdeelArt!
As early adopters, and hopefully innovators in the world of curated online art sales, we found much in this year's report to celebrate.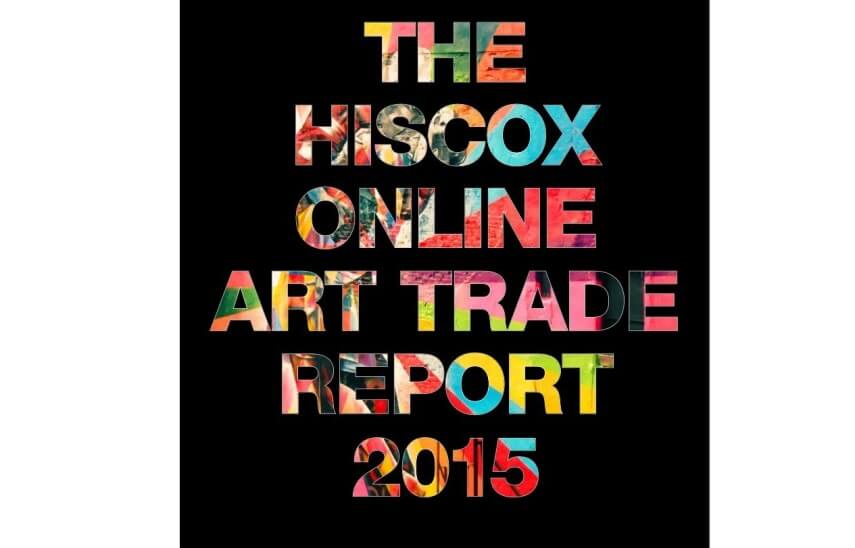 The Hiscox Online Art Trade Report 2015
Key Points From the 2016 Report
* Online art sales increased 24% last year, showing yearly revenue of £3.27 Billion.
Despite a general decline in global art sales since 2014, the online art market is thriving and even expanding. Even Hiscox increased their protected growth rate for next year's online market from 19% to 24%.
* Most of the artwork sold online in the past year was priced between £1000 and £10000.
This is precisely the price range of artworks available on IdeelArt. It's one of our core values to provide great contemporary abstract art to online buyers at a fair price point.
* "Pure Players," meaning online only art sellers, experienced even higher growth rates last year than the online market in general, with several experiencing growth in sales of 60% to 100%, and more.
This trend perfectly reflects our expectations at IdeelArt. This is the reason why, when we began this project more than two years ago, we committed to an "online only" strategy. By offering a curated selection of works online from a carefully selected group of professional contemporary abstract artists, we support the existing market structure while positioning our customers and our partners to benefit from the quickly expanding online market.
* 41% of brick and mortar art galleries reported that they generated online sales last year through a third party online marketplace.
Not only do we benefit from our status as a pure player, but we also partner with other qualitative third party online marketplaces, such as Artsy, Widewalls, Artnet, Artprice, AmazonArt or Artsper. We can attest that being present on these platforms works, as evidenced by the fact that we recently sold a painting through our Artsper partnership for £5,550.
* Only 28% of brick and mortar galleries reported that they have an online presence. 39% reported that they currently have no e-commerce strategy at all.
It isn't only established art buyers who are increasingly shopping for art online. 41% of new art buyers reported that they bought art online last year. Artists represented by the brick and mortar galleries lacking an online presence are missing out on opportunities to reach a large segment of the market. IdeelArt, as a pure player, is positioned to fill this gap by providing its represented artists access to the digital world.
* 31% of online art buyers (up from 24%) reported that social media had an influence on their art purchases in the past year, listing Facebook and Instagram as their preferred platforms.
IdeelArt maintains a dedicated presence on these two platforms, of course. We also connect with followers and new fans via Twitter, Reddit, Google+ and Pinterest.
* Overall, the two of the top 3 reasons online art buyers gave for choosing to purchase art through an online platform were the quality of the artwork, and searchability (The third one being the reputation of galleries represented, which is obviously irrelevant for IdeelArt which is a platform only available to artists).
IdeelArt takes the lead in both of these areas. Our commitment to curated artists assures that our customers have the highest quality work from which to choose. It is also one of our core values to constantly improve buyer experience by making our platform simpler, easier to navigate, beautiful and secure, and by constantly making new artists and artworks easier for buyers to discover.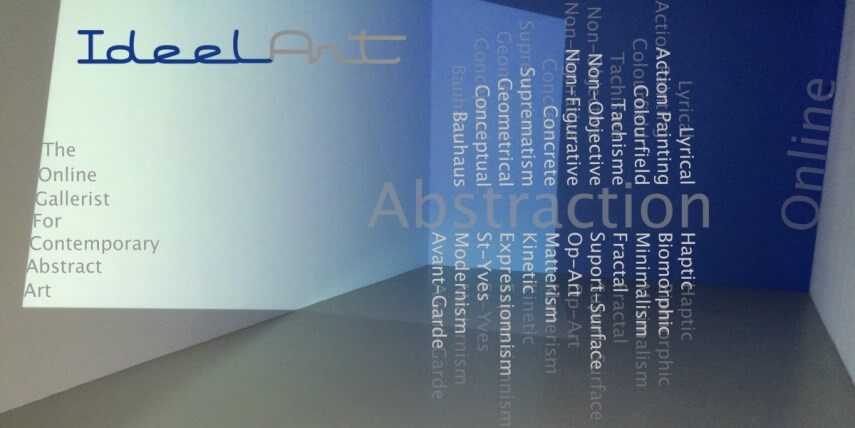 IdeelArt
The Highest Value is Meaning
We believe that the artists we choose to represent will continue to be sought after. We only partner with artists that have a proven, professional exhibition and collection record and that make work that we find relevant to the contemporary abstract art conversation. The future economic investment potential of art is impossible to predict, regardless of where or how a work of art is purchased. That's why we stress the importance of buying art that has other types of value, either because of the intellectual or aesthetic connection you have to the artist, or simply because you enjoy being in the presence of the work.
As we can see from the past four years of the Hiscox report, the trend in online art is toward more sales, not less. We believe IdeelArt provides a unique and valuable resource in this emerging market. Through our platform buyers benefit from the ease of "click and buy" online shopping while also benefiting from relationships they can trust. Our selective, customer focused strategy offers a buyer experience engineered to avoid the potential pitfalls of buying art online. As this exciting market continues to thrive, we look forward to the unique role we'll continue to serve.
To access the full report, please click HERE.
Featured Image: Online Art Auction (all images used for illustrative purposes only)