Blog Home
The Emotion in the Fantasy Art Objects of H.C. Westermann
Sep 27, 2017
Occasionally into the world of professional aesthetics comes a born artist: someone who remains dedicated to an idiosyncratic vision, and who makes things from the imagination for no other reason than compulsion. H.C. Westermann was one such artist. During his relatively brief career, Westermann bucked all prevailing trends, and stuck strictly to his personal notions of what defined fine art. Much of the work he made was strange, mysterious, abstract, and often inexplicable, even to him. But his devotion to craftsmanship and originality made him beloved by other artists. Donal Judd even once famously referred to him as "one of the best artists around," saying his sculptures were undeniably "something new." Nonetheless, Westermann was often snubbed by traditional art establishment. To this day, he is even often saddled with the totally unbefitting label of "outsider artist." In reality, there was nothing about his career that should have made him an outsider. He trained twice at the Art Institute of Chicago, once in the Applied Arts department after serving in World War II, and once in the Fine Arts department after serving in the Korean War. He also received the honor of two traveling, retrospective museum exhibitions during his lifetime: one at LACMA in 1968, and one at the Whitney Museum of American Art in 1978; and in addition he had one posthumous retrospective at the Museum of Contemporary Art in Chicago in 2001. Today, the work of W.C. Westermann remains under-acknowledged, perhaps because it simply does not fit neatly into any one particular movement in the art historical narrative. But for those who appreciate it, its uniqueness is precisely why it deserves to be celebrated. It is personal, passionate, and born of the fantasies of a natural born artist.
A Strong Work Ethic
Born in Los Angeles in 1922, H.C. Westermann was a natural tinkerer. His focused work ethic and attraction to wood working first manifested when he was a child, as he entered the realm of sculptural aesthetics by making homemade wooden toys for himself. After high school he started working in a logging camp, but when World War II broke out shortly after, he enrolled in the U.S. Marine Corp. He was an anti-aircraft gunner on a ship in the pacific theater during the war, and saw heavy action. The horrors of war affected him deeply, but he left his military service with a sense of patriotic pride. Following the war, he made use of his other childhood talent: acrobatics. He formed a two-person acrobatic team and toured with other performers across military bases in Asia, entertaining service members for one year. During his one-year acrobatic adventure, Westermann met and married his first wife, who was also a performer. Together, they left the world of performing and moved to Chicago, where Westermann enrolled in classes at the Art Institute.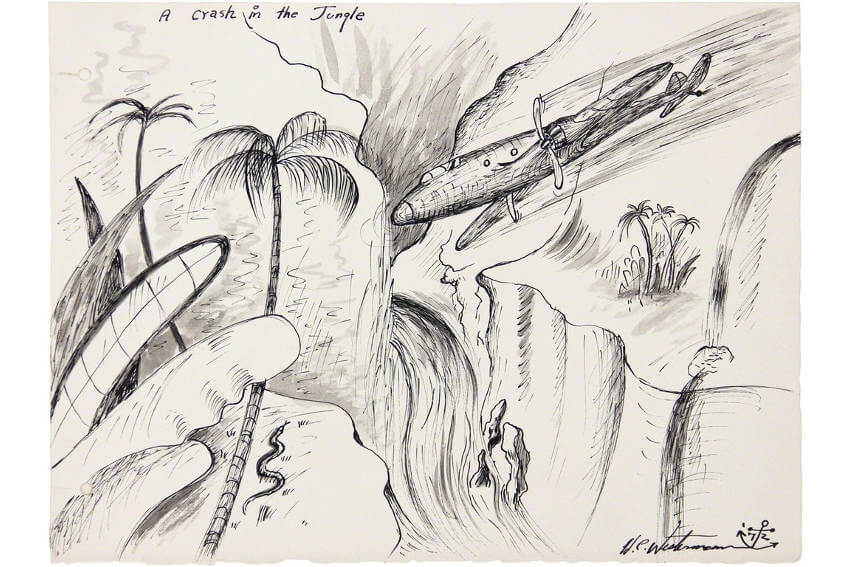 H.C. Westermann - A crash in the jungle, 1972, Ink on paper, 11 3/10 × 15 in, 28.6 × 38 cm, photo credits Linn Lühn, Düsseldorf
Shortly after arriving in Chicago, Westermann and his wife got a divorce. Disillusioned with love, life and art, Westermann re-enrolled in the Marines and shipped off to Korea. Upon arriving in this new theater of war, he soon realized it was nothing like World War II. He was disgusted by what he saw as a lack of purpose and an abundance of unnecessary carnage. After the conflict ended, Westermann returned to Chicago and once again enrolled at the Art Institute. This time, he enrolled as a fine art student on the G. I. Bill. During his studies, Westermann also took carpentry jobs. He prided himself on his strong work ethic, and was recognized for the high quality craftsmanship of his work. But to the customers, quality and craftsmanship was simply not that important: making a living as a carpenter also required prolific output. Discouraged once again, he abandoned carpentry work and shifted his creative focus purely to the goal of making objects from his own imagination and for his own enjoyment, for no other purpose than to witness the materialization of his ideas.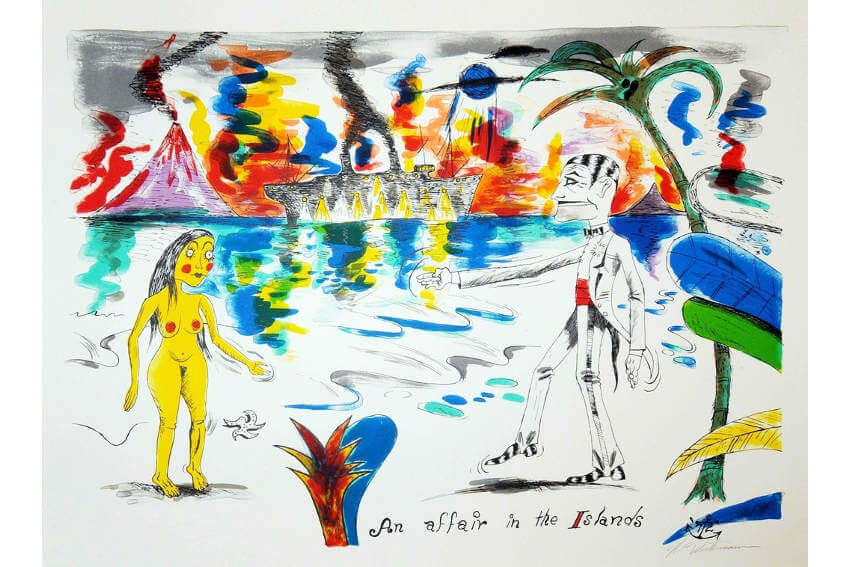 H.C. Westermann - An Affair In The Islands, 1972, 25 × 33 in, 63.5 × 83.8 cm, photo by Galerie 103, Koloa
A Lucky Break
Shortly after dedicating himself to what was sure to be the life of a struggling artist, Westermann was offered a chance to exhibit his work in the home of a prominent Chicago socialite named Ellen Borden Stevenson, the ex-wife of former Illinois Governor Adlai Stevenson, during one of her parties. One of the attendees at the party happened to be the acclaimed German-American architect Mies van der Rohe, who lived and worked in Chicago for the entirety of his time in America. At that party, Van der Rohe became the first person to buy a work of art by Westermann. The respect of such prominent supporters kickstarted a viable art career for Westermann. He was able to maintain his individuality and devote himself purely to his own vision.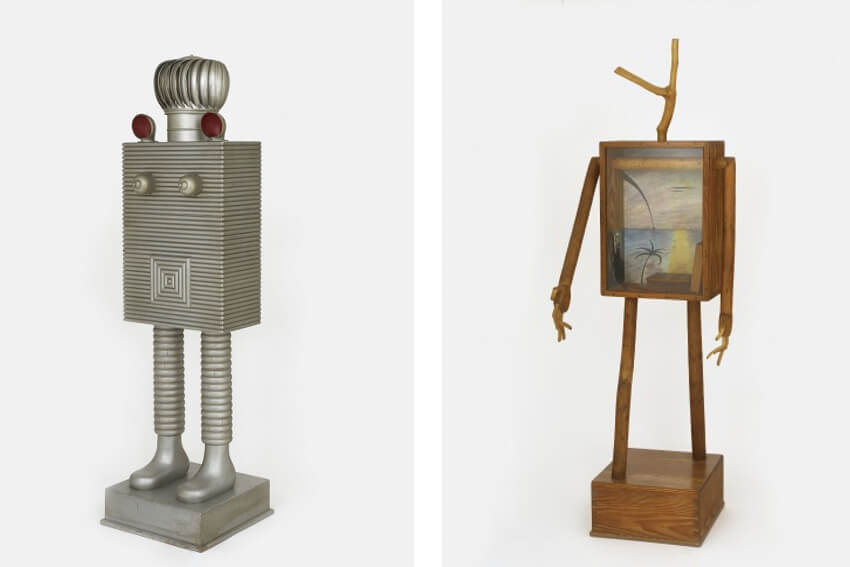 H.C. Westermann - The Silver Queen, 1960 (Left) and Female-Figure, 1979 (Right), photo credits Venus Over Manhattan
That vision included an immense body of cartoonish paintings and drawings expressing a dark, sardonic critique of war and American culture. It also included a fantastical assortment of sculptural objects, which is the body of work for which he is perhaps best well known today. His sculptures combine the aesthetic of fine woodworking with that of found art and assemblage. Many of the pieces contain boxes with doors on them. When the doors are opened, hidden objects, images and inscriptions are revealed inside, which include pop culture references such as pink flamingoes, as well as poetic literary quotations and statements about the personal experiences Westermann had in war. They simultaneously reference the vast cultural influences of his time, while also speaking to his own experiences in a personal way. Ironically, though such work did not easily fit in with the art movements of his own generation, it has become common in the decades since his death. That just means that H.C. Westermann was ahead of his time. That meant he struggled at times while he was alive, but he is also an example of how only through dedication to personal vision can anything truly original emerge.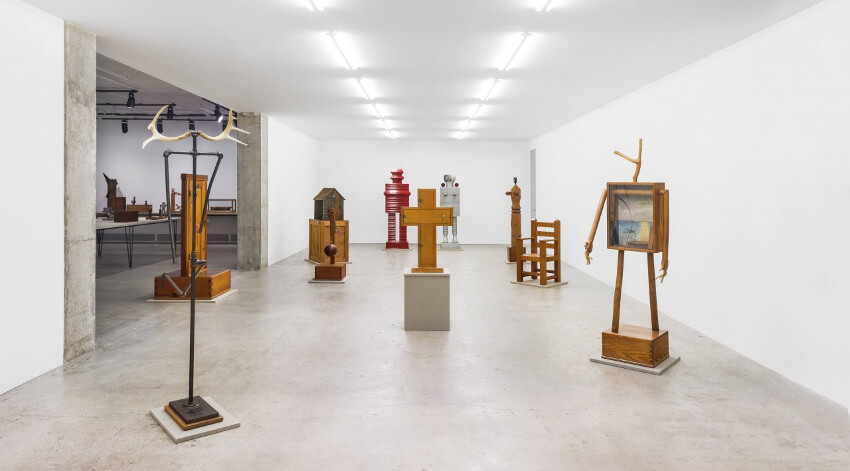 H.C. Westermann - See America First exhibition at Venus Over Manhattan, New York, photo credits Venus Over Manhattan
Featured image: H.C. Westermann - Untitled (Swamp Creatures), 1969, Ink and watercolor on paper, 22 1/5 × 30 in, 56.5 × 76.2 cm, photo credits Linn Lühn, Düsseldorf
All images used for illustrative purposes only
By Phillip Barcio