Blog Home
Hard Edge Painting For Sale? Look No Further!
Jun 19, 2020
Forms are finite, flat, rimmed by a hard clean edge, notoriously explicated Jules Langsner, an art critic and curator, the emerging tendency of simplified, often geometric forms with razor-sharp contours and monochromatic fields of clean-edged color. By staging an exhibition at the Los Angeles County Museum of Art in 1959 and featuring artists Frederick Hammersley, Karl Benjamin, John McLaughlin, and Lorser Feitelson - dubbed Abstract Classicists - he gave rise to the prominence of this distinctly Californian style of clean lines and intense, contrasting colors. The appeal of the precise, lucid, and clean compositions continues to these days, and we at IdeelArt can help you find your own hard edge painting for sale. Emerging in stark contrast to an overly affective, gestural work of Abstract Expressionists, hard edge painters expanded on the concerns and preoccupations of early geometric and constructivist art but diverging and meandering stylistically. The works of Ellsworth Kelly, Leon Polk Smith, and Myron Stout emphasized the simplicity of form and clarity of color while championing a wholism of single, unitary composition with no figure/ground effect. In contrast to Kelly's purified language of precisely delineated shapes stands Kenneth Noland's soak-stain technique that often made his hard edges too fuzzy or Frank Stella's austere, self-referential minimalism that emphasized the flatness of the picture plane and its boundaries. We have most carefully selected nine artworks that capture the uniqueness of hard edge paintings - find your favorite and add it to your collection!


Audrey Barcio - Untitled #3
Untitled #3 exemplifies the legacy of Suprematism, Geometric Abstraction and Minimalism as Barcio aptly transforms nothingness and void into concrete form. However, her work extends that historical lineage - her preplanned composition and a raw canvas with a grey and white pattern alters as she submits herself to her visual instincts and her (un)conscious intuition. She fills the Photoshop void with contrasting fields of black and red that construct the concreteness of the composition and expose its meaning without defining it. Barcio is an American abstract artist who examines and builds on the heritage of Modernism and its intersection with the tools of the Virtual Industrial Age. She lives and works in Chicago.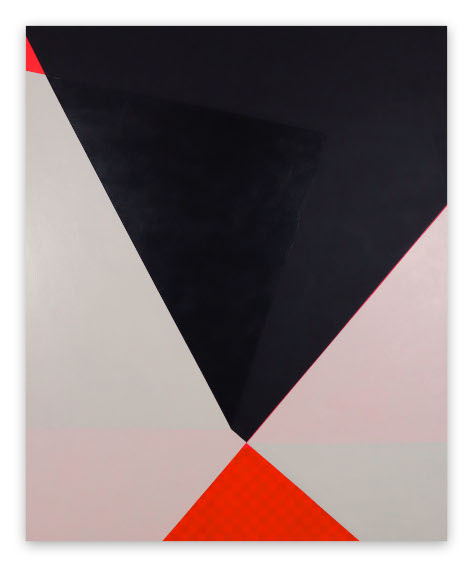 Audrey Barcio - Untitled #3, 2017. Acrylic, flash and mica on canvas. 152.4 x 127 x 3.81 cm.
Macyn Bolt - Tightrope
In Tightrope Bolt highlights a discomforting tension created by contrasting foreground/background, center/edge and inside/outside. This contrast is embodied in multifarious forms that create a visual riddle. The riddle itself is not to be solved but to provide a charity of interpretations and distinct perceptual challenges. His geometric vocabulary stemming from architectural schemata sets a semantic framework for the understanding of his work. Bolt is an American abstract painter who uses a visual language informed by geometric abstraction. He lives and works in Brooklyn, NY, and upstate Pennsylvania.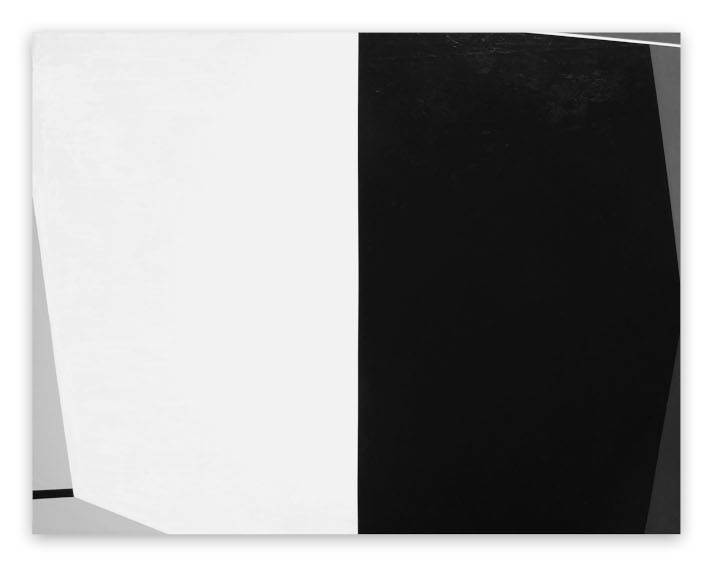 Macyn Bolt - Tightrope, 2017. Acrylic on canvas. 96.9 x 122 cm.
Daniel Göttin - Untitled 1, 2014
Part of six similar painting works of acrylic painted MDF of the same size, Untitled 1, 2014 embodies the most minimalist form of two colors dividing the painting into two separate geometric forms. It radiates clarity and thoughtfulness that rests on Göttin's iterative, repetitive strategy that responds to the changing conditions. Inspired by Minimal Art, Concrete Art, and Conceptual Art, he explores with a great flair the subjectivity of perception. Göttin is a Swiss artist whose work is divided between site-specific work and colored or painted objects for walls. He lives and works in Basel.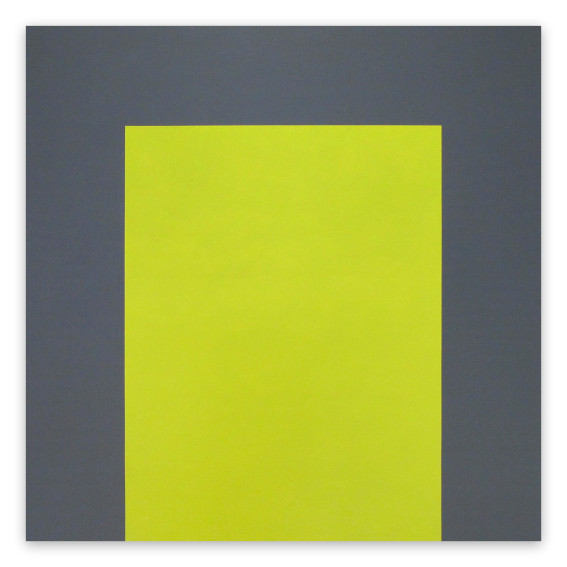 Daniel Göttin - Untitled 1, 2014, 2014. Acrylic on MDF. 120 x 120 cm.
Clay Johnson - Untitled 560
This acrylic on paper piece demonstrates Johnson's lasting commitment to the process as he allows his artworks to emerge through a series of unrestrained responses. He pulls horizontal bands of color across the surface, letting his initial color choice to guide the composition forward. As multiple layers of paint are built up, Johnson sands through these layers suggesting what is underneath. Untitled 560 reveals the result of his visceral reaction - the luminous, polished surface with complex color combinations. Johnson is an American abstract painter whose reductivist compositions explore the relationships between color, form, and texture. He lives and works in Laramie, Wyoming.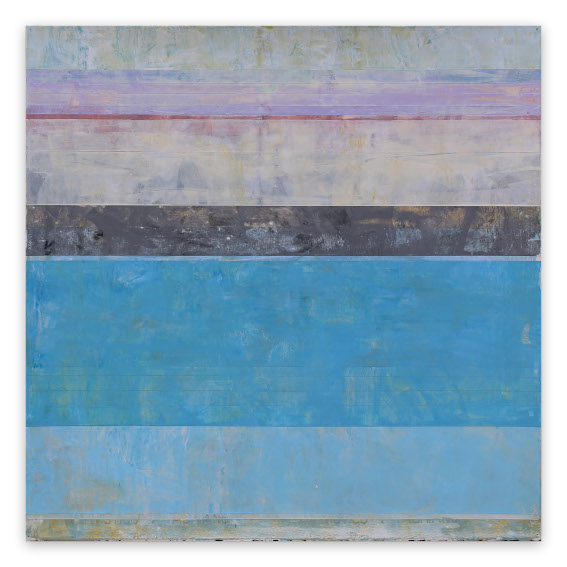 Clay Johnson - Untitled 560, 2016. Acrylic on paper. 55.88 x 55.88 cm.
Holly Miller - Wish 3
Part of the Wish series, Wish 3, self-referentially suggests the interpretative horizon of this artwork - its cropped, rounded shapes with lines crossing it conveys at the same time beauty and pain. Miller is celebrated for her use of threaded lines that underline the physical barrier and interrupts the shapes and stops them from connecting. Moreover, she is fascinated with interpretive persuasiveness of a medium that in its simplicity and unpretentiousness blends drawing, painting, and sculpture. Miller is an abstract artist who strives to merge the optical with the tactile through the language of abstraction. She lives and works in New York.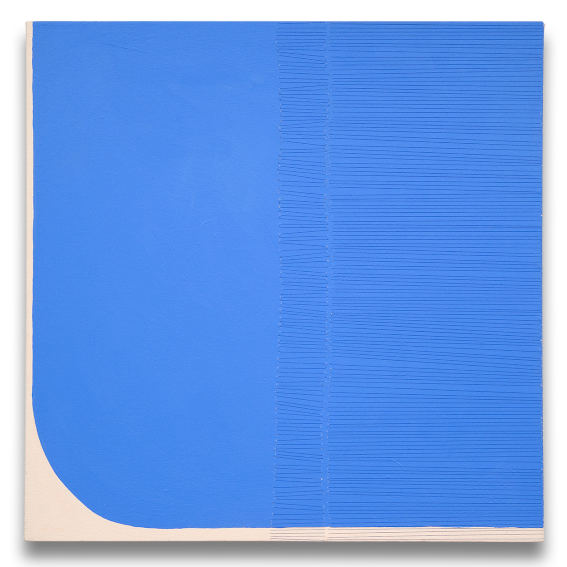 Holly Miller - Wish 3, 2010. Acrylic and thread on canvas. 56 x 56 cm.
Ulla Pedersen - Cut-Up Canvas I.5
This vibrant acrylic piece reveals Pedersen's distinct approach recognizable for its reduced colors and compositional minimalism with hard-edged shapes on solid-colored fields. The intensity of tension created by the interplay of her skillful use of colors, patterns, and shapes amplifies itself to the point of complete implosion and transformation to thorough harmony. Cut-Up Canvas I.5 conveys the persuasiveness of formal aesthetic elements and the relationships that emerge and evolve when elements like color, form, shape, and pattern are blended, shifted and layered. Pedersen is a Danish abstract artist. Her work is a minimal and concrete exploration of color, materiality, form, and balance. She lives and works in the Capital Region of Denmark.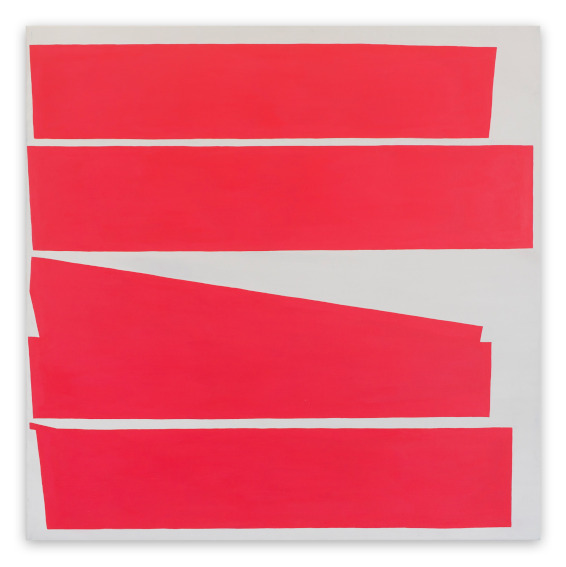 Ulla Pedersen - Cut-Up Canvas I.5, 2017. Acrylic on canvas. 60 x 60 cm.
Richard Caldicott - Untitled (15), 2013
Widely celebrated for his series featuring Tupperware, Caldicott challenges photographic codes of representation as he employs traditional photography methods to create mesmerizing abstract work of a vibrant, colorful palette. Untitled (15), 2013 reflects his minimalist approach that balances between transparency and saturation while the shimmering colors emanate vividness and intensity of luminous, attractive energy. Furthermore, the pellucid radiance allures a viewer in its self-allusional and externally referential matrix. Caldicott is an English artist who explores abstract photography and creates abstract compositions on paper. He lives and works in London.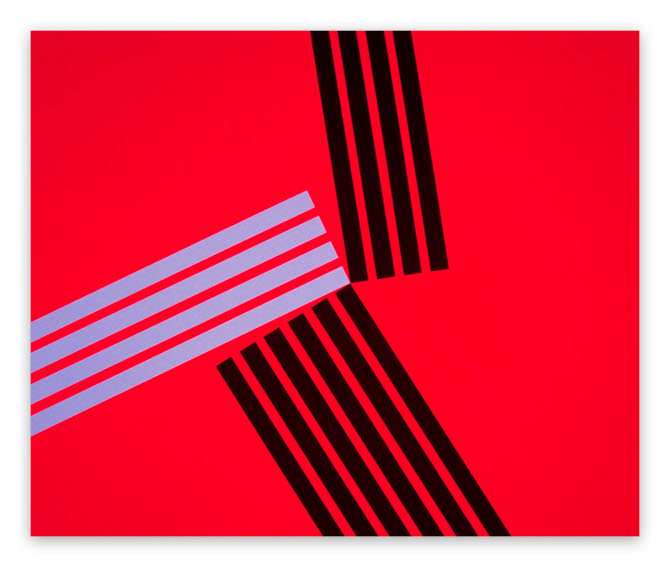 Richard Caldicott - Untitled (15), 2013, 2013. C print. 50.8 x 61 cm.
Laura Newman - Room
Room exemplifies Newman's use of a vocabulary of geometric form and stained color often associated with Modernist exploration of the surface of a painting that creates an experience of seeing and representing space. She instigates the dialogue between the flat surface of the picture plane and the illusion of a spatial world that it can evoke. Stains of translucent acrylic paint interact with a crisp mechanical line and a hard-edged sequence of colored shapes are reconciled in a corner that leads to a schematic mirror. Newman is an American abstract artist who creates vivid, dynamic paintings. She currently lives and works in Brooklyn, New York.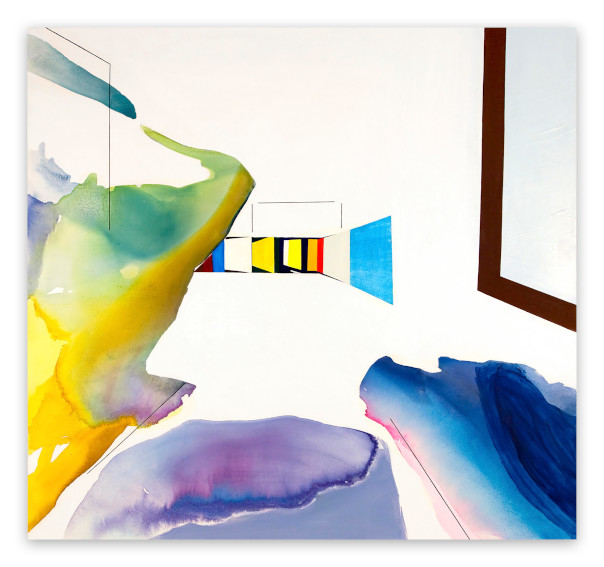 Laura Newman - Room, 2013. Oil and acrylic on canvas. 142 x 152 cm.
Kyong Lee - Paradise 11
Paradise 11 subtly intertwines the ever-opposing realms of emotional and physical underlining the color as Lee's primary visual language. She creates gradated color paintings, where each layer is applied and dries over a fixed amount of time, thus building the relationships between colors and the temporal. For Lee, every color reflects the multitudes of emotional life and time allows her to express her emotional experiences as they temporally evolve. Lee is a Korean abstract artist whose work reconciles physical and emotional realities through a multi-disciplined exploration of color, material, process, and form. She lives and works in Seoul, Korea.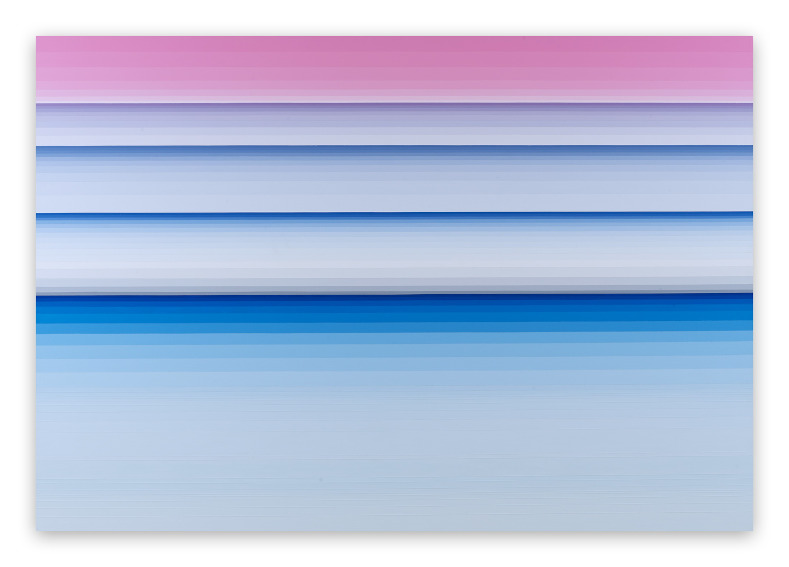 Kyong Lee - Paradise 11, 2006. Acrylic on canvas. 112 x 162 cm.
Featured image: Laura Newman - Room, 2013, installation view.
By Jovana Vuković