Blog Home
Here's Some Soothing Grey Abstract Art For Your Wall
Jul 17, 2020
Falling between two absolutes - black and white - grey is nothing less but perfect neutral. Its complexity is deeply entrenched in the balance it embodies and its intermediate essence. Being expelled on the very verge of the art for centuries, it made the grand entrance in Picasso's Guernica capturing with solemnity and refine the remorseless bombing of Guernica during the Spanish civil war. There, grey revealed its uniqueness to engage our intellect in comprehending the truth beyond the given stimuli of color. Abstract artists embraced grey in their efforts to unearth the true nature of art and much of grey abstract art soon became part of abstract art canon. In Truth is Always Grey, art historian Frances Guerin argues that Mark Rothko, Jackson Pollock, Jasper Johns, and, later, Brice Marden, Agnes Martin, and Cy Twombly, made their most radical departures into abstraction in grey. She believes that abstract artists manipulated the intrinsic complexity of grey to serve them both as color and medium as they were asking - what is painting? Undervalued, and often perceived as non-color grey itself struggled as much as abstract art itself with legitimacy and recognition. Devoid of meaning, it became a means for abstract artists to examine on a meta-level the nature of art, the role of an artist, and furthermore, the relationship between the art and its critics. Below you will find our selection of the ten most amazing grey abstract artworks that span a number of diverging styles. Choose your favorite grey piece from this week's selection and add it to your collection.


Jeremy Annear - Random Geometry (Opening)
Random Geometry (Opening) is a beautifully soothing oil on canvas of layered shares and complex surface texture. Calming earth tones and raw primary colors convincingly refer to nature and converge primordial and ancient motives with Annear's modern visual expression. Grey accentuates and frames the central part of the composition but as it does so, blends in with the pronounced earth tones to mollify the contrast. That creates a calming harmony as revealed in Annear's purity of form and construction and his most distinct precision of composition. Annear is an English painter who was introduced to St Ives modernism in his early formative years. He lives and works in Cornwall.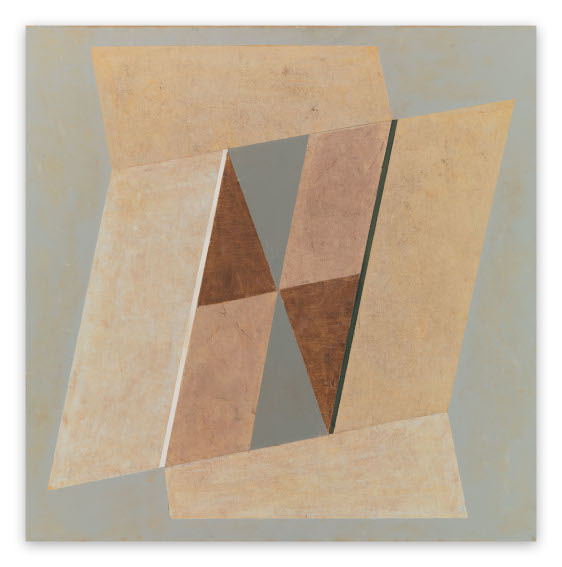 Jeremy Annear - Random Geometry (Opening), 2018. Oil on canvas. 80 x 80 cm.
Jean Feinberg - Untitled - OL3.96
Made of oil and fabric Untitled - OL3.96 captures Feinberg's lasting fascination with discarded material that she incorporates into her paintings. Her color choices are often a consequence of her compositional decisions and the overwhelming presence of grey reflects her volition. The poetic implications of her simple and economic approach are noticeable in an accentuated sense of materiality that invites viewers to a contemplative and immaterial journey that implodes into emotions and self-reflection. Feinberg is an American abstract painter who uses paint, wood, canvas, and paper to explore the intersection of painting and object. Using salvaged wood, she constructs paintings that incorporate sculptural qualities, blurring the lines between 2D and 3D representation. She lives and works in New York City.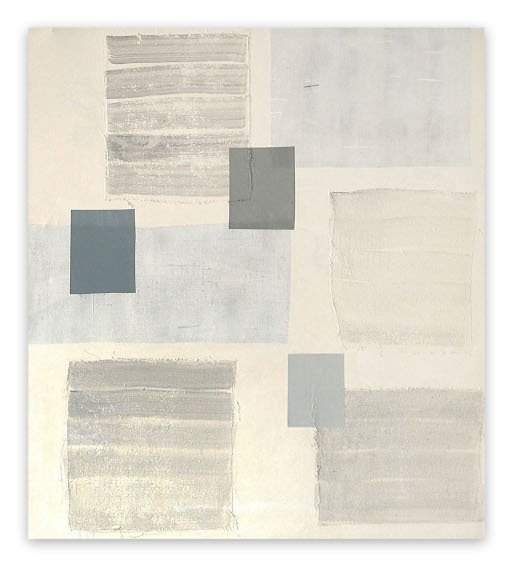 Jean Feinberg - Untitled - OL3.96, 1996. Oil and fabric on linen. 121.92 x 109.22 cm.
Tom McGlynn - Test Pattern 12 (Grey study)
Test Pattern 12 (Grey study) is a part of the Test Pattern series that sets up a generic template as a poetic prompt to examine how behavioral responses to color and form stimulate an abstract sense of contemporary being. The ostensible template here refers to the color calibration test of the camera's eye in a common tool for this purpose, the test pattern. This particular piece uses grey color to achieve the purposeful play with instrumental meaning and its possible liberation in a poetic trance. McGlynn is an American abstract artist, independent curator, and writer whose oeuvre explores interactive color and proportion in tension with their potential semiotic meaning. He lives in the New York City area.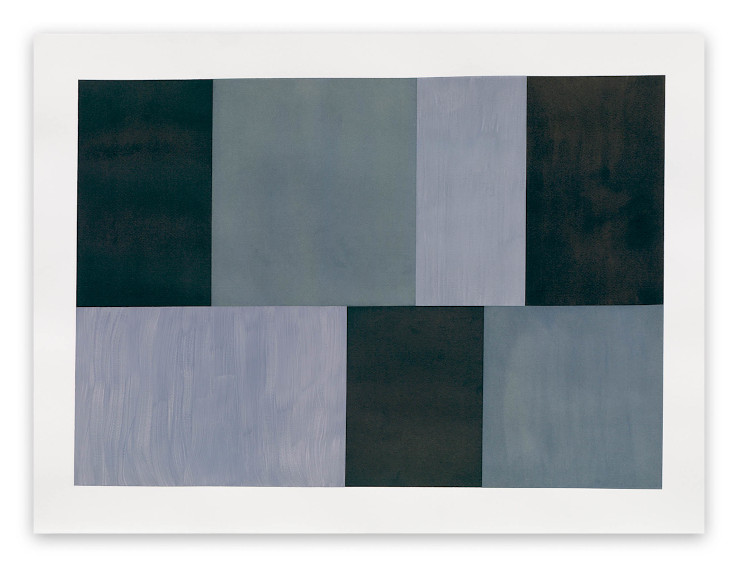 Tom McGlynn - Test Pattern 12 (Grey study), 2005. Ink, gouache and acrylic on Fabriano paper. 55.8 x 83.8 cm.
Arvid Boecker - #1251
This recent Boecker's piece exemplifies his distinct exploration of color itself on the standard rectangular canvas which is divided by a longitudinal line into two fields painted with two different hues of grey and a beige stripe that occupies the right field. Scrupulous about the color Boecker applies up to 40 layers, both wash, and impasto, but also removes old layers allowing the echoes of erosion to remain visible. The lengthy creation process during which his paintings mature is inherently meditative as he simultaneously reflects on the color and its effects. Boecker is a German abstract painter whose work mobilizes the tensions and harmonies that exist between color relationships, textures, and the processes of time. He lives and works in Heidelberg, Germany.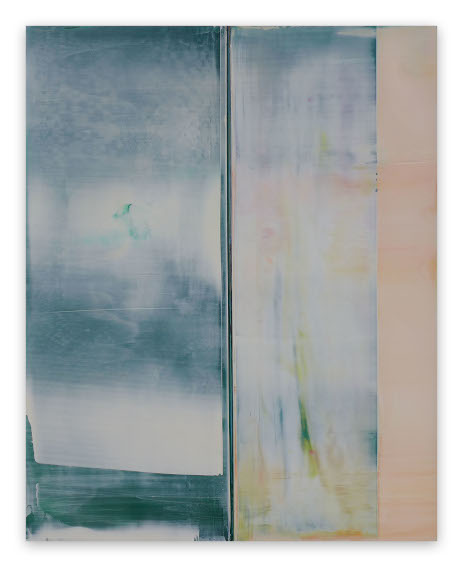 Arvid Boecker - #1251, 2019. Oil on canvas. 50 x 40 x 5.5 cm.
Marcy Rosenblat - Gray Curtain Wall
Celebrated for her process art, Rosenblat allows her most intuitive self to take the lead and follow the inner intrinsic motions. She uses common household products such as paper towels during the painting process to achieve the pictorial illusion. Every layer of Gray Curtain Wall resembles a veil through which the revelation and obfuscation immerse the viewer and initiate his/her own introspection. Grey that dominates this artwork adds to the contemplative dimension of the work making the introspection more compelling. Rosenblat is an American abstract process painter. Her paintings and prints are layered, colorful and complex. Born in Chicago, Illinois, she currently lives and works in Brooklyn, New York.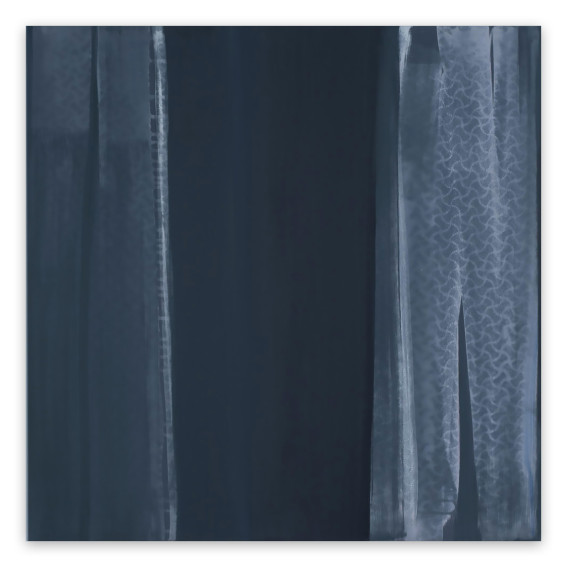 Marcy Rosenblat - Gray Curtain Wall, 2015. Acrylic on canvas. 91 x 91 cm.
Michael Cusack - St.Germain
This strong and persuasive piece is a result of Cusack's highly physical technique, full of striving and intense focus. His colors are thick and heavy and radiate seriousness and danger simultaneously. The surface is built up with color, with grey dominating the palette, applied in unpremeditated movements, inquisitively as he coaxes shapes into existence. The shapes and forms in St. Germain are locked in the struggle and the rising tension is resolved in the labor-intensive embodiment of his metaphysical ideas. Cusack is an Irish-born, Australia-based abstract painter. His work is painterly, emotive, dramatic, and evocative of the struggle between forces of nature. He lives and works in Byron Bay, Australia.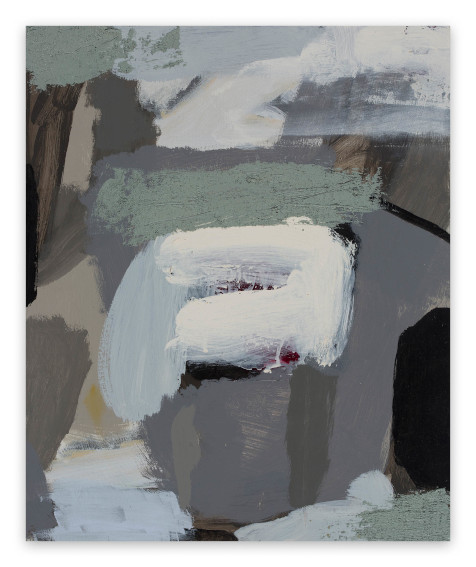 Michael Cusack - St.Germain, 2018. Mixed media on plywood. 46 x 38 cm.
Fieroza Doorsen - Untitled 2012
Untitled 2012 simultaneously embodies tensions and harmonies arising from the seemingly colliding dichotomy of structure and intuition. It transcends in its most unique way contradictions between the organic and geometric, the systemic and random. Her subdued palette consisting of white, grey and black abundantly conveys the self-explanatory narrative of this ink and acrylic piece whose meaning vacillates between the cryptic one open to contemplation and spectatorial interpretation and the one of an inconclusive self-referential code. Doorsen is an English abstract artist who has developed her own personal language with an emphasis on pattern and colored forms. She lives and works in London.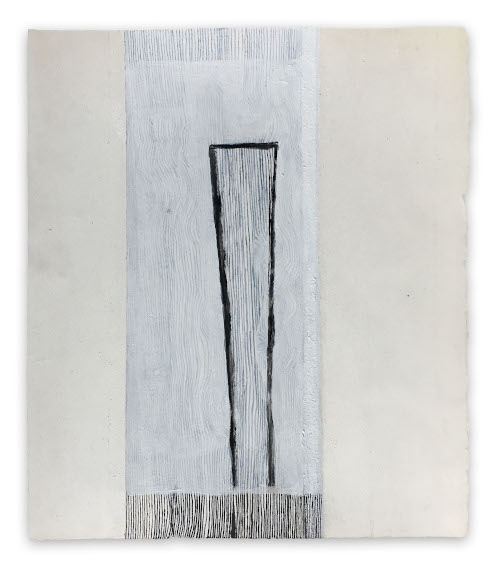 Fieroza Doorsen - Untitled 2012, 2020. Ink and acrylic on paper. 29.5 x 25 cm.
Daniel Göttin - 2003 Untitled 4
This adept Göttin's piece, minimalist and strictly geometric, exposes to view in the most reduced form a light grey rectangular surrounded by a dark grey frame. In it most essential simplicity, 2003 Untitled 4 radiates clarity and thoughtfulness that rests on Göttin's iterative, repetitive strategy that responds to the changing conditions. Inspired by Minimal Art, Concrete Art, and Conceptual Art, he explores with great flair the subjectivity of perception. Göttin is a Swiss artist whose work is divided between site-specific work and colored or painted objects for walls. He lives and works in Basel.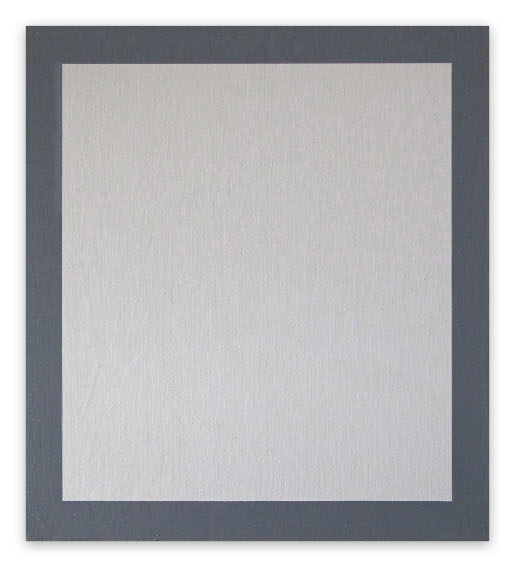 Daniel Göttin - 2003 Untitled 4, 2003. Acrylic on cotton fabric on MDF. 40 x 36 cm.
Kyong Lee - Eckige Masse 054
Celebrated for her abundant use of color as her primary visual language, Lee meticulously selects two hues of grey to express the depths of her effective states. In Eckige Masse 054 she delves into her own emotional experiences revealed in coaction with her physical surroundings. She tries to capture the flow of time and the layering of experiences as she cogitates about the memory and vision of the past that is distorted by the passing of time. Lee is a Korean abstract artist whose work reconciles physical and emotional realities through a multi-disciplined exploration of color, material, process, and form. She lives and works in Seoul, Korea.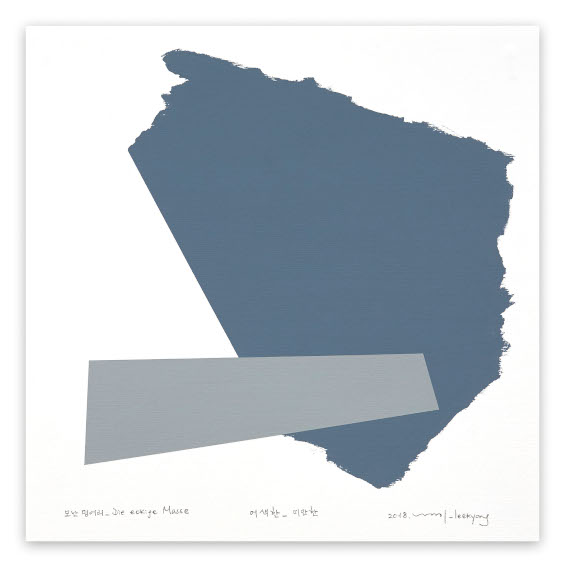 Kyong Lee - Eckige Masse 054, 2018. Acrylic on Fabriano-pittura paper. 35 x 35 cm.
Audrey Stone - Grey
Grey exemplifies Stone's fascination with a sewn element as she adds hand-woven lines of thread on an evanescent grey canvas. The thread lines probe the grey surface creating the strong sculptural presence juxtaposing two- and three-dimensional nature of the line. Her exploration in Grey unfolds on an intimate scale as the raw surface becomes replaced by the new qualities of reduced color and more complex composition. Stone is an American abstract artist. Her work explores color, line, materiality, and process across multiple mediums and surfaces. She was born in New York City, and currently lives and works in Brooklyn.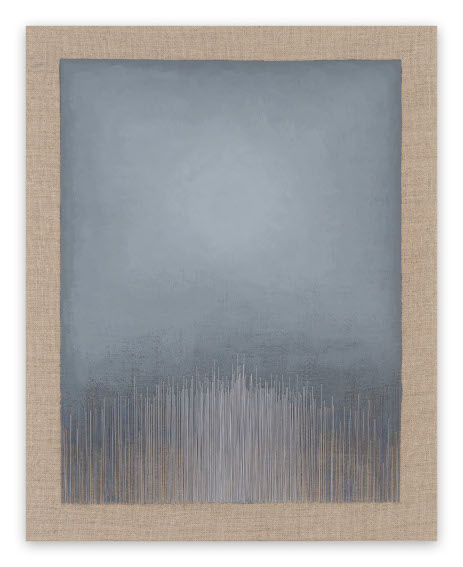 Audrey Stone - Grey, 2017. Flashe and thread on canvas. 38.1 x 30.48 cm.
Featured image: Jean Feinberg - Untitled - OL3.96, 1996, installation view.
By Jovana Vuković