Blog Home
Discover the Gouache Art You Can Collect
Jan 3, 2017
We have written before about gouache art, exploring its rich history and traditions in relation to abstraction. Gouache is a versatile paint medium that combines some of the most desirable traits of several other mediums. Gouache can be opaque like oil paints, but it dries quickly like acrylics. It is water-activated like watercolors, so it can be re-activated easily after it dries, but since it is not necessarily translucent it beats watercolors in terms of vibrant hues. Gouache is also convenient to use and easy to clean up after, making it easy for a beginner to learn with. And yet despite its simplicity, the subtleties and abstract potentialities of gouache can take a lifetime for a painter to truly master, and for a viewer of gouache art to fully appreciate.
Collecting Gouache Art
Many important 20th Century abstract painters used gouache. Agnes Martin liked it because once dry its properties allow it to be drawn on with other mediums like ink and graphite. Alexander Calder prized gouache for its immediacy and for the vividness of the colors it helped him produce. And Matisse used gouache to make some of his most famous works, his iconic cutouts, those bright, colorful abstract collages he created in his 70s after being diagnosed with cancer.
Today, contemporary artists utilize gouache in their work for many of the same reasons the masters of last century did: because of its brilliant colors, its ease of use, its immediate impact on the surface and the viewer, and its layered capacity to evoke contemplation. Several of the contemporary abstract artists we represent on IdeelArt have incorporated gouache into their oeuvres. If you are a lover or collector of gouache art, here is an introduction to some of those artists, along with examples of their work:
Joanne Freeman
The gouache works of Joanne Freeman are painted on handmade Indian Khadi paper, a traditional rag paper made from 100% cotton fiber. Her compositions convey a combination of hard-edge geometry and organic gestures. They result from a process that is partly based on control and partly based on improvisation. She tapes off areas to achieve a hard-edge then spontaneously evolves the image from there. The specific properties of gouache allow Freeman to convey physicality and emotion in a language of clear, vivid color. The two works shown here are part of her Covers series, which references the pared down aesthetic of Mid-Century albums and paperback book covers.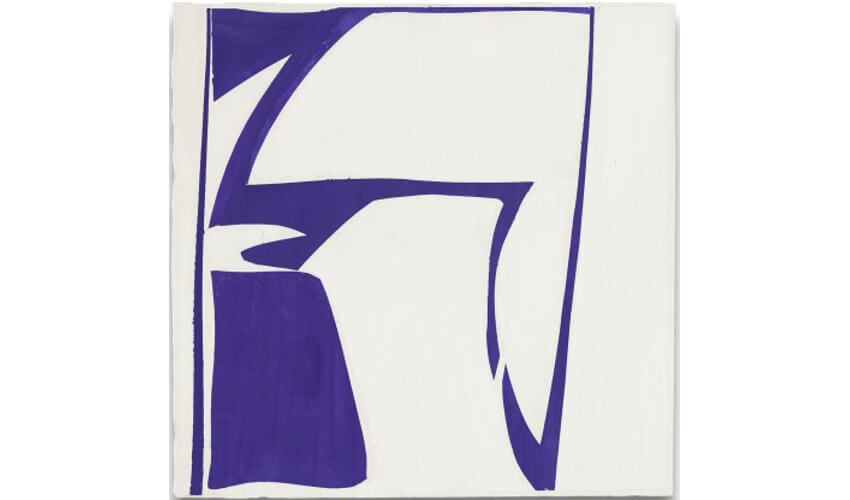 Joanne Freeman - Covers 13-Purple, 2014. Gouache on handmade Khadi paper. 13 x 13 in
Jean Feinberg
Jean Feinberg draws on a variety of materials and mediums to explore the ways color relationships interact with materials and space. She often constructs her gouache works in conjunction with found paper, building the paint and collage elements atop Japanese paper. These layered, ethereal works begin with the innumerable pieces of colorful scrap paper Feinberg has collected throughout her studio. The scrap paper informs the color palette and guides the shapes and lines within the compositions, building toward an exploration of emotion and natural forces.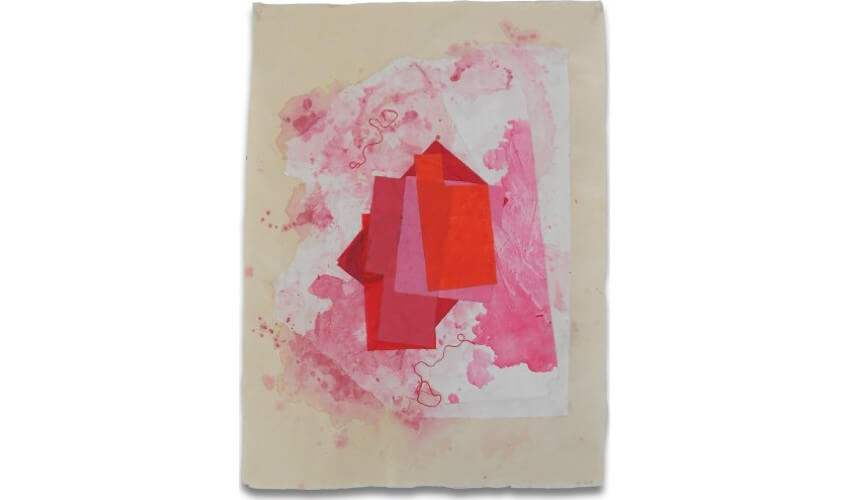 Jean Feinberg - Open Heart, 2015. Gouache and collage on Japanese paper. 24.8 x 18.5 in
Ellen Priest
Jazz music is a vital influence for Ellen Priest. Her large, dimensional, abstract collages begin with smaller-scale studies painted intuitively on vellum with gouache. Priest calls these studies visual encounters with a jazz composition. In her Jazz Cubano series of work, the gouache paint creates a flattened look, while the intensity of the colors interact with the active white space to create dimensionality, emulating the sensations of light, water, air and space in summertime at the beach.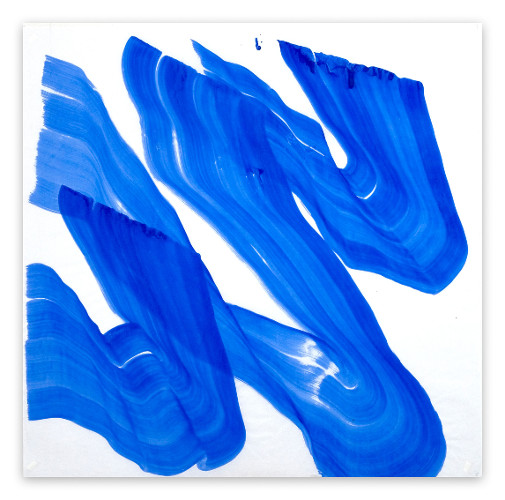 Ellen Priest - Jazz Cubano #5 front study, 2013. Unique. Gouache on paper. 106.7 x 106.7 cm
Tracey Adams
Like her paintings on panel, the gouache and paper works Tracey Adams has been creating since 2016 explore the meeting place of organization and spontaneity. For each gouache work Adams establishes certain strict parameters, such as a limited color palette or a particular vocabulary of physical gestures. Within that framework she then instinctively builds the composition using a combination of gouache, ink and collage.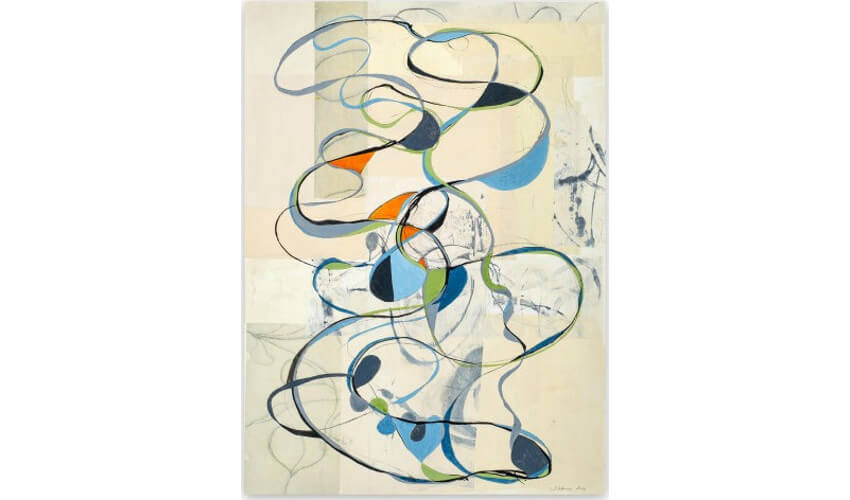 Tracey Adams - Music is a Means of Rapid Transportation, 2016. Collage, ink and gouache on Arches paper. 29.9 x 22 in
Elizabeth Gourlay
The paintings of Elizabeth Gourlay are rich with metaphorical implications. Using layered colors and a mixture of mediums they emerge out of an inner emotional response to elements both intellectual and external. Her Broken Line gouache paintings are part of a larger series of works Gourlay created in response to the natural and architectural surroundings she encountered during time spent in Umbria, Italy.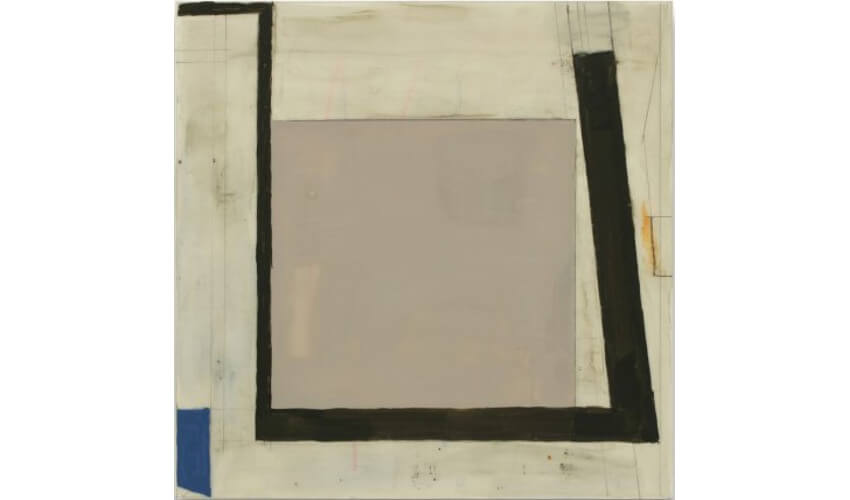 Elizabeth Gourlay - Broken Line B, 2014. Graphite and gouache on vellum. 8.7 x 8.7 in
Margaret Neill
Energy and physicality emanate from the lyrical paintings of Margaret Neill. Patterns emerge and disappear; organic physical gestures intermingle with geometric space; a sense of calmness and harmony exists in the midst of something complex. Neill tends to work in series, exploring what she calls a particular formal conception until she feels that the idea has resolved itself. The works in her Groove series incorporate squiggled layers of snake-like forms, while her Switchback series explores a combination of translucent and opaque ovoid shapes.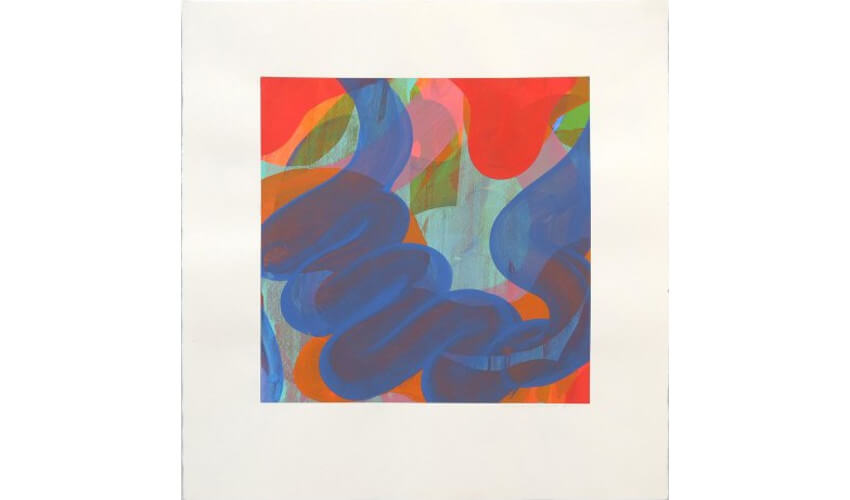 Margaret Neill - Groove 2, 2005. Acrylic and gouache on paper. 22.8 x 22 in
Tom McGlynn
The artwork of Tom McGlynn responds to what he calls "social abstractions" in the contemporary environment, for example the ubiquitous visual compositions common in signs and logos. He poetically interprets the essence of these abstractions to create works that connect with viewers on an instinctive level. He uses a combination of acrylic paint and gouache to achieve a concentrated, vivid color palette, simplifying his compositions to their purest state. McGlynn describes his Decal series as referring to "a type of appliqué culture, a disembodied phenomenology of color and form," while his Test Pattern series references what he calls "the color calibration test of the mechanic eye."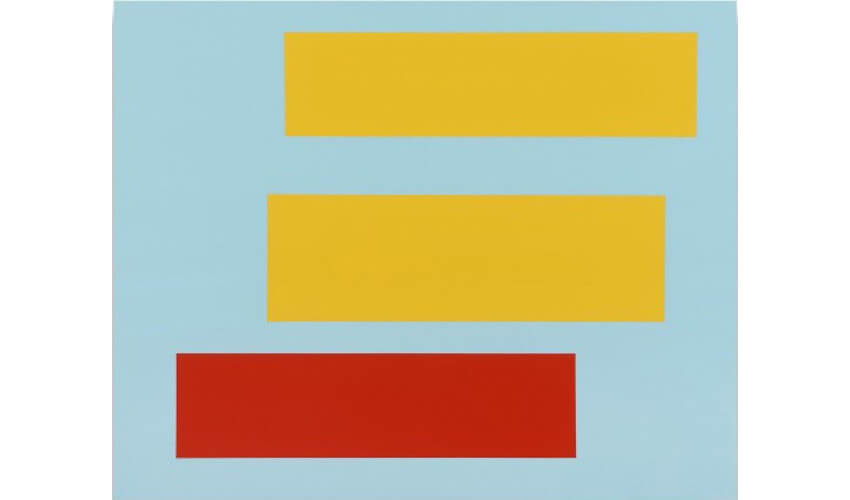 Tom McGlynn - Decal (Two Yellow Bars Over Red on Blue), 2014. Acrylic/gouache on wood. 23.6 x 29.9 in
Featured image: Tom McGlynn - Acoma 1, 2012. Unique. Acrylic/Gouache on wood. 60.9 x 76.2 cm
By Phillip Barcio