Blog Home
Geta Brătescu - Drawing Stories of Forms
Mar 1, 2019
Geta Brătescu was 90 years old when the Romanian Culture Ministry chose her to represent her native Romania in the 57th Venice Biennale. Her third appearance at the Biennale, it attracted global attention to her delightful genius, and led, among other things, to Brătescu attaining representation with Hauser & Wirth, an influential, blue chip art gallery whose roster includes such giants as Louise Bourgeois, Mark Bradford, Hans Arp, Arshile Gorky, Philip Guston, and Lygia Pape, and Allan Kaprow, just to name a few. Brătescu had a lifetime of work completed, and could easily have ridden on her laurels showing and selling her historic oeuvre. But rather than being content with her past accomplishments, she began working with her new gallery to curate a show filled with newer works, completed within the past ten years. Brătescu passed away in the autumn of 2018, at age 92. But that exhibition of late works that she planned, Geta Brătescu: The Power of the Line, opened this week at Hauser & Wirth London. It includes drawings and collages focused on the elements of line and form. The works are full of lightness and joy, like tiny moments of visual ecstasy. They are shocking in their simplicity, yet undeniable in their virtuosity. As evidenced by the films that accompany the show, Brătescu was a natural maestro when it came to drawing. Her handling of markers, pencils, pens, and scissors shows subtlety and grace. Her intuitive method was the very embodiment of flow. It is almost inconceivable how many drawings Brătescu created over the course of her life, and it is particularly amazing how perfectly unique each of them are. Underlying their uniqueness, however, is the simple, yet dynamic visual language that she defined for herself. That idiosyncratic vision is on full display in this exhibition—a display of brilliance by an artist whose global recognition, though overdue, is well deserved.
Lines of Poetry
In an interview with Art margins in 2013, Geta Brătescu said she was not a painter. She called painting the most bourgeoise art form, because in communist Romania it seemed every official wanted to have a Social Realist oil painting in their home. Brătescu preferred drawing, because of the immediacy and simplicity of the act. Anyone can draw, and the materials needed for the process are inexpensive and readily available. Even if you have nothing to draw with, you can still make a drawing. All you have to do is to be able to make a line. You can even use scissors. Like Matisse in his last years, Brătescu loved to draw with scissors. She would cut into colored sheets of paper and use the cut pieces to create collages. She poetically pointed out that while cutting, the line does all of the work; it is not drawing with a visible line, but rather drawing with the energy of the line. "The spider's thread borne away on the wind is a flying line," she said. "It is a mysterious phenomenon. To trace a line, a simple line, with the feeling and awareness that you are producing expression...To me, drawing is not simply a profession; it is the release of an intrinsic, structural energy, a joy."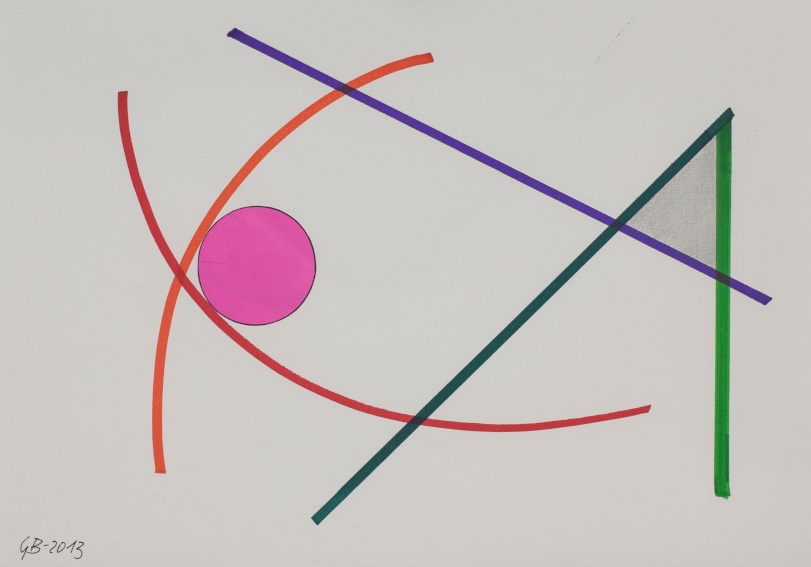 Geta Brătescu - Marker-art, 2013. Collage, drawing on paper, 4 parts. 29.5 x 41.7 cm / 11 5/8 x 16 3/8 in. Courtesy the artist, Ivan Gallery, Bucharest and Hauser & Wirth. © Geta Brătescu
Many of the works in Geta Brătescu: The Power of the Line were made with the most pedestrian of implements: a marker. Nonetheless, it is a wonder to watch Brătescu at work at her drawing table, instinctively making quick and perfectly harmonious curves with a thick, black marker. An untitled, yellow and black marker collage from 2012 is positively alive, reminiscent of interstellar bodies, or perhaps microscopic life swirling in a petri dish. It has the whimsy and elegance of an Alexander Calder mobile, and the minimal harmony of an Agnes Martin painting. Meanwhile, her "Marker Art" series (2013) conjures thoughts of mathematics and geometry, as perfect arcs are balanced by right angles and networks of colorful orbs. But these compositions are not born of formulas. They are the product of instinct and visual wit, referencing Wassily Kandinsky and Joan Miró, not Euclid and Newton.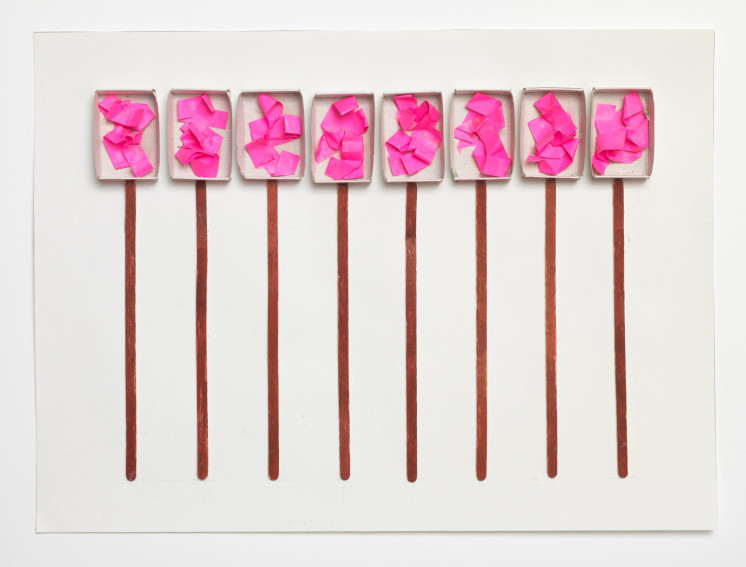 Geta Brătescu - Untitled (Fără titlu), 2013. Collage, paper, cardboard, wood on paper. 29.5 x 40.5 cm / 11 5/8 x 16 in. Courtesy the artist, Ivan Gallery, Bucharest and Hauser & Wirth. © Geta Brătescu
Games of Forms
Among the most eye-catching works in Geta Brătescu: The Power of the Line are a series of pieces called "Jocul Formelor (Game of Forms)." Primordial drawn forms swim through these compositions alongside collaged geometric forms, surrounded by pools of atmospheric color. The collaged forms are solid black; the drawn forms pulsate with gradient hues; calligraphic squiggles activate the liminal spaces. The series title hints at what the works do so brilliantly: show off the simplicity with which Brătescu could create volume and mass with simple lines. What does it take for a line to become a shape, and for a shape to become a form? With subtlety and humor, she plays with these ideas, as well as the idea of transforming two-dimensional planes into illusionistic worlds of depth and motion.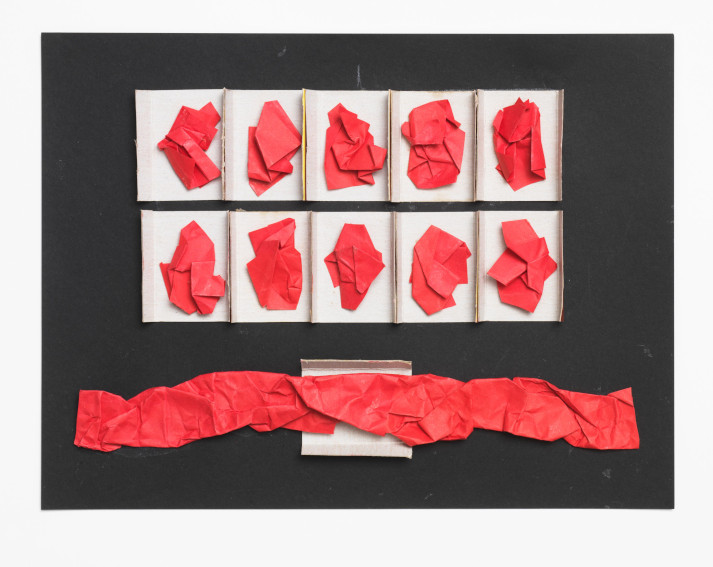 Geta Brătescu - Untitled (Fără titlu), 2015. Collage, paper, cardboard on paper. 23 x 30.5 cm / 9 x 12 in. Courtesy the artist, Ivan Gallery, Bucharest and Hauser & Wirth. © Geta Brătescu
Several works in the show are constructed from crumpled paper. These works combine the poetry of the cut line with the game of changing two dimensions into three. Brătescu made them by cutting out shapes from colored paper then folding the shapes and assembling them into grids on paper surfaces. The lines of the grids protrude outward in relief; the folded shapes attain mass and depth, transforming themselves into sculptural forms. The grids are meticulously laid out, but the forms are intuitive and free. The result is something rigid and planned, but full of unexpected variables. Such joy and thoughtfulness is evident in all of these late works that it is clear Brătescu still had much to offer, even after a long life of making art. The originality on display in this show is both an inspiration to think about and a joy to see. Geta Brătescu: The Power of the Line is on view through 27 April 2019 at Hauser & Wirth London.
Featured image: Geta Brătescu - Puterea liniei (The Power of the Line), 2011. Drawing and collage on paper. 21 x 28.2 cm / 8 1/4 x 11 1/8 in. Courtesy the artist, Ivan Gallery, Bucharest and Hauser & Wirth. © Geta Brătescu
All images used for illustrative purposes only
By Phillip Barcio
[related_artworks]