Blog Home
Quilting Histories - The Quilts of Gee's Bend
Feb 17, 2021
Two exhibitions of Gee's Bend quilts - currently postponed by the COVID-19 pandemic - highlight the distinctive vision of an isolated group of artists descended from African American slaves. The Gee's Bend Quiltmakers, at Alison Jacques Gallery in London, is the first solo exhibition of these extraordinary artists in the UK (or Europe). Meanwhile in the US, She Knew Where She Was Going: Gee's Bend Quilts and Civil Rights is scheduled to open in April at the Baltimore Museum of Art (BMA), pending the lifting of gathering restrictions in that city. Organized around five Gee's Bend quilts recently acquired by the museum, the BMA exhibition contextualizes the Gee's Bend quilters in relation to the Civil Rights Movement in the United States. The quilters, of course, do not have to be told they are part of the history of American racial injustices. They are all descended from slaves-turned-Jim Crow-era sharecroppers. Their art stemmed directly from the need to transform meager scraps of tattered work clothes into something to keep them warm at night in their unheated shacks. The distinctive visual language of their quilts, which has been compared to everything from Matisse to Minimalism, evolved in isolation in a place intentionally cut off from the rest of society by white supremacist politicians and systems. Being told they have to wait a little longer for an exhibition, or for anything else, is nothing new for these artists. Journalists, bureaucrats, documentarians, art dealers, collectors and curators have been selling their story, in addition to their quilts, for nearly a century, telling the quilters over and over that they will benefit from the attention. "People tell us we are famous," says Gee's Bend quilter Mary Anne Pettway. "I don't feel it. I feel the same as I always been." Museums keep collecting their quilts, working in earnest to add the story of this unique, trans-generational artist collective to the art historical canon. Yet, the town remains one of the poorest and neglected hamlets in the United States.
A Patchwork of Histories
The official name of Gee's Bend is Boykin, Alabama. Nestled in a curve of the Alabama River, the town got its nickname from a white settler named Joseph Gee, who bought the land from the US Government in 1816. Back then, Alabama was still part of the Mississippi Territory, an area ceded by Britain following the American Revolution. Gee brought slaves with him to help settle the land and establish a cotton plantation. Gradually, hundreds more slaves were brought to the plantation, and around 1845, the Gee family sold the land to a relative named Mark H. Pettway. Pettway ran the plantation until slavery was abolished after the Civil War, after which most of the freed slaves stayed and became sharecroppers, renting farmland from their former slave master. To this day, many residents of Gee's Bend, including some of the quilters, still carry the Pettway name.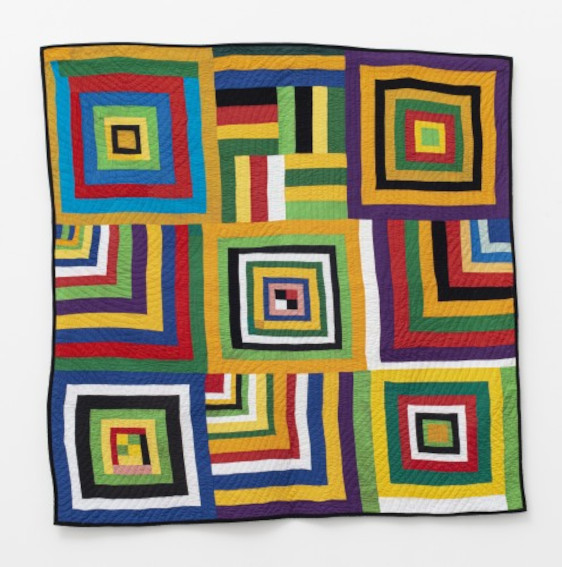 Rita Mae Pettway - 'Pig in the pen' - block style, 2019. Cotton / polyester blend. 210.8 x 210.8 cm, 83 x 83 ins. © Rita Mae Pettway / Artists Rights Society (ARS), New York and DACS, London

At the same time as African American slaves were being brought to the Mississippi Territory, the area was also the front line of the so-called "Plan of Civilization," a program intended to assimilate Native Americans by teaching them European methods of farming and textile production. African people already had sophisticated textile traditions of their own, long before they were enslaved in the United States. Those traditions gradually melded with Native American influences, and were shaped further by colonial tools and tastes and the availability of local materials. The diverse visual language employed by Gee's Bend quilters includes a mix of all these influences, as well as various symbolic references. What makes the quilts of Gee's Bend particularly special is the importance this community of artists has always put on personal vision. Their embrace of individuality and improvisation finds its purest expression in what the collective refers to as "my way" quilts.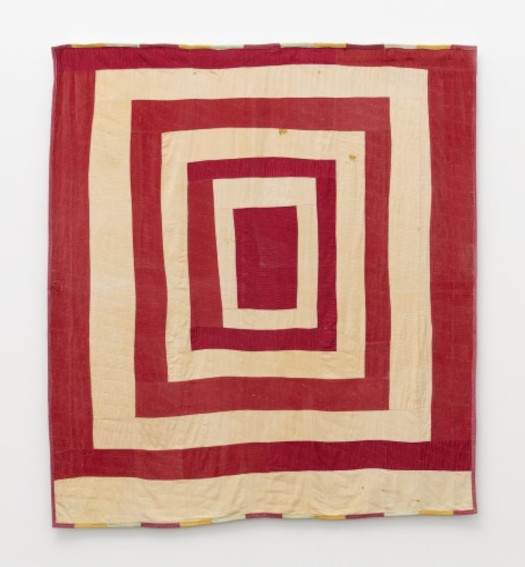 Qunnie Pettway - Housetop, 1975. Corduroy. 208.3 x 188 cm, 82 x 74 ins. © Qunnie Pettway / Artists Rights Society (ARS), New York and DACS, London
A Faith in Personal Vision
On the website for the Souls Grown Deep organization, which exists to support the heritage of African American artists of the South, visitors can peruse a wonderful breakdown of the various styles of Gee's Bend quilts. There are the Work Clothes quilts, which are made from tattered scraps of items like aprons and overalls and bluejeans. And there are the Sears Corduroy quilts, which were made from leftover corduroy following a partnership between the quilters and the Sears Roebuck Company to make pillow cases in the 1970s. The most celebrated Gee's Bend quilts, the "my way" quilts, belong to what they call the Abstraction & Improvisation category. Totally uninhibited in their aesthetic language, these quilts transcend traditional design principals and express the individual vision of the quilt maker.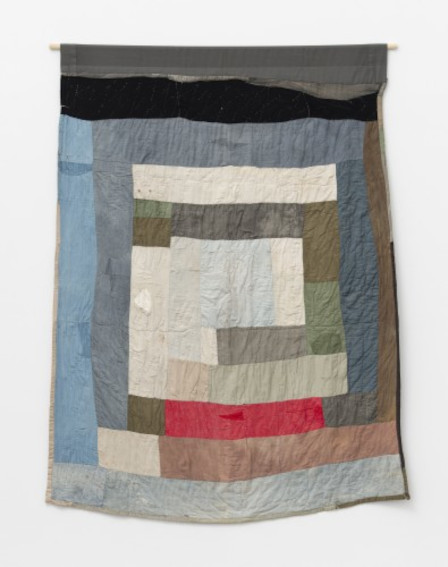 Loretta Pettway - Two-sided work-clothes quilt: Bars and blocks, 1960. Cotton, denim, twill, corduroy, wool blend. 210.8 x 180.3 cm, 83 x 71 ins. © Loretta Pettway / Artists Rights Society (ARS), New York and DACS, London


Gee's Bend "my way" quilts have evoked comparisons to Modernist art positions from Constructivism and Cubism to Minimalism and Op Art. They are a source of fascination amongst mainstream art field power brokers. So-called official art history is founded on the notion that culture is created by trained artists and certified by bona fide experts at academies and institutions. Yet, here these self-taught artists, working in an impoverished, isolated, rural town where you have to drive ten miles just to buy a soda, seem to have made all of the same major discoveries as Picasso, and then some. As wonderful as it is that galleries and museums and journalists continue to showcase the work of the Gee's Bend quilters, does anyone else find it insidious that their quilts only sell for a few thousand dollars? By comparison, a quilt by the Native American artist Jeffrey Gibson, who studied at the Art Institute of Chicago and the Royal Academy of Art, sells for around $70,000, and Gibson does not do his own stitching. Exhibitions and articles are grand, but instead of simply comparing them to the artists we deem important, it is high time the quilters of Gee's Bend earn what they are worth. And could we also please build them a grocery market and fix their streets?
Featured image: Essie Bendolph Pettway - Two-sided quilt: Blocks and 'One Patch' - stacked squares and rectangles variation, 1973 Cotton, polyester knit, denim. 223.5 x 203.2 cm, 88 x 80 ins. © Essie Bendolph Pettway / Artists Rights Society (ARS), New York and DACS, London
All images used for illustrative purposes only
By Phillip Barcio