Blog Home
The Female Side of Minimalism at Thaddaeus Ropac
Nov 18, 2020
Every year, various exhibitions claim to herald work by marginalized artists unfairly left out of the historical canon. Often, the artists are in fact successful, just not "famous," and the work hardly worth amending history for. The Female Side of Minimalism at the London Ely House location of Thaddaeus Ropac is a remarkable exception to the usual formula. Featuring more than 70 works dating from the 1920s through the 2000s, by an international and intergenerational roster of 13 female artists, the curation thoughtfully expands the general understanding of Minimalism by spotlighting multiple artists whose careers add the movement in unexpected ways. The selection of works includes paintings, drawings, video, photographs, sculpture and relief, demonstrating the expansive field of experimentation these artists have cultivated. Though not all of the artists in the show fit neatly into the definition of Minimalism, the conversation their inclusion starts is definitely worth having. Originally planned to extend through 18 December 2020, the exhibition is currently closed due to COVID-19 restrictions in place in the UK. Meanwhile, here are introductions to eight of the artists in the show, whose work we find particularly compelling.
Mary Miss
A founding editor of the journal Heresies, Mary Miss is not often thought of in terms of Minimalist history. Her work is more familiar to followers of Land Art and Feminist Art. Her plastic concerns frequently revolve around the elegant notion of creating the simultaneous experience of flatness and space. As the first artist mentioned in the seminal 1979 essay Sculpture in the Expanded Field, by Rosalind Krauss, Miss is anything but anonymous. This exhibition, however, places her in a context that adds a refreshing dimension to her practice.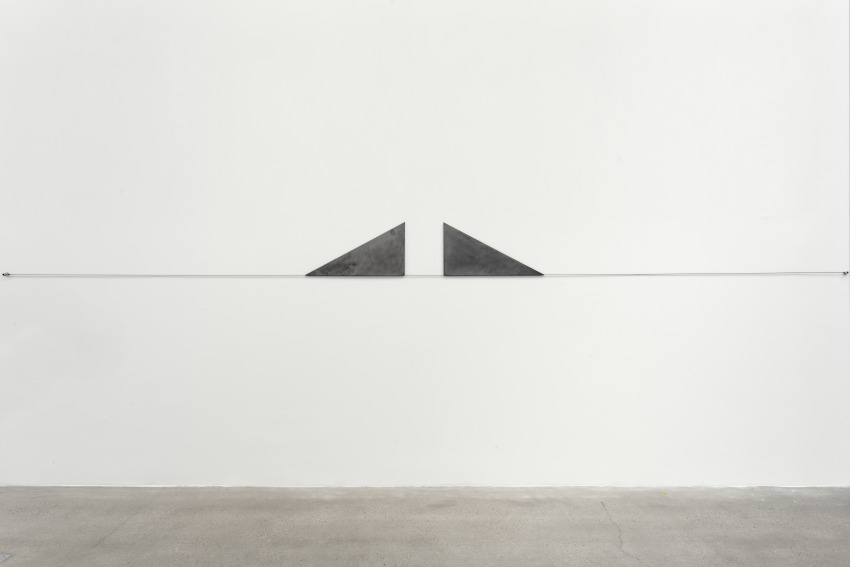 Mary Miss - Relief, 1968. Steel and wire. 41 x 635 cm (16,14 x 250 in). Courtesy Mary Miss and Galerie Thaddaeus Ropac, London · Paris · Salzburg © Mary Miss Photo: Charles Duprat
Maria Lai
When she died in 2012, Sardinian artist Maria Lai was still largely unknown outside of her homeland. In 2017, that changed when her work was featured in both the Venice Biennale and Documenta. Another artist not normally thought of in context with Minimalism, Lai created works that bridged material sensibilities with memory, history, and communal experiences. Her most well known work was a 1981 performance called To Bind the Mountain, in which citizens from children to the elderly helped bass a single blue ribbon through the entire town of Ulassai. Thought of in terms of line and color, it was certainly a Minimalist work. Considered in terms of its wider impact, it shares a legacy with everything from the Neo Concrete movement to Fluxus to Social Practice Art.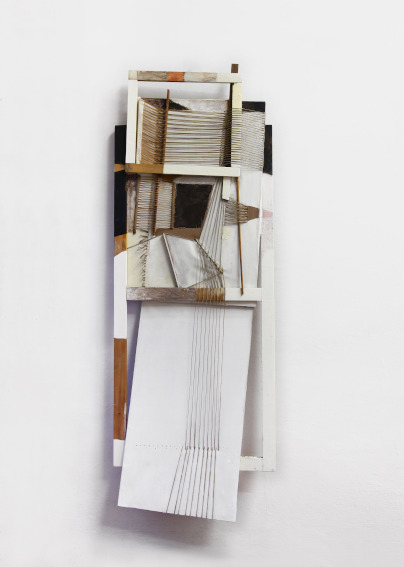 Maria Lai - Spazio e Telaio, 1971. Wood, string, canvas, tempera. 197 x 70 x 30 cm (77,56 x 27,56 x 11,81 in). Courtesy Galerie Thaddaeus Ropac, London · Paris · Salzburg © Archivio Maria Lai by SIAE 2020 Photo: Bani
Magdalena Wiecek
Outside of museums in in her Polish homeland, works by Magdalena Wiecek are difficult to see in person. Her practice was grounded in humanist exploration of forms and relationships. More related to organic and Biomorphic abstraction than Minimalism, he oeuvre nonetheless included a number of objects—from tiny sculptures to monumental installations—that explore the simple spatial and geometric concerns of Minimalist art. Of special note are the selection of small brass sculptures included in the The Female Side of Minimalism at Thaddaeus Ropac, which touch not only formalist concerns, but hint at metaphysical issues such as introspection and the shadow self.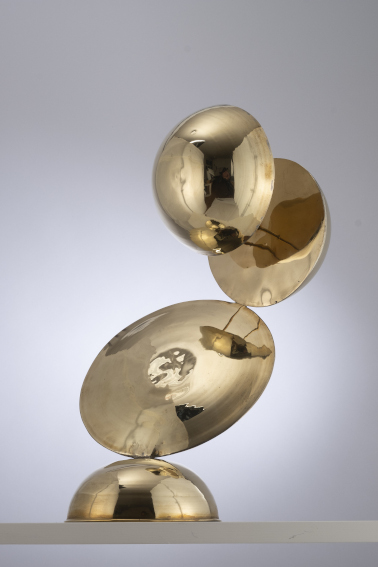 Magdalena Wiecek - Volatile I, 1970. Brass. 65 x 30 x 54 cm (25,59 x 11,81 x 21,26 in). Courtesy Estate of Magdalena Więcek and Galerie Thaddaeus Ropac, London · Paris · Salzburg © Estate of Magdalena Więcek
Lolo Soldevilla
Almost completely unknown outside of her native Cuba, Loló Soldevilla was one of the key members of a small avant-garde collective of Concrete artist that operated in Havana in the mid 20th century. She died in 1971, at age 70, leaving behind a wonderful body of reliefs, pantings and drawings that whimsically express spatial and geometric concerns. Her work was particularly geared towards constructive ends rather than purely plastic ends. Including her in this conversation around Minimalism feels expansive for both her and the movement.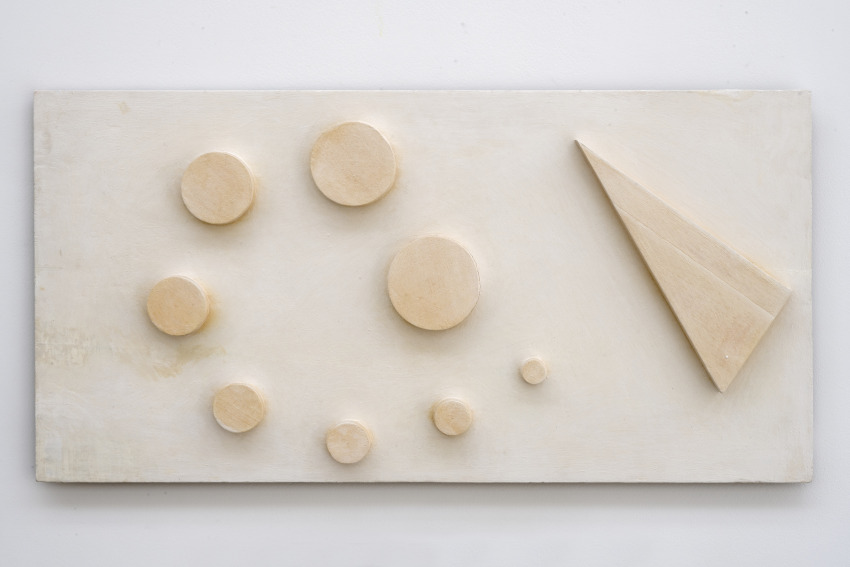 Lolo Soldevilla - Composicion, 1954. Woodcut structures on wood. 45,7 x 94 cm (18 x 37 in). © Estate of Lolo Soldevilla Photo: Charles Duprat
Ana Sacerdote
For me, 95-year old Argentinian artist Ana Sacerdote is the most rewarding revelation in The Female Side of Minimalism. A painting and a film by Sacerdote are included in the show. The film, made in the 1960s, is a simple animation of colorful geometric forms. It relates sublimely with the painting, which she created nearly a decade earlier. Her work perfectly converses with Minimalist aesthetics, while also claiming ground in the worlds of Kinetic Art, Computer Art, Video Art, and Neo-Concrete Art.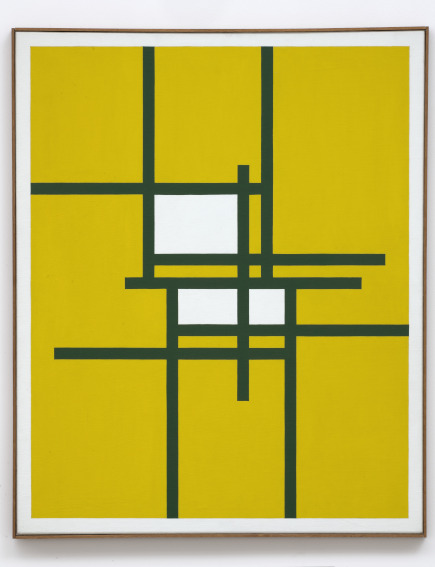 Verena Loewensberg - Ohne Titel, 1953. Oil on canvas. 85 x 65 cm (33,46 x 25,59 in). Courtesy Verena Loewensberg Foundation and Galerie Thaddaeus Ropac, London · Paris ·Salzburg © Verena Loewensberg Foundation Photo: Charles Duprat
Verena Loewensberg
Swiss artist Verena Loewensberg was another revelation for me in this exhibition. Her quiet, colorful compositions can easily be placed in the lineage of Minimalist icons like Agnes Martin, yet they are also lively and poppy enough to offer an intriguing aesthetic bridge connecting Bauhaus artists like Mondrian and Albers with movements like Pop Art and Post Painterly Abstraction.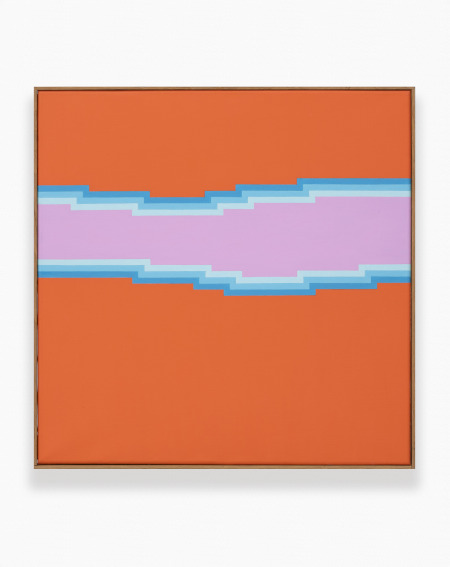 Verena Loewensberg - Ohne Titel, 1963. Oil on canvas. 61 x 61 cm (24,02 x 24,02 in). Courtesy Verena Loewensberg Foundation and Galerie Thaddaeus Ropac, London · Paris · Salzburg © Verena Loewensberg Foundation Photo: Charles Duprat
Shizuko Yoshikawa
Japanese-born artist Shizuko Yoshikawa shares much in common with Verena Loewensberg in terms of color and composition, but she took her work in subtly unique directions, especially when it cam to her reliefs. Based on simple grids, she created dimensional surfaces that engage light and shadow to transform an otherwise monochromatic palette into seemingly glowing, illusionary fields. Included along with the reliefs in The Female Side of Minimalism are several geometric studies that offer insight into the intense research Yoshikawa did into geometry and color relationships.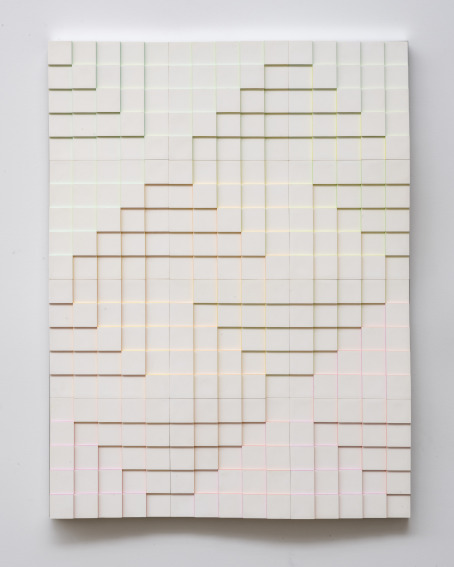 Shizuko Yoshikawa - farbschatten 89/ 3x4, 1979—1980. Lacquer and acrylic on polyester. 75 x 100 cm (29,53 x 39,37 in). Courtesy The Shizuko Yoshikawa and Joseph Müller-Brockmann Foundation and Galerie Thaddaeus Ropac, London · Paris · Salzburg © The Shizuko Yoshikawa and Joseph Müller-Brockmann Foundation Photo: Charles Duprat
Rosemarie Castoro
American artist Rosemarie Castoro is perhaps the most contentious inclusion in The Female Side of Minimalism. Castoro specifically once said, "I am not a minimalist. I am a Maximus." her concerns were largely conceptual rather than formal, and her work stretched into a number of different fields, including drawing, sculpture and installation. What could be considered Minimalist about her work is her general visual language, which centered monochromatic color palettes, linear compositions and sometimes geometric shapes. Just as often, however, she delved into a haunting, uncanny world of organic forms evocative of nature and the human body. Unlike some of the other theoretical stretches in this exhibition, to call Castoro a Minimalist seems actually to take something away from what she was trying to do. Yet, there is also something essentially reductive, or deductive perhaps, about the poetry that comes through in all of her work so if reduction and deduction lies at the heart of the Minimalist aesthetic, Castoro belongs.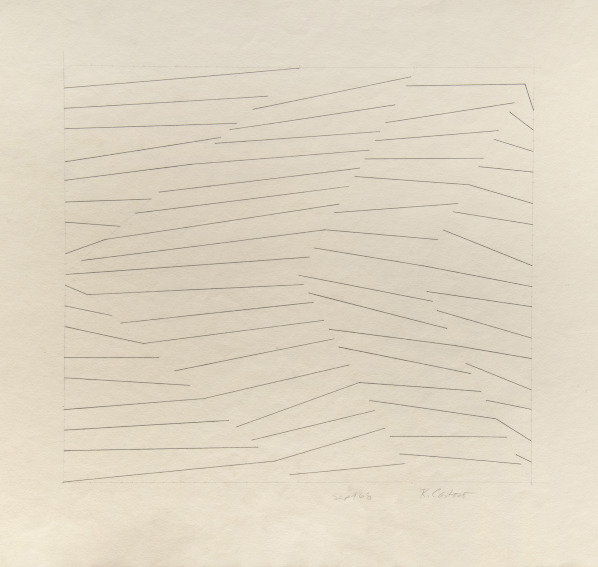 Rosemarie Castoro - Sept 68, 1968. Graphite on paper. Motif 33,66 x 38,1 cm (13,25 x 15 in) Paper 66,04 x 48,9 cm (26 x 19,25 in) Frame 65,41 x 69,85 x 4,45 cm (25,75 x 27,5 x 1,75 in). © The Estate of Rosemarie Castoro. Courtesy of Anke Kempkes Art Advisory Photo: Charles Duprat
Featured image: Lolo Soldevilla - Untitled, 1954. Mixed media on wood. 46 x 72,1 cm (18,125 x 28,375 in). © Estate of Lolo Soldevilla
All images used for illustrative purposes only
By Phillip Barcio