Blog Home
The Eternal Vanguard—6 Extraordinary Female Abstract Artists from Latin America
Dec 2, 2020
I often talk about the avant-garde in terms of its failures, meaning it is a topic I anchor in the past, full of bygone stories of experimental things artists once wrote, once made, or once tried. Today, I hope to draw attention to six female Latin American abstract artists who I believe redefine the avant-garde, not as something grounded in history, but as something perpetually fresh and undefined. Lygia Clark, Gego, Carmen Herrera, Zilia Sanchez, Mercedes Pardo, and Noemi Escandell have each at some point been heralded as representatives of the aesthetic vanguard of their time. Yet, they each also resist being buried beneath the passage of time, because the relevance of their ideas stretches beyond their individual generations. Their works remain as fresh and curious today as ever. I propose this is not only because of the work itself, but also because of how they approached their practice as artists and teachers. Most avant-garde artists are defined by the singular, vanguard position they create for themselves, a position which can be explained or bolstered by writing, and then demonstrated through a unique visual language, and then canonized as a movement. (I'm thinking of Andy Warhol and Pop Art, Picasso and Cubism, Mondrian and Neo-Plasticism, etc.) The six female Latin American abstract artists I write about today escape this fate because their strategies of aesthetic representation are not fixed, either in time (a cultural moment) or in theory. Instead of foregrounding a particular set of ideas, their work explores what perhaps can never be understood, let alone said: the unknown. Their fluid, indefinable oeuvres encourage viewers to examine the darkness, rather than drawing attention to what has been brought to light.
Lygia Clark (1920 - 1988, Brazil)
Lygia Clark called herself a "proposer." She perceived her art as disconnected from history, attached instead to the forever changing present moment. Her work has no predetermined meaning or purpose other than that which is assigned to it by whatever viewer is interacting with it in a personal way. She released herself from art history, and ensured her place in the eternal vanguard, when she said, "The object no longer is there in order to express any concept whatsoever, but so the spectator can reach, more deeply, their own self."
Gego (1912 - 1994, Germany/Venezuela)
Born and educated in Germany, Gertrude Goldschmidt, also known as Gego, fled to Caracas, Venezuela, in 1939, at the start of World War II. It was there in South America that she discovered her destiny as an artist. Though she also painted, drew and sculpted, Gego is most well known for her web-like installations, which feature networks of points and lines coalescing into geometric universes of imaginary planes. Many writers say her work is about line, but to me it is more about the quest to continually express cumulative action. The multitudes of points and lines in her works are projections into space, and into time, pulling viewers endlessly into the unknown.
Carmen Herrera (b. 1915, Cuba)
Carmen Herrera sold her first painting at age 89. At age 100, she had her first museum retrospective, at the Whitney Museum of American Art in New York. Many critics, curators and dealers have since tried to classify her in terms of various art historical movements, such as Minimalism, Geometric Abstraction, and Concrete Art. However, what allows Herrera to resist, and in fact transcend, those labels, is her total dedication to personal vision. She once joked that she will not allow a Picasso book in her house, because to look at Picasso is to want to copy him. Her only goal, she says, is to follow her own desire for simplification, or what she calls "a process of taking away what is not essential." The tension in her work often comes from that glimpse into that space where we confront not what is there, but what is missing.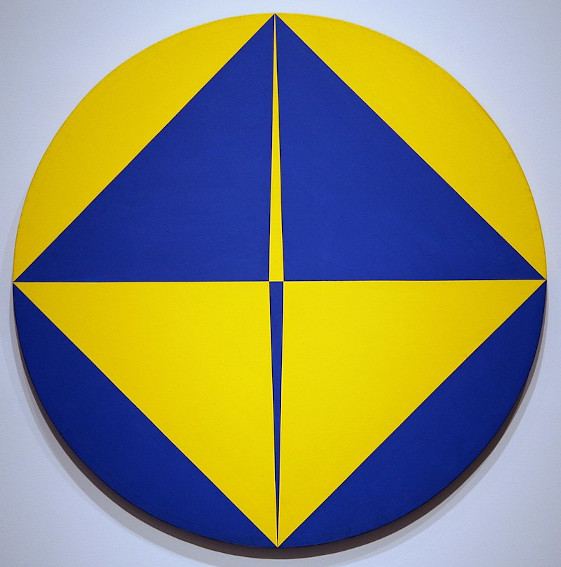 Rondo (Blue and Yellow), 1965 Acrylic on canvas by Carmen Herrera, American, born Havana, Cuba, 1915. Source: https://flic.kr/p/5vyjn2
Zilia Sanchez (b. 1926, Cuba)
Born in Cuba, Zilia Sanchez has lived and worked in Puerto Rico since the 1970s. Her shaped canvases bulge out from the wall, as objects—or forces—seem to be trying to break through from behind. This poetic gesture foregrounds mystery, and alludes to the feeling that what is visible and seemingly so consequential in the present moment is simultaneously being altered before our eyes. This work is an iconic representation of the eternal vanguard, as it agitates for the fact that everything is constantly being reconfigured by whatever else is in the process of emerging.
Mercedes Pardo (1921 - 2005, Venezuela)
Many artists talk about their work in terms of investigations. Mercedes Pardo distinguished herself not by searching, but by crafting personal encounters for her viewers. Known for a body of geometric and biomorphic abstract paintings she worked on for decades over the course of her career, she actually worked in a range of different mediums, including costume design, book illustration, collage, and large-scale public art. Pardo considered personal encounters with art to be the opposite of—or perhaps the antidote to—consumer culture. She avoided the imposition of patterns, centering instead unique viewer experiences with purified matter.
Noemi Escandell (1942 - 2019, Argentina)
Beloved by her students and other artists, and feared by political authoritarians, Noemi Escandell believed strongly that political and artistic gestures are one and the same. She is known now after her death for the abstract, spatial sculptures and drawings she began creating in the 1960s, which relate visually to Minimalism. However, Escandell embraced an incredible variety of visual strategies over the course of her career in order to represent her central idea, which was freedom. Perhaps her most powerful invention was what she called "hand to hands"—artworks that have to be passed around between viewers at an exhibition before being hung on the wall. Her work was based in the beauty of the unknown, and it exalted the intimate connection that must exist between people and art for either to reach their full potential.
Featured image: Lygia Clark - Bicho Linear, 1960. Aluminium. 33 9/10 x 26 x 14 1/5 in (86 x 66 x 36 cm). Bergamin & Gomide, São Paulo
All images used for illustrative purposes only
By Phillip Barcio