Blog Home
Browsing the Artworks of the Digital Abstract Art Realm
Jul 10, 2020
The rapid development in digital technology had a profound impact on all aspects of our existence and art could hardly be spared of its disruptive influence. Today's art emerges through the click of the mouse - or more recently, the touch on the screen - while software and apps that allow artists to create in the digital realm are proliferated at an explosive rate. By the virtue of its very non-representative and non-mimetic nature, abstract art reaped most benefits by this unrivaled technological transformation. Digital abstract art is thriving as new software features offer a myriad of captivating aesthetic choices - just clicks away. The software is undeniably the central locus of digital abstract art and it helped expand the horizons of creativity unsurpassably. While many artists blend the digital with traditional painting, sculpture or photography, they ultimately resort to software to construe the essence of their work and explore new artistic frontiers. While Photoshop, Adobe Illustrator, and Corel Painter were widely used by realistic and figurative illustrators and photographers, many of its filters (like Photoshop Wave) are notorious for creating an immense variety of abstract patterns. However, many believe that only generative algorithms could create genuine (code-based) abstract art and the burgeoning number of tools, programs, frameworks, and languages is deployed to accommodate this belief. At IdeelArt, we are home to artists who describe their work as new media art and use most divergent digital technology to create it. This week we proudly present five most enthralling digital abstract artworks that you can add to your collection.


Luuk de Haan - Straec 26
Part of his vector-based Straec series, Straec 26 embodies the original meaning captured in an Old English word stræc - something that is rigid after being stretched - as his images appear stretched but rigid. De Haan experimented with the idea of vectors in his previous geometric abstract series since vectors, as a mathematical quantity, communicate a trajectory toward a point in a three-dimensional space. His creative process begins by choosing a color palette and then using imaging software to create rectangles on a surface. These rectangles are the initial point from where he delves into generating random triangles and other geometric shapes evoking the essence of vectors. Inspired by geometric abstract work of Malevich and Mondrian, de Haan aptly discloses his minimalist aesthetic and a composition defined by confident, geometric shapes, clear lines, smooth surfaces that resonate briskly with his visual vocabulary. De Haan is widely celebrated for his distinct expression of creating geometric compositions by using imaging software that he photographs directly from the screen. He alters physical conditions under which the photograph is taken emphasizing the uncertainty and erratic element of surprise that is divulged through the interaction with the digital image. The newly emerged images captivate the natural and organic visual eloquence as well as a rigorous graphic exploration of shape, color, geometry, and line. De Haan was born in Vlaardingen, South Holland, Netherlands. He is a visual artist and sound designer. His visual art relies on the mediums of photography, drawing, and digital tools to create organic, geometric abstract compositions.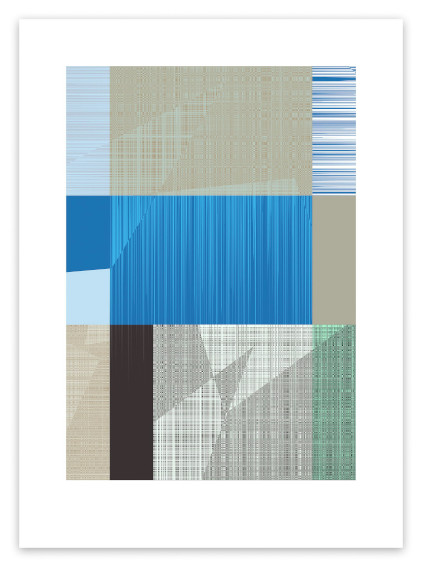 Luuk De Haan - Straec 26, 2016. New Media Art. 100 x 72.5 cm.
Bill Kane - EM-78 Vajra 3
Part of Kane's latest Emanations series, EM-78 Vajra 3, explores light as the most essential aspect of photography. Visually inquiring into the ambiguous duality of the meaning of the Sanskrit word vajra - a mythical weapon wielded by the god Indra that symbolizes both the properties of a diamond (indestructibility) and a thunderbolt (irresistible force) - Kane scans the image of vajra, blurs it to its most finite possibilities and then stretch it until only a distilled image of color and form is left. He meticulously makes use of computer software to express the spiritual potential of light as the defining element of photography. For him, this is a starting point for larger perceptual experiences and his intent with the Emanation series was to translate a unique spiritual phenomenon into something secular, contemporary, and universal. Kane is an American multi-media artist whose work intersects the boundaries of photography, painting, and printmaking in an effort to examine the idea of what an image is and can be. He lives and works in California, near San Francisco.

Bill Kane - EM-78 Vajra 3, 2019. Pigment on canvas. 213.36 x 60.96 x 3.81 cm.
Bill Kane - EM2020-59
Another Kane's artwork that is part of his latest Emanations series, EM2020-59 further explores qualities of light as an ethereal element that transpose the material properties of photography to the metaphysical/spiritual realm. A scanned image of a Buddhist thangka - a painting depicting a Buddhist deity - is again blurred and stretched resulting in only distilled image of color and form. Kane prints these reduced images on watercolor paper as elemental representations of the light bodies of the Buddhas that bestow a blessing upon those who view them. He interprets these blessings to be moments of tranquility and mindfulness and to instigate the same experience of peacefulness and serenity that a viewer lives through when encountering the art of Rothko or Turrell. Kane was profoundly inspired by the notion that an inanimate object created by the application of technology could bestow such a feeling upon a viewer.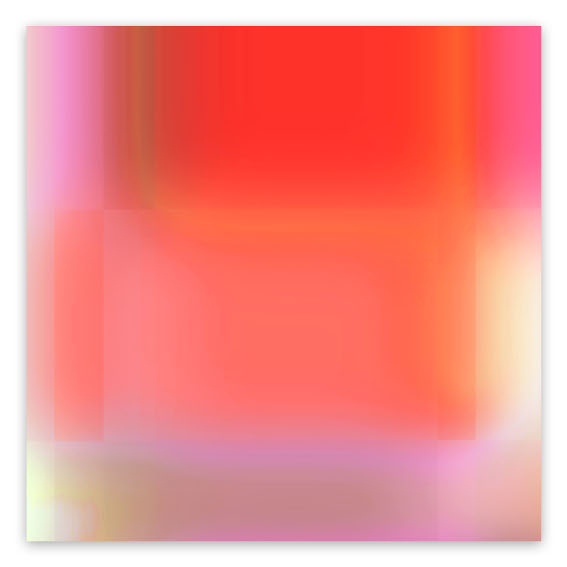 Bill Kane - EM2020-59, 2019. Pigment on watercolor paper. 50.8 x 50.8 cm.
Jesús Perea - M338
In his search for beauty through geometry, Perea examines the rational structure(s) that underlines the unpredicted and affective nature of intelligence. Printed on Hahnemuhle photo rag, M338 epitomizes Perea's most unique manifestation of graphic abstraction. He oscillates between illustration and expressionism synthesizing the world of reason and the world of emotions in an expressive and persuasive digital creation. Situated between the geometric and biomorphic, a mathematical beauty of nature emerges revealing the mysteries of both the structure and expression. The vibrancy of his digitally created works evokes a sense of constant motion - even when completed they feel as though they are alive with potential. He is deliberately hunting for images that hover between the past and the future; between the architectonic and natural worlds. In 2018, after three years of solely using a computer as a tool for composition and creation, he felt the need to experience again the rhythm and development of blending manual and digital creative processes and M338 exemplifies his comeback to mixing of two realms in his endless pursuit for beauty and pure emotion. Perea is a multidisciplinary abstract artist living and working in Madrid, Spain. Along with Richard Caldicott, Luuk de Haan and Pieter Bijwaard, Perea is a member of the contemporary abstract art collective Mother Universe.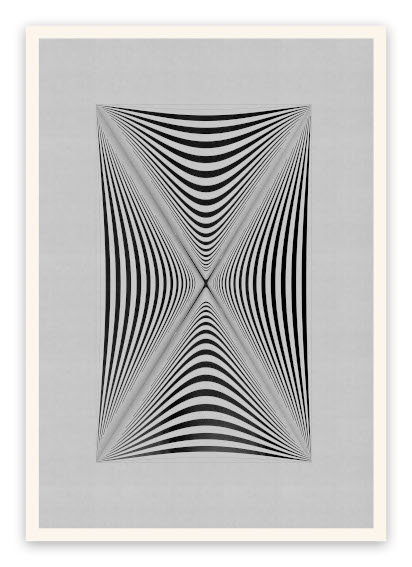 Jesús Perea - M338, 2018. Digital creation, printed on Hahnemuhle Photo Rag de 308 gr. 100 x 70 cm.
Paul Snell - Bleed # 202001
This latest from Snell, reveals rhythmic, harmonious visual structures that transpose a viewer into the far depths of pure thought. He creates visual suggestions that translate reflection into an authentically meditative state. Bleed # 202001 reveals the dynamism of Snell's color relationships that arises from a combination of architectural aspects of his compositions and his vibrant, luminous surfaces. The absence of meta-semantics and representation drags a viewer in the midst of the primal and tonal aesthetic matter. In this primordial experience, a viewer is immersed in color, rhythm, and space that opens up for his/her interpretative reflection thus clearing the path to pure transcendence. He captures an object or location with a traditional camera, digitally decodes the visual information reducing and simplifying the colors and forms until these reduced elements unfold into their self-referential relationships. This unfolding process maps the ambiguity and transitional states intrinsic to the medium. Snell combines traditional and digital techniques to explore the possibilities of abstraction and minimalism in contemporary photo-media. He lives and works in Launceston, Tasmania.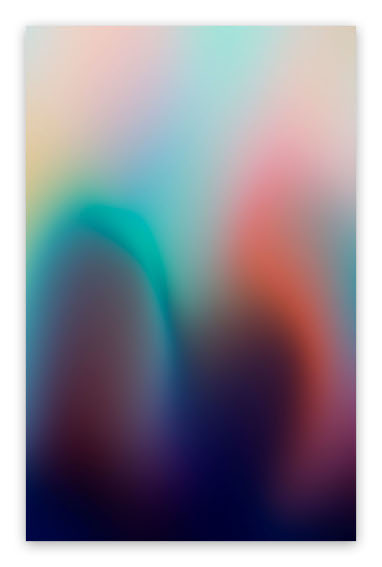 Paul Snell - Bleed # 202001, 2020. Chromogenic Print Face-mounted 3mm Matte Plexiglas. 180 x 115 cm.
Featured image: Paul Snell - Bleed # 202001, 2020, installation view.
By Jovana Vuković