Blog Home
Abstraction within the Postmodernism of David Salle
Feb 7, 2017
In the introduction to her 2011 interview with the artist David Salle, writer Emily Nathan labeled Salle, "just about the last Postmodernist Painter." Although that description is itself a bit of a postmodern remark, in that it is un-provable and relative, it offers a helpful starting point from which to approach the oeuvre of David Salle. A former student of John Baldessari at the California Institute of the Arts, Salle was part of the 1970s artistic vanguard that among other things embraced a return to figuration in the wake of movements like Minimalism and Conceptual Art. Like many members of his generation, Salle was less interested in the overarching narratives and universalities explored by Modernism, and more interested in the postmodern belief that reality is not fixed but is always open to interpretation. In the four and a half decades he has been professionally active so far, Salle has established an enduring and seemingly inexhaustible aesthetic position that mixes popular iconography with historical and personal references in ways that use seemingly objective content to question notions of certainty.
What Are You Looking At
One of the earliest examples of what we now consider the signature style of David Salle is a photo collage called Untitled (Coffee Drinkers), from 1973. Like much of his work since, it contains both low and high cultural references, it juxtaposes images that are relatable yet different, and it utilizes multiple mediums. The piece presents four similar pictures arranged in a row. Each features a woman in a housecoat in a domestic environment holding a cup of coffee and looking out a window. Each woman has a vacant expression on her face, and each picture has the same basic composition. At the bottom of each picture is affixed an advertising image from a different brand of coffee.
If we attempt to read this work figuratively we can get pulled in many directions. Our interpretations can easily change depending on our personal associations with the various environments, objects, coffee brands, or images of femininity shown in each picture. We could wonder, "What are the women looking at? What could they be thinking? What is the larger narrative here? What does it mean?" But if we read the work abstractly it takes on a different character. Instead of seeming like a definitive statement it seems more like a poem: like a building up of aesthetic phrases that possess a similar rhythm, or like verses in a visual song.

David Salle - Untitled (Coffee Drinkers), 1973, Gelatin silver prints with affixed product advertisement, © David Salle and VAGA
Inherited Responses
To David Salle, it is of no consequence whether we read his works abstractly or not. He cares much more about whether we search for what he calls an authentic response. Says Salle, "I think it's important to try to separate out the learned or group response from the individual one. When I work with students I try to get them to be aware of what they find themselves actually thinking and feeling when they're looking at something -- instead of what they think they're supposed to be thinking and feeling. I find that there is often a big difference between the two." Take for example the painting The Happy Writers, from 1981. In it, Salle divides the picture into two sections. On the left is an abstract Modernist composition. On the right are cartoon sketches of a bear, a wolf, a donkey and a rabbit.
As with the previous images of women drinking coffee, the visual stimuli in this painting could evoke many associative responses. One might see the cartoons as anthropomorphic characterizations of male buffoonery and interpret their presence beside the Modernist imagery as a criticism of the slap-happily male-written history of art. Or one could interpret the title, the bright colors and the cartoons as whimsical elements that amount to a feeling of joy. Truly many things are happening in The Happy Writers. This relatively simple painting mixes high art with low art. It appropriates history and brings it into the present. It combines abstraction with figuration in a straightforward yet ambiguous way. Overall it communicates the essence of postmodernism, which is that no one narrative resonates with every viewer.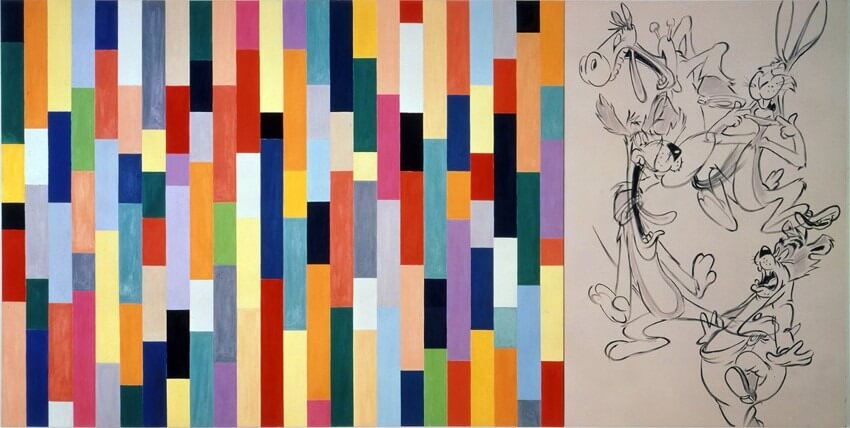 David Salle - The Happy Writers, 1981, Acrylic on canvas, © David Salle and VAGA
What You See vs. What You Get
An element we often wrestle with when looking at the work of David Salle has something to do with our contemporary ability to interact with what is unrecognizable. There is something democratic about the unknown. If no one can recognize something, there is no shame in misunderstanding it. But there is something intimidating about what is supposedly known. When Wassily Kandinsky exhibited his earliest purely abstract paintings, all viewers were on an equal footing since the imagery was purposefully unrelated to the objective visual world. But David Salle shows us what is supposedly recognizable, such as human figures, commercial products and written words, yet asks us to consider it equally as abstract as the squiggles, colors and shapes in a Kandinsky.
Among the disparate elements in his 2011 work No Hard Feelings, Salle added a VIP rope to the front of the image. The rope immediately evokes exclusivity. It is a fitting remark about the unequal footing we often feel we are on when negotiating with our insecurities to find meaning in his so-called objective imagery. But when we remind ourselves that the pressure to get something, as though the work is here for us to decipher, is yet another holdover from the past, the VIP rope transforms from something divisive into the smile of a happy face. Postmodern abstraction, as embodied by the work of David Salle, accepts that meaning is flexible, and reality is subjective. His uncanny juxtapositions remind us that just because we know what something is does not mean we have to know what it means.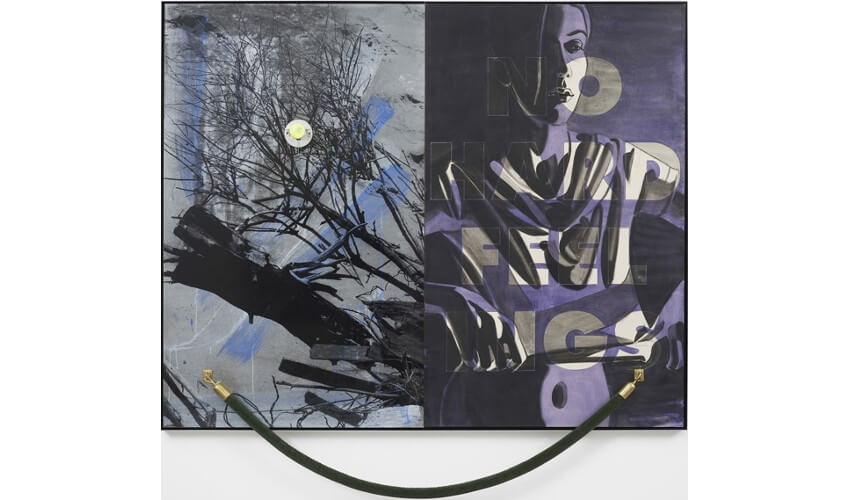 David Salle - No Hard Feelings, 2011, Oil and acrylic on canvas, oil and silkscreen on galvanized steel with light bulb, © David Salle and VAGA
Addition And Distraction
Another element that lends a postmodern aspect to the work of David Salle has to do with his habit of being additive rather than subtractive. For much of Modernist history abstract painters arrived at their position through a process of simplification, negation, subtraction and reduction. That process can result in powerful universalities being communicated. David Salle, on the contrary, engages in an additive process, one that complicates, confounds, and can sometimes feel like a distraction.
That sense of distraction comes about because each element in his works contains some previous meaning either within the culture or within the mind of the individual viewer. The various visual stimuli each possess a connection to the larger historical-cultural-social narrative, and yet when combined they elude rational explanation. They take us down strange mental paths and possibly even agitate us. Rather than luring us toward something universal they refuse anything other than a personal, idiosyncratic response, embodying the postmodern mantra that both meaning and identity are up to us to define.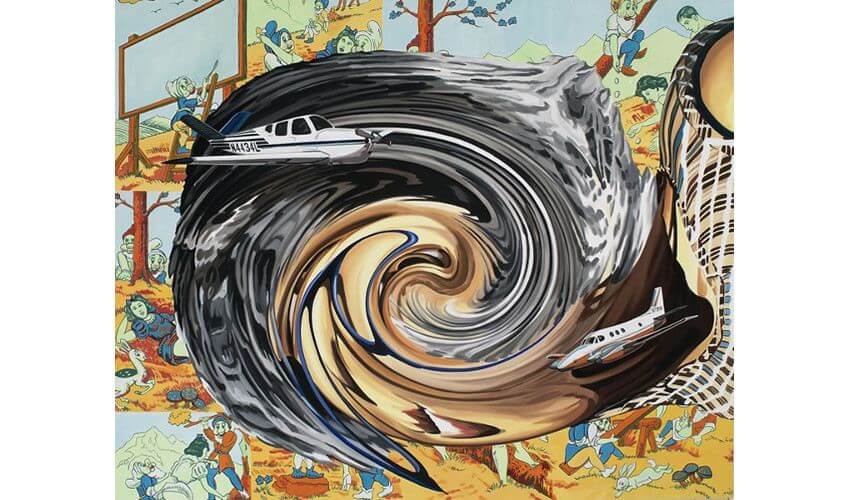 David Salle - Snow White, 2004, Oil on linen, © David Salle and VAGA
Inherent Contradictions
Often when trying to understand the work of an artist it helps to consider the teachers that influenced the artist along the way. In the case of David Salle that means considering the work of John Baldessari. In addition to the iconic oeuvre for which Baldessari has become famous, he is also beloved for the many aphorisms he has devised over his career. They contain many contradictions and ironies, and much humor. For example, he once criticized photographers by saying, "Probably one of the worst things that happened to photography is that cameras have viewfinders." This may seem insulting or contradictory to the nature of photography. But Baldessari simply believes artists should not try to have all the answers at the beginning of their process. If a photographer knows exactly what the picture is going to be before shooting it, there is no room for discovery.
Another famous Baldessari aphorism states, "I think when I'm doing art, I'm questioning how to do it." This statement offers us much insight into the work of David Salle. Salle sees his contribution as a beginning, but he remains ever open in respect to the possible ends. He chooses images from the world we all inhabit, but not like a naturalist assembling a diorama to explain us to ourselves. Rather, he selects whatever appeals to him intuitively, without defining its pertinence. He combines it with whatever he senses has feeling, and adds whatever might give it an unexpected spin. In doing so he does not hope to explain anything. He hopes simply to communicate the vastness, the whimsy, the uncanny beauty and the inherent unpredictability of our age.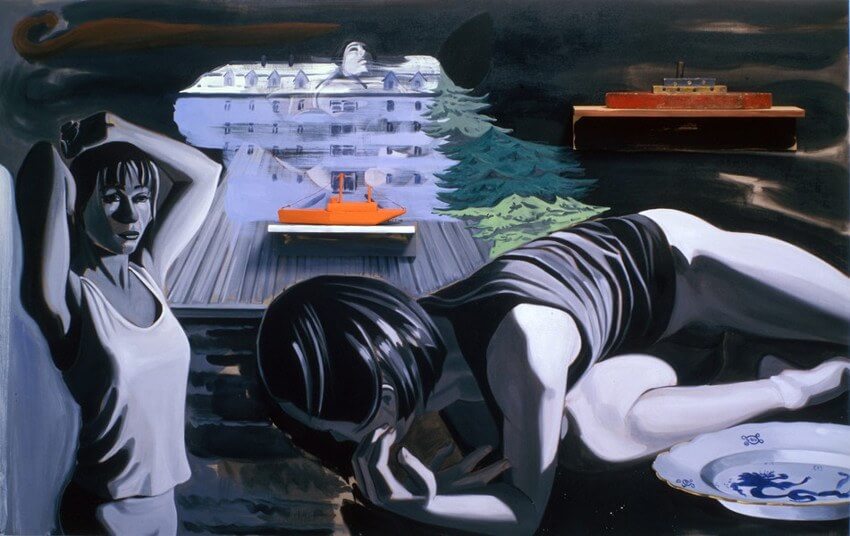 David Salle - Last Light, 2007, Oil on linen with wood and objects, © David Salle and VAGA
Featured image: David Salle - Wild Locusts Ride (detail), 1985, Acrylic and oil on canvas with fabric, © David Salle
All images used for illustrative purposes only
By Phillip Barcio