Blog Home
Artist in Spotlight - Cyril Lancelin
Sep 25, 2019
French artist Cyril Lancelin makes hybrid sculptures that might make a person question whether there is really any difference between art, architecture and toys. Lancelin is a specialist in spectacle. Though he also works with metal, he is most well-known for designing monumental inflatable artworks. His creations embrace a hybrid visual language as if Claes Oldenburg, Andy Warhol and Jeff Koons met on the bouncy house page of a party supply website. Highly photogenic, they have been making waves in galleries and on Instagram for several years. Lately, they have also begun inhabiting the wider public sphere. Most recently, Lancelin installed two giant, pink, inflatable pyramids in the grassy lawn of Cause Village, the philanthropic outdoor gathering space of the Made in America Festival in Philadelphia. The pyramids rose out of the ground like the ruins of a forgotten Candyland, inviting visitors to enter them and wander through their playful, outlandish passageways. From the outside, they shocked the landscape—preposterous, garish, perfectly false outgrowths of the otherwise natural surroundings: not so different from the skyscrapers in the background. From within, the pyramids immersed the senses in oddness. The off gassing of the fabric combined with the overwhelming pink hue created what I imagine would be the equivalent sensation of being sucked happily into a giant cotton candy machine. Formerly unusual sights in the public sphere, and even then, mostly relegated to the resumes of world-famous artists of clout, massive, pop-ish public works like this within our built environments are appearing more and more commonly, and more often being made by emerging or even unknown artists. Whatever we think of them, the fun Lancelin is obviously having ensures that he and other artists will keep making them. The question is, are we literate enough to understand why, and to talk about the work intelligently? Do we need to be? Or in the end does it not really matter whether we understand this work as art, architecture, spectacle, or a simple distraction from our everyday life?
Everything is Spectacular
Maybe it started with the Chicago Picasso. Or maybe it started long before that, with the 6th century Buddhas of Bamyan. Whenever or wherever it began, the world today is populated by any number of gargantuan aesthetic forms created by humans for various reasons and purposes. What distinguishes one of these objects specifically as art is up for debate. But what kind of form can be used as the basis for a monumental sculpture is now completely open. Literally everything can be made spectacular. Those who may have once balked at an Oldenburg giant arrow or a Koons giant balloon rabbit must wander through the sculpture parks, public plazas and art fairs of today in a daze. Here is a giant stack of painted rocks; there is a massive panda bear; here is a colossal zombie crawling from underground; there is a skyscraper sized box of Chinese take-out.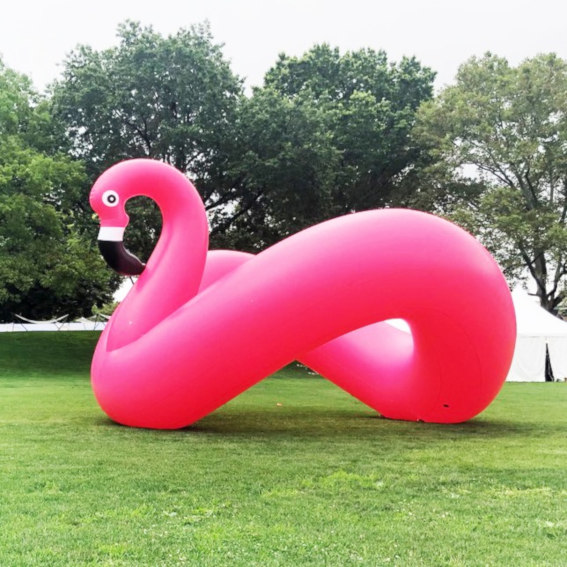 Cyril Lancelin - Flamingo Ground, Pinknic Festival 2019, New York City. © 2019 Cyril Lancelin
Personally, I love this brave new world of great big art. I quite like to see huge, cool looking abstract forms rising from the natural environment, almost as much as I like to see monster lady bugs crawling up the sides of buildings. But I do think there maybe needs to be a discussion of what the point of it all is. This is not art in the sense of an artist making something in their studio, alone, late at night, skipping meals and sleep, compelled to keep working. This is someone at a desktop computer, or a room full of someones on desktop computers. The amount of personal toil that goes into these new monumental artworks is miniscule compared to what went into something like the Chicago Picasso. Digital design software, robotic fabrication processes and hyper-lightweight, hyper-inexpensive materials mean literally anyone with an internet connection could design the next big thing in art. Should we be asking why? Should we harken back to the good old days when artists were guided by lines of thought that pushed them to justify what they did in context of what has already been done? Or should we just shrug and say, "Yes! More giant berries, please! More giant everything!"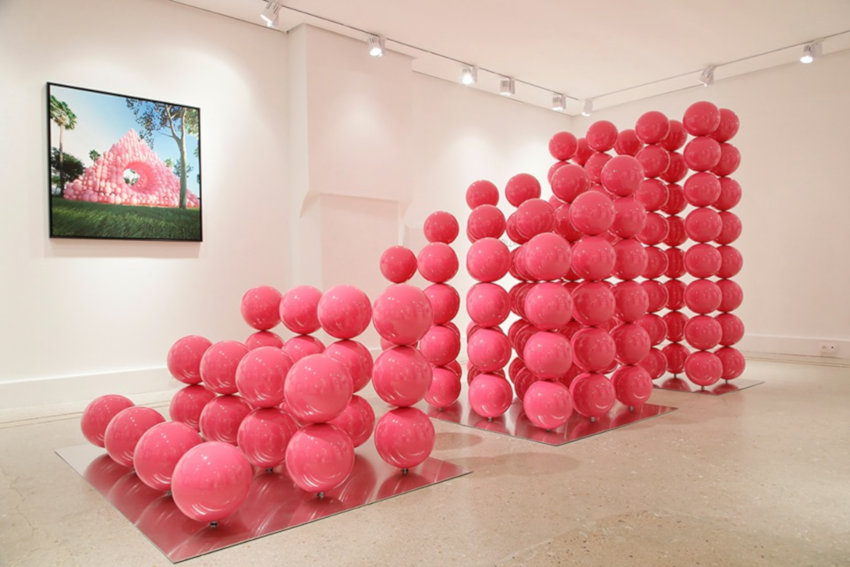 Cyril Lancelin - Half Line, Galerie MR80, 2018, Paris. Photo by: Dannan Wang. © 2019 town.and.concrete


Reasonable Solutions
One reason Lancelin has stated for why he designs his giant inflatable sculptures is that the inflatable material is lightweight and easy to ship. That is a real problem faced by public artists. Imagine the effort that goes into fabricating, shipping then installing a massive metal sculpture. Think of "Tilted Arc" by Richard Serra. Hundreds of thousands of dollars and countless hours of work were spent extracting the ore, making the steel, creating the sculpture, shipping it, and installing it, and then it just got torn down and stuffed in a warehouse. Was that a waste, or was the effort and the resulting theoretical debate worth it? Is that what public art is about? Is it about epic human efforts in service to grand visions? Maybe it once was. Today it is more about fleeting, ephemeral impulses, and monuments to moments. Combined with the reality of ever tighter budgets, making temporary, lightweight, inflatable (and thus deflatable) sculptures sounds like a reasonable solution.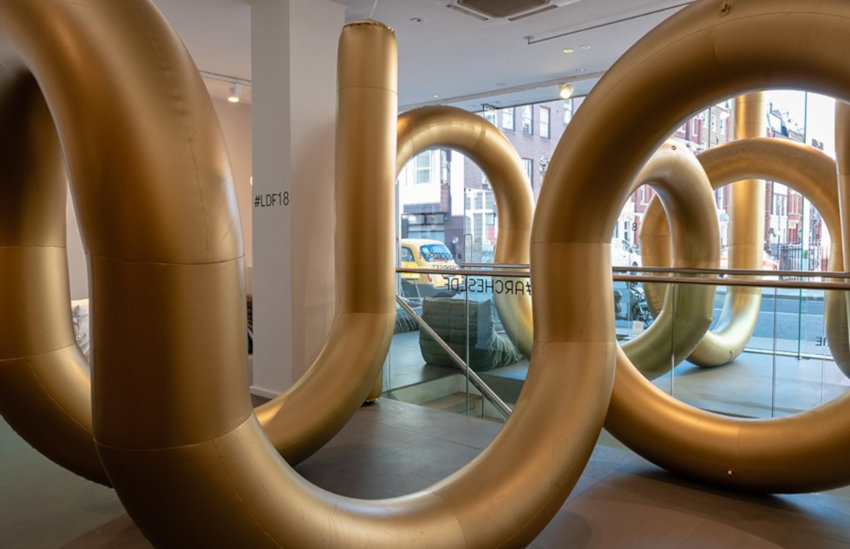 Cyril Lancelin - Arches, Ligne Roset Westend, London Design Festival 2018. © 2019 Cyril Lancelin
Nonetheless, as an art journalist, I do wish to understand what language to use when talking about this type of work. Lancelin, for example, describes his work space as a creative studio. How is that different than an art studio? Or a design studio? Are we post art? I've heard of the dawning of the Age of Imagination. Maybe the notion of artists toiling over their work, hoping modestly, or even arrogantly, to hang it on the walls of a museum are over. Maybe The Creatives are here now to replace The Artists. Or maybe this is all just word play—a distraction, akin perhaps to finding a giant, inflatable, pink pyramid waiting for us in the park.
Featured image: Cyril Lancelin - Inner Circles, Eastman Garden, Cleveland Public Library, Cleveland, 2019, USA. Curated by Land Studio © 2019 Cyril Lancelin
All images used for illustrative purposes only
By Phillip Barcio