Blog Home
Cy Twombly in Paris
Dec 7, 2016
Some artists exude a singular, visionary energy. Through their efforts they not only create art, but also convey the power of all art. This week we had the pleasure of experiencing a retrospective of the work of one such artist: Cy Twombly. Through 24 April 2017, 140 Cy Twombly paintings, drawings, photographs and sculptures are on view at Centre Pompidou in Paris. Spanning 60 years of his career, this exhibition offered us an opportunity to spend precious time with a multitude of masterpieces by Cy Twombly, and elucidated for us the poetic complexities of his life.
Developments in Style
The Cy Twombly exhibition at Centre Pompidou is beautifully staged, offering ample space for the contemplation of the works. The amount of work on view could have been overwhelming, but is presented in a thoughtful, chronological way that feels inviting and casual. The work is divided into major periods in the life of Twombly. The periods align with evolutions in his style and the subject matter he was addressing his works.
The written narrative accompanying the exhibition excellently expresses the timeline of his life, as well as what Twombly was thinking and feeling as he worked. It effectively contextualizes Twombly as the historian, traveler, scholar and storyteller that he was. So many of the works on view relate to classical myths and legends, yet also speak to the time and culture in which they were made. Twombly was an abstract painter, but his ideas were rooted in ancient stories with relevance for the here and now.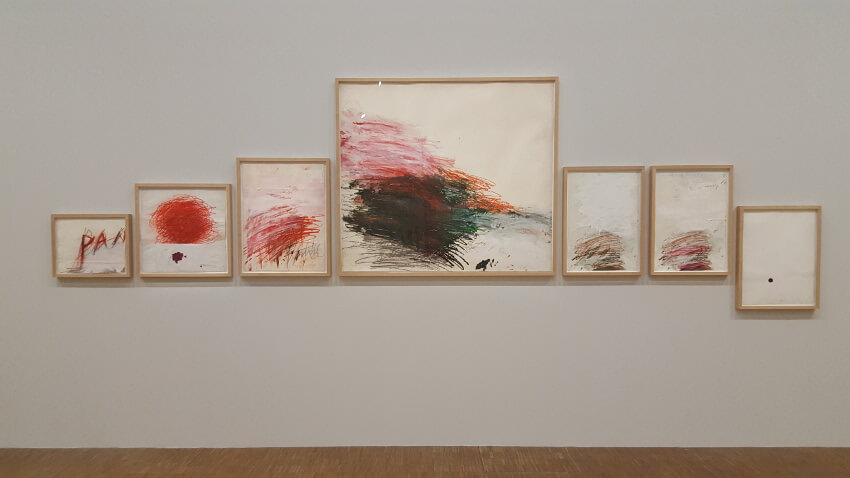 Cy Twombly - Pan, 1980. Installation view at Centre Pompidou, Paris, 2017
Myth Making
Cy Twombly was born in Lexington, Virginia in 1928. He attended Black Mountain College, studying under Robert Motherwell and Franz Kline. There, he befriended Robert Rauschenberg, who a year later traveled with Twombly to Europe. This trip inspired in Twombly a lifelong interest in Italy. He returned there for another visit in 1957, and finally moved to Italy in 1959, from then on spending only a few months a year in the US.
His Europe trip inspired in Twombly the primitive, urgent, sensuous visual language that eventually defined his mature style. This exhibition opens with multiple works that he painted after returning from Europe. Some, like his Lexington Paintings, convey a stark color palette and sparse imagery. Others, like his drawings for his friend Betty Stokes, reveal anxious innocence and an aggressive will. The iconic paintings Twombly made after returning to Rome in the early 1960s, such as Empire of Flora and School of Athens, introduce a rich, complicated, colorful, symbolic language of forms.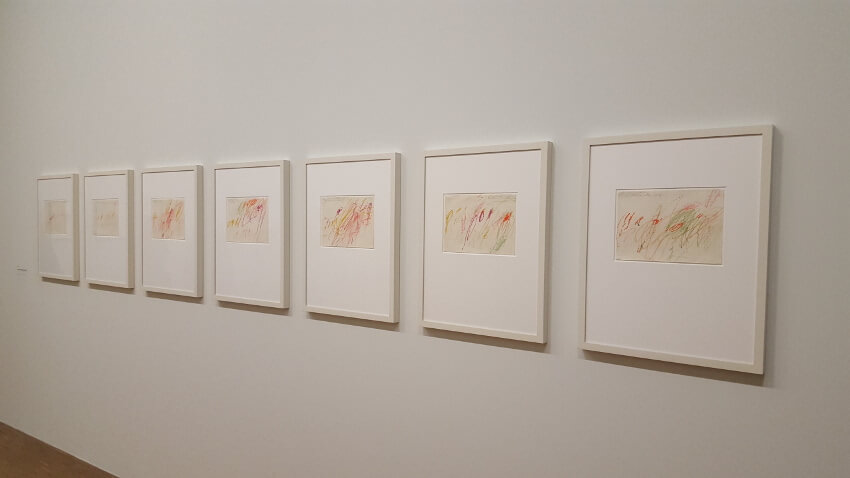 Cy Twombly - Untitled (Grottaferrata), 1957. Installation view at Centre Pompidou, Paris, 2017
Nine Discourses on Commodus
When John F. Kennedy was assassinated in 1963, Twombly responded with a series of paintings referencing the Roman emperor Commodus. The story of Commodus is prescient of the Kennedy myth. Both were young men who rose to power suddenly, and were often ruled by bad habits. Those closest to him assassinated Commodus, initiating a time of turmoil and confusion in Rome. As with many Cy Twombly paintings on view in this exhibition, his Commodus series is abstract, but profound in its references to a larger story.
Also on view in this section of the exhibition are the so-called Blackboard Paintings Twombly made in the late 1960s. Viewed in context of his entire oeuvre, paintings like Night Watch and Treatise on the Veil are among his most direct works. They were painted in response to the rejection Twombly received in the US. Most critics and artists and the general public derided his paintings as incomprehensible, even in context of the Abstract Expressionist culture in which he emerged. Minimalism prevailed in the late 1960s. These Blackboard Paintings were an aesthetic response by Twombly as he defiantly refused to adapt to trends, and in doing so passionately distilled his vision.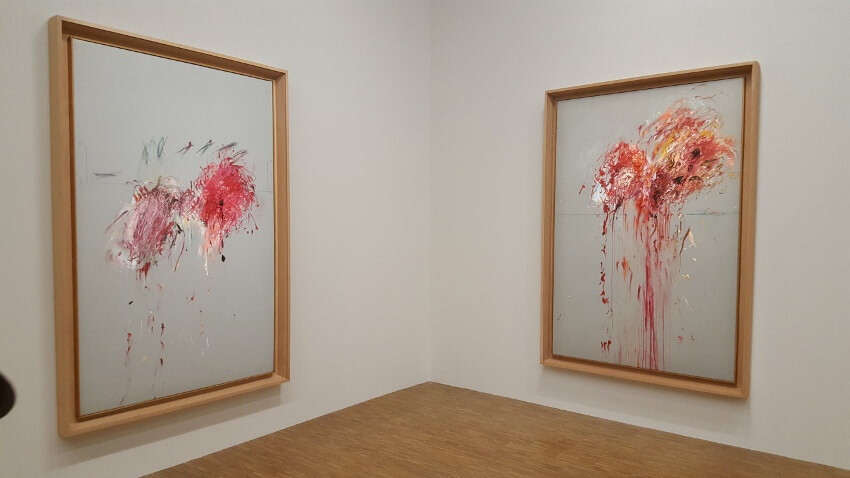 Cy Twombly - Nine Discourses on Commodus, 1963. Installation view at Centre Pompidou, Paris, 2017
Fifty Days at Iliam
In the mid-1970s, Twombly bought a 16th Century home and studio in Rome, and spent years renovating it. In 1977, he began a series of masterworks inspired by his reading of the Iliad, titled 50 Days at Iliam. Again, the US public misunderstood these works, and after their initial exhibition in New York they were boxed for more than a decade. In 1989, they re-emerged to be sold to the Philadelphia Museum of Art. Their appearance in this retrospective is their first exhibition in Europe.
The striking visual language of reds, blues, blacks, whites and grays Twombly established in 50 Days at Iliam carries through the other works in this section of the exhibition. His passionate, energetic brush marks and ferocious writing explode off the surfaces of works like Wilder Shores of Love and Petals of Fire. His voice comes to a magnificent crescendo in the series Quattro Stagioni - Primavera - Estate - Autunno – Inverno, which reveals profound depth of emotion and mastery of vision.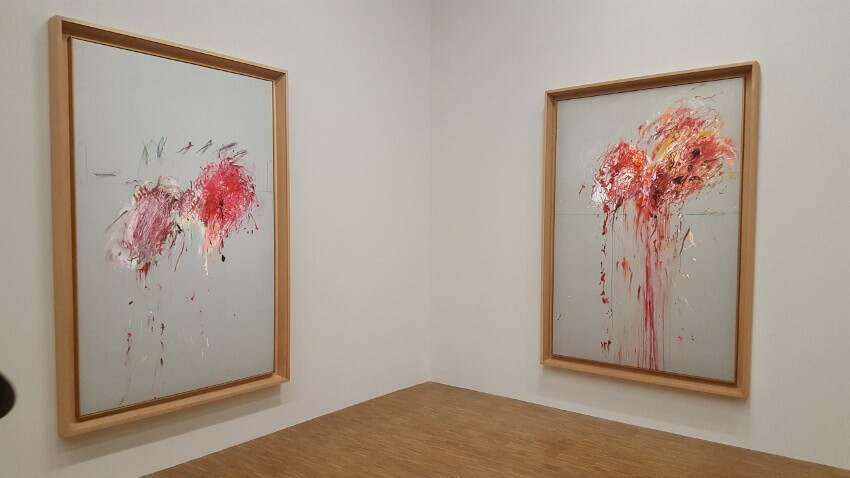 Cy Twombly - Quattro Stagioni - Primavera - Estate - Autunno - Inverno, 1993 - 1995. Installation view at Centre Pompidou, Paris, 2017
Coronation of Sesostris
Exhibited next are the paintings Twombly created in the final decade of his career. Beginning with the series Coronation of Sestrosis, which conveys a pared down, almost sacred language of line and form, this section expands to include some of the most luscious, sensuous, colorful, powerful works of the show. From the iconic Blooming, to the three-paneled A Gathering of Time, to the unforgettable Bacchus and Gaète, these paintings possess the presence and power of history, and communicate the beauty and profundity of the human myth, to which Cy Twombly was so intimately connected.
The exhibition ends with a selection of sculptures by Cy Twombly. The way they are displayed, all together in front of a wall of windows overlooking Paris, sets them apart from the other work in the show. Had they been exhibited in smaller groupings, or one at a time throughout the exhibition, they would have taken on a different presence. Perhaps they would have had less power, or perhaps more. But seeing them all in one place was revealing. Twombly once said about his sculptures, "White paint is my marble." Rather than removing marble, he added paint. By covering these forms, he revealed what is essential about them. Somehow this is a perfect poetic summation of his life and work.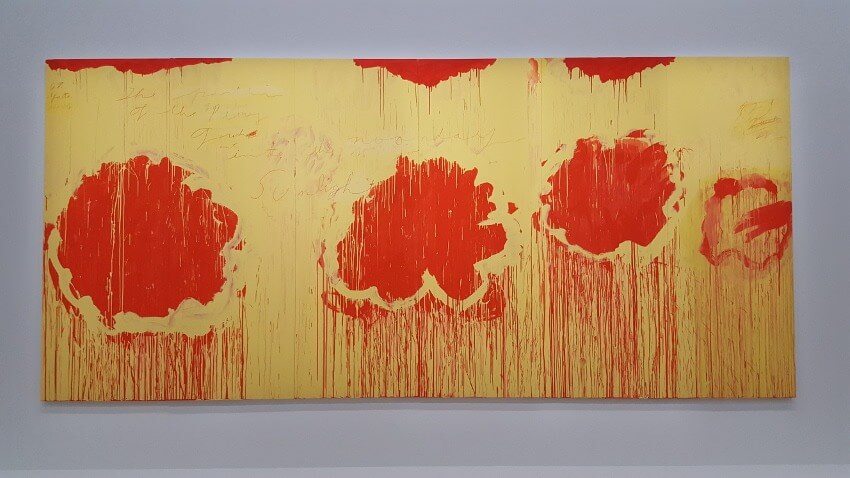 Cy Twombly - Untitled (Gaete), 2007. Installation view at Centre Pompidou, Paris, 2016
Featured image: Cy Twombly - Volubilis (Left) and Ouarzazate (Right), 1953. Installation view at Centre Pompidou, Paris, 2016
All images courtesy of IdeelArt
By Phillip Barcio